By Rosemary Conte
originally published: 07/21/2016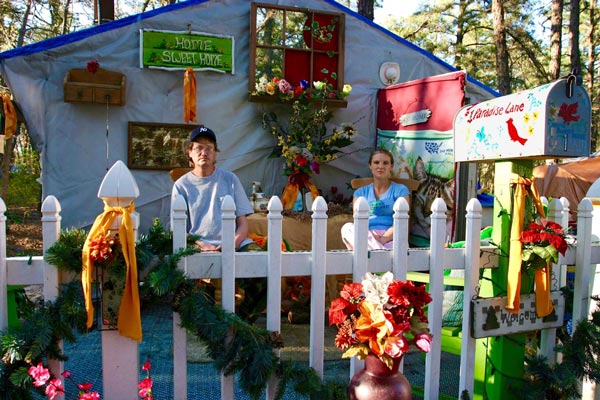 Jack Ballo is an award-winning "alternative" filmmaker. His artistic style is "truth cinema"A.K.A. Cinéma Vérité—the French technique of filmmaking originated by Jean Rouch that became popular in the 1960s.
In Destiny's Bridge 2016, Ballo captures the raw, natural action and dialogue of 80 homeless people and their caregiver, Minister Steve Brigham, who all live in tents in an encampment in the woods of Lakewood NJ, known as Tent City. The film is beautiful, moving, and sometimes disturbing, as it chronicles the many years of tension between Tent City, and the leaders of Lakewood Township who want the people out of the woods. 
True to the cinéma vérité technique, for three years Ballo filmed the everyday activities of people in the camp, including a U.S. Army Vet, a poor elderly vegan couple, and people of all colors, all faiths, and all ages. He used a hand-held camera, picking up sounds, conversations, actions; the gritty, true face of these creative, homeless people who had found solace living together in the woods.
Destiny's Bridge---the concept, is a plan that offers a solution to homelessness: a plot of land with affordable tiny houses where poor people can live with dignity in a safe and permanent place of their own to call home. The idea of a tiny house community includes on site access to social services, health services, job training and other programs that could facilitate the residents' integration into mainstream society.
Ballo describes the film's journey:  "It all started with a 2013 version of Destiny's Bridge that was never officially released. However, we did screen it at theaters, colleges and film festivals throughout the tri-state area. And as we were screening the film, the story at Tent City grew more intense. So I just kept filming, as a new version of the movie unfolded right in front of me, with a riveting ending that nobody expected."
---
The article continues after this ad
---
---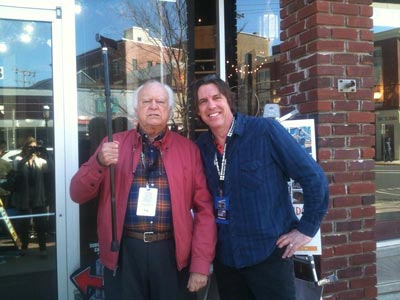 The idea to re-edit the entire film started when Ballo met cinéma vérité pioneer Bill Jersey after a screening. Jersey was impressed by his vérité work and invited Ballo to call him to discuss the documentary. They soon became friends. Later, Jersey became Executive Producer of the new Destiny's Bridge. 
"Bill was a perfect fit for the movie," Ballo said. "He has years of experience making great films for PBS."  Jersey has made documentaries for over 50 years and has two Academy Award nominations; two Peabody Awards; and two Emmys to his credit.
Another cinéma vérité legend, Albert Maysles, who preferred the term "direct cinema" also  influenced Ballo's filming style. After attending Maysles' Documentary Center in Harlem in 2011, Ballo had a chance to show an early rough cut of Destiny's Bridge to Maysles. "He loved it right from the beginning," Ballo said. "It was his kind of film."
Ballo studied both Maysles' and Jersey's work for years before he met them.  Classics like A Time For Burning (1967), Salesman (1968), and Grey Gardens (1976) taught Ballo about the genre.  "You don't see great vérité films anymore. It's truly a lost art.  But I always had an appreciation for it and understood the philosophy behind it," said Ballo.
I was fascinated by Ballo's description of why and how he shot his scenes. His camera work and editing were done in a way to resemble the optics, sounds, thoughts and movements a viewer would have if they were there. He doesn't put text or graphics on the screen that might distract the viewer from being there.
"And very important to filming this way," Ballo said, "I always kept the camera away from my face so I could make eye contact with the subject. I didn't even wear headphones during the filming to ensure that the subjects would forget they were being filmed. This unobtrusive style of cinematography is crucial to interacting with the film's characters in the most open and honest dialogue possible. It is my belief that the viewer unconsciously relates this unpolished style of filmmaking to being authentic and truthful, resulting in an emotional connection to the characters in the film and the story that is unfolding before them.
"No tripods were used, no artificial lighting, and there weren't any boom mics or sound people and producers around. It was just me observing and listening to what people had on their minds while I followed their stories. In the editing process I didn't dub in any background mood music. There is no host or narration, and no formal interviews.  I've taken the viewer on a journey into my film with the hope that they can feel and see what I experienced at the camp.
"The film is really about one man's passion, and I just let the storyline develop naturally. I followed Minister Steve through the conflicts and challenges he encountered while living in the woods….everything from super storm Sandy, police invasions and an eviction lawsuit---to drug and alcohol issues at the camp and conflicts among residents.  Unlike most homeless documentaries, this film is not about hard luck stories and how people end up homeless. We've heard enough about all that. This film gets right down to who people really are and if they count or not."
Destiny's Bridge 2016 will have its premiere at the House of Independents in Asbury Park on August 17th at 7:00pm.  The documentary will be followed by a Q&A with filmmakers Jack Ballo and Bill Jersey, along with the film's main subject, Tent City founder Minister Steve Brigham. The discussion will also include tiny house issues in New Jersey. Tickets are available at the House of Independents website or the Destiny's Bridge Facebook event page.