By Gary Wien
originally published: 07/24/2018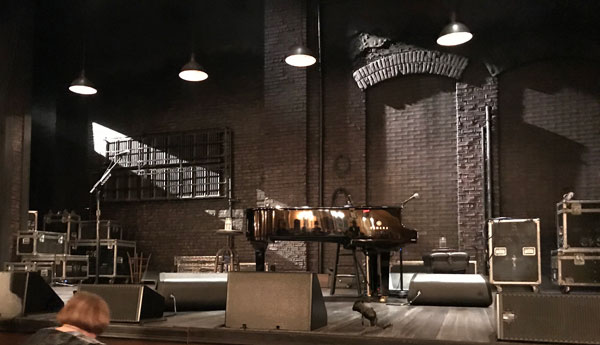 When Bruce Springsteen was about to release his debut album, the record company wanted him to say he was from New York City, but he refused.  It's somewhat ironic that over 40 years later, he has turned a legendary Broadway theatre into his home five nights a week with Springsteen on Broadway - a show that has performed in front of over 150,000 people and grossed more than $75 million since making its debut on October 12, 2017 after several preview performances. 
I was able to see the show at the end of May thanks to an amazing early birthday gift from Ellen Berman, a dear friend who is one of the best music fans I know.  She offered two tickets a few rows away from Bruce's piano. My guest was Brenda Wirth, one of the biggest supporters of original music I know and a huge Springsteen fan.  Neither of us ever expected to see the show for various reasons.  Both of us were in awe that we would.
If you are one of the millions of fans who haven't seen Springsteen on Broadway, there are still a few months left.  The show is expected to close for good on December 15th.  Even though its run was extended a few times, the closing date seems official.  But fans will be able to see the show as a Netflix special once the Broadway run ends and one would imagine a DVD version is in the works as well.  The Broadway show added a Tony to Bruce's list of accomplishments and the Netflix special puts him in the running for an Emmy, which would make him one of the rare few to have won a Grammy, Oscar, Tony, and Emmy Award.
It's hard to know what to expect when you enter the Walter Kerr Theatre where the show takes place.  As you find your seats, the intimacy of the venue immediately hits you.  The place is tiny. I've seen Springsteen perform in venues from Giants Stadium to venues like the Paramount Theatre in Asbury Park and the Count Basie Theatre in Red Bank. The Walter Kerr Theatre is only 500-600 seats less than those two venues, but it appears to be much smaller.  As I stared at the stage, which was bare except for a piano and guitar stands in front of a brick wall, I suddenly realized that this was basically an elaborate house concert.  The ticket prices are high to be sure, but what price do you set to see a guy who sells out stadiums around the world in what amounts to a very large living room?
As the crowd began to fill in, we heard people talking in several different languages and fans recalling their trips to the Jersey Shore - which for Springsteen fans around the world is their Mecca, their own "Promised Land."  For Brenda and me, it is simply our home.
---
The article continues after this ad
---
---
When the show was originally announced, many wondered if it would simply be Springsteen reading from chapters of his biography, Born to Run.  While the show is heavily based upon those stories, there is something different about hearing him tell you the stories inside the very same room.  He blends stories with song performances on guitar and piano, and makes it a magical experience.  As I listened to Bruce talk about his life and his journey, memories of my own life and just how much of it involved Springsteen or his lyrics kept filling my brain.  I've always known I was a product of Monmouth County and the Jersey Shore, but on that evening in May it became clearer than ever.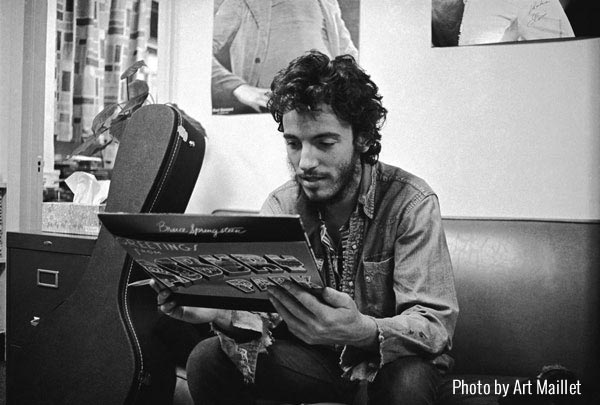 "I come from a boardwalk where almost everything is tinged with fraud," Springsteen said opening the show.  "And so am I.  In case you haven't figured that out yet."
And so began the unique experience of watching an artist attempt to deconstruct the myths about him in front of some of his most die hard fans.
Throughout the night, in addition to some tender (and some not so tender) stories about his family and growing up in Freehold, we heard him joke about how the guy who wrote "Racing in the Street" didn't know how to drive until a crash course was necessary during a non-stop trip to California; how the man who made his living writing songs about blue-collar workers never worked a day in his life until appearing on Broadway; and deconstructing (hopefully for his sake the last time) the "Born In The U.S.A." song - bringing it back to its origins as a means of protest rather than the jingoistic hit people who ignored the song's lyrics made it out to be.
He deconstructed the idea of a show like this - if such an idea ever existed.  In an era in which "jukebox musicals" like Jersey Boys have become a mainstay on the Great White Way, Springsteen not only avoided many of his most popular songs - he often paused to tell stories while playing a song.  Sometimes the stories were short, sometimes they were rather long.  Either way, it was hardly a live concert feel.  It was unique.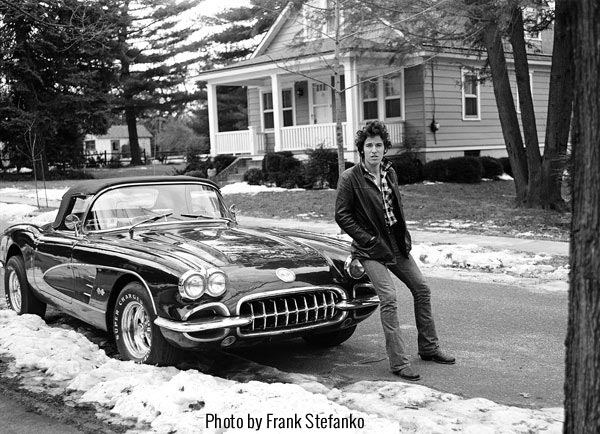 In many ways, it was as far from a greatest hits show as you could imagine.  The set list (which has rarely changed) includes hits like "Born To Run," "Dancing In The Dark," and "Born In The U.S.A." along with fan favorites like "Thunder Road" and "Tenth Avenue Freeze-Out", but it also includes deep cuts like "The Wish", "Land of Hope and Dreams," and "My Father's House" which take on new meanings during the show.  In fact, the version of "My Father's House" done here was the best I had ever heard.
The choice of songs was rather interesting in itself.  I purposely avoided seeing any reviews of the show or set lists prior to attending the show. In my mind, I imagined a completely different set list.  My version would begin with "Growin' Up" as Springsteen on Broadway does, but it would include more of the songs about the Jersey Shore like "4th of July, Asbury Park (Sandy)", "Tunnel of Love" and "City of Ruins."  
Looking back at it I think Springsteen may have chosen three songs from Born to Run and three from Born In The U.S.A. because those were the albums which led many of the Springsteen myths to be born.  The former album led Springsteen to be on the cover of Time and Newsweek in the same week. The latter led him to move from the world of solid arena performer to stadium shows around the world.  He was no longer the same guy who grew up in Freehold and I think he wanted to bring back the focus to where he was and how he is still, more or less, the same guy despite the fame, the money, and the politics which has become a staple of his shows.  He's still a guy that tears up thinking about the bar his father used to go to, the church down the street having wedding bells chiming, and the smell of coffee from the Nestle factory.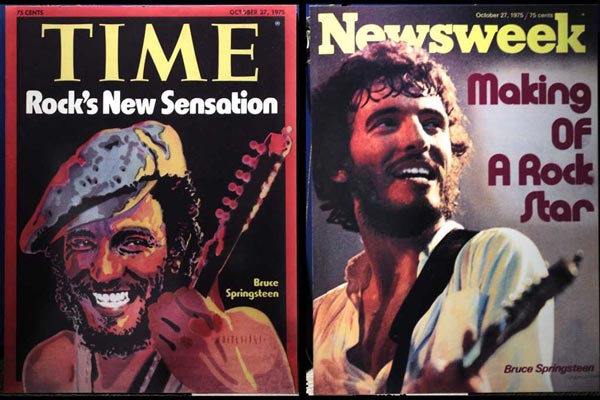 One of the funniest moments for me was when he brought it all back to focus - how the man who wrote "Oh, baby this town rips the bones from your back / it's a death trap, it's a suicide rap / we gotta get out while we're young / 'Cause tramps like us, baby we were born to run" wound up living and raising a family just a few miles from where he grew up.
Like Springsteen and thousands (if not millions) of people from New Jersey, I felt the need to get away from the Jersey Shore and see what else was out there.  Unlike many who leave the state, I was pretty sure I would be coming back, I just wanted to learn why I love the shore.  In the end, coming back was the best decision I could ever have made. I'm proud to call Belmar (the town which gave the E Street Band its name) my home.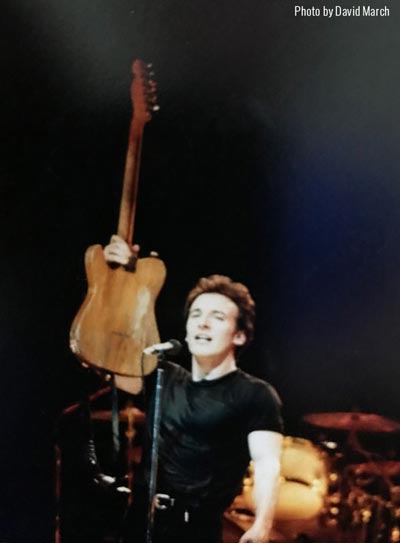 During the show, memories kept flooding through my mind, including things I had long since forgotten.  Like how I won a cassette of Born In The U.S.A. on the Seaside Heights boardwalk the day it was released; how I used to buy bootlegs from a tiny store in Red Bank that used to hide the Bruce boots whenever a member of the E Street Band was seen in town; and taking off to Worchester, MA for the opening of the Tunnel Of Love tour where my friend and I smuggled a camera in and took well over 100 photos.  I recalled the place I went to for physical therapy following a sports injury that just happened to be where Springsteen worked out. Later on, my friend and I would go to a gym that formerly was Big Man's West, owned by Clarence Clemons.  
Each song took me back to a different place and a different time.  I recalled my first job delivering newspapers for the Red Bank Register - delivering on my bike each day while listening to a cassette of The River or a bootleg from the Darkness on the Edge of Town tour (both were enough music to cover the entire route).  I was transported back to the Palace Amusements building in Asbury Park where we first heard the Live 1975-85 album during a listening party with hundreds and years later hearing Tunnel of Love for the very first time in a private listening party with less than 50 people in the old Asbury Park Rock 'N Roll Museum (located in the Palace building).  I could feel the intense heat of The Stone Pony on the day The Rising was released and remembered how proud I was sitting in the upper tier for that tour when Bruce spoke about the businesses in Asbury Park and his joy in seeing the town come back.
I remembered the days we would cut school and drive along the beach listening to Springsteen tunes; the way my life seemed to play out like the lyrics in "(4th of July, Asbury Park) Sandy"; and the way "No Surrender" always made me feel like we were destined for something more.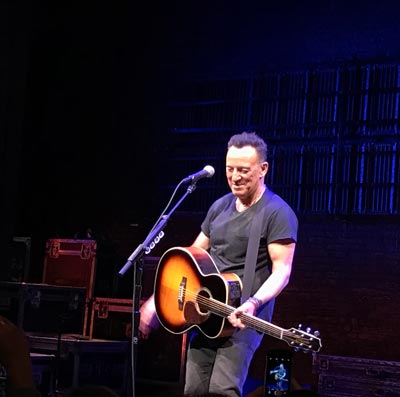 Most of all, I was transported back to the days when my friend Dave and I got a copy of The Castiles performing live. I worked at The Lincroft Inn, which was owned by the family of Debbie Harry (Blondie), and had a waitress dating one of the leading sound men in the tri-state area.  Dave worked at the Hilton with a waitress married to a former member of The Castiles.  She had an original reel-to-real recording of the show.  We scrambled to find a place that could convert it to cassette tape.  When we finally did, we heard songs by Bruce and George Theiss (who sadly passed away in July) that books on Springsteen listing every song he ever played did not know of!
Hundreds of people in Monmouth County would ultimately have a copy of that show - not from us though, we kept it as a secret.  We often joked about what type of monetary value we may have passed up, but it was worth it to us to keep it a secret.  It was that way for the hundreds who also had a copy.  Sometimes I wonder if Bruce knew the tape was floating around the way it did.  The secret stayed with all of us until the songs finally aired on NPR in 2004.  I like to think part of the reason Bruce calls Monmouth County home (when he could live anywhere in the world) is because we not only love him as an artist, but we let him walk around town, enjoy having a drink at the bar, see a show, go shopping, or eat in peace.  But, most of all, we can keep a secret.  He belongs to us just as much as he belongs to the entire world.  And seeing him be the toast of Broadway was simply wonderful.  He deserves it.  He was the first rock and roll artist to say New Jersey was his home instead of New York City.  As he says in the show, he essentially started the whole "Jersey Proud" thing.  It didn't exist before him. And it's stronger now than ever. 
---
Gary Wien has been covering the arts since 2001 and has had work published with Jersey Arts, Elmore Magazine, Princeton Magazine, Backstreets and other publications. He is a three-time winner of the Asbury Music Award for Top Music Journalist and the author of Beyond the Palace (the first book on the history of rock and roll in Asbury Park) and Are You Listening? The Top 100 Albums of 2001-2010 by New Jersey Artists. In addition, he runs New Jersey Stage and the online radio station The Penguin Rocks. He can be contacted at gary@newjerseystage.com.
---