By Gary Wien
originally published: 02/26/2018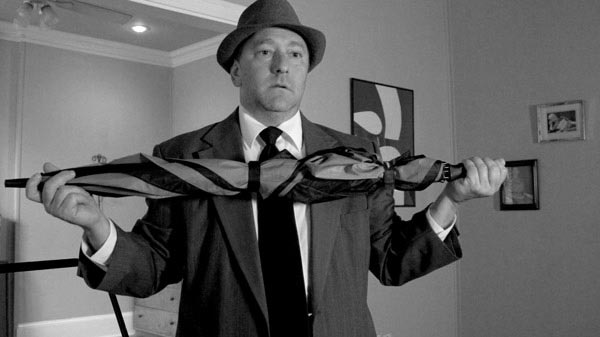 A door to door salesman is likely among the worst jobs one can imagine.  
Images come to mind of middle-aged men in cheap suits attempting to clean rugs soiled by a handful of dirt with a shiny, new vacuum or a bookish fellow hawking encyclopedias.  But imagine an even stranger product sold door to door like an umbrella.  That's what Stanley Grimp faces in Death of An Umbrella Salesman by Jersey Shore filmmaker Steve Herold.
In an 18-minute short, Herold brings us into the sad life of Grimp (played by Kevin Kolack) as he attempts to make a sale, avoids his ex-wife hounding him for alimony, and tries to reconcile how his life turned out this way.
Beautifully shot in black and white and featuring a great cast, the film follows Grimp as he passes a guy attempting to hang himself (Robert Casiello) whose life is turned around once he realizes there are people far worse off than him - notably umbrella salesmen.  We watch Grimp's hopes fall as he sees a pair of girls (played by Ronelle Thomas and Claudia de Candia) order umbrellas online right in front of him.  After pushing his umbrella cart up a steep hill, he finds a woman interested in buying an umbrella (a character named Betsy May Morgan, played by Sabrina Gennarino from The Walking Dead) only to be turned down when he doesn't have an umbrella in her favorite color.
"What the fuck is wrong with me Betsy?" Grimp asks his disappointed customer.  "I am a fuckin' door to door umbrella salesman, Betsy.  I don't know where it all went wrong for me. I really don't. I had such hopes and dreams. I had a chance to play bass in a reggae cover band."
---
The article continues after this ad
---
---
The inspiration behind the film came after Herold drove a friend and his wife to the airport.  The plan was to drop them off and bring their car back.  When they opened the trunk to get their luggage, several umbrellas caught his attention.
"I looked in the trunk and he's got like ten umbrellas in there!" said Herold.  "I'm like dude, what's with the umbrellas? What are you an umbrella salesman or something?"
As he drove back from the airport, that thought stuck with him.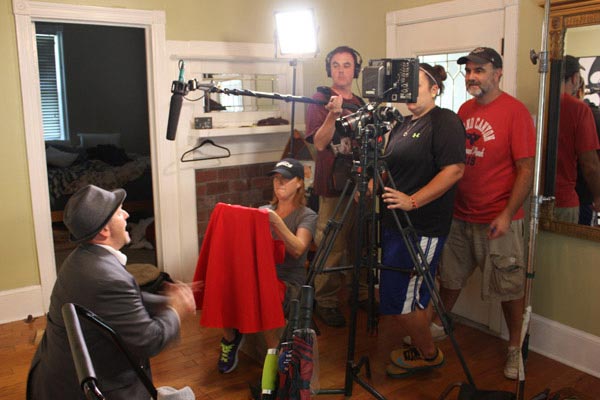 Herold and James L. Palmer fleshed out the idea and wrote the screenplay together.  Palmer also served as a co-producer and created the music for the film.
"I like writing with other people," said Herold.  "I find it easier to bounce ideas off and write down the best stuff.  He killed it on the music.  I told him what I was looking for and he came back with great stuff!"
Herold's "day job" is working as digital imaging technician (DIT).  He's worked on several television shows over the years and describes the position as the person who works between the camera crew in the field and the editors (generally located in either Los Angeles or New York).  
"I basically take all the footage and the audio that they shoot and back it up on hard drives," explained Herold.  "I go through it and make notes on what they've shot and all that stuff.  And I make sure everything is good and there aren't any issues with the footage.  Then I send it off to post.  It's a technical job.  It's an important job in the crew, but I'm not doing anything creative or anything like that."
But with weekends off, his creativity is able to shine.   
Herold was working in Baton Rouge, Louisiana for the Discovery Channel show Killing Fields when he thought it would be cool to shoot a film in the area, since his previous short films were all shot in New Jersey.  The location benefited him in many ways. He was able to take advantage of fellow crew members interested in helping out; his friend Jessica Gurney was working in Louisiana at the time on the A&E show Duck Dynasty and she joined the crew as Directory of Photography; and he was able to work with Sabrina Gennarino who lives in New Orleans.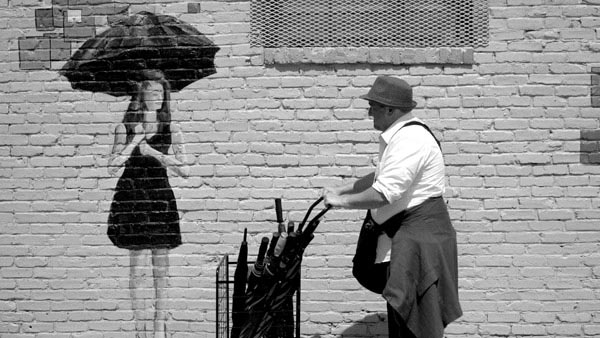 The film is actually a reunion of sorts between Herold, Kolack, and Gennarino.  The three first worked together on Herold's film, H.R. Pukenshette in 2000 and again on Bum Runner in 2002.  Herold says he stays in touch with all of the actors he's worked with and loves seeing their careers flourish. Many times, his films have provided them with some of their first acting jobs.  The list also includes Joe McClean and Joseph D. Reitman.
"As goofy as it may sound, whenever I see these guys getting a good part or something good happens in their career, I'm happy for them and it always makes me proud of these guys," said Herold.  "It's almost like a dad seeing his kid - even though most of them are my age."
Tanner Short who lives in Baton Rouge served as Herold's right hand man or "fixer" and was an associate producer on the film. In the movie business, a fixer often finds locations to shoot among other things.  In this case, Short not only helped out, but actually lent the use of his house for an important scene. One thing Short could not help Herold with was a hill in Louisiana steep enough for the film.  For that - and a few other scenes - Herold shot on location in New Jersey, making this one of the rare films shot in both places.
Death of an Umbrella Salesman will be shown at two New Jersey film festivals on Saturday, March 24.  It will be screened at the Garden State Film Festival at noon in the Berkeley Oceanfront Hotel and at 6:00pm during the Trenton Film Festival at Mill Hill Playhouse during the festival's Saturday Evening Shorts.
After several short films, Herold is accustomed to the film festival world.  When he submitted his first short, H.R. Pukenshette to film festivals, he sent it to as many festivals as he could.  He soon learned that his rather warped film was perfect for underground film festivals. Death of an Umbrella Salesman is a very different type of film.  It isn't nearly as warped.  It's a comedy/drama that could be seen as having a positive message — almost Capra-esque — but it also has darker roots under the surface.
Herold has positioned Grimp as something reminiscent of Sisyphus in Greek mythology. We get the feeling that every day of his life mirrors the one we've just seen. And tomorrow will repeat his own private version of hell.
Although the title hints at an ode to Arthur Miller, it was just a name that stuck out for Herold. It's a memorable title and serves the film well.  Unlike Miller's classic, this film might have death all around the salesman, but it doesn't take him - at least not on this day.
"It might be a bit of a happy ending for now," says Herold with a touch of irony. "But chances are tomorrow might be the day he does jump in front of a truck."
---
Gary Wien has been covering the arts since 2001 and has had work published with Jersey Arts, Elmore Magazine, Princeton Magazine, Backstreets and other publications. He is a three-time winner of the Asbury Music Award for Top Music Journalist and the author of Beyond the Palace (the first book on the history of rock and roll in Asbury Park) and Are You Listening? The Top 100 Albums of 2001-2010 by New Jersey Artists. In addition, he runs New Jersey Stage and the online radio station The Penguin Rocks. He can be contacted at gary@newjerseystage.com.
---