By Gary Wien
originally published: 08/20/2015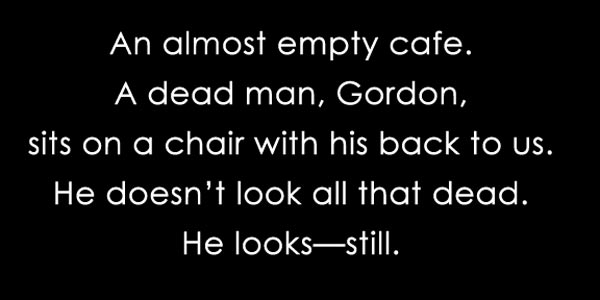 In an almost empty cafe, a woman sits, drinking coffee, and writing a thank you letter.  Next to her is a dead man. When his phone won't stop ringing, the woman decides to answer it and take a message.  In doing so, her quiet life is turned upside-down as she's thrust into a world of mysterious strangers, shady business deals, and the potential for true love.  This is the story of Dead Man's Cell Phone, a play by Sarah Ruhl that will be presented by Cape May Stage this September.
The play is a tale about memory, redemption, and the connection and disconnection that takes place in our technology obsessed world.  By holding on to the dead guy's cellphone, the woman keeps the man alive in a strange yet significant way.  She also winds up getting involved with his whole family's life, including a romance with the dead guy's brother.
"What I found so extraordinary about the play was that some of the lines sound like a New Yorker cartoon," explained Roy Steinberg who is directing the production.  "They're hilarious and, at the same time, very poignant."
Cape May Stage's cast includes Abby Royle as Jean, Sheffield Chastain as Gordon/Dwight (i.e. the dead guy and his remarkably similar looking brother), Jennifer Terrell (Hermia/Other Woman/Stranger), and Marlena Lustik as Mrs. Gottleib.  The ensemble includes Denzel Hawker and Iraissa Ann Reilly.  
Dead Man's Cell Phone has been described as everything from an oddball comedy to a surreal work to a satire of modern technology.
---
The article continues after this ad
---
---
"That's what I loved about it," said Steinberg.  "It is an oddball comedy, but, at the same time, it's so contemporary.  I have friends who tell me their boyfriends broke up with them by texting on their phones rather than doing it in person.  The play is about our life in the 21st century. It is a fascinating study of where we are and where we are going."
The play was originally commissioned by Playwrights Horizons, who produced the New York premiere Off-Broadway in 2008.  Two years earlier, the play made its debut in Washington, D.C., with a production by Woolly Mammoth Theatre Company.  Since that time, cell phones have become an even more integral part of our lives.  They have the unique ability to unite people and isolate people.  The concept of phone calls even after one's death is like a metaphor for how much the technology is ingrained with us now.   For Steinberg, the challenge is to create an atmosphere and a tone that works in unison.
"My intent is to create an atmosphere where the actors are all in the same world with a very specific style that's stark," explained Steinberg.  "The writer talks about Edward Hopper paintings, the light, people that are alone, and the alienation that goes on.  That's part of what we're working on."
Steinberg raves about Sheffield Chastain who has the challenge of remaining still for the first act.  In movies, pretending to be dead is easy due to multiple takes.  On stage, there is only one take, so a strong level of concentration is paramount.   Chastain was recently seen in The Guardsman at the Shakespeare Theatre of New Jersey.
Many of Sarah Ruhl's plays have been critically praised and received major awards.  The list includes In the Next Room, or the vibrator play (Pulitzer Prize finalist, Tony Award nominee for Best New Play), The Clean House (Pulitzer Prize Finalist, 2005; The Susan Smith Blackburn Prize, 2004); Passion Play, a cycle (Pen American award, The Fourth Freedom Forum Playwriting Award from The Kennedy Center). Her most recent plays are Stage Kiss and Dear Elizabeth.
The entire season at Cape May Stage has featured the work of female playwrights.  Previous productions include Red Hot Patriot: The Kick-Ass Wit Of Molly Ivins by Margeret & Alison Engle; Mary, Mary by Jean Kerr; and The Search For Signs Of Intelligent Life In The Universe by Jane Wagner.  Upcoming plays this season include Trying by Joanna McCllelland Glass (October 14-November 15) and A Cape May Christmas by Marlena Lustik (November 27 - January 2).
---
Gary Wien has been covering the arts since 2001 and has had work published with Jersey Arts, Elmore Magazine, Princeton Magazine, Backstreets and other publications. He is a three-time winner of the Asbury Music Award for Top Music Journalist and the author of Beyond the Palace (the first book on the history of rock and roll in Asbury Park) and Are You Listening? The Top 100 Albums of 2001-2010 by New Jersey Artists. In addition, he runs New Jersey Stage and the online radio station The Penguin Rocks. He can be contacted at gary@newjerseystage.com.
---