By Gary Wien
originally published: 10/30/2018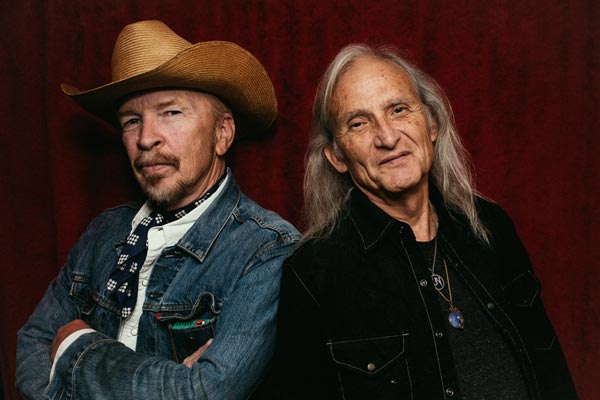 "Forty years on the highway, living on dreams and gasoline" - That's a line from the wonderful title track of the album Downey to Lubbock - the first collaboration from Dave Alvin and Jimmie Dale Gilmore. The two artists had been friends for three decades before embarking on a series of acoustic shows in Texas. Those shows were so much fun and well received that they decided to create an album. They're back on tour and will be performing at South Orange Performing Arts Center (SOPAC) on Thursday. Tickets are $30-$40.
Dave Alvin is best known for his work with The Blasters (a band he co-founded with his brother) and numerous solo albums which were released to critical acclaim. In 2001, one called Public Domain, won the Grammy Award for Best Traditional Folk Album.
Jimmie Dale Gilmore was a founding member of The Flatlanders along with Joe Ely and Butch Hancock, but found more success as a solo artist including Grammy nominations for three separate albums. In addition to music, he's also acted in several films including a memorable role in The Big Lebowski.
Together, they've merged Alvin's bluesy sounds with Gilmore's folk and country roots to create a simply outstanding roots album. The duo are backed by stellar musicians as they cover songs by Woodie Guthrie/Martin Hoffman, Steve Young, John Stewart, Lightnin' Hopkins, Chris Gaffney, Chester Powers, Brownie and Ruth McGhee, and Lloyd Price. But it is the two original songs by Dave Alvin which floored me. Alvin has always been known in the industry as an excellent songwriter, but hearing his songs alongside these fine songwriters seems to take his tunes to another level.
"I'm a pretty good songwriter," said Alvin. "When I'm dead and gone, I think a couple of my songs will live on. I'll put my best song against anybody's worst! Hey Bob Dylan, give me your worst song and I'll give you my best… and I'll show ya!"
---
The article continues after this ad
---
---
Alvin jokes, but those who have heard his work know what a great songwriter he is. Chances are you already know some of his songs even if his name isn't immediately familiar. If you were a fan of alternative rock in the 80s, you probably will remember a song that I think is rather legendary - "4th of July" by X. It was part of the brilliant See How We Are album for which Alvin replaced Billy Zoom in the studio and on tour.
"We're a couple of guys that never really had hits," continued Alvin. "In some ways, that's a curse; in other ways, it's a blessing. I think both of us have been able to survive one way or another. Jimmie's song 'Dallas" was a hit as well. It's funny; we've been blessed in that of all the sort of trauma that goes into making a living this way… I mean, people I know have gotten pretty bitter at times and that affects them, what they do and they lose the love of the music. Both Jimmie and I are really blessed in that we never did lose that. Not to say this hasn't been difficult, but the sort of innocent joy of 'Oh my God, I played the right chord!' - that hasn't left."
The other original tune is "Billy the Kid and Geronimo" - another song that is absolutely perfect for this duo. In this one the two take turns telling a classic western tale. Alvin plays Billy and Gilmore sings the parts of Geronimo. Alvin, who released solo records for about two decades before rejoining his brother on a pair of releases, says he doesn't need a musical partner but tracks like this hint otherwise.
"It's funny, it looks like I need a partner, but I don't really," said Alvin. "I do know that I like making music and I like learning things. The way I learn a lot of stuff is by playing with other musicians or working with other singers and songwriters. By the time I'm 85, I'll be pretty good! That's kind of my goal. 'Man, when I make 85, I'm really going to be something!' So working with other people - whether it's singers or musicians, that's a kick.
"When I sit down to write a song, I'm not thinking about doing duets usually," he continued. "I'm just thinking about what makes a song good or bad. In the case of 'Billy the Kid and Geronimo' I've had it in my brain - my songwriter brain is kind of like an auto parts repair place where there are parts lying around everywhere and there's no rhyme or reason why something is lying around. The song had been laying around in parts for a little while and then I had the idea… Jimmie has Apache blood and hey I was a kid once, so I'll be Billy the Kid and make Jimmie Geronimo. Then I just put the parts together into a song and it worked. I remember the moment he sang the first line of his first verse - it was just like 'this is good!'"
The two artists do not have any additional New Jersey dates currently scheduled. A few tickets remain for the SOPAC show on Thursday and I highly recommend grabbing them while you can. Downey to Lubbock is one of the finest albums I've heard this year. Whether you're a fan of folk, blues, rock, or country there are songs that will blow you away.
Dave Alvin & Jimmie Dale Gilmore have put a unique stamp on some obscure roots songs, a few well known tunes, a pair of incredible originals, and may have topped them all with their wonderful cover of the classic sixties anthem, "Get Together." After the week we've just had in America, the song is more needed now than ever. And to have the chance to hear this music in the amazing acoustics of SOPAC will be a real treat.
SOPAC is located at One SOPAC Way in South Orange, New Jersey.
Look for more from our interview with Dave Alvin in the next issue of New Jersey Stage magazine.
---
Gary Wien has been covering the arts since 2001 and has had work published with Jersey Arts, Elmore Magazine, Princeton Magazine, Backstreets and other publications. He is a three-time winner of the Asbury Music Award for Top Music Journalist and the author of Beyond the Palace (the first book on the history of rock and roll in Asbury Park) and Are You Listening? The Top 100 Albums of 2001-2010 by New Jersey Artists. In addition, he runs New Jersey Stage and the online radio station The Penguin Rocks. He can be contacted at gary@newjerseystage.com.
---