By Gary Wien
originally published: 02/20/2016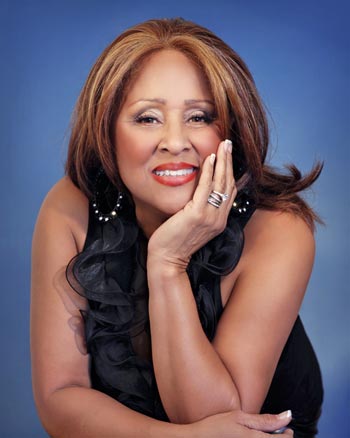 Her voice was known to millions even when her name was not.  She sang on number one hits and backed up artists like Elvis Presley, Marvin Gaye, and Dionne Warwick.  It took several decades for her to finally take center stage, but once she did she never looked back.  And last year, she released Introducing Darlene Love — her long-awaited record of new material.  Produced by Stevie Van Zandt, it's not only a great record… it's one of the best Asbury Sounding records in decades.  She may be from California, but she's got deep Jersey roots and it shows.
Darlene Love was heard on some of the biggest songs of the 1960s, including the classic "He's a Rebel," but she remained far from a household name for the average music fan.  She did, however, have the support of two very important fans from the Garden State — Bruce Springsteen and Stevie Van Zandt.  The two met her for the first time in the early eighties while she was living and performing in Los Angeles.
"I did a show at a club and Stevie and Bruce came to see me," she recalled.  "After that show was over, I was introduced to Stevie by Lou Adler, a record producer that was a very good friend of mine.  Stevie told me, 'You need to move to New York.  I need to record you.' I said, 'Are you sure?' and he said, 'Yeah, let's just make a deal, one day I will record you.' We just didn't know it was going to take 30 years!"
According to Love, both life and scheduling got in the way.  She moved to New York and began acting in the Lethal Weapon series where she played Danny Glover's wife Trish Murtaugh.  She also starred on Broadway in Hairspray, Grease, and, in the Tony Award-nominated, Leader of the Pack where she portrayed herself.  In the mid-80s, she began her annual tradition of singing "(Christmas) Baby Please Come Home" on David Letterman's show — something she would do for nearly 30 years.  Moving to New York had definitely turned out to be a good idea, but for more reasons than she or Van Zandt ever imagined.
"I'd been to New York all my career, but never thought of living here," she explained.  "I didn't know if I could live in New York with the fast pace and the winters because living in California you don't have a winter; you have spring and summer all year long.  So, it was a bit of a shock.  There were many days you say to yourself, 'did I make the right decision? Should I move back to California?' But the decision was made to move here and once I make a decision to do something I'm going to follow it through.  And thank God I did because a lot of wonderful things happened to me after I moved to New York that would never have happened to me if I lived in California."
---
The article continues after this ad
---
---



Meanwhile, Van Zandt was busy releasing his own albums, acting with a regular role on The Sopranos, and would go on to create a new identity for himself as a DJ with "Little Steven's Underground Garage" on radio stations across the country.  And, of course, there was plenty of work with Bruce Springsteen.

"It's funny, everybody should have a thing they can stay out of for a couple of years and then do for a couple of weeks, which becomes a couple of years," said Love.  "That's what happens with Bruce Springsteen."

It may have seemed like forever, but Van Zandt never forgot about their deal.  He caught up with Love one night when she was performing at B.B. King Blues Club & Grill in New York City.  He asked her what she was doing the next day.  The band was scheduled to have a day off, but Van Zandt had other plans.

"He said, 'We're going into the studio because if we never go in and start, we're never going to get this done,'" she recalled.  "And that was so true because once we started doing it, time became available.  I wasn't doing anything, he wasn't doing anything, and the band wasn't doing anything.  So, it took a couple of months and then when we looked up it was a whole year later and we were still trying to fix this album, but it came out great."

The record includes new songs by songwriters like Elvis Costello, Jimmy Webb, Desmond Child, Joan Jett, Barry Mann, and Linda Perry.  It also features a pair of songs by Bruce Springsteen and three by Van Zandt himself.  Between the five tracks, the horns used throughout, and Van Zandt's signature sound, the record has a distinctive Asbury Sound to it.  

Van Zandt's production is exceptional on this record.  He has a signature sound of his own, which rarely gets the credit it deserves. Jersey music fans will remember the work he did on timeless classics like Hearts of Stone by Southside Johnny & the Asbury Jukes.  Love's record has that same sound to it — a combination of 60s vibe and the Jersey Shore.  In fact, from the opening track ("Among the Believers") the record is reminiscent of a Jukes album sung with a female voice.  Horns blare, songs bounce, and Darlene's voice brings everything home.  If you never believed there was an "Asbury Sound" this record may change your mind.  It may also show how important Van Zandt is to the genre.

"When I talk about the album, I tell people Stevie's come into his own," said Love.  "He did a lot of producing with Bruce Springsteen and it was nobody's fault, but Bruce got most of the attention for it.  But Stevie said, 'That's what I was hired and paid to do and that's what I did.'"

The two had worked together in the studio once before on a song called "All Alone at Christmas" which was on the Home Alone 2: Lost in New York soundtrack.  Love soon realized that recording a single song and recording an entire album were two entirely different situations.

"We weren't as involved as I was with him when he was doing my record," she said.  "He's a whole other animal when he's in that studio! It's him creating and you can see him when he's listening or when he's trying to think of something — you can actually see the wheels turning in his head! He's just so creative.  He came up with a lot of the things on the album.   What he did with 'Who Under Heaven' by Jimmy Webb was all him.  It floored everybody when they heard it."

The Jimmy Webb track might be the best example of Van Zandt's wizardry in the studio.  The track takes a song that could have been a simple ballad and transforms it into a musical roller coaster. The song utilizes drums, mournful guitars, and piano; it rises and falls, it twists and turns.  It's a ballad for a moment then explodes into a rocker.  The song feels like an entire concert in itself.

In addition to his production, Van Zandt's songwriting is a welcome return for Jukes fans.  He penned some of the most popular songs for the first three albums by Southside Johnny & the Asbury Jukes, including the concert favorites  "I Don't Want to Go Home" and "This Time It's for Real."  When you listen to Love's album, you can instantly tell which songs were written by Van Zandt.  He's got a signature writing style as well.  One, we haven't heard nearly enough of in recent years.

Van Zandt's contributions even went as far as the album's title.  Introducing Darlene Love is a rather ironic title for an artist that was inducted in the Rock and Roll Hall of Fame in 2011 and whose voice has been on the airwaves since the sixties, but it's a very apt title.  Millions of people first heard of her from the Oscar winning documentary 20 Feet From Stardom, which turned the spotlight on backup singers like Love, Merry Clayton, Lisa Fischer, Claudia Lennear, and Judith Hill.  The title is a both an introduction to Darlene Love as a lead singer and an ode to the famous album titles of the sixties like Meet The Beatles.  It's the perfect name for a record that evokes the spirit of that time period, one in which Love was so ingrained.  It surprised her to learn just how much those songs resonated with guys like Van Zandt and Springsteen.

"I didn't know how Stevie and Bruce felt about those songs until I got to work with both of them and got to know them," said Love.  "They remember all of those songs.  Matter of fact, Bruce even does a few of them in his show which amazed me.  I thought that was fantastic!"

The spirit of those sixties classics is certainly present on Love's album.   The songs sound both familiar and new at the same time.  Love was first introduced to the world with the help of a producer named Phil Spector who kept her name hidden from the records she made hits.  It may have taken her much longer than she ever dreamt, but she finally found a producer who understands her and wants her to succeed with her name front and center.  And it's never too late to make a first impression.

 




---
Gary Wien has been covering the arts since 2001 and has had work published with Jersey Arts, Elmore Magazine, Princeton Magazine, Backstreets and other publications. He is a three-time winner of the Asbury Music Award for Top Music Journalist and the author of Beyond the Palace (the first book on the history of rock and roll in Asbury Park) and Are You Listening? The Top 100 Albums of 2001-2010 by New Jersey Artists. In addition, he runs New Jersey Stage and the online radio station The Penguin Rocks. He can be contacted at gary@newjerseystage.com.
---