This article is from our magazine. To view it in its original format, click here
REVIEW: Darkest Hour
By Eric Hillis, TheMovieWaffler.com
originally published: 12/26/2017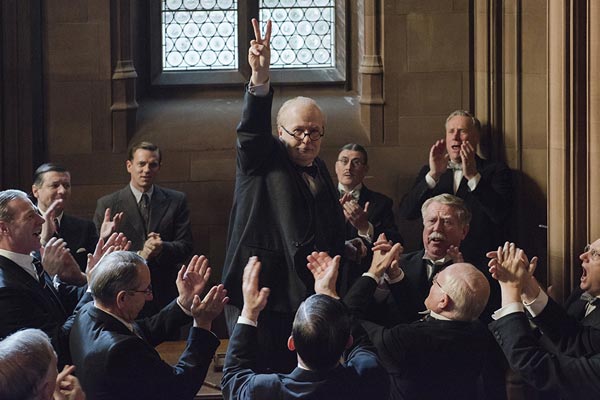 Roughly five minutes into his performance as Winston Churchill in Joe Wright's wartime biopic, Darkest Hour, I forgot I was watching Gary Oldman. It was only about a half hour later - when a photographer's flash captured the portly PM in a monochrome freeze frame, and Oldman's two-fingered salute and defiant expression gave the impression that Wright had subliminally edited a frame of the actor's turn as Sid Vicious in Alex Cox's Sid & Nancy into his film - that I was briefly reminded I was watching an iconic actor, rather than an iconic figure. Awards season hype should always be mistrusted, but Oldman really is doing something special here, embedding himself into a subconscious history most of us never lived.
Wisely ditching a cradle to grave format, Wright - like Jonathan Teplitzky, director of this year's earlier Churchill - narrows his film's focus to a few monumental days in the British Prime Minister's stewardship, beginning as he takes over from Neville Chamberlain and playing out over the run up to the evacuation of Dunkirk (I think there may have also been a movie about that event this year).
Oldman became a star thanks to his turn as Sid Vicious, so perhaps it's fitting that the role that will almost definitely land him his first Oscar sees him essay another anti-establishment figure who spent most of his waking hours in a state of inebriation. Uncouth by the stuffy standards of Westminster, Churchill makes enemies of the Royals and the Church, both of whom are happy to entertain the idea of entering into peace talks with Hitler. Churchill is initially having none of it, but as his cabinet gangs up on him and Roosevelt refuses to come to Europe's aid, he's forced to consider the inconsiderable.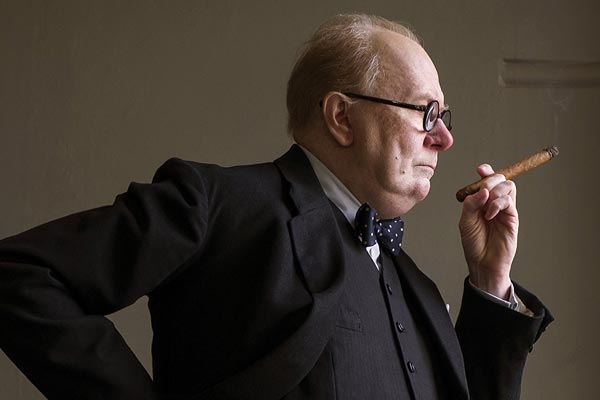 Of course, we all know how this ends, and if you don't, you might want to consider why you're reading this review in English rather than German. The question thus isn't what happened but how, and in Wright's hands, the how is something splendid. I've struggled with the director in the past, but Darkest Hour shows a new, mature side of Wright, exhibiting a sense of visual storytelling that at times recalls Spielberg at his best.
Both Wright and Teplitzky's films made a central figure out of Churchill's personal stenographers, but the latter used his as a lazy and convenient sounding board for Brian Cox's Churchill to verbalize his thoughts. Compare this to the cinematic manner in which Wright deploys Lily James as Elizabeth Layton, drawing the humanity out of her boss's gruff exterior, not by her words, but merely by her presence. Both movies have scenes in which Churchill realizes his secretary has a personal interest in the decision he must make (here it's a dead brother, killed fighting in France), but in Darkest Hour Layton keeps her emotions in check, and we see on Churchill's face his realization that should he choose for Britain to fight, his people can carry the load.
---
The article continues after this ad
---
---
In another stunning moment of subtle visual craft, Layton finds herself for the first time confronted with a giant map of Europe, a small group of blue pins surrounded at Dunkirk by a continent-sized horseshoe of red pins, and her fingers caress the blue pins as she stifles her emotions. You can tell a lot of money has been pumped into Darkest Hour, and every penny is on the screen, but its best moments are minute masterclasses in how to convey something big with a small gesture. The man who turned a two-fingered salute into a symbol of strength and defiance would approve.
4  stars out of 5
Directed by: Joe Wright
Starring: Gary Oldman, Lily James, Kristin Scott Thomas, Ben Mendelsohn, Stephen Dillane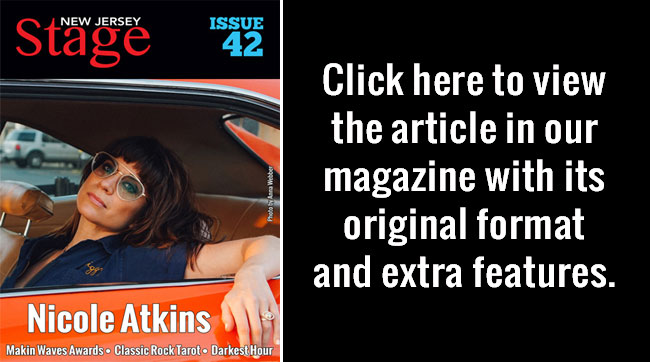 ---
For more by this author, click here
---


2018 Westfield International Film Festival To Take Place September 20-23
(WESTFIELD, NJ) -- Anybody can go to a movie theater to watch a film, but the Westfield International Film Festival is bringing movies to the mansion with its sixth season at the James Ward Mansion in downtown Westfield from September 20 - 23, 2018!  The festival will span a four day weekend and will include Q&A sessions with actors and filmmakers, networking opportunities, and red carpet parties.
---
JCTC FILM Premiers DEKA-LOG, New Series Depicting Contemporary Urban Life
(JERSEY CITY, NJ) -- A new anthology web-series by an up and coming, Jersey City-based filmmaker, premiers at Merseles Studios on August 23rd when Jersey City Theater Center presents DEKA-LOG: a Finding Me story.  Doors are at 6:30pm, screening at 7:00pm.  Admission is $10.
---
​​​​​​​The Newton Theatre Presents a Silent Film Halloween With A Live Orchestra
(NEWTON, NJ) -- The Newton Theatre presents a trio of ghostly silent films paired with the original historic orchestral scores on Saturday, October 27 at 3:00pm. Travel back to the early 1900s to cheer and hiss with Buster Keaton in The Haunted House (1921), Laurel and Hardy in Habeus Corpus (1928), and Charlie Chaplin in One A.M. (1916). Between the films, enjoy the rollicking rhythms of the early 20th century as played by The Peacherine Ragtime Orchestra, featuring favorites by Scott Joplin, Irving Berlin, and more! Fun for the whole family!
---
A Look At New Jersey Film Festival's Fall 2018 Lineup
(NEW BRUNSWICK, NJ) -- The 36th Bi-annual New Jersey Film Festival Fall 2018 will take place at Rutgers University in New Brunswick from September 14 - October 26.  The festival showcases new international films, American independent features, animation, experimental and short subjects, and cutting-edge documentaries through over 30 film screenings. The Festival will run on select Thursday, Friday, Saturday, and Sunday evenings. The festival is presented by Rutgers Film Co-op/New Jersey Media Arts Center, in association with the Rutgers University Program In Cinema Studies.
---
​​​​​​​Montclair Film and Hackensack Meridian Health Mountainside Medical Center To Hold Free Screening of "MILK"
(MONTCLAIR, NJ) -- Montclair Film and Hackensack Meridian Health Mountainside Medical Center will present a free screening of MILK (2015) on Wednesday, August 29th at 10:30am at Montclair Film's Cinema505. The screening, presented in celebration of World Breastfeeding Month, seeks to educate and promote breastfeeding among nursing and expecting mothers.
---


Newark Black Film Festival
​​​​​​​Richard Wesley is a playwright, screenwriter, and professor of Dramatic Writing at the Tisch School of the Arts at New York University, and has been involved with the Newark Black Film Festival for well over three decades. A Newark native, he's currently the Chairperson of the festival's Selection Committee. The NBFF is currently in full swing, with a screening of Cadillac Records tomorrow, and the biennial Paul Robeson Awards for young filmmakers taking place on Wednesday, August 8. This season's program also features the films Selma, I Called Him Morgan, The Art of the Journey, Coco, and Hidden Figures. We recently spoke with Wesley about the history and mission of the Newark Black Film Festival, the role it plays in the lives of young filmmakers, and a chance encounter with Sidney Poitier that launched him into the film industry.
---
REVIEW: "Skyscraper"
Over the last half century, the concept of blockbuster spectacle has flipped on its head. In the 1960s, big budget spectacle meant Steve McQueen jumping over a barbed wire fence on a motorcycle without the aid of a stunt double, or Julie Andrews screaming her lungs out on a Swiss mountainside. Science fiction was relegated to Saturday morning screenings of b-movies, which parents would use to relieve themselves of their tykes while they went shopping. George Lucas  changed all that a decade later, and now sci-fi and fantasy dominates the multiplex, while the only movies featuring practical stunts are those low budget straight to VOD action movies designed to showcase the athleticism of former MMA fighters.
---
REVIEW: "BlacKkKlansman"
Spike Lee's BlacKkKlansman isn't a remake of Ted V. Mikels' infamous 1966 grindhouse staple. Rather it's based on true events ("Dis joint is based on some fo' real, fo' real shit," reads the title card, because Lee is apparently a 12-year-old boy), the story of how rookie cop Ron Stallworth (played here in a star-making turn from John David Washington, son of Denzel) became a member of the Ku Klux Klan in 1978, despite being an African-American.
---
REVIEW: "When I Sing"
Most of the world learned of Linda Chorney in 2012 when her name was listed as one of the Grammy nominees for Best Americana Album. Her film, When I Sing, not only follows her rise from obscurity to the Grammy Awards, it goes much further.  It's a love story between a die hard Red Sox fan and a Yankees fan; a spotlight on how indie artists survive on the road; and a deeply, revealing portrait of how the media and the music industry turned what could have been a wonderful Cinderella story into a very hurtful experience.
---
REVIEW: "Jurassic World: Fallen Kingdom"
I recall hearing an anecdote concerning a society of pranksters in 1970s London who would take trips en masse to the cinema, only to walk out when or if the title of the movie in question was spoken by a character. That lot would get their money's worth with Jurassic World: Fallen Kingdom, as it's not until the closing minutes that a returning original cast member (in a blink and you'll miss it cameo) informs us that we're now living in a "Jurassic World." It's the sort of cringeworthy moment that would normally cause me to groan, but I was so broken down by the laziness and ineptitude of this fifth installment in the franchise that I couldn't even muster a sigh by that late point.
---