By Gary Wien
originally published: 10/19/2015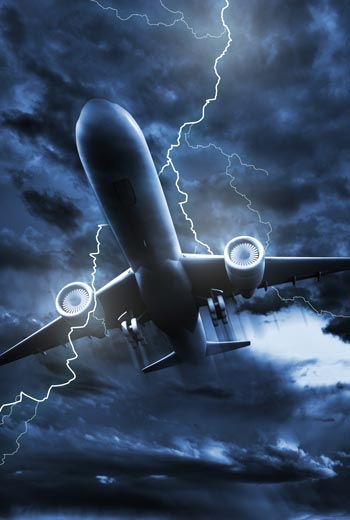 If the truth is stranger than fiction, perhaps reality is more suspenseful.  That premise is put to the test in the play Charlie Victor Romeo.  Written by Robert Berger, Patrick Daniels, and Irving Gregory, the play opens the 11th season for South Camden Theatre Company in October.  
Charlie Victor Romeo takes actual transcripts from the "black box" cockpit voice recorders of six airplanes which all faced emergency and sometimes fatal situations.  Actors relive these terrifying moments in the sky exactly as they played out in real life.  This fascinating play won a pair of Drama Desk Awards in 2000, including one for Outstanding Unique Theatrical Experience.  South Camden Theatre Company's production is the regional premiere of this fine work, which is rarely performed.
The cast includes Eric Carter, Kevin Doyle, Jason Cutts, Stacy Skinner, Tyler S. Elliott, Cindy Starcher, and Paul Sollimo.  The production is directed by Joseph M. Paprzycki, the Founding Producing Artistic Director of the company, who saw the play staged in New York in 2003.

"My friend called me and said you have to get up here and see this play," recalled Paprzycki.  "I saw it in the East Village in a public school basement where they were doing it.  It was jarring theatre and it stayed with me all of this time.  I wondered if I could do that here. I started looking into it and finally found a way to get the rights, which was not easy.  I think they've only licensed it one or two times."
The six different situations take the audience on a roller coaster ride that lures you in with moments that are almost comic, such as pilots flirting with flight attendants.   But with the audience disarmed, the scenes start getting darker.
"You've better be ready for a ride because the scenes are terrifying," said Paprzycki.  "And they're real."
---
The article continues after this ad
---
---
The reality of the situations is something that truly hits home.  These aren't imaginary characters whose lives are in danger, these were real people caught in situations that could easily happen to you or me while flying.  We all try to put the dangers out of our minds when we enter our seats, but the dangers are always there.  Paprzycki admits that he has found himself paying closer attention to details while flying ever since he got involved with the play.  A trip to Boston in July was delayed while the crew had a maintenance guy check out a situation with the front tire.  Paprzycki watched what everyone was doing, what they were touching, how they were reacting, and even how they were sitting; all of which gave him insight for the play.  Likewise, historical tv coverage about the incidents proved invaluable for Paprzycki and the cast members to get a better understanding of the gravity of these situations.
"The direction I've given to the cast from the minute we started is, 'This is a play in which you're going to constantly remember one word as you're acting - training,'" explained Paprzycki.  "I told them, 'No matter what your personality is, you've been trained.  You're highly trained professionals and that training has to come through in everything you're doing.  Even though you might be scared to death, the training has to show.'"
That training comes through when a crew hears a boom during a flight.  The sound tells them something is obviously wrong, but they don't know if it's a bomb, a door blowing off, or the loss of an engine.  Incidents in the play range from bulkheads rupturing (causing the loss of the vertical fin and all hydraulics) to a simple piece of tape left over the static ports when the maintenance crew last washed the plane (resulting in the failure of crucial flight instruments to work properly).
During rehearsals, the cast was continuously pushed a little farther and farther into the realities of the situations.  One of the most intense moments of the play deals with United Airlines Flight 232.  At one point, the air traffic controller mentions "there is a four-lane highway you can look at." Paprzycki asked the actors what that means.  The reply was, "It means you're going to kill at least 100 innocent people on the ground."  Paprzycki said, "Yeah, think about just how devastating that is."  When the actors redid the scene again, their faces showed the realization of being told they could land on a highway that is probably packed with cars and innocent people who will be killed.  Paprzycki told the actors, "When you start hearing these things we have to see the reaction of you the person — through the training — because we know that the audience is thinking, 'What if my daughter and my three grandchildren are in a car on that highway?'"
"I'm finding all new emotions with this production," he continued.  "Emotions I haven't worked with in plays I've directed before because this is so different.  The one thing I want to make sure our cast constantly does is keep the people in it.  It's easy to get pulled aside when they're fighting the plane or it won't turn to the left or the right, but I keep hammering home the term they use throughout the play, 'All the souls on board.'  This is real tragedy here.  These are real lives and real people.  And I don't want to lose that when telling the story.   I want the audience to walk out the way I did and start thinking about the play an hour or two later and say to themselves, 'Wait a minute… these were real people.  They weren't made up from a playwright.' When you start thinking about all these poor people, it really hits home."
In a bit of fortuitous casting, the two women both have connections to pilots in real life — something unknown to Paprzycki during the audition process.  One laughed when Paprzycki called her and said she had the role.  She explained her husband is a pilot that flies for FedEx.  Knowing the strong possibility of emotional danger for her, Paprzycki asked her to think it over.  A day later she called him back to say she was on board.
The other woman has a best friend who is a pilot who came to one of the early rehearsals and helped the cast with their questions.  While most plays require actors to learn about their characters — their relationships, backstories, etc. — this play forces actors to learn a new language as well.  Having someone with real world experience proved invaluable to the process.
One of the most fascinating aspects of the play is the use of the last recorded words ever said by some of these people.  You are literally witnessing a reenactment of their final moments.  Writers often think of the power of words, but few ever think of the final words they'll ever write or say out loud.  Audience members may or may not be thinking about the finality of these words as something momentous on a conscious level, but subconsciously it adds to the power of the play and makes it more of a jarring experience.
"What I can say is that you have never seen live theatre like this as it is both terrifying, true to life, and hopefully it will stay with you for a long time," said Paprzycki.  "I've never done anything like this in South Camden and I wanted to start our second decade with something completely different as Monty Python used to say."
Charlie Victor Romeo

October 16 - November 1

South Camden Theatre Company

400 Jasper Street, Camden, NJ

---
Gary Wien has been covering the arts since 2001 and has had work published with Jersey Arts, Elmore Magazine, Princeton Magazine, Backstreets and other publications. He is a three-time winner of the Asbury Music Award for Top Music Journalist and the author of Beyond the Palace (the first book on the history of rock and roll in Asbury Park) and Are You Listening? The Top 100 Albums of 2001-2010 by New Jersey Artists. In addition, he runs New Jersey Stage and the online radio station The Penguin Rocks. He can be contacted at gary@newjerseystage.com.
---