By Gary Wien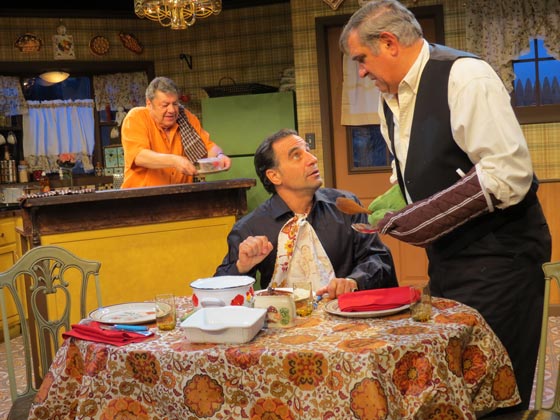 This article was originally designed to be read in the September 2014 issue of
New Jersey Stage magazine. To read it in its original format, click here

Dan Lauria says he doesn't like to look back, but it's hard not to imagine his old friends Charles Durning, Jack Klugman, Dom Del Louise, and Peter Falk during "Dinner With The Boys", a new play Lauria wrote and stars in at New Jersey Repertory Company in Long Branch. The play, which was originally written with those four actors in mind, runs until October 5 and is one of the hottest theater tickets in the state. Nearly every performance was sold out before the run began, a first for the company.

Best known for his work as the father on "The Wonder Years", his stage acting resume is very impressive, and even more so when you examine his passion for doing new plays instead of revivals. He's famous for saying, he doesn't do plays by dead white guys. What many people don't know is he not only has an MFA in playwriting, but originally came to New York City to be a playwright. In fact, Charles Durning, who became a father figure for Lauria, helped him get his first production mounted on Off-Broadway in just a few years. The experience helped him land an agent and his acting career took off. It's one that has landed him roles in films, television and even Broadway. So, why is he holding the world premiere of his play at the tiny playhouse in Long Branch, NJ?

It's because the theater shares the same mission as he does.

"It feels great to be here with Gabe and SuzAnne Barabas," said Lauria. "Gabe's one of the few people who ever listened to me. I told him years ago when they first got started that no theater ever made a name by doing a revival and 99% of the plays he produces are originals… For me, it feels great to be here… to be able to literally have a place where you can try and fail, and go back and try again, until you get the play to where you want it to be.

"In the first public reading [of "Dinner With The Boys"], Peter wasn't there and I read his part, but we read it again at Peter's house for a very limited audience and it was quite an experience," continued Lauria. "But then Dom got sick and so did Peter, and they both passed. I didn't feel right about sending it out. When Charley and Jack passed a couple of years ago, the first person I thought of was Gabe. I said if you want to do this, let's make a time and I'll turn down work and come over there and we'll see if we can get it to work."

In "Dinner With The Boys", Dan plays Charlie, an aging mobster who lives as a "ghost" with Dom in a New Jersey home as the pair await their punishment from Big Anthony, Jr. for failing to do a hit they were ordered to do. It's a very funny comedy which shows a different side of mobsters - from Charlie's work in the garden to Dom's culinary wonders in the kitchen - and a story that truly believes you are what you eat.

"It's deliberately written as an old fashioned play," explained Lauria. "There are two acts. Even with an intermission it runs less than two hours. It's one set and there's very little special effects. I'm tired of seeing movies being put on stage and telling everybody it's a play. This is a play. It's something I hope other regional theaters will do because it's easy to produce."

The cast includes Ray Abruzzo who played "Little Carmine Lupertazzi" in the Sopranos, Morris "Moe" Rosenbaum, Richard Zavaglia, and Lauria. It's directed by Frank Megna. Lauria says that everyone was involved in adding little bits and pieces to the script and he was completely fine with that even if it seemed a bit odd to others in the crew.

"I'm working as an actor would write, not as a writer would write," he said. "When an actor comes up and says can you change this or here's a good joke, we try it and we actually do it. I don't sit back and say no, it's not what I wrote. I'd say about 8 out of every 10 suggestions the director and the other actors have given me are in the script… and I'm going to take full credit for it - they know that!"

Lauria has been following the advice Charles Durning gave him long ago: never go a year without doing a play. He's been able to follow that advice throughout his career, even while starring in "The Wonder Years" and his current show "Sullivan & Sons" on TBS. He says if you count acting, writing, and directing, "Dinner With The Boys" is his 60th production. The resume included shows off-Broadway and in regional theaters, but never on Broadway until the past few years in which he's been in "A Christmas Story" and "Lombardi", both times originating a role.

"I had a lot of offers to do Broadway over the years, but they were all revivals," said Lauria. "So, to me, to be on Broadway three years in a row with a brand new play that I originated… that was the ultimate of my career. Between Lombardi and A Christmas Story, Sullivan & Sons and now this with The Wonder Years on DVD, I've stuck around so long I'm new again!"

---
Gary Wien has been covering the arts since 2001 and has had work published with Jersey Arts, Elmore Magazine, Princeton Magazine, Backstreets and other publications. He is a three-time winner of the Asbury Music Award for Top Music Journalist and the author of Beyond the Palace (the first book on the history of rock and roll in Asbury Park) and Are You Listening? The Top 100 Albums of 2001-2010 by New Jersey Artists. In addition, he runs New Jersey Stage and the online radio station The Penguin Rocks. He can be contacted at gary@newjerseystage.com.
---