By Gary Wien
originally published: 07/18/2015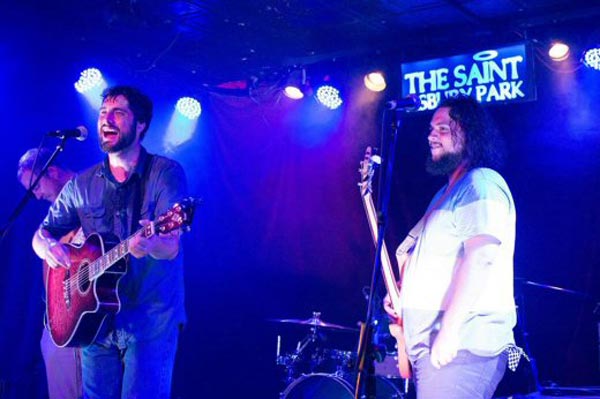 Far too often, bands in New Jersey tend to stay in the area.  With New York City on one side and Philadelphia on the other, a case could certainly be made that there are more than enough places to play and millions of music fans to reach within a two hour ride; however, there is something to be said for challenging yourself to be that band on the road, hitting a club you've never hit before, walking through those doors and performing in front of people who are not your friends or family members -- just strangers.  
One band that has been enjoying that challenge is Cranston Dean, who have been touring in support of Sarajevo, a record that came out on June 18.
Cranston Dean (which features Cranston on acoustic guitar, vocals and keyboards, Riley Schiro on guitar and vocals, and Ike Gutierrez on bass and vocals) has spent the summer playing in cities like Chicago, Nashville, Louisville, and Cleveland along with dates in Harrisburg (PA), Delhi (NY), and Rockland (ME).  The band has been hitting many areas for the first time.  Dean says going on tour can beat you up, but it also does a lot for a band.
"For me personally, it makes me feel very certain that this is what I want to do," explained Dean, who started touring outside of New Jersey about five years ago as a solo artist.  "I think for the band it makes the music a lot tighter and the friendships better.  The smaller towns are like 'What are you doing here?' We played Rockland, Maine last 4th of July and we've been there four or five times since.  Each time, we keep meeting cool people and they help spread the word about us.  They're just pumped that we're going to Rockland, they're like 'No one comes to Rockland.'  Well, people should definitely go to Rockland, it's a great town and only two hours north of Portland, so if you go to Boston you might as well do Portland and Rockland if you can.
"The other day we played a biker bar in Fort Wayne, Indiana and we passed out a bunch of our pins," continued Dean.  "This one dude was all about it.  And we're laughing in the car on the way out thinking about all these incredible tough bikers wearing our pins on their jackets!"
---
The article continues after this ad
---
---
Locally, Cranston Dean has participated in many benefit shows, performed at the Asbury Music Awards, and did a set at TedX Navesink.   The band also has a close relationship with the radio station 90.5 The Night where they were interviewed in the studio and featured in the Songwriters on the Beach series in Belmar last year.  On Thursday, August 13, Cranston Dean will return to the beach when they open for the New York band, Lost Leaders.
Growing up in Atlantic Highlands, Dean was a fan of 90.5 and enjoyed their songwriter shows, which were held in Red Bank until last year.  He said he always wanted to be part of that series and looks forward to doing it again.  While the shows in Red Bank were held in a beautiful park overlooking the marina, the shows in Belmar are on the boardwalk faceing Atlantic Ocean.  "Just to be able to look out into the ocean while you're playing is a great feeling," he said.
The plan for the future includes more touring with the goal of getting on bigger circuits and a new record or EP.  Cranston Dean's latest release, Sarajevo is held together with wonderful songwriting and Cranston's soulful singing.  The songs blend touches of country, blues and even funk within a strong Americana base.  It reminds me of something that could have come from Robbie Robertson or The Band.  Great guitar riffs, beautiful piano, and aching vocals all put forth a powerful record.  If you love songs that seem to contain an entire universe — those which appear to live a lifetime within a few short minutes — this disc is well worth checking out.  
---
Gary Wien has been covering the arts since 2001 and has had work published with Jersey Arts, Elmore Magazine, Princeton Magazine, Backstreets and other publications. He is a three-time winner of the Asbury Music Award for Top Music Journalist and the author of Beyond the Palace (the first book on the history of rock and roll in Asbury Park) and Are You Listening? The Top 100 Albums of 2001-2010 by New Jersey Artists. In addition, he runs New Jersey Stage and the online radio station The Penguin Rocks. He can be contacted at gary@newjerseystage.com.
---