By Gary Wien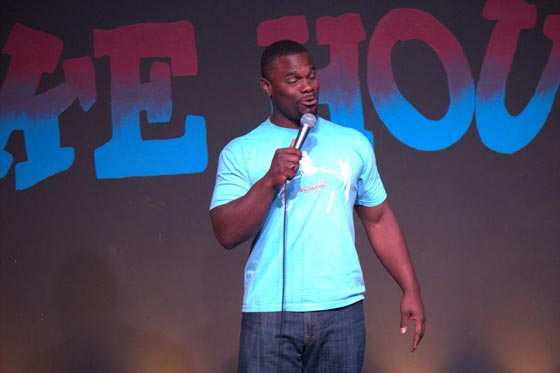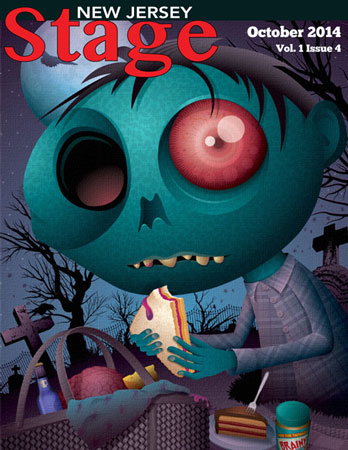 This article was originally designed to be read in the October 2014 issue of
New Jersey Stage magazine. To read it in its original format, click here

He was named the Funniest Comic in New England, but Corey Rodrigues hopes to put that title in the rear-view mirror soon. His appearance on Gotham Live helped, but a shot at being the Last Comic Standing might place his career in the fast lane. And he's got a shot. By the time Corey Rodrigues returns to Uncle Vinnie's Comedy Club in November, he will have been part of the second round. If he's lucky, he'll continue on to the TV show.
Rodrigues has been honing his craft in the Boston comedy scene for several years. It's a very respected comedy scene with plenty of clubs and great comedians, but for Rodrigues it's something more. It's where he found his voice and his writing partner, Orlando Baxter.
"The most helpful thing for me for writing is having somebody else write with you that actually understands what your voice is," explained Rodrigues. "It sounds so simple but it's a big deal because too many times you'll be writing with somebody or attempting to write with some so simple but it's a big deal because too many times you'll be writing with somebody or attempting to write with some body when you're trying to find that partner and they want to tell you how they would do it as opposed to them telling you how they know you would do it. You're two different people, being able to find someone that gets that is not easy and when you do find it don't let it go and you will grow as a comedian."
Rodrigues met Baxter, a fellow comedian, at an open mic. At one point in the night, Baxter found Rodrigues' notebook, which was full of ideas and jokes.
"He was like you've got such good ideas, but you don't really know how to say them yet," recalled Rodrigues. "He had been doing it maybe a year or two longer than me, so it wasn't like some grizzled vet talking, it was perfect. There have been some jealous girlfriends for the amount of hours that have been spent talking together about comedy, writing comedy, and talking with other headliners."
Rodrigues says that being able to pick the brain of other headliners is important, but being able to talk over what was said with someone else to helps you process the information is crucial.
Growing up in Milton, a small suburb in Massachusetts, Rodrigues was trained by Boston's Improv Asylum and later formed his own improv troupe, Flaming Awesome. He calls improv "stand-up lite." It was a way for him to gain experience on stage in front of an audience, which helped build his confidence as a young comic.
In addition to an improv background, Rodrigues is also very good at impersonations. It's not something that's always part of his act, but comes out once in a while. He says impersonations have always come naturally to him because he has a knack for keying into the various nuances of people.
"I think that was probably how I started getting people laughing because I would notice things that other people didn't," said Rodrigues. "Then they would look back into it and start laughing. That developed into being able to impersonate them because once you pick up a person's nuances you pretty much can get them."
Friends of his have been on his case for years about sending a tape to Saturday Night Live. As someone who has acting experience, can do impersonations, and has an improv background, he would be a perfect fit. Who knows, maybe if the Last Comic Standing goes well, SNL just might approach him. See him now while you still can.
---

Don't miss Corey Rodrigues at Uncle Vinnie's Comedy Club in Point Pleasant November 12-14

---
---
Gary Wien has been covering the arts since 2001 and has had work published with Jersey Arts, Elmore Magazine, Princeton Magazine, Backstreets and other publications. He is a three-time winner of the Asbury Music Award for Top Music Journalist and the author of Beyond the Palace (the first book on the history of rock and roll in Asbury Park) and Are You Listening? The Top 100 Albums of 2001-2010 by New Jersey Artists. In addition, he runs New Jersey Stage and the online radio station The Penguin Rocks. He can be contacted at gary@newjerseystage.com.
---