By Gary Wien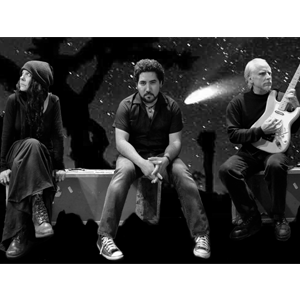 (ASBURY PARK, NJ) -- There are many bands from the 80s and 90s who continue to tour around the world, play their most recognizable tunes, and cash a paycheck each night. Concrete Blonde, who is coming to the Stone Pony in Asbury Park on Friday, is not one of those bands. In the past decade, they've released two new albums and lead singer Johnette Napolitano has released several solo releases as well. They even have a new single out called "Rosalie". Chances are unless you're a die-hard Concrete Blonde fan, you probably weren't even aware of those releases. That's not because they weren't good (they are), but because so few radio stations play new music anymore that bands like Concrete Blonde are largely on their own.

Even without exposure on the radio, Concrete Blonde has managed to stick around for thirty years with their wonderful blend of mystic, often experimental and moody, rock and roll. They're most well known songs include "Joey", "Everybody Knows", "Ghost of a Texas Ladies Man", "Caroline", "God is a Bulllet", and "Dance Along The Edge". The band took some time off at various periods, but have been plugging away for the most part throughout. According to Napolitano, the secret is treating a band like a marriage.

"Ask anybody who's been married for 30 years what they do to keep it going," said Napolitano. "It's very difficult. Sometimes you need breaks to keep something going that long. Thirty years is a long time, it's a huge part of your life. You have to step back at times. You're not the same person you were 30 years ago, neither am I, neither is anybody. It's a challenge to keep anything going at all when you consider bands are a relationship with more than two people. Responsibilities shift, everything shifts… basically, we're still here, which is rather amazing to me.

"Playing music for a living is not an easy thing to do and it's getting even harder because the logistics are really difficult, but it's the best thing in the world to do. It's just a complete blessing. We can overcome anything that it takes to get out and play for people and that's necessary now since it's supposed to be the end of the world year!"

Concrete Blonde has played Asbury Park a couple of times before, but not in many years. Back when songs like "Joey" and "Everybody Knows" were climbing the charts, the band played a classic set at The Fast Lane. Years later, they opened for Dave Edmunds at the Stone Pony. "I remember because Dave was so cool to us," recalled Napolitano. "He let us have his dressing room because he never came off of his bus. At the time, we were broke and lived in the van seven months at a stretch. We needed to find a place to change clothes and I remember them watching us like hawks. I think they thought we were going to steal something!"

Several weeks ago, as the band members watched images of Hurricane Sandy on their television sets, they wondered if this tour would even happen. Thankfully, the Stone Pony not only survived the storm, but had minimal damage. Still, Napolitano knows this won't be just another gig.

"I think it'll be a mixed feeling because I know we're going to see some stuff there that'll remind me of going back to New Orleans after Katrina," she explained. "I know we'll see some stuff that will be touching or affecting to say the least."

Napolitano herself has dealt with the forces of nature throughout her life. Living on the west coast, she's been through her share of earthquakes and when she was around 19 or 20 and living in Tennessee she says she had a difficult time with the tornadoes. "I would stay awake all night crying by the window looking out," she said. "This planet will have the last word."

One of the greatest lures of the Stone Pony is, of course, its history. Known throughout the world, Napolitano looks forward to playing the room again.

"I'm a fan of anything haunted and when I step on a stage I know I can feel who else has been on it," said Napolitano. "It's hard to do a bad show in a place like that. I've been across this country back and forth to every club over the past 30 years, and there's just nothing like stepping on a stage that you know has been there and seen the front line action for that long. It's really something for me."

Concrete Blonde doesn't get out to the east coast very often, and Johnette admits that touring is pretty difficult these days. Everything from insurance to the price of gas plays a role in how many dates they play, how often, and where they go. The band has done very well outside of the United States and has begun taking advantage of "one-off" shows that make as much money for the band as they would if they performed several shows in the States. For Napolitano, money is just a small part of the equation; her love of music remains the biggest reason she heads out on the road.

"Obviously, if you need to sell ten million records than you better sell your soul to the devil and stay on the road for a year at a time," she explained. "It becomes your life out there and that's cool. I don't need to sell millions of records. I mean, just do the math. How much money do you really need? But now thanks to the Internet you can get your news out to enough people. We've managed to stick around obviously, which is a minor miracle because a lot of bands haven't.

"There's a lot of things to touring. It's very difficult to do it right. It's taken almost three months of some good work on the ground just to plan two weeks of a good tour. It takes a lot of hard work and dedication, but I like live music. I like the energy and when people have truly seen something. I know I'm affected when I see something live and I can't believe I'm seeing it. It's hard for me to think of myself that way because it's me, but apparently some people do."

Friday's show includes opening sets by Jim Bianco and Aster Pheonyx (acoustic duo). Tickets are $24.50 in advance and $30 at the door. The Stone Pony is located at 913 Ocean Avenue in Asbury Park, NJ. For more information visit http://www.stoneponyonline.com

---
Some fun info about Johnette from the interview:
On her animals:
"I have three dogs, two horses, two goats, and a pond full of fish." (has an animal rescue, times are tough for rescues right now since people cannot afford to keep their animals) "One of my mares is an albino, blue-eyed and white, pure white and pale. Everybody wants her for breeding because of her color. She's already been bred once and she was entrusted to me because I'm not about to breed her. She's the devil in horses, which means she's basically me in horse!"

On tattoo school:
"I went to tattoo school after my dad passed away. I inked myself for the first time when I was 14, I think. I graduated school and have some great clients that I love very much, and I'm actually pretty good at it. I'm hoping that by next summer I'll have a little shop gallery in Joshua Tree. Drawing was all my dad ever saw me do when I was a kid and it's cool because I do like people. When I was in school, I was just a student like everyone else -- nobody knew who I was or what I did or anything. It was really cool to work on people and have them open up about why they're getting inked. I worked on prison ink, native ink, all kinds of stuff. People would open up about what they were getting and why they were getting it. It was really cool being anonymous, just making somebody else's vision happen. I really enjoy that. "
On tattooing herself
"It hurts so bad! I just did my left foot and was screaming the whole time, but I had to do it for a couple of reasons. For one, you need the practice. I didn't know this, but there's a term for your own legs in the tattoo world. They call it the graveyard because everyone ends up tattooing their own self and that's where you make mistakes. I'd rather make a mistake with a new color or a new needle or a new technique there than screw up somebody else. Both of my legs are done from my hips all of the way down and now I'm working on my feet and it hurts so bad!"

---
Gary Wien has been covering the arts since 2001 and has had work published with Jersey Arts, Elmore Magazine, Princeton Magazine, Backstreets and other publications. He is a three-time winner of the Asbury Music Award for Top Music Journalist and the author of Beyond the Palace (the first book on the history of rock and roll in Asbury Park) and Are You Listening? The Top 100 Albums of 2001-2010 by New Jersey Artists. In addition, he runs New Jersey Stage and the online radio station The Penguin Rocks. He can be contacted at gary@newjerseystage.com.
---