By Gary Wien
originally published: 05/22/2017

Company of Wolves was a popular rock and roll band in the early 90s in the tri-state area.  They made some noise nationally with a self-titled record on Mercury/Polygram that included "Call of the Wild", "The Distance", and "Hangin' By a Thread" - all of which charted on AOR (album-oriented rock) stations. The band just released its first single in 20 years and is playing a reunion show on June 3 at Club 66 in Edgewood, MD.
The band's original lineup consisted of John and Steve Conte (who grew up in Matawan, NJ) on bass and guitar, lead singer Kyf Brewer, and Frankie LaRocka on drums.  Tom Curiano will be on drums for the reunion as LaRocka passed away in 2005.
When New Jersey Stage heard about the reunion show, we contacted Steve Conte to get his take on the band's history and to see if the reunion might last longer than one night.
How did the idea for a reunion show come about? Well, here's the timeline.  The band got together in 1988. We recorded the first album in 1989 and it came out in 1990. By 1991 we did a second album and by 1992 we left the label.  A year later we all started our own bands.  My brother and I started Crown Jewels and Kyf did his solo thing.  We didn't play together for years. But we did play one more show sometime in the late 90s in Baltimore.  Kyf is from down there and he's played the area for years with the band The Ravyns. They had a song ("Raised on the Radio") on the soundtrack of Fast Times at Ridgemont High and a couple of regional hits in the Baltimore/Delaware are, so he's got club owners always after him. 
This guy at Club 66 had been after him for a while.  Finally Kyf said the guy wanted a Company of Wolves reunion. I think the time has come where we can feel good about it and have fun.  It's been way too long.  We've been playing in rehearsal and we had good songs.  It was a shame what happened.  It happened to so many bands that got signed to major labels - the same old story: the A&R guy changes and the new guy comes in and says 'Who the hell are these guys?' and drops them.
---
The article continues after this ad
---
---
It's not like anybody has ever written a song about Mercury Records… Exactly.  Graham Parker did it for us ("Mercury Poisoning").  We all sing it and not feel the guilt.
What do you remember about the early days of the band? My brother and I always wanted to have our own band.  We wanted to be like the Fogerty brothers - a band like Creedence or the Beatles or the Stones - that was our thing.  We wrote our first songs and made an album in our family's living room when we were like 9 or 10 years old.  That was the dream and we did it.  We played local talent shows and dances and stuff in Jersey.  When we got old enough we left home and went to the city.  Once we got to New York it was like 'Oh shit, we've got to make a living!'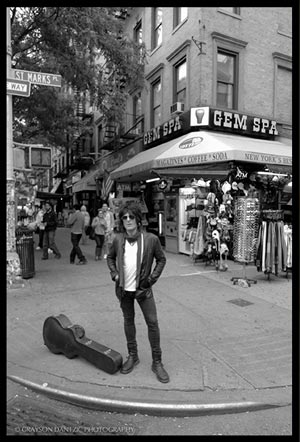 I could play guitar for other people so I began putting my name out there.  I'd do sessions and started going out - it was way before cell phones or beepers.  I'd just go out with my guitar, check my answering machine with quarters at pay phones all day to see if anyone was calling for a session.  And I'd run from one session to another; fifty bucks here, hundred bucks there.  I did that for a bunch of years. My brother had joined a new version of Blood, Sweat & Tears in the 80s.  It was all young guys, fresh out of school.  The only original guy was the singer.  He pulled me into that.  The guitar player was sick one day and John said, "Want to do a gig?" He sent me a cassette tape and some charts - no rehearsal.  I learned it on the plane on the way down to Miami.  That's when I realized I'm a pretty quick study at learning other people's shit.  After that I played with Glen Burtnik, Jill Jones (singer in Prince's band The Revolution), BushRock (a band with Delmar Brown who played with Sting).  It was like a lot of stuff going on, but not one big band to hand my hat on so to speak.
We had this blues band called The Hudson River Rats and we would play every Wednesday night in 1988 or so at the ACME Bar & Grill in East Village.  All kinds of people came down to jam with us - Cyndi Lauper, Phoebe Snow, Carole King, Willy Deville, Buster Poindexter, Julian Lennon, and Kyf Brewer came down one day.  The guy who was in charge of the jam told me, 'You should meet this guy Kyf, he's a good songwriter.'  I had been saying I wanted to start my own band.  I was tired of playing behind all of these other people.  So Kyf came and we met, and we got together the following week.
I think the first two songs we wrote were "The Distance" and "Everybody's Baby."  It was like let's keep getting together.  We wrote about five more songs and thought we should start a band.  I said I know a bass player and he said he knew a drummer.
I don't think Kyf had been doing anything other than sessions.  My brother and I were still doing session work, but Kyf was doing another level up.  He was getting paid well.  Frankie LaRocka (the drummer) had played with John Waite, Bryan Adams, and Scandal. He was an A&R guy for Atlantic Records at the time.  It seemed like we were moving up to another level and it didn't take the band long; we had a whole set of material within six months of writing together.  We played around for about a year and then there was the bidding war that used to happen in the 80s.  We did a showcase and a bunch of labels came out.  I think there were five labels there and we were offered three different deals.  We went with Mercury because the guy who was managing us at the time was also working with Kiss and Cinderella and they were both on Mercury already, so it was a no-brainer.
Do you ever wonder what would have happened if you took one of the other deals? Umm… it could have been worse! The one we took seemed best because they didn't have anyone like us with a record coming out at the time.  So, we though we had a window of opportunity here.  Our record would come out when there's no Bon Jovi record, no Scorpions record, no Cinderella or Kiss record in the quarter.  It seemed like it was going to be smooth sailing.  We'd get right in there and boom! Of course, shit happens.  I don't know, it could have been better, but it was what it was.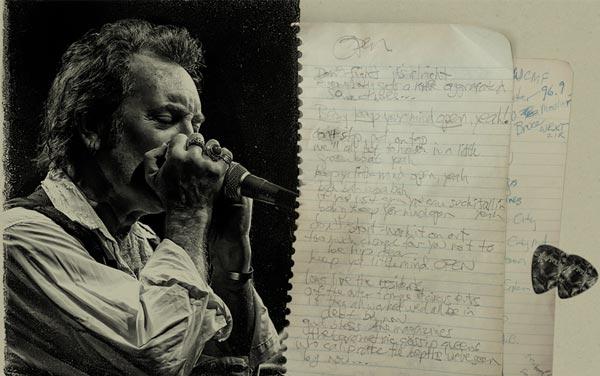 If you search online, Company of Wolves listed almost as a hard rock/heavy metal band.  Did you see yourself that way? Well, in the beginning we were just a real rock and roll band - not metal, not hard rock, not too pop, just straight up rock. Of all the bands that were coming out at that time, we were into the Georgia Satellites because they were just a rock and roll band.  We liked Aerosmith and the Stones, Cheap Trick and AC/DC and people can probably hear all of that stuff in our first album, but about as heavy as we got was Zeppelin and AC/DC, which is still just rock and roll.  We weren't metal.  We didn't have any songs about kings and castles like your Iron Maiden types. We saw ourselves as a straight ahead rock and roll band like Creedence, Satellite, Aerosmith, Stones. 
The only place Mercury's publicity department could get us press was in the metal magazines like Metal Edge.  They said straight up, "You're not pop enough for Rolling Stone and you're not big enough for magazines like that.  You've got to start smaller." But there were no magazines for start up bands besides the metal mags.  So for our first couple of interviews we're wearing jean jackets, cowboy boots, and t-shirts.  We looked rock and roll, but we weren't all glammed up or anything.  As the tour went on, we met people who owned boutiques and we met chicks who wanted to do our hair. We loved it.  People wanted to give us free shit like purple psychedelic shirts and we started incorporating all of that shit into our look.  By the end of the album cycle, our hair was gigantic and we were wearing psychedelic clothes!
We never had a uniformed look like the Ramones.  We just kind of floated and did our thing and it wound up biting us in the ass because people said, 'Hair metal!"  I remember Rick Richards of the Georgia Satellites and Paul Westerberg of the Replacements were in the audience one night when we played.  I saw them before the show, but halfway into the show I looked at the booth where they were sitting in the club and they were gone.  I ran into Westerberg a couple of nights later and said, "I saw you at our show the other night" and he goes, "Yeah man, we saw your hair and we got scared and left!"
You scared the 'Mats!" Yeah! And the Replacements did their 15 minutes of hairspray too.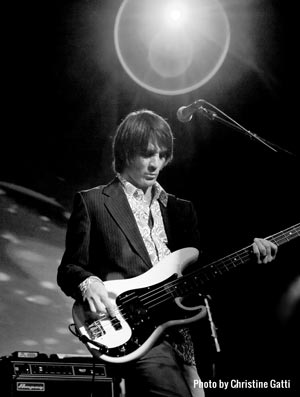 Is the reunion show a one-time thing or is there a chance of a show in the NY/NJ area? Yeah, we're talking about it.  I'm pretty sure it's going to go well and we're going to want to do it.  That won't be the deciding factor because I'm sure we'll want to.  We could book it right now, but we would want to make more of a big deal about it.  We just released a new single.  First it's like let's do a gig. Then it's like if we're going to do a gig, let's release a single.  And if we're going to release a single, why don't we do a photo shoot.  It keeps building.
Have you guys done any writing? Or mostly jamming? At the rehearsals we're mostly playing material from the first album, some from the ill-fated second album, and a cover or two.  All in all we have 3 different albums out there.  We have the first self-titled album from Mercury, then we have Shakers and Tambourines, which were the demos that got us signed to Mercury.  And then there's Steryl Spycase, which has a lot of the songs written for the second album that didn't come out on Mercury.
We had a drummer who used to mix words up backwards.  He would say, "I went to this party the other night. It was outrageous man, the house had a steryl spycase and everything" - instead of spiral staircase.
So, those three albums and we actually have new songs written over the years because we've stayed friendly.  My brother and I and Kyf have written a handful of songs over the last 10 years.  I think there could be something in the future.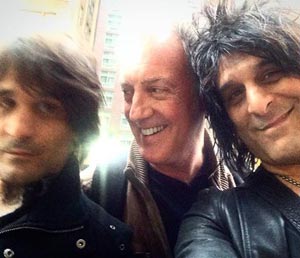 It used to make me laugh.  I'd go, "Somebody needs money, reunion time!" But we weren't that huge the first time around, so I wouldn't expect a huge payday to come from a Company of Wolves reunion.  It would be nice if it did, but a reunion would be more for the fun of it because we love what we did.  We sold about 100,000 records, which is respectable these days but back in 1989-90 that number was a failure because everyone was going on double and triple platinum.   If you didn't at least go gold you were a loser.
But you have people paying you to do a reunion show 20 years after you broke up. And that's pretty cool...
---
Gary Wien has been covering the arts since 2001 and has had work published with Jersey Arts, Elmore Magazine, Princeton Magazine, Backstreets and other publications. He is a three-time winner of the Asbury Music Award for Top Music Journalist and the author of Beyond the Palace (the first book on the history of rock and roll in Asbury Park) and Are You Listening? The Top 100 Albums of 2001-2010 by New Jersey Artists. In addition, he runs New Jersey Stage and the online radio station The Penguin Rocks. He can be contacted at gary@newjerseystage.com.
---