By Gary Wien
originally published: 04/24/2018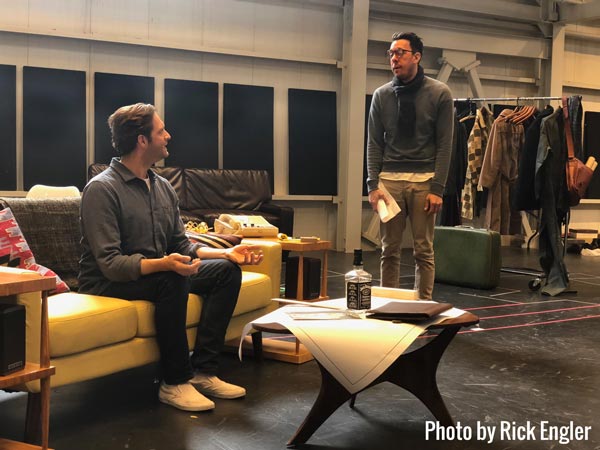 Apparently, the fountain of youth has been found and is located in New Brunswick, New Jersey.
Fourteen years ago, actor Colin Hanlon first appeared at George Street Playhouse in a wonderful production of tick, tick... BOOM! by Jonathan Larson (creator of Rent).  Hanlon portrayed Larson as the artist on the verge of turning 30.  
Hanlon is now back at George Street in The Nerd, playing Willum - a character celebrating his 34th birthday. In essence, on stage in New Brunswick he's aged just four years in the past fourteen.
"That's hilarious," said Hanlon.  "It's pretty miraculous.  I'm not aging!"
The Nerd by playwright Larry Shue takes place during Willum's birthday party, which gets a jolt of excitement when Rick Steadman (Jonathan Kite), a fellow ex-soldier who saved Willum's life, stops by for a visit. Upon realizing that Rick will overstay his welcome with a vengeance, Willum puts together an outrageous plan to rid himself of this wacky GI who came to dinner. It's a rollicking farce from the author of the award-winning comedy The Foreigner who was killed in a plane crash in 1985.
---
The article continues after this ad
---
---
Kevin Cahoon directs a cast that includes Ann Harada (TV's Smash), Kate Reinders (Broadway's Wicked and Something Rotten), Zach Shaffer (TV's Six Feet Under, Broadway's A View From The Bridge), Stephen Wallem (Showtime's Nurse Jackie), and Hayden Bercy (National Tour, A Christmas Story) along with Hanlon (Broadway's Falsettos) and Kite (TV's 2 Broke Girls).
Hanlon has been close friends with Cahoon for nearly 20 years.  When Cahoon was first hired to direct the production, he asked Hanlon if he thought any of their friends might be good for certain parts. He offered him several suggestions, never realizing he was being considered as well.
"He called me and said the offers are going out to all of our friends tomorrow," recalled Hanlon.  "That same day, I got a call from my agent saying, 'You have an offer for The Nerd.'" 
"It was hilarious because I didn't know the play; I didn't know the role existed in it; and Kevin failed to mention that he was planning on asking me all along!"
The two friends have been part of readings together in New York City and were both in an episode of Modern Family (in which Hanlon physically picks his friend up). Hanlon is glad Cahoon brought him back to New Brunswick, where he's seeing a different part of the area thanks to the temporary home for the theatre while the New Brunswick Performing Arts Center is being constructed. 
"We're in the middle of a farm!" said Hanlon, speaking of the former New Jersey Agricultural Museum that George Street has turned into a beautiful theatre space. "We're surrounded by sheep and cows, it's pretty awesome.  It's like a dream - especially coming from the concrete jungle of Harlem where I live."
Hanlon's character is a little depressed about his birthday because he's not doing what he wanted to do for his career.  He's in love with Tansy, but they have a rather complicated relationship.  She's moving out of town and he hasn't come to grips with that.  "So, he starts off the play a little bit of a curmudgeon," explained Hanlon.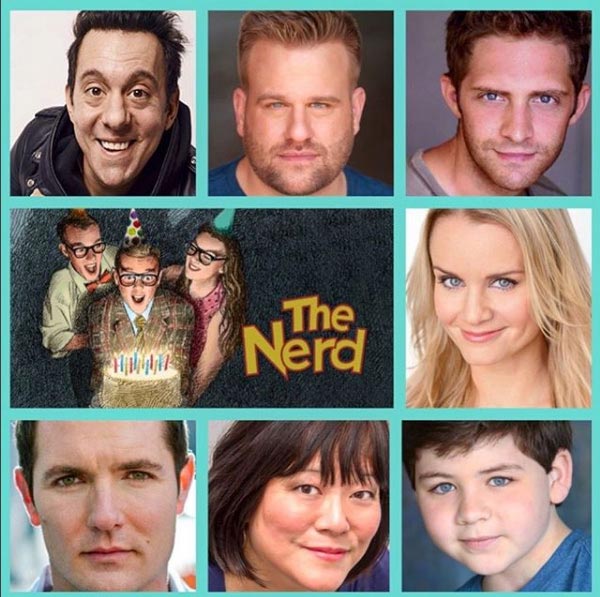 The Nerd is centered around rapid-fire dialogue between the characters and depends on comic timing.  By casting actors who knew each other well, that timing did not take long to find a rhythm.
"Kevin did a great job of casting some of the funniest actors I've met in New York and Los Angeles (where Jonathan Kite resides)," said Hanlon.  "To be honest, we've all known each other for so long that we trust each other.  There was never a moment where we didn't believe it could be funny. It's truly rapid-fire dialogue throughout the whole play, it's non-stop."
Hanlon says rehearsals often had to momentarily stop so the actors could stop laughing because they were having so much fun with the play.
"If you enjoy laughter," continued Hanlon.  "This is a great play.  It starts off so strong.  We're just cracking up in rehearsals every single day.  I've worked with most of these actors before and they are all so brilliant and funny.  It's hard to say too much about the play because I don't want to give it away, but I have not worked on or ever read a play that made me laugh out loud as much as this did when I first read it.  It's definitely the kind of show that you come to and will forget about whatever stresses that you have outside for a good two hours.  And you'll feel much better at the end."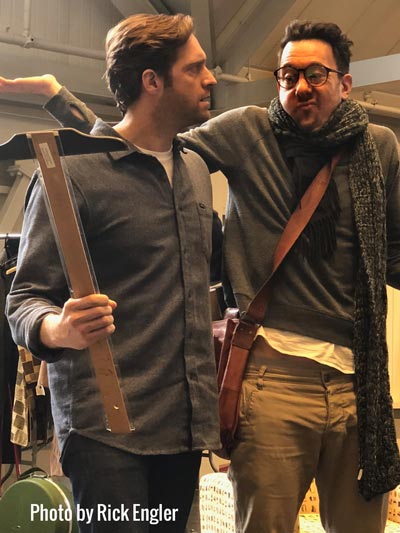 The Nerd takes place during one week in Terre Haute, Indiana in April 1982.  In addition to rapid-fire dialogue, the play also involves the use of many props.  Hanlon says the actors are constantly grabbing something, breaking things, or doing thing with them.  One of the props almost serves as a character itself - Willium's answering machine.  It does a nice job of reminding us how difficult it could be to reach people even in the not so distant past.  
"It'll be interesting for the younger audience members to see if they actually remember an answering machine," said Hanlon.  "It definitely took me back! My parents still have an answering machine in our house, which is rather funny to me."
Between the dialogue and the props, this will be an exhausting play for the actors each night.  It's a change of pace from the world of television for much of the cast who switch back and forth between live theatre and television. Many of the actors in The Nerd have appeared on popular shows. For Hanlon, switching between live theatre to television and back isn't as difficult as it may sound.
"It's two different techniques in a lot of ways, but it's still being truthful as an actor and truthful to what you're saying," he explained.  "The more truthful you are, the more believable comedy and the drama of whatever you're trying to do will be.  I've been very lucky that I've been able to do both.  I'm grateful for that.  Luckily the business has sort of changed in the last 15 years to where they are giving theatre actors the chance to be on television again.  And there are so many more tv shows happening now than ever before.  In the '90s and early 2000s, it was like 'You're a theatre actor, you can't do film and tv' but now the crossover is so much more. Plus they're often filming in New York City, which is good for those of us that want to do both."
One of the most significant developments to come in the past decade is musicals performed live on television. The movement began with NBC broadcasting The Sound of Music Live! starring Carrie Underwood in 2013, and has continued each year with the most recent being Jesus Christ Superstar Live in Concert Easter weekend.  Hanlon and his friends watched the show on television together, laughing as they thought about the role he was up for.  He didn't make the final cut, but was brought back several times to play one of the lepers.
"I kept thinking, 'Oh My God.  This is my life, I'm going for a leper. What does that say about me?'" Hanlon laughed.  While Hanlon has done musical theatre everywhere from George Street Playhouse to Broadway, he admits dancing is not his forte.  In the end, he was content watching the production on television with his friends with the understanding that, "I might be getting older, but I'm not the perfect leper!"
Hanlon's love of musical theatre stems from his childhood when his parents and his grandmother would take him to shows on Broadway.  He says he enjoys the challenge of musicals, believing they are harder to do than straight plays.  Above everything else, he wants to keep acting on stage, film, and television.  He dreams of starring in a half-hour sitcom or a dramedy on HBO, but knows he will always return to live theatre.
"It's always been my goal to do work that I'm proud of and that people respect - particularly within my business," Hanlon stated.  "Even if I went and did a tv show full-time, I'd always go back and do theatre.  That's what happens to most of my friends who are on television full-time.  They all always come back and do theatre because it ensures that you don't get rusty.  If you can make someone believe face to face that you are something else right in front of them, that's harder to me than filming something where your performance is basically edited. If you can do theatre, you can do anything."
The Nerd closes out the season at George Street Playhouse (103 College Farm Road, New Brunswick) and runs from April 24 to May 20th.
---
Gary Wien has been covering the arts since 2001 and has had work published with Jersey Arts, Elmore Magazine, Princeton Magazine, Backstreets and other publications. He is a three-time winner of the Asbury Music Award for Top Music Journalist and the author of Beyond the Palace (the first book on the history of rock and roll in Asbury Park) and Are You Listening? The Top 100 Albums of 2001-2010 by New Jersey Artists. In addition, he runs New Jersey Stage and the online radio station The Penguin Rocks. He can be contacted at gary@newjerseystage.com.
---