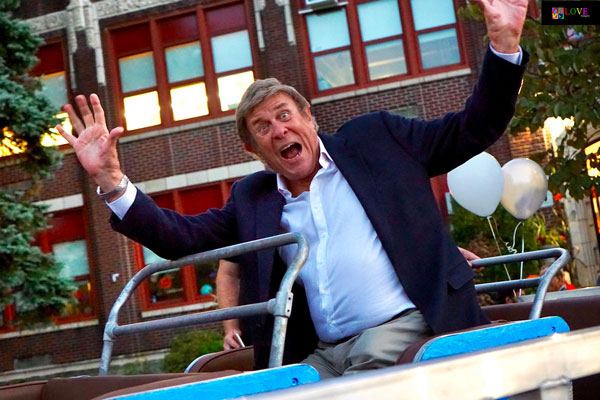 A crowd of local residents and dignitaries gathers outside Public School #6 in Cliffside Park, NJ on this beautiful fall evening. They are all awaiting the arrival of the "man of the hour" — celebrated radio DJ Bruce Morrow — since Mayor Thomas Calabrese has proclaimed today, October 5, 2018, "Cousin Bruce Morrow Day!"
Bruce Morrow was born on October 13, 1937, and grew up in Brooklyn, NY. As a youngster, one of his favorite activities was to go to Coney Island and enjoy the rides at Steeplechase Park. As a high school student, he became involved in NYC's All City Radio Workshop, and while attending college at New York University, he helped to create the school's first radio station, WCAG.
While working at WINS in New York in 1959, Morrow adopted the moniker, "Cousin Brucie." He left WINS for a Miami radio station in 1961, but returned to New York where he appeared on superstation 77-WABC AM and spent the next 13 years broadcasting hits for millions of music lovers throughout the tri-state region.
During his time at WABC, Cousin Brucie was known for hosting a famous series of rock concerts at NJ's Palisades Amusement Park and, in August of 1965, he even had the distinction of introducing The Beatles at their historic Shea Stadium concert!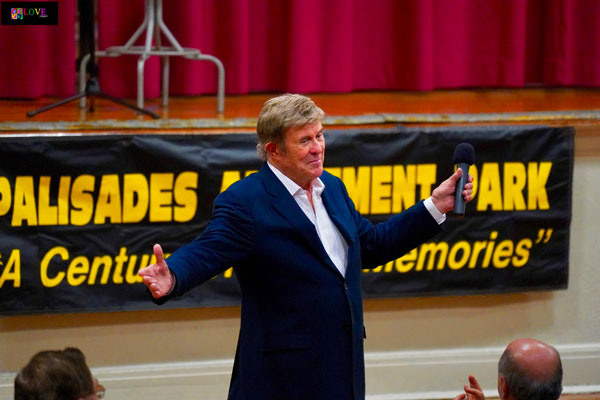 Eventually, Morrow moved to WNBC New York, where he spent two years appearing on both radio and television before leaving the airwaves to concentrate on business ventures. In the 1980s, he returned to radio where he joined the staff of WCBS-FM New York.
---
The article continues after this ad
---
---
In 1987, Morrow published his autobiography — Cousin Brucie: My Life in Rock N Roll Radio. In 1988, he was inducted into the Radio Hall of Fame and, in 2001, into the National Association of Broadcasters Hall of Fame. Two more books followed — Doo Wop: Music, The Times, The Era in 2007 and Rock and Roll: And the Beat Goes On in 2009.
Morrow's voice can be heard in the motion picture, Across the Universe, and he can also be seen in such films as Dirty Dancing and Sgt. Pepper's Lonely Hearts Club Band. Additionally, he appeared on television shows including Babylon 5 and Between Time and Timbuktu, a program based on the writings of author Kurt Vonnegut.
These days, Cousin Brucie can be heard on Wednesday nights at 5pm and Saturday nights at 8pm on SiriusXM Radio's '60s On 6 channel.
Outside Cliffside Park's Public School #6, Cousin Brucie arrives and warmly greets the crowd before climbing onto a small portable stage with Mayor Calabrese to unveil a bright blue roller coaster car emblazoned with the name, "Cyclone," on the front.
One of two restored rollercoaster cars from Palisades Park — the famous 30-acre amusement attraction which was located both in Cliffside Park and in neighboring Fort Lee, but closed in 1971 — this car is a present to the town of Cliffside Park and will be displayed for all residents to enjoy. The other will go to the citizens of Fort Lee.
Addressing the crowd, Morrow says, "This is the first time I've seen one of these since we did The Cousin Brucie Show live from Palisades Park. It was a wild ride," before adding, "It's a wonderful feeling for me — I feel I'm a citizen of the town!" to the cheering throng.
Following the unveiling, the crowd makes its way into the school auditorium where the sound of classic Motown hits of the 1960s fills the air. On the stage, above a banner which reads "Palisades Amusement Park: 'A Century of Fond Memories,'" Mayor Calabrese welcomes the crowd. He also takes a moment to recognize a local civic group known as the Friends of the Cliffside Park Free Public Library, and thanks the group's president, Mary Jo Mule' Simeone, as well as its chairwoman, Mary Ann Vislocky, for organizing today's event.
He also proudly introduces Morrow, at which point the crowd rises for the radio icon as the famous "Cousin Brucie" theme song plays.
Reminding the crowd that Cousin Brucie presented a series of rock and roll shows at Palisades Amusement Park throughout the 1960s, Mayor Calabrese presents Morrow with a plaque and a key to the city.
Taking the microphone, Cousin Brucie addresses the crowd stating, "This school reminds me of my school in Brooklyn," before recalling, "I spent so many of my younger years doing rock and roll shows at Palisades Park."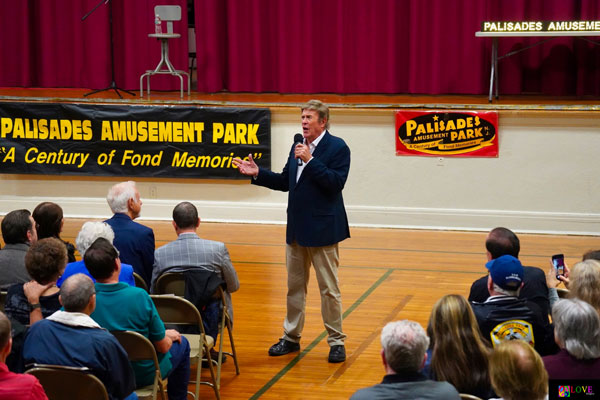 Opening the floor to questions from audience members, Brucie talks about what he calls "the most amazing one day of my life" — the day he and Ed Sullivan introduced The Beatles at Shea Stadium.
"I can still feel the energy of that crowd in my chest," recalls Morrow, adding, "The crowd was so loud you couldn't hear a thing — The Beatles couldn't even hear themselves!"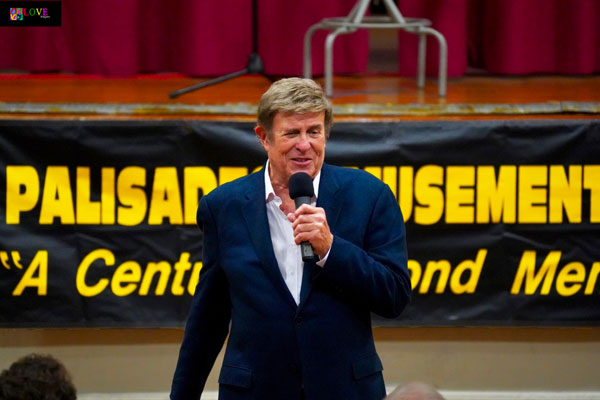 Morrow continues by entertaining the audience with stories including a tale about a memorable Tony Bennett performance at Palisades Park, an anecdote about how his radio theme song was created as a gift for him by Frankie Valli and The Four Seasons, and a recollection about the famous leopard suit he wore each time he appeared at Palisades Park.
"I always wanted to be a little different," explains Brucie, "and I found a tailor who offered to make a suit from any material. At the bottom of the pile was a leopard skin fabric which jumped out at me saying, 'Brucie, you are a leopard!'" before acknowledging, "I only wore that leopard skin suit at Palisades Park — and now at the Palisades Park reunion concerts we do every year."
When an audience member asks, "You've been the caretaker of music for decades — what music do you listen to and relax to at home?" Morrow jokes, "I sing in the shower — I'm the only one who can sing in J flat minor," before revealing, "I love opera, but I also play rock at home — Roy Orbison, John Denver, Elvis, Bruno Mars."
He also goes on to add that he loves songs from "the greatest era of music" saying, "I love my '50s, '60s and '70s music; I will always support these decades, and I'll always have a microphone and a platform to do so!"
After introducing his lovely wife, Jodie, Morrow recalls how he always closed his Palisades Park shows saying, "Jodie, I'm coming home!"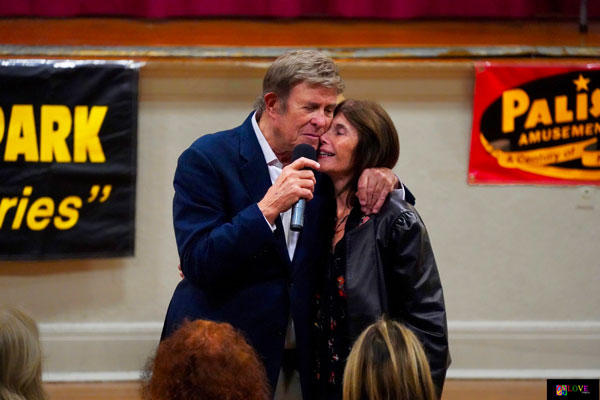 He responds to questions about artists like Aretha Franklin, calling her "charitable and lovely — and she looked you in the eye when she talked to you." That said, he discloses that he was disappointed when Franklin cancelled an appearance on his NYC radio show when she found out his studio was located on the 36th floor because "she was afraid of heights and elevators!"
Recalling many of the unusual events at Palisades Amusement Park, Morrow talks about "baby contests," "a triplets' convention," and even a "water-skiing elephant."
He also responds to questions about meeting Elvis Presley — saying, "He came to say hello wrapped in a blanket so he wouldn't be recognized" — and, also, about working with Bob Hope and Jackie Gleason, whom, he reveals, came to visit him when he was at WNBC because "they wanted to learn how to be disc jockeys for a live show they were doing."
"I was speechless!" exclaims the famous announcer.
Following the Q and A session, Morrow happily greets fans and signs autographs for them, notably on bright yellow "Cousin Brucie Palisades Park Reunion" concert T-shirts which the Friends of the Cliffside Park Free Public Library have made available for sale to help raise funds for the institution.
Here, we chat with the group's chairwoman, Mary Jo Mule' Simeone, who provides some background on the impetus for today's event celebrating Cousin Brucie here in Cliffside Park.
Says Simeone, "My husband and I saw Cousin Brucie in New York, and he was talking about Palisades Amusement Park. I approached him with a trivia question about comedian Buddy Hackett — and he knew the answer! Buddy Hackett lived in Fort Lee and loved Palisades Amusement Park," revealing, "on the weekends, he would even put on a special police officer uniform and work in the park because he loved it so much."
Continuing, "After talking to Cousin Brucie and seeing how genuine he was, I came up with the idea to have this fundraiser for the Friends of the Cliffside Park Public Library. The mayor and town council supported the idea, and so today became 'Cousin Bruce Morrow Day.' It started with our own police force going to Manhattan to pick up Bruce and escorting him to the library where we had dinner and, there, he donated three of his books. Afterwards, it was on to the unveiling of the rollercoaster and tonight's Q and A session with fans."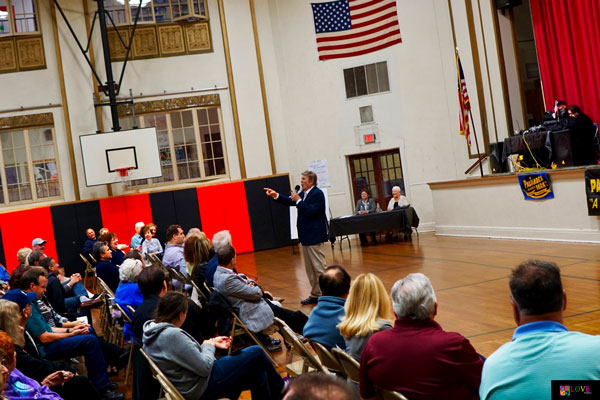 Simeone also tells us that following the signing of autographs, the audience will be invited to dance to music selected from Cousin Brucie's favorite era!
As we make our way out of the school auditorium, we take a moment to catch up with Cousin Brucie and ask him if he'd like to share any thoughts about this special evening with us.
Replies Brucie, "This was the sweetest, warmest night that I can remember in a long time. I now know why I think of Cliffside Park so fondly — it's the people of Cliffside Park. There's a hometown sweetness here that we need more of," before concluding, "I will never forget this day."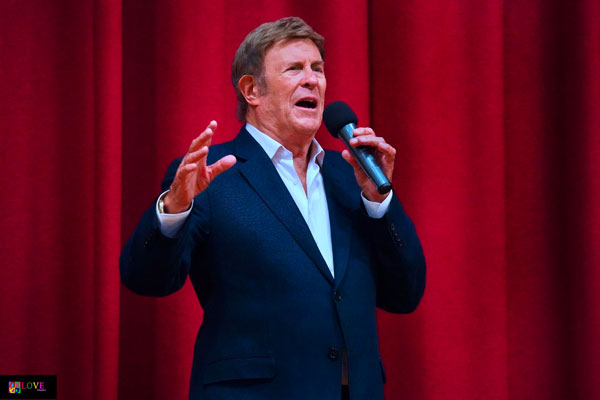 To find out more about Cousin Brucie and his Sirius XM radio program, please go to siriusxm.com/60son6. For more information about the Friends of the Cliffside Park Free Public Library, please click on cliffsidepark.bccls.org.
Photos by Love Imagery
Spotlight Central. Your source for Jersey entertainment news and reviews
Love Imagery Fine Art Photography. all you need. peace/love/flower/power