By Gary Wien
originally published: 12/26/2017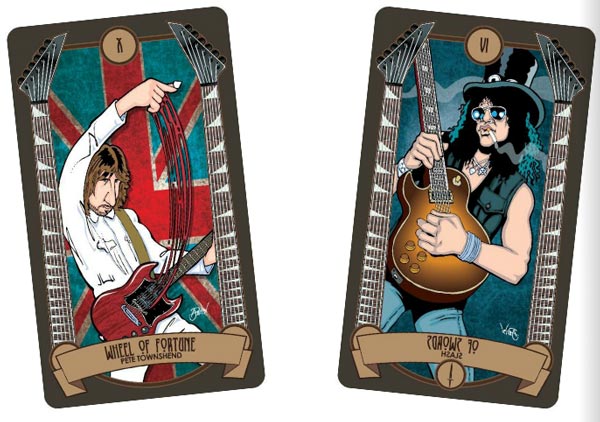 Inspiration comes in many forms.  Sometimes even in the form of a challenge issued by a loving wife. Just ask Anthony J. Parisi, an illustrator and caricaturist from Gloucester County who created a unique line of tarot cards inspired by classic rock musicians based on a dare from his wife, Mary.
"When I first met my wife, she had an old beat up deck of tarot cards," Parisi recalled.  "She would do some readings and stuff for me and some friends and family.  It was for fun, but I hated the artwork in it. It was lame.  So, I thought for Christmas I'd get her a new deck.  Without looking at the whole deck at hand, I just saw it and bought it.  When I gave it to her, we took it out.  The artwork was a little better, but not that great.  This happened several times. She has a bunch of decks!"
"I was ragging on the artwork one time and she said, 'If you're going to complain, why don't you just make up your own tarot deck?' I said I didn't feel like drawing knights and cups and all that unless I made it cool like with Ozzy as death or something. She just looked at me wide-eyed and said, 'that sounds kind of cool, you should do that.'"
Parisi then wrote down ideas for a couple of cards.  He imagined Lemmy as the Ace of Spades and saw Rob Halford as the chariot on a motorcycle.  After drawing Halford, Lemmy, and Ozzy, Parisi looked at the designs and thought, "This is pretty fuckin' cool!"
He set up an Excel spreadsheet and began making a list.  Parisi pictured cards for artists like Bon Scott of AC/DC, Ace Frehley, Freddie Mercury, and Keith Richards in his head.  The project took quickly took shape.
---
The article continues after this ad
---
---
"I tried to have it make sense and look cool so anybody that was a classic rock fan would like having 78 illustrations in hand," said Parisi.  "And anyone into tarot would get a kick out of how the suits and magic stuff took on the personality of the musicians."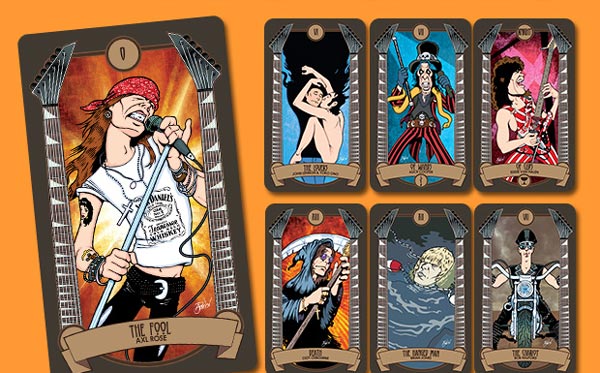 Parisi set his sights on a local Geekfest.  He figured out he would have to create two illustrations per day in order to have the cards finished and printed in time.  But he made it.  In fact, he's currently on his third reorder, proving that the market did exist for the cards.
"I always say behind every cool idea or successful guy there's a genius woman pushing him to get it done," said Parisi.  "Because basically we're all procrastinators."
Parisi is actually anything but a procrastinator.  In addition to the tarot cards, he creates wonderful caricatures of artists that are available as prints or on t-shirts, mouse pads, and tote bags.  He also shoots photography, creates custom illustrations, and even enters (and has won) BBQ competitions!
And there's his graphic novel, Out of Tune.
"It was based on music and rock and roll because by the time I was graduating college, I had long gigantic Bon Jovi hair - 'cause it was the 80s," Parisi laughs.  "I was in several bands and Out of Tune is based on this garage band where nothing ever goes right for them.  They're on this never-ending quest for a lead guitarist and everything."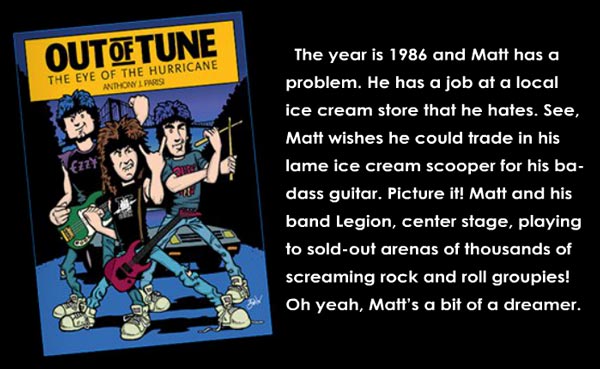 As you might expect, the band in Out of Tune was based on one of Parisi's actual bands.  Despite having a disclaimer saying that "any likenesses or similarity to people in real life is just a coincidence," Parisi admits that about 85% of the book is autobiographical - right down to the band member names.
The idea of the comic was put aside for many years, but was rediscovered when they began redecorating their house.  His wife came across the comic strips and said, "This is funny as hell, you've got to resurrect this."
At first, Parisi was lukewarm to the idea.  But where he saw it as too dated, his wife saw the waves of 80s bands reuniting for tours.  She convinced him to put it out as a book and he went one step farther.  He recorded a bunch of songs for a CD packaged with the book to give people an idea of what the garage band actually sounds like.  Paris wrote and performed all of the music, singing in his own 80s style.
He showcases a more British Invasion sound on his recently released CD, Night In Roswell.  The 12-track CD was released in early October and may have been somewhat influenced by one of his custom illustration jobs - creating the Beatlesque cartoon logo for the Weeklings.  Parisi said he met Glen Burtnik of the Weeklings about a decade ago at a Beatlefest convention.  Years later he received an email from Burtnik inquiring if he would be interested in a custom artwork project.
Parisi wound up creating the band's illustrated logo, their CD cover, and their website.  He was even granted his own nickname - Sketchy Weekling - to go along with Lefty Weekling (Glen Burtnik), Zeek Weekling (Bob Burger), Rocky Weekling (John Merjave), and Smokestack Weekling (Joe Bellia) in the band's nod to The Traveling Wilburys.
"One of the coolest things was after I drew the initial sketch, Glen was playing up in North Jersey with Marshall Crenshaw," recalled Parisi.  "I went up to see the show and Crenshaw came up to be afterwards and said, 'I saw the drawing for the cover; it's pretty cool.  I like your work.' I was like, 'Yes! Marshall Crenshaw approved!'"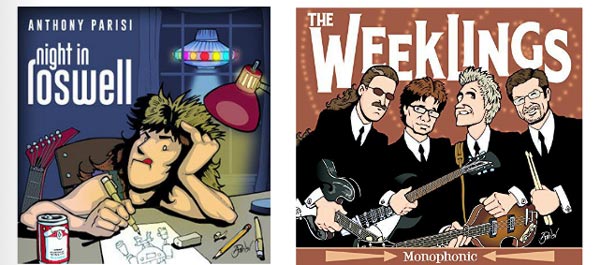 Both the book and the tarot cards were released in 2015.  Since then he's continued to create new illustrations of musicians and added illustrations in sci-fi and horror genres as well.  Illustrations include takes on classic films like the Creature from the Black Lagoon and King Kong to popular television shows like The X-Files and The Walking Dead.
One of the most impressive aspects to Parisi's work is the way he has not only created a nice online store selling his illustrations and products, but has been able to get his prints and classic rock tarot cards in a couple of local stores as well.  His work is available at McART a la Carte and Tiki Tiki Board Games in Woodbury, as well as the Pitman Gallery & Art Center.  Getting artwork into local stores is something that sounds much easier to do than it actually is.  
"It's all about relationships and cross pollination," said Parisi.  "It's about good karma.  If you're a good person and help promote them and all the good work they're doing, they will invite you to do some cool things too."
Anthony Parisi & The Side Cars will be among the artists at The Vault in Berlin, NJ on January 27 for a benefit concert for overdose awareness.  The full lineup includes Camille Peruto Music, American Dinosaur, Rich Quick, John Dutton & Aaron Hehl, Honeytiger, Eric Goldhahn, and Anthony Parisi & The Sidecars.  The free event is hosted by Comedians Chris Williams and Dominé Spinelli.  

---
Gary Wien has been covering the arts since 2001 and has had work published with Jersey Arts, Elmore Magazine, Princeton Magazine, Backstreets and other publications. He is a three-time winner of the Asbury Music Award for Top Music Journalist and the author of Beyond the Palace (the first book on the history of rock and roll in Asbury Park) and Are You Listening? The Top 100 Albums of 2001-2010 by New Jersey Artists. In addition, he runs New Jersey Stage and the online radio station The Penguin Rocks. He can be contacted at gary@newjerseystage.com.
---