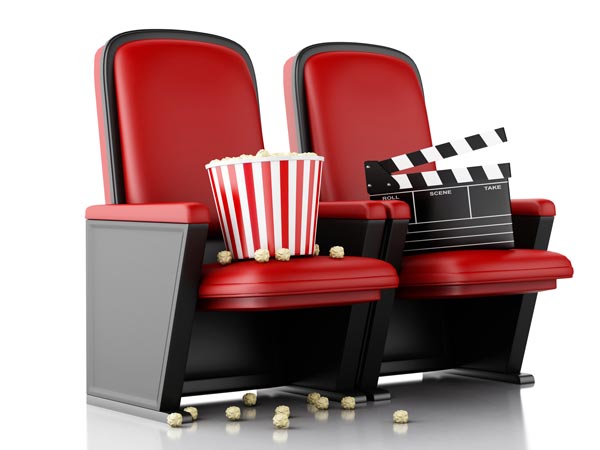 (RAHWAY, NJ) -- Union County Performing Arts Center's Classic Film Series continues with three classic films presented on 35mm film. All film screenings include free popcorn along with an organ pre-show on the theater's historic "Biggest Little Wurlitzer" organ beginning at 7:15pm for 8:00pm shows and 4:00pm for the matinee. Movies include A League of Their Own and The Natural on April 14; Ferris Bueller's Day Off on May 10; and National Lampoon's Vacation on June 28.
A League of Their Own and The Natural (Sunday, April 14 at 2:00pm)  -- UCPAC hits a double: a baseball double-feature! At 2:00pm, A League of Their Own steps up to bat. This fictional account of the real All-American Girls Professional Baseball League, founded when the WWII draft led to a scarcity of male players, boasts an all-star cast including Tom Hanks, Madonna, Rosie O'Donnell, and more. Next up at 5pm is The Natural starring Robert Redford. He plays baseball player Roy Hobbs, whose skills get him a tryout with the Cubs at age 19. However, an attack leaves Hobbs with a gunshot wound, completely derailing his dream. Hobbs signs with the NY Knights, the last place team, at age 35, and must now prove through age and injury that he can still become the "best there ever was."
Ferris Bueller's Day Off (Friday, May 10 at 8:00pm) -- Ferris Bueller's Day Off stars Matthew Broderick as Ferris Bueller, a fourth wall-breaking high school senior determined to skip school for a day of fun in Chicago. Both Ferris' principal and sister suspect him, going out of their way to try to catch him in the act. Will Ferris be able to keep up the ruse and finish off his mini vacation without a hitch? 
National Lampoon's Vacation (Friday, June 28 at 8:00pm) -- Clark Griswold (Chevy Chase), his wife Ellen, and his two children, Russell and Audrey, are taking a family trip from Illinois to California to visit Walley World. They journey by station wagon with stops to Ellen's eccentric relatives, who force them to take an extra, obnoxious passenger, and numerous American landmarks where they are either cheated out of money or have their car vandalized, Clark still manages to stay chipper. That is, until the ill-fated day when they actually arrive at Walley World...
The Union County Performing Arts Center is located at 1601 Irving Street in Rahway, NJ. General admission tickets, starting at $5.00 for one movie and $10.00 for a double-feature, can be purchased online, in person at the Box Office, or by calling 732.499.8226. The Box Office can be reached via email at boxoffice@ucpac.org. 
---