By Gary Wien
originally published: 05/27/2019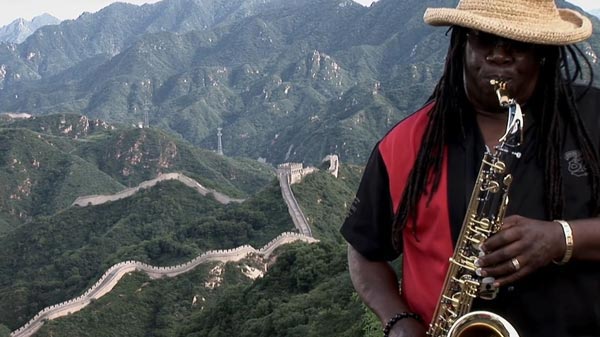 As the saxophone played alongside the Great Wall of China, a voice bellowed, "Who do you think you are?"
The man playing the sax was Clarence Clemons and he was in China on a quest to learn the answer to that very question.
Clarence was known as the Big Man. Even though his musical career included recordings with legendary artists such as Aretha Franklin, Jackson Browne, and Lady Gaga, he will always be remembered for his role in the E Street Band.  His wonderful, mourning saxophone on songs like "Jungleland" placed him somewhere between a fan favorite and a demigod.  Clarence knew how important he was to Bruce Springsteen's legacy and how important Bruce was to his own, but after The Rising tour finished he sought to find out who he was without the Boss.
Clemons took a trip to China, which is detailed in the documentary film Clarence Clemons: Who Do I Think I Am by Nick Mead.  The film will be screened at the New Jersey International Film Festival in New Brunswick on Friday, June 7th.  It's a fascinating look at the spiritual quest of someone who was one of the most recognizable people in the world in one of the few places in the world in which he could do it.
"He had this desperation to understand who he was and how he fit into the universe," said Jake Clemons who has played sax in the E Street Band since his uncle's death in 2011.
---
The article continues after this ad
---
---
The documentary contains interviews with Clarence's friends and family; musicians like Vini Lopez, Nils Lofgren, Joe Walsh, Norman Seldin, and Willie Nile; Chris Phillips of Backstreets Magazine, photographer Danny Clinch, Jim Allen (CEO of Hard Rock Hotel and Casino), and even former President Bill Clinton.  
Producer Joe Amodei, President/CEO of Virgil Films & Entertainment came on board years ago after seeing an early screening of the film in New Jersey.  "The original film was a rich tapestry of images of a trip Clarence made to China," said Amodei.  "It was quite beautiful.  I felt we could expand on that idea using footage already filmed of him back home and turn the movie into a feature length film."
Throughout the film is the imagery of traveling down a desolate highway while hearing words from Clarence himself. The journey begins by taking us to his childhood in Virginia with his aunts Sarah Gilchrist and Corrine Cross. We then meet Dave Starkey, a childhood friend and fellow musician. A few minutes later, we see the beginning of Clarence's time in Asbury Park as Norman Seldin describes the first time the Big Man jammed with his band the Joyful Noyze and was asked to join the band before the night was over. This leads to Vini Lopez explaining how Clarence started jamming with the guys who would become the E Street Band.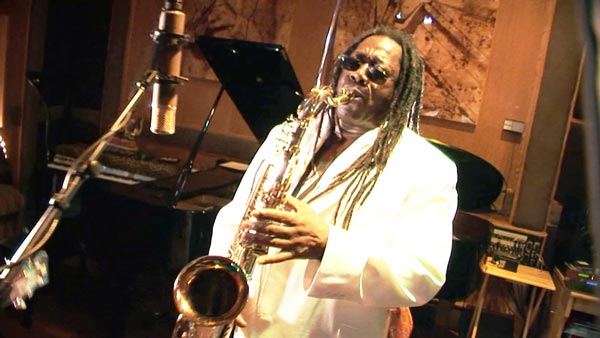 "My purpose in life is to bring joy and light to the world," said Clarence Clemons.  "I got the right job."
While fans of Bruce Springsteen will be interested in this film, the documentary is a film about

Clarence the man.  There is some live footage of Springsteen and Clarence, but mostly just to show the friendship between the two and to establish his role in the band's history.
"Bruce is talked about a lot as a poet - the poet of our generation," says Chris Phillips. "But he's not a poet, he's a songwriter. And a lot of his songs have instrumental passages that plays as much of a part as the words do. A lot of the time, that's where Clarence would come in. 'Jungleland' - Clarence's solo tells half of that story. It's easy for somebody who might not be as familiar with the songs or music to say Clarence picks up the sax and plays a solo when it's time for a solo, but that's not really his role in a lot of the music.  His role is when Bruce's words run out, Clarence's horn picks up the story."
One of the most interesting interview subjects is former President of the United States Bill Clinton who first met Clarence at his inauguration in 1993. We see a clip of the two playing sax together and starting a friendship that endured over time.  When asked how they got Clinton to be part of the film, Amodei said, "Sometimes it pays to have good friends who care about you.  In this case, one of those friends knows the President and reached out to him for us."  Clinton doesn't just make a cameo, he appears several times throughout the film.
We take a brief tour through some of his acting jobs, his band Temple of Soul, and the years after Springsteen fired the E Street Band and moved on with another group of musicians and solo work.  We see him living life as a king with a life of limos and fine wine, as well as his love of fishing, which represents a side of Clarence that was part of his identity throughout his life. The need to be alone or to have as much privacy as one as famous as he was could possibly have.
The film shows how he somehow had a premonition that Springsteen was getting the band back together even before he got the call.  Clarence was likely the band member who took the firing the hardest and the one most excited at the band's return, but the reunion tour was long and took its toll on him.  As we see the image of traveling down the desolate highway, Clarence says, "I've been traveling on this tour for such a long time and it's starting to catch up to me. I need some repair. I took a journey.  A journey that took me far away from everything I knew."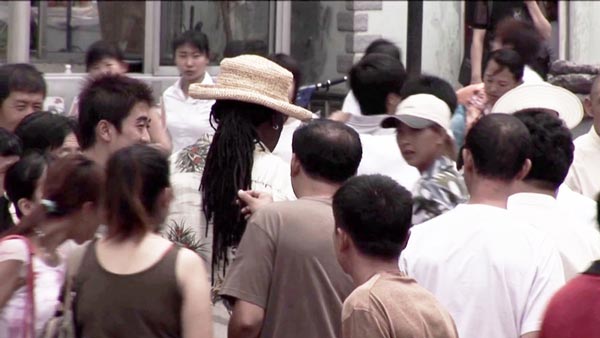 As his friend Don Reo says, "He was interested in going places where he could be anonymous. Well, of course, Clarence could not be anonymous.  He was a giant of a guy and, at that time, he had huge dreadlocks.  He was sort of like a building walking around China."
Clarence was a man used to having people stop him on the street, asking for autographs, or hoping to take a photo with them.  But in China he experienced something surreal for him.  "Not only had they never heard of me or Bruce, but they had never seen a black man before." He took note of a calmness he had not felt before.  He describes it as a calmness in the midst of thousands of people. "It allowed me to see inside myself. I was alone, but I felt a peace in that loneliness."
The film follows Clarence throughout China as he seeks to find out who he is.  His spiritual journey is fascinating to watch.  He absorbs Chinese customs and religion, finding such a peace you're wondering if he would ever leave.  "I can't remember the last time I could go somewhere and just be myself," he says.  His friend Nick Mead was with him the entire trip, documenting everything.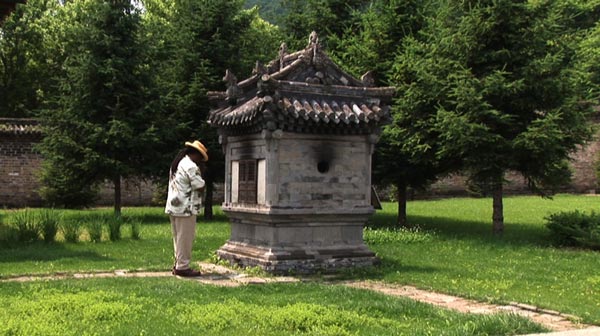 Clarence died on June 18, 2011 due to complications from a stroke. The film closes with thoughts from others about the loss and his legacy.  It's a fitting end for a film about a man whose music touched millions and despite the fame and fortune, he was still a regular guy to his friends and family.  A man who was very spiritual who spent much of his life seeking something he could not find. The film will have an arthouse theatrical release in July, a DVD and digital release in August, and will be followed by a TV or on demand release later in the year.  
"Life is about the journey," said Clarence.  "The heart of it, the spirit of it is that one note - that same note, night after night.  That's the promised land.  That's where I belong.  That's who I think I am."
---
Gary Wien has been covering the arts since 2001 and has had work published with Jersey Arts, Elmore Magazine, Princeton Magazine, Backstreets and other publications. He is a three-time winner of the Asbury Music Award for Top Music Journalist and the author of Beyond the Palace (the first book on the history of rock and roll in Asbury Park) and Are You Listening? The Top 100 Albums of 2001-2010 by New Jersey Artists. In addition, he runs New Jersey Stage and the online radio station The Penguin Rocks. He can be contacted at gary@newjerseystage.com.
---