By Gary Wien
originally published: 05/25/2020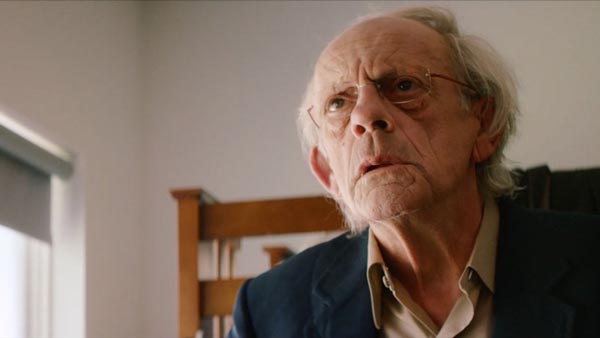 Imagine you could go back in time and relive a particular moment. Fans of the British television show Doctor Who might remember an episode called "Turn Left" in which the future of one person's life depended on whether she turned her car left or right at an intersection.  Sometimes life is that simple; where one incident holds the key to our future.  In the independent film ReRUN, such a moment occurs for the legendary actor Christopher Lloyd.
Christopher Lloyd plays George Benson, a man in his 80s whose grandson lets him in on a very special secret: his closet acts as a portal to whatever place and time you wish to revisit.  George doesn't believe it's true, but when his curiosity finally gets the best of him he decides to revisit the day the love of his life gets killed when she's hit by a vehicle.
As soon as George steps through the closet, the portal sends him back in time to the exact day he sought. But it doesn't just send him back to watch, it returns him as an active participant with his body back to that of a young man.  He goes from needing his cane to walk up the stairs to instantly realizing the cane is no longer needed.  George soon learns the day is transpiring exactly as he remembered and that he has the opportunity to change his destiny.
In classic science fiction style, there is someone monitoring the way time and events should work.  "There is a disturbance in the universe, someone got through…" says the person whose job it is to prevent history from changing.  It's a race against time for everyone. Will history change?
ReRUN was written by Gary O. Bennett and directed by his wife Alyssa Rallo Bennett.  The two New Jersey residents founded and run Stonestreet Studios, Inc., a multi-purpose, visual motion picture production studio in New York City.  The studio creates feature films, TV pilots, web series, and short form content.  Nearly all of the scenes in ReRUN were shot in New Jersey (mostly Tenafly and Bergenfield locations).
---
The article continues after this ad
---
---
The Bennett's, who originally met while both were working on their first film projects, have a great working relationship in which they are both committed to making films together.  Gary writes a piece, Alyssa reads it and makes notes.  Gary then rewrites it and give it back to his wife.  The works eventually get readings, more development, and are created with the idea of Alyssa directing and both of them serving as producers.
Gary Bennett says he has been interested in science fiction and the possibility of time travel ever since he was a kid.  "One of my favorite Star Trek episodes from the first year or two was 'The City on the Edge of Forever' where they go back to Nazi Germany.  Spock figures out that if Kirk falls in love with this woman and prevents her from dying that the whole war will change and Nazi Germany will win.  In ReRUN, we refer to the characters as time travelers and they do travel in time and space as well, but we don't define who they are.  They were inspired by The Beatles and It's a Wonderful Life."
In the same vein as the Frank Capra classic, George learns that changing history can have unforeseen results.
"The thing that made me fall in love with this script and made me want to direct it is that sense of wanting to redo things," explained Alyssa Bennett.  "Even though there are two parts to the film: the future and the past/present, it's supposed to be a very timeless piece.  So by crossing back and forth it shows you the things that are very important in life.  It doesn't matter whether you are in your 20s or in your 80s like Christopher Lloyd is in the future part of the film."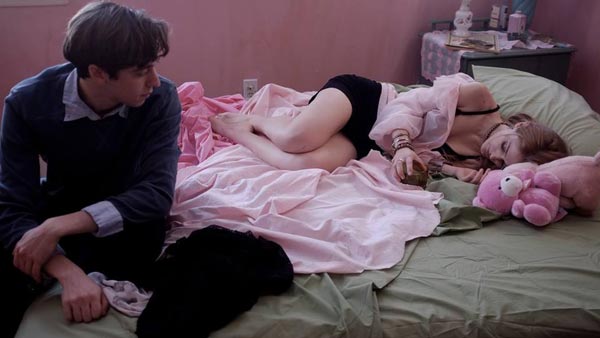 In addition to Lloyd, the film features Teo Rapp-Olsson (young George Benson), Allison Frasca (Mary Hicks), Amelia Dudley (Violet Kue), Sydney Farley (Greta Lockley), Andrew Bridges (Frank Porter), and Rishon Salters (Nicholas Benson).  ReRUN premiered at the 2018 Woodstock Film Festival where it was nominated for their Maverick Award.  It was screened at several festivals including the 2019 Los Angeles Film Festival where it was awarded Best Narrative Feature, Best Ensemble, Best Featured Actor (Christopher Lloyd), Best Young Actor (Teo Rapp-Olson), Best Editing, Best Original Story (Gary O. Bennett), and honorable mention for Best Director (Alyssa Rallo Bennett).  
Following the film's successful festival run, the film was made available on Apple TV and iTunes earlier this year.
In a career that has included film, television, and Broadway, Christopher Lloyd's portrayal of Emmet "Doc" Brown in the Back To The Future trilogy remains one of his most memorable roles.  The idea of having him portray the time traveler in ReRUN came from Angela Mickey, the film's casting director.
"When we were racking our brains about who would be the right person and also look like the character, we thought of a lot of different actors," recalled Alyssa Bennett.  "And then Angela was like, 'I know you're going to think this is cliche or crazy, but what about Christopher Lloyd?' Gary and I were like, 'Oh my God!' I had seen him do a play called The Father (by August Strindberg), which was a very serious drama, so I knew his work way beyond his comedic work.  I knew he could be fantastic on screen."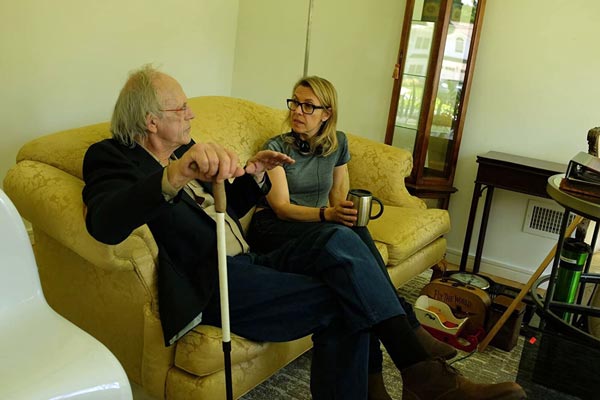 Gary Bennett added, "When Angela mentioned Christopher Lloyd, I was almost embarrassed that I hadn't even thought of him.  It was the obvious choice."
Christopher Lloyd is terrific in the film.  Everything about him from his aged face and hands to his gravelly voice and pained movements express more in every shot than any director could ask for.
"He was such a joy to work with," continued Alyssa Bennett.  "Everything from doing footsteps in character - he took so much care and time.  He was exactly the right age, although he's much more youthful in person; he did have to act to play that 80 year old.  He was such a joy, especially when he was working with the kid (Rishon).  I had to do a lot of directing through Christopher to get what we needed from Rishon and he was such a game player."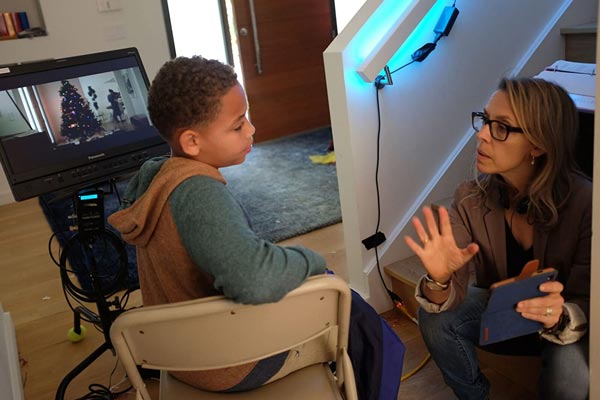 Stonestreet Studios has a knack for bringing well known stars into its pictures.  Previously they made Rain Without Thunder with Jeff Daniels, Linda Hunt, and Steve Zahn; and The Pack with Luci Arnaz and Elizabeth Moss.  Actors such as Miles Teller (Whiplash, Divergent), Rachel Brosnahan (The Marvelous Mrs. Maisel, House of Cards), Camila Mendes (Riverdale), Idina Menzel (Frozen), and Francesa Real (Stranger Things) are a few they have worked with.
The company also has Stonestreet Screen Acting & Production Conservatory, a program offered through the New York University Tisch School of the Arts Drama Department.  
"The 9 young actors in this film who are in the past all were people that came from the residency," said Alyssa Bennett.  "We work with them on everything and get them to a point where they're stepping into their first big project.  This was a special group of people."
If you're looking for something to watch while movie theaters are still closed, check out ReRUN on Apple TV or iTunes.  It's a film that will make you wonder what would happen if you could change one pivotal moment in your life.  Would things get better? Or would it help you to see that things turned out just the way they were supposed to be? Just like Capra showed in It's A Wonderful Life, sometime we all need a reminder now and then.
---
Gary Wien has been covering the arts since 2001 and has had work published with Jersey Arts, Elmore Magazine, Princeton Magazine, Backstreets and other publications. He is a three-time winner of the Asbury Music Award for Top Music Journalist and the author of Beyond the Palace (the first book on the history of rock and roll in Asbury Park) and Are You Listening? The Top 100 Albums of 2001-2010 by New Jersey Artists. In addition, he runs New Jersey Stage and the online radio station The Penguin Rocks. He can be contacted at gary@newjerseystage.com.
---