---
For great Jersey music and much more, tune into our radio station at AsburyMusic.com
---
Christian Beach CD Release Party
By Gary Wien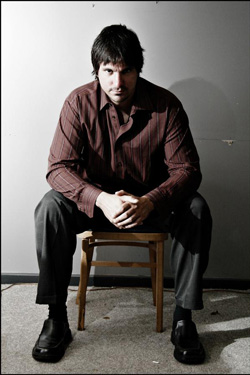 (ASBURY PARK, NJ - APRIL 10, 2009) -- I love it when the night starts off with a nice surprise. In this case, it was a band from Dallas called The O's who kicked things off with a really strong set. The duo used guitars, banjo, and a single drum and kick-pedal to give off a sound that had the flavor of country-rock, but was much more alternative sounding than traditional country sounding. Their live set was so strong that you hardly noticed it was just a duo. It's funny how sometimes, even something like a different accent can make songs sound kind of cool. The O's actually reminded me of one of my favorite bands discovered from the web - Golden West Motor Lodge. The two bands have similar vibe to their music but almost opposite sounding accents as Golden West has a northern accent care of Massachusetts. Making their second appearance at the Saint was The Sunday Blues, who was up next. Featuring members of Maybe Pete and Divine Sign, they kicked off with "Love By Numbers," a song I cannot wait to spin on the radio station. The band is one of those rare acts to have such strong material from the get go that audiences will remember their tunes from the very first time they hear them. Songs like "Breaking", "Overflow", and "Tinted Windows" have me anxious to hear a full blown CD. Several tunes feature Lindsey Miller and Keith McCarthy trading off vocals to a melody that seems so incredibly familiar that you wonder if it's an original or cover. It's that wonderful feeling of songs that just seem like they have always been with us, even though they're actually brand new. The band isn't ripping anyone off, it's like that NYC station used to say, "it doesn't gave to be old to be a classic." They've got a really good groove with the songwriting right now. It's very cool to see Lindsey Miller take lead vocals on several tracks. You can just see her confidence lead growing with each performance. During the band's first show, she seemed a little tentative, a little too quiet, on lead vocals. She looked much more in charge tonight. All of The Sunday Blues' songs are strong and polished, which is somewhat surprising since the band is so new that you'd imagine the tunes would be a bit raw. I think they took just the right amount of time practicing before hitting the stage. They came out of the gate as one of the most polished bands I've seen around here in some time. Their sound reminds me of Nils Lofgren's old band, Grin. It's a blend of rock and country, which features harmonies and the ever-surprising magnificent guitar work of Keith McCarthy. He has been amazing folks with classic rock licks that few local rock bands - outside of the metal genre - have included on stage. And it clearly works. This was the music that inspired Keith growing up and it fits him to a tee. There's such a difference between hearing someone hit these licks melodically within a rock band as opposed to a metal player trying to show off; the solos really add to the music. Arlan Feiles followed with a harder rocking sound than I've heard from him lately. Keith McCarthy playing in his third band in five days at The Saint, added some gritty guitar to the music. Arlan started off with "Top of the World" and then launched into "Change," which was the first of many tunes that seemed totally redone from the recorded version. Arlan had given many of his songs a different take on the music and even appeared to change his vocals. This was a very welcome surprise as I was expecting his familiar country-tinge to the songs. The extra rocking not only sounded great but provided a nice contrast from the first two acts. Even the slower tunes like "Viola" on piano featured more of a snarl in the vocals and a heavier supporting cast than usual. The bass was a driving rock bass as opposed to the sound of an upright; Keith McCarthy was insane again on guitar; it was total surprise for me. The heavier sound reminded me of his great band from Florida, Natural Causes. When he sang "la da da da da duh" on "Katie Truly" it was more like "hey, you got a problem?" than the normal celebration. He snarled, growled, and literally drop kicked the words into the air tonight. He acted as if he had a chip on his shoulders and it really worked for him. That particular vibe was enhanced by more classic guitar licks by Keith McCarthy, who should have sewn up an AMA nomination for guitar based on this week alone in my opinion. Arlan gave the band a break and went solo for "Mix Tape" - a fun, rambling tune involving a song that was left on the subway and discovered by Bono. Highlights for me included "Viola","Come Sunday Morning", and the finale which included lines like "I'm getting out of this town" - ironic since Bob Colyard was just saying Arlan could and should go on tour with this band. I'm looking forward to seeing this setup again. It's strange. I love Arlan's solo music and I love his heavier sound, but I'm not the biggest fan of the orchestra. Tonight's band sounded fantastic to me. Sometimes I think it's too easy for the great singer-songwriters to sound great as a solo artist, the challenge, I guess, is finding the right band to express yourself. Arlan may have found the right mix here. Christian Beach closed out the night with his CD release party. His vocals sounded as sharp as I've ever heard them. Supported by a killer band, Beach's tunes were the perfect ending to a truly great night of music. He moved between the keyboards and guitar with songs that featured a blend of traditional Jersey Shore soul with a touch of alternative rock and pop. His band included John Pfeiffer on guitar, Brian Kelly on organ, Gorgo on bass and mandolin, and Michael Scotto (from Agency) on drums. I guess I shouldn't have been surprised, but I still was when Keith McCarthy apparently wasn't done for the night and joined the band for a few tunes. He might as well just become The Saint's house musician at this point! Highlights from the set included songs like "Figure It Out", "The Finest Day", "Open Spaces", "Cemetary Friends", and a stripped down take on "Poet of the Great Plains". The more I hear "Open Spaces" the more I think it really should be a local radio hit. It's a great radio-friendly single. I've had the CD for quite some time now, but I'm going to start popping the tunes back into rotation on ThePenguinRocks.com. All in all, it was one of the better lineups I've seen in a while, a good crowd, and a night full of surprises. Just another night in Asbury...
---
For more by this author, click here
---


Arijit Singh's New North American Tour Will Include Single Stop In Tri-State Region At Prudential Center on April 13
(NEWARK, NJ) -- Bright Brain Productions, the leading entertainment company based in California announced the "Arijit Singh LIVE Tour" in 12 cities all across the U.S. This is the first of its kind and largest tour done by Arijit Singh or any Indian artist. The tour beings on April 5 and travels through major U.S. cities culminating on May 5.  The tour stops at Prudential Center in Newark on Saturday, April 13 at 7:00pm.
---
Light of Day's Main Event To Be Broadcast Live at McLoone's Supper Club
(ASBURY PARK, NJ) -- If you couldn't get tickets for the fabled "main event" of the 2019 Light of Day Winterfest, you have another chance see the show.  For the first time in the 19-year history of the festival, the "main event", the star-studded "Bob's Birthday Bash" on January 19th (a show that has long sold out), will be broadcast live via fiber optic cable at McLoone's Supper Club in Asbury Park.
---
Wharton Institute for the Performing Arts To Hold Winter Open House On January 27
(BERKELEY HEIGHTS) -- Wharton Institute for the Performing Arts (WIPA) will host a Winter Open House on Sunday, January 27 from 1:00pm to 4:00pm. The free event is open to the public and will be held at the Performing Arts School (PAS) located at 60 Locust Avenue in Berkeley Heights.
---
Billy Idol and Steve Stevens To Perform At Count Basie Center For The Arts
(RED BANK, NJ) -- Billy Idol and Steve Stevens, one of rock's most iconic and enduring duos, will hit the road this March for their first ever tour performing as a duo: Turned On, Tuned In and Unplugged. The Billy Idol/Steve Stevens tour comes to The Count Basie Center for the Arts on Thursday, April 4th.
---
McDonald's Gospelfest To Celebrate The Life of Aretha Franklin With Return to Prudential Center
(NEWARK, NJ) -- The 37th Annual McDonald's Gospelfest returns to the Prudential Center on Saturday, May 11 for the gospel event of the year. This year's event will honor and celebrate the life and legacy of the "Queen of Soul" Aretha Franklin with an All-Star cast. The 5:00pm to 7:00pm portion of the evening will feature a rising stars competition for all ages and cultures in categories including Soloists, Choirs, Praise Dancers, Singing Groups, Gospel Comedians, Gospel Poets and Gospel Rappers. The gospel concert, beginning at 7:00pm, will feature some of the most renowned gospel artists in music history with the goal of spreading love, peace and joy to all races, nationalities and beliefs.
---


Scott Wolfson and Other Heroes At Riverside Rhythm & Rhyme
This coming Sunday, January 20, Scott Wolfson and his band will be serving up their unique blend of Americana at the Riverside Rhythm & Rhyme series at Investors Bank Theater in Succasunna, New Jersey. The band – Scott Wolfson and Other Heroes – formed in Jersey City in 2011, and, even though the members have migrated in various directions since then, they still consider themselves to be a Jersey City band.
---
"He Totally Wowed Us!" John Oates LIVE! at SOPAC
It's brisk for an evening walk on South Orange Ave. in South Orange, NJ, this Friday, Jan. 4, 2019 evening, but it's a good road to follow as it leads us directly to the South Orange Performing Arts Center (SOPAC) for a special performance by singer, songwriter, and guitarist John Oates and his backup group, The Good Road Band.
---
"Tons of Fun!" The Glenn Miller Orchestra LIVE! at the Grunin Center
Although Friday, December 21, 2018 is the shortest day of the year, the audience of big band music lovers here at Toms River, NJ's Grunin Center for the Arts is hoping for a long evening of classic swing and holiday tunes performed by the incomparable Glenn Miller Orchestra!
---
Mike Davis and The New Wonders
Mike Davis traces his love for the trumpet back to a Disney movie. He grew up in a musical family, with both his parents playing strings in the Seattle Symphony. But Davis wanted an instrument of his own. Then, at age 9, he saw "The Aristocats," the animated film about a bunch of French felines — including a group of jazz-playing alley cats.
---
Ana Gasteyer's "Holiday Tipple" LIVE! at the Grunin Center
The Grunin Center stage in Toms River, NJ is set this Saturday, December 15, 2018 with drums, a grand piano, a guitar, an acoustic bass, and various microphones for vocals. A stool and several microphone stands are bedazzled with colorful garlands of shiny red, gold, and green, and wrapped gifts are strewn on stage among the instruments. Projected white snowflakes adorn the walls, and Christmas music plays as patrons enter the theater to put everyone in the mood for tonight's holiday show — Ana Gastayer's Holiday Tipple!
---
Event calendar
Friday, Jan 18, 2019
---
MUSIC

---
---
---
---
---
THEATRE

---
---
Annie Jr.

@ The Oakes Center, Summit - 7:30pm
---
Some Girl(s)

@ Studio Playhouse Upper Montclair, Upper Montclair - 8:00pm
---
---
COMEDY

---
---
MISC

---
---
View all events
---