---
BIG NEWS! Here's the latest Issue of NJ Stage Magazine -- Click here
---
Christian Beach CD Release Party
By Gary Wien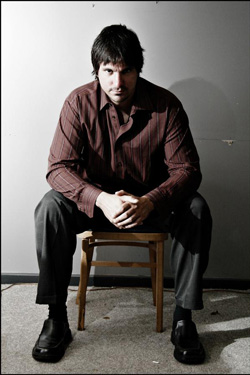 (ASBURY PARK, NJ - APRIL 10, 2009) -- I love it when the night starts off with a nice surprise. In this case, it was a band from Dallas called The O's who kicked things off with a really strong set. The duo used guitars, banjo, and a single drum and kick-pedal to give off a sound that had the flavor of country-rock, but was much more alternative sounding than traditional country sounding. Their live set was so strong that you hardly noticed it was just a duo. It's funny how sometimes, even something like a different accent can make songs sound kind of cool. The O's actually reminded me of one of my favorite bands discovered from the web - Golden West Motor Lodge. The two bands have similar vibe to their music but almost opposite sounding accents as Golden West has a northern accent care of Massachusetts. Making their second appearance at the Saint was The Sunday Blues, who was up next. Featuring members of Maybe Pete and Divine Sign, they kicked off with "Love By Numbers," a song I cannot wait to spin on the radio station. The band is one of those rare acts to have such strong material from the get go that audiences will remember their tunes from the very first time they hear them. Songs like "Breaking", "Overflow", and "Tinted Windows" have me anxious to hear a full blown CD. Several tunes feature Lindsey Miller and Keith McCarthy trading off vocals to a melody that seems so incredibly familiar that you wonder if it's an original or cover. It's that wonderful feeling of songs that just seem like they have always been with us, even though they're actually brand new. The band isn't ripping anyone off, it's like that NYC station used to say, "it doesn't gave to be old to be a classic." They've got a really good groove with the songwriting right now. It's very cool to see Lindsey Miller take lead vocals on several tracks. You can just see her confidence lead growing with each performance. During the band's first show, she seemed a little tentative, a little too quiet, on lead vocals. She looked much more in charge tonight. All of The Sunday Blues' songs are strong and polished, which is somewhat surprising since the band is so new that you'd imagine the tunes would be a bit raw. I think they took just the right amount of time practicing before hitting the stage. They came out of the gate as one of the most polished bands I've seen around here in some time. Their sound reminds me of Nils Lofgren's old band, Grin. It's a blend of rock and country, which features harmonies and the ever-surprising magnificent guitar work of Keith McCarthy. He has been amazing folks with classic rock licks that few local rock bands - outside of the metal genre - have included on stage. And it clearly works. This was the music that inspired Keith growing up and it fits him to a tee. There's such a difference between hearing someone hit these licks melodically within a rock band as opposed to a metal player trying to show off; the solos really add to the music. Arlan Feiles followed with a harder rocking sound than I've heard from him lately. Keith McCarthy playing in his third band in five days at The Saint, added some gritty guitar to the music. Arlan started off with "Top of the World" and then launched into "Change," which was the first of many tunes that seemed totally redone from the recorded version. Arlan had given many of his songs a different take on the music and even appeared to change his vocals. This was a very welcome surprise as I was expecting his familiar country-tinge to the songs. The extra rocking not only sounded great but provided a nice contrast from the first two acts. Even the slower tunes like "Viola" on piano featured more of a snarl in the vocals and a heavier supporting cast than usual. The bass was a driving rock bass as opposed to the sound of an upright; Keith McCarthy was insane again on guitar; it was total surprise for me. The heavier sound reminded me of his great band from Florida, Natural Causes. When he sang "la da da da da duh" on "Katie Truly" it was more like "hey, you got a problem?" than the normal celebration. He snarled, growled, and literally drop kicked the words into the air tonight. He acted as if he had a chip on his shoulders and it really worked for him. That particular vibe was enhanced by more classic guitar licks by Keith McCarthy, who should have sewn up an AMA nomination for guitar based on this week alone in my opinion. Arlan gave the band a break and went solo for "Mix Tape" - a fun, rambling tune involving a song that was left on the subway and discovered by Bono. Highlights for me included "Viola","Come Sunday Morning", and the finale which included lines like "I'm getting out of this town" - ironic since Bob Colyard was just saying Arlan could and should go on tour with this band. I'm looking forward to seeing this setup again. It's strange. I love Arlan's solo music and I love his heavier sound, but I'm not the biggest fan of the orchestra. Tonight's band sounded fantastic to me. Sometimes I think it's too easy for the great singer-songwriters to sound great as a solo artist, the challenge, I guess, is finding the right band to express yourself. Arlan may have found the right mix here. Christian Beach closed out the night with his CD release party. His vocals sounded as sharp as I've ever heard them. Supported by a killer band, Beach's tunes were the perfect ending to a truly great night of music. He moved between the keyboards and guitar with songs that featured a blend of traditional Jersey Shore soul with a touch of alternative rock and pop. His band included John Pfeiffer on guitar, Brian Kelly on organ, Gorgo on bass and mandolin, and Michael Scotto (from Agency) on drums. I guess I shouldn't have been surprised, but I still was when Keith McCarthy apparently wasn't done for the night and joined the band for a few tunes. He might as well just become The Saint's house musician at this point! Highlights from the set included songs like "Figure It Out", "The Finest Day", "Open Spaces", "Cemetary Friends", and a stripped down take on "Poet of the Great Plains". The more I hear "Open Spaces" the more I think it really should be a local radio hit. It's a great radio-friendly single. I've had the CD for quite some time now, but I'm going to start popping the tunes back into rotation on ThePenguinRocks.com. All in all, it was one of the better lineups I've seen in a while, a good crowd, and a night full of surprises. Just another night in Asbury...
---
For more by this author, click here
---


NJSO presents 2019 Winter Festival, 'Music Speaks'
(NEWARK, NJ) -- A trio of renowned guest artists with distinct musical voices—pianists Emanuel Ax and Daniil Trifonov and soprano Dawn Upshaw—headline the NJSO's Winter Festival, "Music Speaks," in January 2019. The Orchestra's signature artistic event takes place across three weekends, January 10–27, in six New Jersey venues.
---
RVCC Chorale to Perform Annual Holiday Concert on December 8th
(BRANCHBURG, NJ) --The RVCC Chorale will give its annual holiday concert on Saturday, December 8 at 8:00pm in the Welpe Theatre at Raritan Valley Community College's Branchburg campus. The program will feature Johann Sebastian Bach's cantata, Das Neugeborne Kindelein, as well as a cappella pieces from by Sergei Rachmaninov, Zoltan Kodaly and Giuseppe Verdi. The program also will include an audience singalong of traditional carols.
---
Classic Stones Live! The Complete Rolling Stones Tribute Show Comes To SOPAC
(SOUTH ORANGE, NJ) -- The Rolling Stones, the greatest Blues band of all time, couldn't make it to SOPAC on their 2018 tour. Instead, the acclaimed tribute band Classic Stones Live! makes an appearance on the SOPAC stage December 15 at 8:00pm for those who like to hear their Rolling Stones hits live.
---
Tony Trischka Presents "Of a Winter's Night" at the Morristown Unitarian Fellowship
(MORRISTOWN, NJ) -- Of a Winter's Night is Tony Trischka's acoustic celebration of the holiday season. Based on his CD release of the same name, this concert features Trischka's considerable melodic inventiveness on a wide variety of seasonal tunes. He turns his inventiveness loose on bluegrass and Americana music for the holidays. This one of a kind concert will take place at the Morristown Unitarian Fellowship on Saturday, December 8 at 7:30pm.
---
Idle Wave To Hold Record Release Party At Asbury Park Brewery
(ASBURY PARK, NJ) -- Pop-punks Idle Wave will celebrate the release of their self-titled EP on Saturday, December 1st at Asbury Park Brewery.  The record release show also includes performances by Skyeline, Roderick, and Pollyanna.
---


"An Amazing Musical Genius!" Brian Wilson LIVE! at the State Theatre
In the music room in the back of our house, there's an electric bass and amp, two acoustic guitars, a microphone and PA speakers, several pieces of music recording equipment, and a bookcase filled with books on music, not to mention a slew of assorted music memorabilia. But, perhaps, one of the most highly prized items in the room is hanging directly above the piano next to the college music diplomas.
---
Jazz Saxophonist Don Braden LIVE! at Toms River's Grunin Center
It's a breezy day for a new installment of the Jazz On a Sunday Afternoon concert series at Toms River, NJ's Grunin Center of the Arts this Sunday Oct. 27, 2018 afternoon. Today's special 3pm performance is entitled Earth, Wind and Wonder and is presented by jazz saxophonist Don Braden.
---
Charlie Thomas' Drifters, The Classics IV, and The Brooklyn Bridge LIVE! at The Strand, Lakewood
The stars are out this Saturday Oct. 26, 2018 evening in Lakewood, NJ for a "Golden Oldies" concert featuring Charlie Thomas' Drifters, The Classics IV, and The Brooklyn Bridge!
---
PODCAST: Grammy Winner Terri Lyne Carrington At TD James Moody Jazz Festival
Drummer, leader, and composer Terri Lyne Carrington made history as the first woman to win a Grammy for Best Instrumental Jazz for her album "Money Jungle: Provocative in Blue." Now, she brings her interpretation of Duke Ellington's "Money Jungle" to the TD James Moody Jazz Festival at NJPAC on November 11, 2018, as part of a program called "Jazz Vinyl Revisited." Producer Susan Wallner talks to Carrington about her connections to the jazz greats Clark Terry and Max Roach; her newest project, the Berklee Institute of Jazz and Gender Justice; and why she thinks drummers make natural leaders.
---
Sha Na Na LIVE! at the Newton Theatre
The audience is streaming into the Newton Theatre auditorium in Newton, NJ this Friday, Oct. 19, 2018 for a live concert starring Sha Na Na!
---
Event calendar
Thursday, Nov 15, 2018
---
MUSIC

---
---
---
TOTO

@ Mayo Performing Arts Center (MPAC), Morristown - 8:00pm
---
THEATRE

---
---
---
Apples In Winter

@ Centenary Stage Company - Kutz Theater of the Lackland Center, Hackettstown - 7:30pm
---
---
---
---
DANCE

---
---
FILM

---
---
View all events
---