By Gary Wien
originally published: 12/23/2016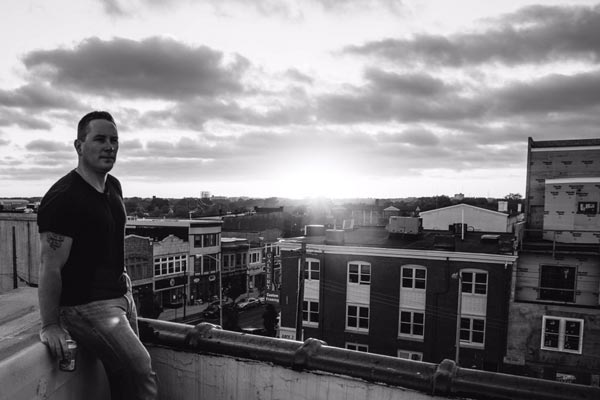 Chris Brown is a gritty singer-songwriter from Asbury Park whose songs blend punk and folk in a way that evoke the spirit of an Irish pub. His latest release One More Night was produced by Pete Steinkopf of The Bouncing Souls and mastered by Tom Ruff at Asbury Media. It contains six songs that have rarely left my playlist since its release over the summer.
Maybe it's because Asbury Park has always been special to me; maybe it's because Chris grew up in the dark days of the town and remembers those days, oddly like I do, with a sense of pride and nostalgia; or maybe it's because artists always see areas like Asbury Park fall prey to gentrification and lose their mystiques; but this album speaks to me.
The album has a few central themes: changes and gentrification, growing older, and the power of love to literally save someone. Eric Cooper (cello) and Alex Iannone (violin) add layers of complexion to several songs. Pete Steinkopf plays guitar on several tracks. Additional musicians include Shane Mazekian (drums and percussion), Jef Plate (organ), Howie Cohen, Zach Moyle, and Charlie Brown(Chris' father) on backup vocals.
---
The album's standout track is "Serve 'Em All" - an ode to the Bond Street Bar (where he worked as a bartender for several years) and a fond look at the best memories in a Jersey Shore town that has gone from being called "Beirut" to "Hipster" in the past decade. The song pays tribute to the days when there was beauty in its darkness.
She's a little local haunt and if these walls could talk
They'd probably slur their words
With tall tales about singers and old whiskey slingers
Whose stories are yet to be heard
There's the artists, the writers, the cops and firefighters
Who raise a glass to family and friends
There's the losers, the winners, the saints and the sinners
A big misfit family in the end
You don't have to go home, but I guess you can sleep in your car cuz
Everyone's had too much fun down at the Bond Street Bar
In the song "One More Night," Brown offers additional perspective on the changes in town as well as his own mortality. Now in his mid-thirties, he became a father for the first time over the summer. This song celebrates youth and the inevitable loss of youth and friendships as age and adulthood take over.
I guess Bobby was right, the "times are a changin'"
The places we once knew, are only getting stranger
So meet me on the rooftop we can see this city's heart
Beating back the changing tide before it gets too dark
Just one more night, of hangin' on rooftops
Just one more night, with my best friends
Just one more time, before everything changes
And everything golden comes to an end
---
---
The article continues after this ad
---
---
The track "Gunshots & Bombs" tells the tale of a guy who sees the death of the American Dream, worries about the future, but takes comfort that even when the bullets are flying, his girl makes everything ok. Sounding like an Irish storyteller, Brown says he has always loved Celtic folk songs, "I think that came out in my writing later on."
First thing this morning I turned on the news,
Saw the hope for the future hangin' by a noose
The American dream's 6 feet under the ground, I'd swear
that we learned to fly just to shoot shit down
When I hear gunshots at night I'm just glad they're not bombs
I think the world would agree to hear nothing at all
May the sins of our past wash away with the tide
Don't worry baby I'm right by your side
---
He dives into the power of finding a soulmate in "The Hardest Part." His lyrical style hints of personal reflection. Even if the songs are fictitious, he makes us believe they are not. His wife, Maggie, is a mixed-media artist. They have been married for about three years now and being with a creative person clearly inspires Chris.
Don't know if I told ya, I don't write much when I'm happy
I guess that I'm feelin' more clever when I'm sad
But now that I find myself always around ya
It's easy to see that life ain't so bad
As long as I've known ya you've always been crazy
But you've always had the kindest smile
O well you never cease to amaze me
My Frida, Magnolia I'll love ya lil the day I die
O then I knew the hardest part was over
On the day that I found you
---
We all hold secrets in "Glass Houses." Brown admits he has a couple of his own that involve his exploits, anger, and interactions with the law while in his twenties. "I've tried to be kinder to people because I guess I have a bad temper, or so I've been told," he said.
Everybody's got a story that they don't wanna tell
Everybody's spent some time in their own little hell
And sometimes it gets easier to swallow all the pain
You could never know the things that someone else has seen
A little bit of sympathy could do some good for you and me
I'm not quite certain but I bet there's someone out there hurtin'
Someone like you and me
If we're people in glass houses
then maybe we shouldn't throw stones
---
And he reveals the power for music to save as well with "Never Let Go" - a song that shows impressive restraint. The lyrics sound like they belong in a fast punk anthem, but Brown slows everything down to a crawl. The result is almost like psychoanalysis - raw, inspiring, and powerful.
My heroes sang of three chords and the truth
Is all I can remember from my youth
There's always been a fire inside of me
Started playin' this guitar to keep from screamin'
Never Let Go, Never Let Go
Even though this isn't his first album, the tracks combine to tell the story of who Chris Brown is right now, what he's feeling, what he's dealing with, and what keeps him going. It's an honest record from a guy who has had his share of problems to overcome. Even though he received an Asbury Music Award in 2015 for Top Male Soloist/Acoustic act, Brown still seems to be floating a bit under the radar. Check out his website and give his tunes a spin. The lyrics might speak to you the way they speak to me.
---
Gary Wien has been covering the arts since 2001 and has had work published with Jersey Arts, Elmore Magazine, Princeton Magazine, Backstreets and other publications. He is a three-time winner of the Asbury Music Award for Top Music Journalist and the author of Beyond the Palace (the first book on the history of rock and roll in Asbury Park) and Are You Listening? The Top 100 Albums of 2001-2010 by New Jersey Artists. In addition, he runs New Jersey Stage and the online radio station The Penguin Rocks. He can be contacted at gary@newjerseystage.com.
---