By Gary Wien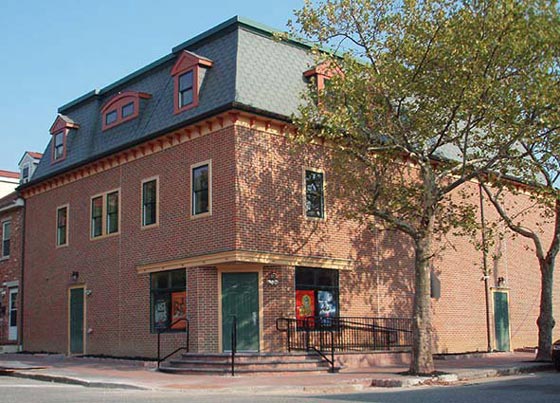 This article was originally designed to be read in the September 2014 issue of
New Jersey Stage magazine. To read it in its original format, click here

Starting any theater company is a risky venture. Imagine trying to start one in a city with a heavily damaged reputation like Camden. Joseph M. Paprzycki was given a golden opportunity to do just that and the Camden native jumped at the chance. Ten years later, the theater company is going strong and is bringing people to the city - many, for the first time in years, if ever.

The story of how the South Camden Theatre Company came about is like a fairy tale. Paprzycki was a prolific playwright who attended Sacred Heart Church in Camden. At the time, he was shuffling back and forth to New York City for his productions. One day, Monsignor Michael Doyle asked him why he never did any of his plays in town. Paprzycki asked him where would he put them and Doyle said he could use the Church basement. So he did.

They organized a reading of Paprzycki's play, "Last Rites." The play is set 1967 when the Camden shipyard closed, leading to a major loss of jobs and an exodus from the city. Ironically, the play takes place in his grandfather's old bar, which was located across the street from the Church. The reading raised about $800, which helped purchase the materials used to build the theater's original stage. One year later, the company staged "Last Rites" as their first official production.

His grandfather's bar had been boarded up and abandoned for at least a decade. It was sold several times since his grandfather and the current owner had died, leaving behind a federal tax lien on the property. To Paprzycki, the building - heavily damaged from years of water pouring in - stood as his dream site for a theater. He mentioned the idea to Michael and Helene Pierson of The Heart of Camden, an organization whose mission is to rehab neighborhoods.

"I kept saying to her, 'My grandfather's bar should be a theater," recalled Paprzycki. "When we opened the first show at the Church, she laughed and walked away. I asked her again a few months later and again at the opening of the theater. At the opening she said, 'The third time somebody comes to me with an idea, I start thinking seriously about it.'"

A new program had been launched to help pay off federal debts on properties and allow the city to acquire buildings like the bar. Paprzycki's dream site ended up being one of the first properties in Camden to be acquired. Due to the extensive damage of the building, it was unable to be renovated, but they were able to do the next best thing - build an exact duplicate of the bar and place a theater inside.

"We're building you a theater, what do you want?" Paprzycki was asked by the city. It was the question everyone involved in theater wishes to hear. Thanks to his experiences in small theaters around New York City, Paprzycki knew exactly what he wanted. He asked for 96 seats, so they remained below the first tier for Equity. He got a beautiful dressing room and a great green room. Most importantly, he got 3 stories of fly space, something unheard of for a theater of this size.

In September 2010, the South Camden Theatre Company marked the opening of their sixth season in the brand new Waterfront South Theatre with "Last Rites," the play that started it all. The new theater was the perfect vehicle for Paprzycki's mission. As a playwright himself, he made sure the theater had a relatively unique goal. He wanted to produce new plays at the theater and also present works by the best playwrights in history. He just didn't want to do the same plays that everyone else was doing.

"I don't want to do the plays that everybody knows," said Paprzycki. "I'm going to do a play that allows you to see another side of a great playwright. Hopefully you'll go 'Wow, that Camden company does stuff I've never heard of' and hopefully we do it well enough that it brings you back. I like to bring plays here that you've not seen because if I'm going to do a play that everybody else is doing then why are you going to come to Camden?"

Paprzycki knows the city's reputation is hard to overcome. He says he often hears people describe the theater as an oasis. They get to the theater by driving past the old, broken down shipyard or burned out buildings in Center City Camden and discover a neighborhood that has been redeveloped. He says people should feel safe when they come. There's plenty of available parking spaces and security cameras at the theater. The City of Camden has an Eye in the Sky camera and improved its police presence when it moved from a city-based force to a county-based one, leading to a large increase in the number of officers on the street.

"I guess it ties into faith," says Paprzycki. "I always had faith that we were going to have money for the next season and have the people for the next season… If you had asked me ten years ago if I thought this would last ten years, I think I would have said yes. A lot of people thought I was nuts in the first place. They said how can you have a theater company in Camden, nobody will ever come. But we've had 500-600 people for a production and that's pretty good. People said no one would come to Camden at night, but they do. The first time, they might be a little scared and I get it. I'm not naive. But I've seen a car bring a couple to the theater for the first time, then they tell their friends about us and when they come back for the next play, there's another couple with them. That's how this has grown. It's people who come and then bring friends and then more friends."

Faith is the theme for the company's new season. They will be presenting "Broken Glass" by Arthur Miller (the first time the company has presented a work by him), "Agnes of God" by John Pielmeir, "Fortune Cookies" by Paprzycki, and "King Hedley II" by August Wilson.

His faith in the ability to have theater help revive the area is rewarded every time he sees people give Camden a chance. He's excited to see small groups from Gloucester City (a mile or two from Camden) enter Camden for the first time in years and grow in size as they return for the next show. Restaurants in Gloucester City are starting to add special menu choices designed for theater-goers to make sure they can have a nice dinner and still have time to make it to the show. The theater company even has one group that meets in a restaurant in Gloucester City for dinner and then goes to the play. Afterwards they head to the theater's home bar where they get to meet the cast and hang out. If there is anything in the play they didn't understand, the cast and crew will discuss it with them.

"You're watching these people that may have always thought plays were just musicals and now they're coming in and seeing works by Sam Shepard, Eugene O'Neil, Tennessee Williams, and my work. It's really gratifying to see a theater audience growing within a community. And it really is a community; it's people talking to friends and neighbors and coming together. They're turning it into a four time a year event. It's an event for them. It's beautiful."

---
Gary Wien has been covering the arts since 2001 and has had work published with Jersey Arts, Elmore Magazine, Princeton Magazine, Backstreets and other publications. He is a three-time winner of the Asbury Music Award for Top Music Journalist and the author of Beyond the Palace (the first book on the history of rock and roll in Asbury Park) and Are You Listening? The Top 100 Albums of 2001-2010 by New Jersey Artists. In addition, he runs New Jersey Stage and the online radio station The Penguin Rocks. He can be contacted at gary@newjerseystage.com.
---