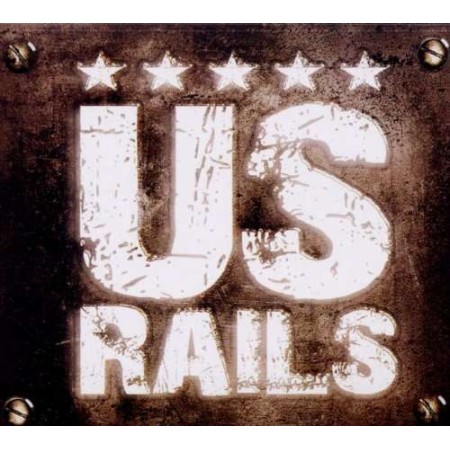 U.S. Rails is the new name for the former Philadelphia-based band 4 Way Street. Long-time fans will not be disappointed in the direction of the band as the debut by U.S. Rails may be even stronger than the lone record released by 4 Way Street. The "supergroup" of sorts continues to include Ben Arnold, Scott Bricklin, Joseph Parsons, and Matt Muir and now adds Tom Gilliam to replace Jim Boggia. The pairing brings together a mix of great songwriters who all have very distinct vocal styles that compliment each other. The end result is a largely brilliant followup record that is sure to please long-time fans and make many new ones.
As with 4 Way Street, the sum is once again greater than its parts. U.S. Rails is an amazing group that clearly conjures up memories of Crosby, Stills, Nash & Young through their wonderful harmonies and acoustic guitars. Band members once again rotate lead singer duties throughout the record and occasionally all take part as in the great opening tune, "Lucky Stars."
"Does anybody know how lucky we are?
Just bangin' on drums, strummin' our guitars
Just tryin' to have fun in some dark and dusty bar
In the morning, when I wake up
I thank my lucky stars"
-- Lucky Stars
The record steers a bit more towards country-rock than its pop-rock based predecessor. Songs like "Gonna Shine", "Good Times", "Burning Fire", and "Man Down" are closest to those found on the 4 Way Street record; while tunes like "Simple Plan" and "Shine The Light" have an almost '70s classic rock kind of feel.
Overall, it's an extremely strong disc that I recommend highly. In fact, it's probably one of my two or three favorite records of the year and a staple on my car stereo. If you were a fan of 4 Way Street, go ahead and pick up a copy, you won't be let down. If you've never heard of the former band, but are a fan of artists like CSN&Y or the Indigo Girls, you'll dig this too.
I think one of the reasons CSN&Y succeeded where others have failed is because their songs didn't sound forced; they sounded as if they were meant to be recorded that way -- the harmonies weren't a gimmick, but an integral part of the equation. The same thing is happening here. U.S. Rails is a bunch of long-time friends who realized one day that they could all add to each other's tunes and take them to a higher place. There's no denying that the band enjoys playing music together and is having fun. When that sort of thing happens, it's an amazing experience.
"These are the good times,
We drink to remember, we drink to forget
Yeah, the good times
And we ain't seen the best of them yet"
-- Good Times