By Gary Wien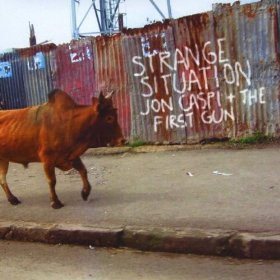 by Gary Wien

*** (3 stars out of 4)

The latest release by Jon Caspi finds the Jersey artist veering in a slightly new direction. After two solid power-pop releases and a brilliant "rock novel", the new record leans more towards a faster rock/punk feel. Caspi has again penned a couple great songs although what I like most about this record took me quite a while to figure out.

The record sounds as close to a live concert as any studio recording I've ever heard. And I mean that in a very good way.

Driving home from work one day with the disc in my car's player, it suddenly dawned on me that "Strange Situation" plays out from start to finish as if Caspi was performing a live set on the radio minus the crowd noise and stage banter. The songs are sequenced wonderfully -- as if it was a set list (or mix tape) designed for maximum effect. The record flows back and forth from highs to lows, rockers to slower tunes -- even a ska-based tune to break things up. It might be because the album features several songs with rather untraditional drum beats to kick things off, but the tunes really sound like a live concert to me. There's a brilliant sort of energy and pace to the record that you don't hear that often. It just sort of pops out at you as if you're hearing the band live.

Highlights include the stunningly beautiful, "Don't Bend" and a pair of rockers: "Fading Into Gray" and the title track.

"Don't Bend" is one of several songs on the record inspired by the son Jon adopted from Africa. Here he's offering his son some advice on how to be strong during an awkward situation he foresees somewhere down the road.
"Don't bend so easily
Don't bend so easily
No matter what they say
You look them in the face
Don't bend so easily"

"Fading Into Gray" is sort of an anthem for rock and rollers who continue to fight the good fight even as the years go by.

"Lately, all of you just drive me crazy
don't know why I let it phase me
but I still dream of yesterday
while I'm just fading into gray"

"Strange Situation" may be the first song I've ever heard to accurately describe the unique moment of adoption.
"Well one day there you were
A picture from another world
We were told you would be ours
So did Addis I did go
I came to take you home
You didn't know me at all
It's a strange situation, I know"

Caspi's music always had a bit of a melodic punk edge floating towards the surface in my opinion. This record just lets him explore that side of his influences a little more. All in all, it's a strong disc that makes me curious just where he'll head in the future!

---
Gary Wien has been covering the arts since 2001 and has had work published with Jersey Arts, Elmore Magazine, Princeton Magazine, Backstreets and other publications. He is a three-time winner of the Asbury Music Award for Top Music Journalist and the author of Beyond the Palace (the first book on the history of rock and roll in Asbury Park) and Are You Listening? The Top 100 Albums of 2001-2010 by New Jersey Artists. In addition, he runs New Jersey Stage and the online radio station The Penguin Rocks. He can be contacted at gary@newjerseystage.com.
---