By Gary Wien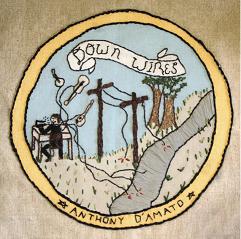 CD REVIEW: "Down Wires" by Anthony D'Amato
4 Stars (out of 4)

One of the greatest compliments I can give an artist is to say that I believe they carry the spirit of John Lennon in their work. Anthony D'Amato carries that spirit. He's got that Lennonistic ability to be daring musically through different styles while offering provocative and insightful lyrics that can inspire or make one truly think. He's also got John's ability to tear down the walls and strip everything down to its bare skeleton -- revealing one's true essence, warts and all. On Anthony's latest release, "Down Wires", the young songwriter continues his progression as one of the most impressive talents of his generation. It's a journey that I am thoroughly enjoying. One reason why I listen to so much new music is because there is something magical about discovering artists while they are just beginning to hit their creative stride. Anthony had a coming out party with his last release and "Down Wires" shows he's just getting started.

The record floats in and out of a mix of rockers, ballads, and adventurous tunes. It's a blend that reminds me an awful lot of Lennon's wonderful, "Imagine" album. As with "Imagine", this album contains a few masterpieces of its own. Songs like "My Father's Son", "Let Me Tell You Something", "Down Wires", and "Once" are all amazing tracks. "California Girls (Ain't So Great)" pokes fun of one of rock and roll's favorite bits of imagery and even calls out The Beach Boys to "get it straight -- California girls ain't so great". The track, "Southern Stars", may be one of the most radio friendly songs I've ever heard from Anthony and one that should find lots of radio airplay along with "One Good Time", an upbeat rocker that features the Canadian star Sam Roberts on backing vocals. But it's a trio of tracks -- "Ballad of the Undecided", "Holy War", and "Never Grow Old" that are the true masterpieces in my opinion.

"Holy War" is flat out brilliant. It's an instant classic and the best song about war I've heard since Rick Barry penned "Courage for a Rainy Day" several years ago. Featuring beautifully melodic guitar, wonderful harmonica, and crushingly honest lyrics that makes its point extremely clear, it's a song I sincerely hope finds a wide audience.

"Captain, captain, my aim is true
Shot those men like you told me to
Because they don't pray the way we do
Captain, captain, my aim is true

But I don't know
what I'm fighting for
And I don't know
What to feel no more
And I don't know
Why they bother keeping score
'cause there ain't no winners in a holy war"
-"Holy War"

In "Never Grow Old", Anthony displays his true Lennon spirit. The song contains a narrator who doesn't feel like he's part of the world around him. It's a scenario that is all too familiar to me and probably is to many fans of Lennon as John was the ultimate outsider. Lennon often wrote amazingly personal songs that reflected on his place as one who didn't quite fit in ("Nowhere Man", "Help!", and "In My Life" quickly come to mind) and many of those songs were written when John was around the same age as Anthony. On "Never Grow Old", Anthony recognizes the world collapsing around him; yet, he clings to the hope that he can still hold on to the innocence of his youth.

"I'm gonna shout
I'm gonna scream
I'm gonna go out and maybe lose my body
I wanna run
Into a dream
I wanna wake up in a world that wants me
Ohhhh, promise me we'll never get old
Run away and never come home"
--"Never Grow Old"

Later in the song, the narrator sounds a wakeup call -- desperately trying to reach people or possibly find someone who is like himself, so he'd know he wasn't purely alone.

"Brothers awake, sisters awake
Why can't you see, we're just the same?
Lovers awake, sinners awake
Why can't you see, we're just the same?
Mothers awake, children awake
Why can't you see, we're just the same?
Brothers awake, sisters awake
Why can't you see, we're all the same?
--"Never Grow Old"

It's an amazingly daring song that succeeds. I absolutely love how Anthony is not only unafraid to take chances with his music, but finds a way to succeed more often than not. As with Lennon, he has that rare ability to do craft songs that blend two worlds (or two songs) into one. It makes for truly powerful songs.

The opening track of the record is "Ballad of the Undecided" -- a blistering rocker that sends the message Anthony is not content to be known simply as a folk artist. As he does throughout the record, this song contains killer lines like "I'm not religious, I just like playing God" that really stay with you. It's a trait Anthony has developed well.

"I'm not your lover just because I spend the night
I'm not a liar just because I'm never right
I'm not accustomed to adjusting any of my thoughts
I'm just a man who doesn't know what he wants"
-"Ballad of the Undecided"

I'd say Anthony knows exactly what he wants and it's wonderful to see him succeed this way. It's always a bit difficult reviewing his work because he used to write for my magazine many years ago. I've not only known him for a long time, but have seen him grow -- both as a writer and songwriter. Releases like "Down Wires" bring a smile to my face because Anthony is the kind of guy you want to see succeed. He's not just a good guy, but I think he's got something important to say and it shows through his music. I'm not trying to compare him to Lennon, but he has that spirit. It's the kind of spirit that can do great things...

---
Gary Wien has been covering the arts since 2001 and has had work published with Jersey Arts, Elmore Magazine, Princeton Magazine, Backstreets and other publications. He is a three-time winner of the Asbury Music Award for Top Music Journalist and the author of Beyond the Palace (the first book on the history of rock and roll in Asbury Park) and Are You Listening? The Top 100 Albums of 2001-2010 by New Jersey Artists. In addition, he runs New Jersey Stage and the online radio station The Penguin Rocks. He can be contacted at gary@newjerseystage.com.
---