By Gary Wien
originally published: 04/26/2017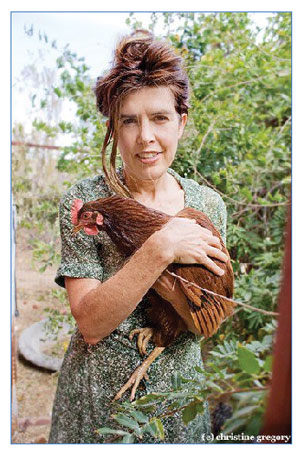 For many music fans in the 90s, Victoria Williams was their introduction to Multiple Sclerosis (MS). The Louisiana born Williams was a rising star in the indie world, touring as the opening act for Neil Young when she first began having neurological problems. Faced with a sudden bout of medical bills and without health insurance, 14 artists including Pearl Jam, Soul Asylum, Lou Reed, and The Waterboys covered songs written by Williams on a tribute album entitled "Sweet Relief: A Benefit For Victoria Williams." The album did so well that it led to the creation of the Sweet Relief Musicians Fund, an organization that aids musicians with their medical bills.
The Sweet Relief Musicians Fund went through a period of hard times but rebounded and now is regularly supported by hundreds of musicians, corporations, and music fans. The organization works with venues across the country and holds benefit concerts from time to time. One such concert is a "Strange 80s" benefit taking place on Sunday, May 14 at the Fonda Theater in Los Angeles, California. Hosted by Finn Wolfhard of the Netflix hit "Stranger Things," the event will feature performances by Finn and a rotating case of rock stars and celebrities covering timeless songs from the 80s. All proceeds go to the Sweet Relief Musicians Fund.
Performers scheduled to play the benefit include Tenacious D, "Weird Al" Yankovic, and Sarah Silverman, plus Corey Taylor (Slipknot), Jane Wiedlin (Go Go's), Adam & John (Taking Back Sunday), Scott Ian (Anthrax), Pearl Aday, Michael Starr (Steel Panther), Richard and Johnny (Filter), Dave Kushner (Velvet Revolver), Dan Konopka (OkGo), Deap Vally, John Feldmann (Goldfinger), Marko Desantis (Sugarcult), Stephen (Anberlin) and more.
When New Jersey Stage heard about the benefit, we thought it was a good time to see how Victoria Williams was doing these days. MS is a disease that affects a pair of writers of this magazine and we know that it affects everyone differently. Members of the magazine staff have been raising money and taking part in this year's Walk MS in Lake Como, which takes place Sunday, April 30. If you would like to make a donation, click here.
How are you doing?
I am doing good.
---
The article continues after this ad
---
---
The Sweet Relief album was sort of my introduction to MS. Do you feel that many know of your work because of MS?
Well definitely people who have the unfortunate diagnose of MS. A lot of people got in touch with me, asking what I was taking and stuff like that.
What was it that originally led you to be tested for MS?
I was out touring, opening for Neil Young and I was playing solo. It was like two week spurts and then you'd have two weeks off. I remember I was playing a gig one night and I had to leave the next day to go on the next spurt. It was hard for me to walk and I went to a chiropractor because I thought there was something wrong with my back. I thought I might have pulled something. He said I think you have MS. I thought he was crazy!
I went on to do the tour and as the tour went on my hands weren't working and the tour manager said "You've got to go to a hospital and find out what's wrong with you." I went and they did a lot of tests and where they found the MS was in the MRI. They saw the scars in my brain and that's when I was diagnosed with MS.
Do you remember what you felt when you heard the diagnose?
I think I thought it was muscular dystrophy in my head. I was mixed up. Luckily I've just gone on having faith. That's the thing. I have faith that everything's going to be alright. Like it was a good thing that I was able to start Sweet Relief. A lot of people have gotten help from it. For me, every day is one day at a time.
At the time, many MS drugs were just beginning to be introduced. Were you able to get on one?
I was trying to do all natural stuff, but my doctor said "you're getting too many symptoms, you've got to start taking drugs." So that's when I started taking shots. I would be walking and see a big step and be like "woh! How can I get my feet to go up this big step?" Some stuff never came back. My feet are still kind of numb and my hands are still kind of numb.
Can you still play guitar and write songs?
Yes, I can. What I've been doing when I'm playing is I do a lot of improvising, which is how I started. I started out doing improvising but when I got a record deal they said, "You have to play the same songs every time because you're promoting your record." But now it's been good because I do a lot of improvisation which I love doing. I feel it's such a gift.
Do you still do live shows?
Yes, I do. I just played one recently, but it wasn't my stuff. It was a benefit for autism at a theatre in Glendale with a lot of other people doing the Big Pink (The Band's) record. They assigned the songs and I was assigned "Rocking Chair." I also sang backup for a lot of people. There were a lot of people there I hadn't seen in years. It was fun to do that.
Are you thinking about putting out new music sometime? You released a live album from the 90s for this year's Record Store Day, but it's been a while since your last album of new material.
I think I will put out a new album of songs, but I don't know when. I live here on this ranch with so many things to do every day. There are plenty of animals here. It seems like every day is full. I hope to do a record this year, but I've said that for years and I haven't done it yet. It doesn't mean I can't. God willing, I can.
---
Gary Wien has been covering the arts since 2001 and has had work published with Jersey Arts, Elmore Magazine, Princeton Magazine, Backstreets and other publications. He is a three-time winner of the Asbury Music Award for Top Music Journalist and the author of Beyond the Palace (the first book on the history of rock and roll in Asbury Park) and Are You Listening? The Top 100 Albums of 2001-2010 by New Jersey Artists. In addition, he runs New Jersey Stage and the online radio station The Penguin Rocks. He can be contacted at gary@newjerseystage.com.
---