By Gary Wien
originally published: 08/20/2016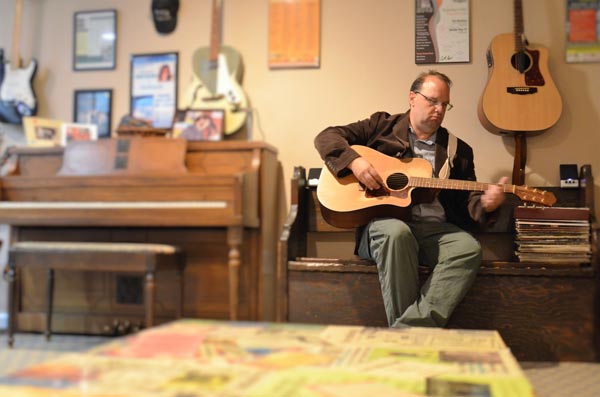 Keith Monacchio fans can finally get their hands on a few songs that he's been playing live for a few years along with a bunch of new ones in his latest release, The Dust-Up. Some of the songs will remind long-time fans of his work in The Commons; some will evoke memories of his brilliant solo release The Long Evening; and some veer into new frontiers. And that's exactly what he was looking for - a record that sounds a bit like an old friend, but isn't the same record he's put out in the past.
"I've had that title for a few years now," explained Monacchio, based in Hamilton, NJ. "When I put this batch of songs together, it seemed like a lot of the songs and the subject matter was almost like a battle or a scrap with myself of trying to come to terms with where you are in your world and being ok with it. It's that constant battle of 'What if I'd done this differently or chose this road?' It just seemed like most of the songs were going that way, but I was trying to be as positive as I could within that and give a 'Never say die' kind of message. I think I've been lumped in a little bit by my own doing of writing some sad songs over the years. And I wanted to actually write some songs that had a positive outcome and a good outlook. It's just a struggle within myself, I think. A dust-up with myself."
Monacchio's world has changed quite a bit since The Long Evening was released in 2010. He married fellow singer-songwriter Sheli Aarden and the two had a son named Jacob. Both put aside their musical careers. After decades of performing regularly each month, Keith took 10 months off between shows. When he returned to the stage, he found the enjoyment that had been missing. Now in his 40s, he realizes that the days of taking off several weeks from work to go on tour are over. He's also making sure that he's there for his son.
"You ever notice when you watch the Rock 'N Roll Hall of Fame inductions and the guys who get in - every guy who goes up there has a part of their speech where they say 'I just want to apologize to my kids. I wasn't there for them.' And I get it. Maybe if I was in that lifestyle when we had Jacob where it was my job and how I made money it would be different, but I would never want to have that regret of missing anything. Growing up without a dad, that also amplifies it a lot. I feel like I have to be there for him. I don't want to miss a single moment."
---
The article continues after this ad
---
---
Monacchio said he thought that having a kid would bring about a new level of creativity, but it took a while for that to happen. He avoided writing a bunch of songs about having a baby, saying those songs had been done a zillion times. Instead he waited for inspiration to hit and when it did he soon found himself with half an album of new material — songs written from a different perspective than his previous work.
"I think I'm writing in the second half of my life and what is that going to be like?" he wondered. "The first half's done and it was good. What is the second half going to be like? What do I have to look forward to? What do I have to work on? What mistakes am I going to make again? There's only so much you can learn or want to learn or want to change, and I'm very much a creature of habit."
One habit that continues is utilizing the work of Sean Glonek, his long-time friend and former band-mate in The Commons, as producer. The two have worked together on every record Keith has released in the last 20 years. While some artists believe they need to work with new producers in order to go a different direction or avoid putting out the same record as the one before, Monacchio thinks the connection they have with each other outweighs any advantage that might come from working with a new producer.
"He probably brings out the best in me and he's my harshest critic," admitted Monacchio. "We don't always agree and he's probably the best person to say 'This song sounds like one you wrote on this album.' There were one or two songs that I was jazzed up about and he said, 'This is a Commons song. I can hear this on this record in this time period, sung in this cadence with this phrasing.' For someone - especially a producer - to know your material that well is pretty amazing. Not every song is great and editing for any artist is hard because anything you write you think is great. I respect his opinion immensely."
Monacchio says he recorded 15 songs for the disc, which was paired down to 10 tracks. It's a record that was more of a collaboration between Glonek and Monacchio than previous ones. The two had a few hard choices to make, but the end result is a record that sounds cohesive and flows.
"I'm happy in the sense that I cleared the decks of all of the songs I want to release and record," added Monacchio. "We scanned through any demos I've had floating around. There are songs I'll never record because they're just not there. They had a place in time and I'm not in that headspace anymore. I'll probably always write in the same style and I think that's good for people. They don't want the same thing or the same songs, but they like something familiar like an old friend. I wouldn't go too far in left field, but I do like trying different genres. On this record, there's a song that's got a mid-60's Stax R&B feel to it; there are a couple of songs that have a little folk-tronica thing going on; and there's even a song that's probably a straight-up country stop song. I was telling my wife the other day that I don't even know how to categorize the record. Is it Americana? Indie Rock? I guess at the base of it it's still singer-songwriter."
As for his wife, Keith says the two of them are working on a plan in which they take turns in the studio and having time to promote a record. She is expected to return to the studio in December to record the follow-up to Kansas, which was released in 2011. The two of them worked together on The Wedding Album, a limited edition record that was given to guests at their wedding and is available online. It's a record that Keith says took off on a life of its own. Odds are it won't be the last time the two work together.
---
Saturday, September 10 - Keith Monacchio's CD Release Party for The Dust-Up
Belmar Arts Council, 608 River Road, Belmar, NJ
---
PHOTO BY JENNY WOODS
---
Gary Wien has been covering the arts since 2001 and has had work published with Jersey Arts, Elmore Magazine, Princeton Magazine, Backstreets and other publications. He is a three-time winner of the Asbury Music Award for Top Music Journalist and the author of Beyond the Palace (the first book on the history of rock and roll in Asbury Park) and Are You Listening? The Top 100 Albums of 2001-2010 by New Jersey Artists. In addition, he runs New Jersey Stage and the online radio station The Penguin Rocks. He can be contacted at gary@newjerseystage.com.
---