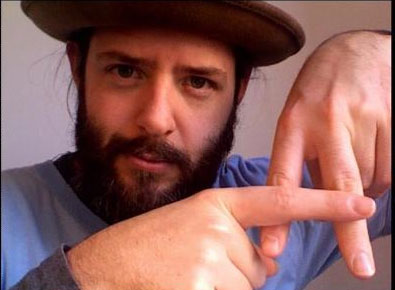 NewJerseyStage.com had the opportunity to talk with singer-songwriter James Dalton (aka JPAT) hours before he made his long-awaited New York City theatre debut in a production called "Mirror, Mirror".
Congrats on your first New York City play! While most people probably know you best as a singer-songwriter, you're also a published poet, and accomplished actor. What's it like for an actor to finally do a show on Off Broadway?
Thanks, Gary! You know, it's very validating, to actually be doing any theatre in NYC, whether it's Broadway or some experimental squat production.

Tell me about this production. What's it called? What's it about? And what's your role like?
Well, this show, "Mirror, Mirror" is an Off Broadway that is just getting its start really. It's had a semi-staged reading this past Spring and for this 2.0 version, it's at the Jan Hus Playhouse on E 74th Street in Manhattan, which I have been told, has long been a home for newer shows getting off the ground. It's an interesting idea, tracing the residents in one apartment in seven times spanning about 140 years in NYC. I think we find that as the times change, the nature of people don't. Not to see that individuals can't change, but I guess what I am trying to say that we find the similarities and connections that makes us all a part of humanity. I play Trent, an obnoxious stock broker from the 80s.

Have you been actively auditioning for shows? Or was this your return to the game?
To be honest, I haven't been auditioning. I'd wanted to somehow return to the game, but I've always been distracted by all the things i want to try and do. It was just serendipitous that a friend was co-writing this one and had imagined me in this role and bugged me about auditioning. So, after having no faith in my abilities anymore, since it had been so long, I went in anyway and for some reason, I guess I fooled them enough to cast me :)

When does the show run? And what happens afterwards? Is the crew hoping to bring it to another theater?
We've got two shows. We open tonight, August 9th and we also run on August 16th. Collectively, we are having a great time as a cast and I think the "bosses" feel the same so its a good thing that we are, in fact, looking to put the show up in the Fall at another theatre.
You're first bout of recognition might have been with a production of "Hair" at the Edinburgh Fringe Festival many years ago. That production had a bit of controversy behind it. Can you retell the story around the controversy?
Yikes, you remember that? The quick story is this. NENA Productions cast of HAIR took two promo photos to be included in what's know as the Fringe Guide, the big magazine that lists the literally 1000 plus performances that go on throughout the month of August across the city of Edinburgh, Scotland. Being comprised of snarky, American college kids, we took one pic that was the real one, in our costumes, big "hairy" smiles etc. But we ALSO took a scandalous picture playing up the idea of HAIR's infamous nude scene where in this photo, everyone is topless, men standing behind women cupping their breasts, with even "hairier" smiles. Nothing was revealed but it was still racey. That shot gets sent off and rejected, as we expected it to be, which is why we took the "real" one. We thought nothing off it, until our partners in Edinburgh informed us that in the Guide's 50-60 year history, it had NEVER rejected a photo...ever, and it became a huge news story, literally, and we were the talk of the town before we even got there. Sell out run on my first gig overseas.

What other theatrical roles have you had over the years? Have you focused mostly on musical theatre? What have been your favorite roles?
I've really enjoy Claude from HAIR the most, but I have played a tribal leader named Goro in DREAMTIME, Little Abner, and I've been really lucky to play a handful of different instruments on and offstage for The Tempest, Midway, and even Sondheim's Assassins.

Tell me about your own production that you and Chris Rockwell put together: Offseason: Winter Words From the Jersey Shore. You're planning to bring that show back aren't you? Where would you like to run it?
Rockwell is a great spoken word artist, or a Slam Poet, as the kids call them, and we both have very differing styles in how we reach an audience so we decided that we wanted to focus on life in the offseason of all the Jersey beach towns where we both grew up, where things are less exciting and a little more melancholy. We mixed up poems, songs and stories and did a limited run in Asbury Park with a great response. We even got some TV producers from NYC down to see us. We opened the same week the MTV's Jersey Shore debuted, so there was a lot going on...Anyway, Chris and I just agreed to put it up this Winter and we are currently looking at venues.

You've also mentioned bringing back your Shanghia to Memphis show. What was that show like?
Ah, SHANGHAI TO MEMPHIS. I don't want to say too much about it now, because I don't want to get too far ahead of myself, but suffice it to say, that show's life is in Edinburgh, almost got over to Los Angeles, and now may find a new home in NYC. If it does get itself back off the ground, it will retain it's heart, but it will be newer and more diverse. I am a different man now, and a different performer. That show had no rules and it won't get any :)

In addition to acting, you're still moving forward with your musical career as well. Tell me about the new live CD. Where was it recorded? When and where will it be available?
Ah yes! the supposed music career! I am hoping to release a live album called "Frankonia" produced by Joe Cotis, which includes tracks recorded in Schwabach and Immeldorf over in Germany, two towns that have such wonderful music fans, that I wanted to do a special release for them. People can just check in to www.jamesdalton.bandcamp.com or www.jamesdalton.co or if they are on FB, to click over to www.facebook.com/jamesdaltonmusic where i am constantly updating things.

Finally, if you could only do one thing: act, sing, or write -- which would be your dream?
Hmmmmmmmm. Gary, all I really want to do everyday, is wake up late, have a nice walk somewhere new, have some nice lunch with a few interesting people, perform somewhere and then take the night off. If I could engage in that lifestyle all over the world, I'd be happy and whatever is going to give me that, I will do.
But I guess, if I had to choose, I'd be a singer :)