By Gary Wien
originally published: 07/25/2019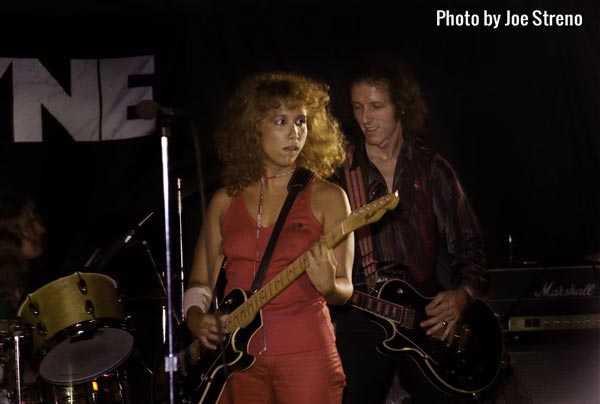 Carolyne Mas came out of the Greenwich Village music scene in the 1970s along with artists like Willie Nile, Steve Forbert, and The Roches. For a while her career seemed destined for greatness, but a myriad of issues prevented her from reaching that level.  She was up against sexism in the music industry, bad record labels, a manager who stole her royalty checks, eating disorders, and a mysterious knifing attack which almost cost her life.  
Several people have encouraged her to write a biography or have her story told in a documentary film, but Mas doesn't believe her story on its own would be enough.
"I always though if you're not famous, it's sort of presumptuous to write an autobiography or make a movie about yourself," said Mas from her home in Arizona.
Looking back at her life, it's definitely a story worth telling and one that might be able to help others as well.  
Mas grew up on Long Island and studied opera for many years.  She attended The American Musical and Dramatic Academy at 16 and became the youngest member of The Light Opera of Manhattan at 17.  After being accepted at Juilliard School of Music, her plans changed when she played a folk festival in Hazleton, Pennsylvania and never looked back.
---
The article continues after this ad
---
---
Record labels, radio stations, and royalty checks
Years before Graham Parker would release the classic song "Mercury Poisoning," which many artists could relate to, Mas signed with Mercury Records.  It was not the first record label interested in her though. She nearly signed with Infinity Records until they saw her perform live.  They wanted her to record an album of ballads instead of rock and roll.  Mas remembers being told, "a woman doing rock and roll will never sell" in 1978 - a year before Pat Benatar began her run on the charts.
If you were not listening to the radio in the late 1970s, it's hard to comprehend just how different New York rock radio was then compared to now.  There were two major stations (WPLJ and WNEW) who competed for listeners and who actually took pride in breaking new artists. Mas was first heard on WNEW who played her demo tape when she was still an unsigned artist.  Unfortunately, a great relationship with WNEW soured when she performed a concert for WPLJ on a bill with Eddie Money.
Decades later when WPLJ signed off for the last time on May 31st, long-time DJ Jim Kerr mentioned Mas in an interview with Billboard. 
"I was completely flattered," said Mas.  "I used to love their radio station when I was young and just starting out.  I probably listened to WPLJ more than WNEW because I thought they were after a younger crowd and were edgier."
Mas never reached stardom in the United States but did have singles like "Stillsane" and "Quote Goodbye Quote" crack the Top 100.  Royalties were being made, but stolen by a manager who forged her name on checks from ASCAP (American Society of Composers, Authors, and Publishers).
"He forged my name for thousands of dollars during a period of time when I was living in Asbury Park and was struggling," recalled Mas.  "I could actually have had a living and bought a house.  I didn't even know about the royalties until David Landau who was playing with Clarence Clemons and the Red Bank Rockers said to me, "How about those ASCAP checks for 'Sitting In The Dark'" which became a hit in Europe.  I just said, "What ASCAP checks?" David wrote the song with me.  That's how I found out about Europe."
Years later she would learn first-hand how popular her music was in Europe.  She was at a club in Germany when "Sitting In The Dark" came on and saw people everywhere getting up to dance.
"It was an unbelievable feeling, especially having gone through that dark period of struggling," said Mas.  "I had success there, but I had no clue.  The record company never informed me.  There could have been opportunities there.  Maybe I could have moved to Europe in 1981 and been able to continue a very viable career there.  Because of the negligence of people I trusted, they affected the career I could have had.  That wouldn't happen today because of the internet, but back then crossing the ocean was like going to another planet."
Mas eventually sued her manager through Volunteer Lawyers for the Arts.  She was unable to recover the money, but did get him to relinquish all rights to her work.  The deal was supposed to give her the press clippings he had saved for years, but Mas was told he no longer had them.  When he died in 2006, the press clippings were given to Mas.
Sexism and eating disorders
When Mas first began receiving press coverage it was often in articles that included a bunch of female artists. This was not only unfair to each of the artists, but, as Mas puts it, "the only thing we had in common was anatomy." Many times she was mentioned alongside artists whose musical styles were completely different or with people who didn't play instruments.  The sexism continued on the radio where it was common practice for many stations to avoid playing songs by two female artists in a row for fear of turning male listeners off.
When Mas first started making music she was conscious of having people focus on her songs instead of her looks.  She often dressed in an androgynous style, once comparing it to a mime during an interview.  "You don't think about sex with a mime, you think about the art."  So when she was often compared in her early years to Bruce Springsteen, it initially was very flattering.  It meant people were listening to the music rather than focusing on her gender.
"But after a while, it got out of hand," stated Mas.  "It became impossible to escape it.  I had never even seen him play at the time and I wasn't a fan then either.  When I finally did see him play I was so afraid to tell people because they'd say, 'See, you're imitating him.' It got so bad I remember being at a radio station in Paris, France and my husband at the time was with me.  The interview lasted all of five minutes.  The first question the guy asked was something about Bruce and then he said, 'Is it true your sax player's initials are CC like Clarence Clemons? And is it true your guitar player is Jon Landau's brother?" My husband leaned over and said, 'Let's get out of here, he's cueing up the Mitch Ryder medley!'"
Nevertheless, she still had to battle image issues - even from female writers.  Mas never forgot a piece in the Village Voice that was published under the title "They're cute, but can they sing?" which mortified her by wondering if she was still cute after the writer noticed a tiny roll of fat over her waistband.
"My manager was furious with me," recalled Mas.  "I was like I guess I can't eat anymore.  I'll just purge every meal.  Then it became a habit.  It was a terrible thing to go through, but it's not uncommon.  Women are under tremendous pressure; the camera adds weight so if you're going to be photographed you have to be skinny.  It was so hard to stop and I know I messed up my body in many ways.  It was very hard to recover from and there are things I'm still recovering from because I did it for so long."
The night she got stabbed… nine times
Few artists have ever gone through an incident like Mas had one night in the apartment she was renting along the Jersey Shore in January 1986. 
It was about one week after Mas had performed at The Stone Pony as part of a benefit to help workers affected by the closing of the 3M plant in Freehold.  While she was sleeping, someone broke into her room, stabbing her nine times and slitting her throat. The person reportedly stole just two items - her Telecaster guitar and her trademark hat.  Somehow - and she's still unsure how she did it - she not only continued performing live, but did a show one week later, just days after leaving the hospital.
"I guess when you're young and something like that happens to you there's a part of you that's living in denial as a way of protecting yourself," explained Mas.  "For example, to this day, I don't remember anything about it.  I remember going to bed and I remember a knock on the internal door of the house.  It was a house that people would rent for the summer and so you had a lot of yuppy students and such.  I was living in the landlord's apartment at the time.  He and his father would come weekends to do work on the house.  Thankfully, he was there that night and sleeping on a sofa in the living room.  He heard something - God knows what he heard - and knocked at the door.  That was the first conscious moment that I remember.
"I remember looking at the door, hearing somebody knock, and crawling to unlock the bolt lock," continued Mas.  "Then I remember him saying, 'Who did this to you?'  And I remember the chest tube, it's kind of hard to forget that.  I don't remember anything else.  I think that same sort of denial you have that allows you to function sort of allowed me to function and keep playing because it was all I was thinking about.  My parents said when they got there from Morristown, I was talking about canceling rehearsal.  All I was thinking about was music - that's what got me through it."
Mas had to blow into a tube everyday to try to raise a ball up the tube in an effort to exercise her lungs and help them repair.  Doctors told her it was a miracle that she could breathe effectively within a few days.  She was well enough to practice the Thursday after the stabbing and play a concert the next day.
She does admit having some scary moments down the road though like the time a strange looking guy came up to her after an outdoor show she did for WDHA.  The guy had thick glasses she describes as the kind psycho killers in movies often have, worn an army jacket, and just seemed a bit off to her.
"I remember at that point actually feeling panic, real panic, because I didn't know," added Mas.  "It was very hard for the next few years because I always didn't know who stabbed me.  The police at the time would turn their attention to one friend and then to another friend, so at some point I became terrified at people I knew. And then

suddenly they weren't a suspect but my friendship had been damaged.  They even suspected the guy who found me.  He was so angry that I would suspect him when he saved me, but they thought maybe he did it so he could save me.  It was crazy. It was very hard to not be suspicious of people and that's probably one of the reasons I moved back to New York City because I felt safer there."
A second act and a happy ending
Thankfully, her story does have a happy ending.  In May, she graduated summa cum laude from

Arizona State University (ASU) with a Bachelor of Science in Integrative Health and is currently pursuing a Master of Science in Medical Nutrition at ASU.  She's got a blog called "Getting Older and Getting Better: Aging Well" which allows her to share some of the knowledge she's acquired from higher learning.
"I want to be able to help the people that are my age," explained Mas.  "I see so many people on Facebook being sick and struggling.  They're not getting answers from doctors or not getting better.  It seems to be assumed when you're a certain age that things are automatically going to fall apart as if your body was not designed to last throughout your entire life.  I started this blog to share the things I've learned in college so maybe people don't have to suffer - that they know they have choices available."
Her plans also involve the 38-acre parcel of land she has in Pearce, Arizona where she largely lives off the grid thanks to a solar home.  After years of tax lien trouble, the property will be in the clear in August.  That will allow her to move on to an idea she's had for a while.  A friend of hers works with a veterans group called HomeFront Rising and Mas wants to turn her property into a place where veterans can live in tiny, solar homes and grow crops that don't require much water.  In addition, she wants to convert part of her home into a common area where she could teach cooking, wellness classes, and maybe even have concerts that are streamed on the internet.  She gets excited thinking about the possibilities that could help veterans from drum therapy to meditation to yoga. 
The project would also provide meaningful work for retired musicians like herself, who still have much to contribute to the world.  It's always nice when a story has a happy ending.  For Mas, it's not so much as a happy ending, but a new beginning.
---
Gary Wien has been covering the arts since 2001 and has had work published with Jersey Arts, Elmore Magazine, Princeton Magazine, Backstreets and other publications. He is a three-time winner of the Asbury Music Award for Top Music Journalist and the author of Beyond the Palace (the first book on the history of rock and roll in Asbury Park) and Are You Listening? The Top 100 Albums of 2001-2010 by New Jersey Artists. In addition, he runs New Jersey Stage and the online radio station The Penguin Rocks. He can be contacted at gary@newjerseystage.com.
---