---
BIG NEWS! Here's the latest Issue of NJ Stage Magazine -- Click here
---
CARVER: An Interview With Emily DiPrimio
By Gary Wien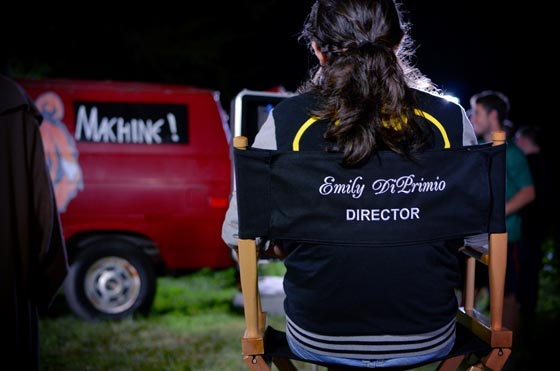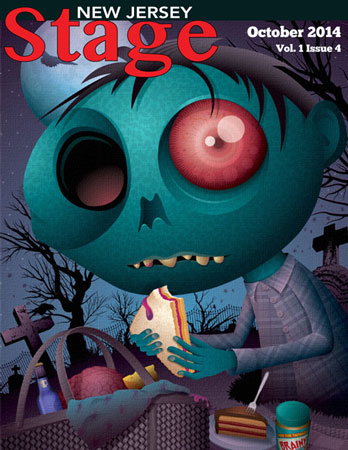 This article was originally designed to be read in the October 2014 issue of
New Jersey Stage magazine. To read it in its original format, click here


When Emily DiPrimio set up a KickStarter campaign to raise funds for her film Carver she had no idea about the media storm that would follow. Not only did she surpass the campaign's $25,000 goal, but the idea of an 80s slasher film written and directed by a teenager resonated across the industry. Within a few months, the movie was featured in places as diverse as Fangoria, MTV, Cosmopolitan, The Huffington Post, and The Daily Mail in the UK.

Emily co-wrote the film with her father. New Jersey Stage spoke with the young filmmaker from Vineland, NJ about the film and its surrounding media blitz.
In the video for your KickStarter campaign, you said you wanted to create something like the classic slasher films of the 80s.  Tell me about your film. 
Carver is about a group of teenagers who are haunted by a despicable act committed when they were younger.  Their actions caused the deaths of three innocent people.  Now on the anniversary of those deaths an ominous calling card, in the form of a carved pumpkin, has been placed at each of their homes.  Someone is out for revenge...the question is who?
 
In the video you mentioned that you hated CGI gore and that there wouldn't be any in this film.  What drives you crazy about CGI?
I think CGI gore is taking the easy way out. I don't want to diminish the talents of CG artists. I think CGI gore at times can look okay but for me it lacks the visceral effect that horror movies usually go for. When you are using practical gore effects it also helps the actor truly be in the moment. If the actors can see the blood spurting from a wound it is much easier to react to a physical expulsion of blood as opposed to a director telling an actor to react as if blood is being sprayed because it is going to be added later in post.
 
The media blitz surrounding you and the film has to be a bit overwhelming.  Were you or your father prepared for how much interest there was in your story?
No, we were not prepared. Never in my wildest dreams did I expect the attention Carver has received. I am very thankful for the coverage. It is important to me that the horror genre continues to grow and I want to help add a female perspective to a male dominated genre. At first people thought it was so cute that a girl was making a horror movie. I was being marginalized. Then when the trailer hit, people had to sit back and take notice.
What do your friends think about you directing a film?   Are they aware of the magazine, newspaper, and tv coverage you've received?
They think it's cool, but they didn't understand what I was trying to accomplish. I set out to make a movie that would hopefully be seen all over the world. They didn't realize I was making an actual movie and not some goofy YouTube video. The subsequent media coverage and trailer release showed them otherwise. The friends in my age group have since distanced themselves and I'm not sure why. Now, all my friends are mostly the adults I work with.
 
What are your favorite slasher films of the 80s?  Is that your favorite decade for horror?
I know Halloween was in the late 70's but I still lump it in with the slasher films of the 80's because it is the one that inspired them all. I love Friday the 13th Parts 1 - 4. I also really enjoyed My Bloody Valentine, Nightmare on Elm Street, and Pet Sematary. The 80's is definitely my favorite decade for horror.
What have you learned while directing for the first time.  Are you looking forward to making your next film already?
I learned that it is important to be flexible and learn how to go with the flow. When making a low budget film things aren't always going to go as planned. It is important to know how to overcome those setbacks and to continue to move forward while keeping up the morale of your cast and crew.
I can't wait to make my next film. I have several scripts ready to go and as soon as I am finished
editing Carver I will begin my next project.

---
For more by this author, click here
---


Monmouth Arts Presents Sneak Peek Screening of "Never Look Away"
(RED BANK, NJ) -- See the movie before New York or Los Angeles! Monmouth Arts will provide another installation of its "Film Sneak Peek" series with Never Look Away, an epic tale of art and history spanning three turbulent decades of 20th-century Germany, on November 29 at Bow Tie Cinemas in Red Bank at 7:00pm. 
---
"The Brighton Bar - Home Of Original Music" Documentary To Be Screened In Long Branch
(LONG BRANCH, NJ) -- From the 1970s to today the Brighton Bar has been a live music venue and a staple of the New Jersey music scene.  On Wednesday, November 28th at 7:00pm, a free showing of The Brighton Bar - Home Of Original Music  - a documentary about the venue will be screened at The NJ Rep West End Arts Center.
---
Westfield IFF and James Ward Mansion Host Pop-Up Gin Joint with Movies at the Mansion
(WESTFIELD, NJ) -- Big Dreams & Silver Screens, the organization responsible for the Westfield International Film Festival, is happy to announce their end-of-year celebration and fundraiser, "Of All the Gin Joints" on December 6 at the James Ward Mansion. The evening is a Casablanca-inspired party that will feature a pop-up gin bar, light bites by Feast Catering, live music by Tony Mowatt, and a screening of Casablanca.  Westfield native, Francesca Rizzo will also be screening a complementary independent noir short film, Sullivan's Last Call – "a sexy little film about celibacy."
---
2018 International Film Festival Brings 4 Award Winning Foreign Films To Vineland
(VINELAND, NJ) -- Enjoy four highly-acclaimed award-winning recent foreign films representing diverse cultures at the 2018 International Film Festival, starting Monday, November 26, at the Levoy Theatre, 126-130 N. High St., Millville, NJ. The four films—A Fantastic Woman, The Interpreter, 1945, and Sammy Davis, Jr.: I've Gotta Be Me—will introduce the theatergoer to the universality of themes that are common to Jewish and other international themes. They are representative of the finest of today's international cinematographic art.
---
NJSO presents Star Wars: A New Hope in concert on Thanksgiving weekend
(NEWARK, NJ) --The New Jersey Symphony Orchestra presents screenings of the complete film Star Wars: A New Hope with Oscar-winning composer John Williams' musical scores performed live on Thanksgiving weekend, November 23–25. Performances take place in Red Bank, Newark, and New Brunswick.
---


REVIEW: "First Man"
The image that most defines the 20th century is that of a man standing on the surface of the moon. The man is astronaut Neil Armstrong, but we can't see his face as he's wearing a helmet, the glass of which reflects our collective achievement back at us. When he took a small step, we all took a giant leap with him, and Armstrong instantly became more than a mere man, a symbol. With First Man, director Damien Chazelle takes us inside the famous helmet, stripping away the symbol to tell the story of Armstrong the man.
---
REVIEW: "Halloween"
In 2013, John Carpenter's Halloween received a 35th anniversary blu-ray release. The accompanying booklet credited the following line of dialogue to Jamie Lee Curtis's babysitting heroine Laurie Strode: "Was it the boogeyman?" Of course, that's a misquote. In the scene in question, Laurie admits to herself that "It WAS the boogeyman," to which Donald Pleasence's Doctor Loomis solemnly replies, "As a matter of fact, it was."
---
REVIEW: "Cold War"
Back in 2006, German cinema scored something of a breakout global hit with Florian Henckel von Donnersmarck's The Lives of Others, which followed the travails of a group of disgruntled, pro-western artists in communist era East Germany. At the time I couldn't help viewing the protagonists of Von Donnersmarck's drama as the sort of people who would be just as discontented with their lot if they found themselves living in the capitalist west. The grass is always greener on the other side.
---
Baba Babee Skazala
Among the many intriguing films being screened at New Jersey Film Festival Fall 2018, one title immediately caught our eye — Baba Babee Skazala: Grandmother Told Grandmother.  
---
NJ Film Fest Preview: October 2018
(NEW BRUNSWICK, NJ) -- The New Jersey Film Festival Fall 2018 runs from September 14 to October 26 on the Rutgers University Campus in New Brunswick, NJ. Showcasing new international films, American independent features, animation, experimental and short subjects, and cutting-edge documentaries, the New Jersey Film Festival Fall 2018 will feature over 30 film screenings.  
---
Event calendar
Monday, Nov 12, 2018
---
MUSIC

---
---
---
---
---
MUDDFEST 2019

@ Mainstage @ Union County Performing Arts Center (UCPAC), Rahway - 7:00pm
---
THEATRE

---
---
---
---
FILM

---
Free Solo

@ The Newton Theatre, Newton - 7:00pm
---
LITERATURE

---
---
View all events
---