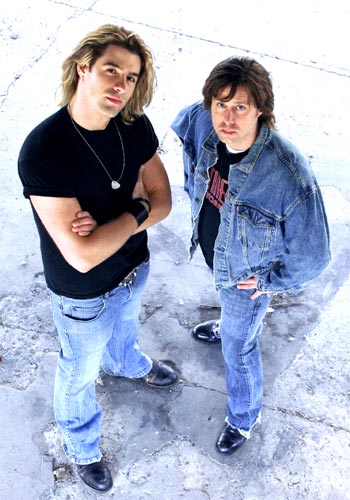 Sound the alarms - the Canadians are coming! Cherry Suede, a cool rock and roll band based in Ottawa will be doing a pair of shows in the tri-state area and bringing a bus load of their biggest fans along for the ride. You can catch the group at Arlene's Grocery in New York City on November 1st and at The Saint in Asbury Park, New Jersey on November 2nd.
The shows are part of a New York City mini-vacation for the popular Canadian band and their fans. They'll be spending a total of four days and three nights in the area. Everybody will be travelling on a chartered coach bus with three nights hotel lodging and tickets to the shows included in the deal. It's a great way for a band to experience playing in new areas as they'll be playing both in front of their own fans and guaranteeing the club owner a good draw. More bands should consider doing things like this!
For the founding members of Cherry Suede (Randy Young and Randy Scott), the idea of playing in Asbury Park was not merely due to its proximity to New York City. Both musicians are fans of Bon Jovi and Bruce Springsteen and looking forward to seeing where those artists got their start.
Cherry Suede's music leans a bit more on the Bon Jovi 80s vibe than the Springsteen side, but fans of 80s music in general will definitely enjoy this band and Cherry Suede makes no apologies for their love of the 80s.
"I still think that it (80s music) eclipses a lot of the stuff that's coming out now," said Randy Young. "I can count the bands on probably one hand that came out of the 90s that will be truly legacy acts. I don't really see people looking back in ten years and saying "remember that hit from the 90s? It's a classic" the same way you have something like "Livin' On A Prayer." If you look back at the early 80s, every second record was moving 10-15 million units. Things like Joshua Tree, Slippery When Wet, Born In The U.S.A., Purple Rain - that's all in a matter of a few years and every single song on those records is fantastic!"
Cherry Suede has been plugging away and building their audience in Canada for the last 8 years. Their debut record was released last year with the followup scheduled for 2008. They took a long time to get to this point but it's all gone pretty much to plan.
"We didn't want to cut any corners," said Young. "At the end of the day when this is all said and done songwriting is really our focus. We want to write the best songs we possibly can and we wanted to take the time to develop our craft together and then work with the people we wanted to work with in the places we wanted to work. That's why we did some recording in Los Angeles, some in New York, and mixed in New Jersey. We wanted to source out to people who we thought would add to what we're trying to achieve and that took time."
Some of the musicians on the record include several artists they met during their time in Los Angeles including bassist Eric Holden (Josh Groban, Bodeans, Five for Fighting), drummer Craig MacIntyre (Josh Groban, Vertical Horizon), and pianist Zachary Provost (Josh Groban).
Ironically, the band's name actually came from when they moved to California. Randy Young and Randy Scott had done a few demos and wanted to build a live band so they moved out to Los Angeles for about a year, but the move was anything but eventful.
"We ended up down there and all of our equipment and everything was delayed several weeks," said Young. "We literally were living in an empty room apartment. We started talking to some of the neighbors and ended up getting pieces of stuff donated to us. One was a somewhat ratty pillow. It was made of a suede-like material and it was red. We figured it was a little symbolic of the way the band was starting."
On the band's website, they describe their music as "capturing the fun and optimism of the 80s without the spandex and hair" and that's a pretty good way of putting it. Their music has been compared to that of Eddie Money, which I would agree with. It's a very melodic, pop/rock kind of sound and definitely upbeat.
"I like a bit of the escapism," says Young. "You put on something like 'Jessie's Girl' and you don't take it very seriously, but it's just really fun. I would hope that that comes across in our stuff. That's what we're really trying to go for.
"I mean when you listen to someone like Journey, the song writing was fantastic; the playing for the most part was fantastic. I guess you have to cut through a bit of the image which dated it."
Cherry Suede started out in Montreal but moved to Ottawa after realizing they weren't fitting in too well with the Montreal scene. Arcade Fire thrusted Montreal on to the national spotlight, and spawned numerous Arcade Fire clone bands while doing so.
"It's a beautiful city, it's just not my music," said Young. "It's a little too eclectic for us. Us being what has traditionally been mainstream, we don't tend to be welcomed with open arms there."
Ottawa, meanwhile, has taken to the band. According to Young, Ottawa not only has a healthy music scene but is crawling with live music every night of the week through a rather large concentration of clubs for a city of its size (roughly one million people or so).
Now that the Looney is worth as much or more than the U.S. dollar, the band hopes to both enjoy their stay in the States and also have this be the first of many such trips.
For more information visit http://www.cherrysuede.com