By Gary Wien
originally published: 05/20/2015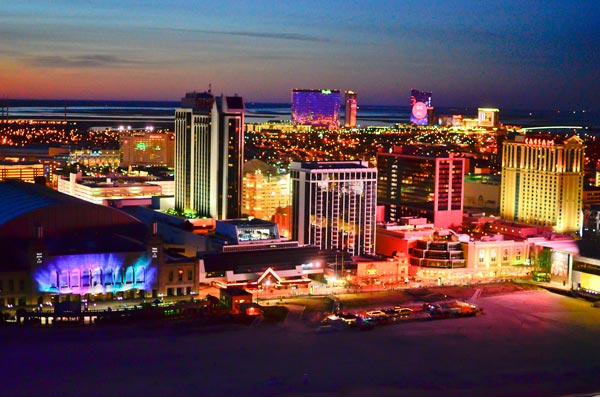 The cliché has always been that low rents attract artists to downtrodden areas that nobody else wants and the artists wind up playing a major role in the area's revival.  Their reward is generally to be priced out of those communities just when things get going.  It's a story that plays out year after year in towns and cities across the country.  Each time it does, artists are left to wonder why art can play such an important role in the local economy yet artists are rarely, if ever, part of actual community planning.
One organization is hoping to change that.  With a mission to champion creativity, innovation, and sustainability through community engagement, Creative New Jersey not only listens to the role of the art community but actively seeks their participation.  Led by part-time director, Elizabeth Murphy, Creative New Jersey has tackled community issues in areas across the state including Elizabeth, Highlands, Monmouth County, Morristown, Orange, Rahway, Trenton, and Atlantic City through support by the Geraldine R. Dodge Foundation.
At the end of February, New Jersey Stage took part in Creative Atlantic City's Call to Collaboration, a two-day event held at The Noyes Arts Garage at Stockton University.  Over 135 people attended the meetings which brought participants from different backgrounds together with one goal in mind — to come up with ways to help rejuvenate Atlantic City.
In addition to those involved with the Noyes Museum and the Arts Garage, the arts community was represented by members of the Atlantic City Ballet, the Garden State Film Festival, NJTV, Bay Atlantic Symphony, ArtC, Atlantic City Arts Commission, and several individual artists and filmmakers.
"I think when we put arts leaders and artists in the same room with municipal, education, and environmental leaders and folks who are working in health care and social services, arts people can help to expand the vision of the conversation because they're used to living and working in that world," explained Murphy.  "Many artists and arts leaders are trained to keep asking themselves different questions so they can either find the truth or come up with something original.  I think arts professionals bring that kind of wonderful creative thinking to the table that some of us believe gets bred out of us as we mature and grow into adulthood."
---
The article continues after this ad
---
---
Participants choose their breakout sessions with the idea that they will not be bystanders — they will truly participate and help foster new ideas and viewpoints.  Topics for Atlantic City included sessions on diversity issues, crime, how to encourage new businesses to come to the city, improving the quality of life, politics, tourism-related, and how to ensure the younger generation is able to help play a role in the city's future.
Alongside these sessions were several that were more arts-related, including breakouts on how to close the cultural void, supporting arts in education, utilizing and engaging local talent, how to create and sustain arts in the local neighborhoods, and how communities can help support local artists.
"We're asking participants to show up for two whole days," continued Murphy.  "It's an investment of time.  In order for people to be able to make that investment we have learned that there needs to be a great need in the community.  When the stakes are high, we have found that the community rises to the occasion and they understand they have to think about doing something differently."
The stakes for Atlantic City could hardly be higher than they are right now.  With several high profile casinos closing or on the verge of closing, it is the perfect time to consider options other than gambling for the city's future.  Despite its troubles, the city is still well-suited for tourism and capable of being the entertainment capital of the state.  For these reasons alone, it is vital that the arts community be part of any conversation.
One of the most important aspects of Creative New Jersey is the way the meetings bring together members of the community who rarely get the opportunity to hear from viewpoints other than their own.  People tend to have friends with similar viewpoints and tend to socialize with those in similar fields or positions.  CEOs often talk to other CEOs but may not hear the viewpoints of parents at home raising children; artists talk to artists, but may not have the opportunity to talk with municipal leaders; and so on.
"There's something quite powerful that happens when we bring people together in that way," added Murphy.  "We like to say we bring the grass tops together with the grass roots and everybody in-between."
Municipal leaders are beginning to recognize the value of Creative New Jersey as well.  
"They are realizing that this way of bringing the community together is not against anything that they are doing," said Murphy.  "It's not about shaking things up in a way that is antagonistic because, coming from the position of creativity, we're not against anything.   We don't say come together and figure out how to solve the problems in your community because your mayor isn't doing something.  That is absolutely not the position we take and we don't have any tolerance for an anti-movement.  We're all about creativity and collaboration and partnerships and people working together.  We have no time for finger pointing and I think municipal administrations around the state are realizing that that's the case.  This is not a grassroots movement where we are going up against the establishment. This is about how we can encourage each person in a community to take responsibility for being part of the solution.
"We believe that all of the talent exists in our communities around the state," she added.  "Creative thinking is something we all have, we just have to nurture it and embrace it.  Every single person in communities can step up to be proactive in being part of the solution in their town."
Up next will be Creative Skylands: Call to Collaboration on June 1-2.  Hosted by The Growing Stage in Netcong, the meeting sets out to answer the question of "How can we be more innovative in strengthening the connectivity of our people and places to promote our unique assets, drive sustainable economic development, and invigorate The Skylands Region?"
Photo of Atlantic City by Larry Sieg
---
Gary Wien has been covering the arts since 2001 and has had work published with Jersey Arts, Elmore Magazine, Princeton Magazine, Backstreets and other publications. He is a three-time winner of the Asbury Music Award for Top Music Journalist and the author of Beyond the Palace (the first book on the history of rock and roll in Asbury Park) and Are You Listening? The Top 100 Albums of 2001-2010 by New Jersey Artists. In addition, he runs New Jersey Stage and the online radio station The Penguin Rocks. He can be contacted at gary@newjerseystage.com.
---