originally published: 02/06/2017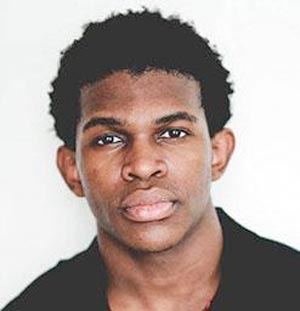 (ATLANTIC CITY, NJ)-- The Garden State Film Festival (GSFF) has named Camrus Johnson as the recipient of the 2017 annual Rising Star Award. The award was created to shine a spotlight on up-and-coming actors that have made impressive inroads in the film industry.
Camrus Johnson's diverse talents include acting, singing, writing, and directing. He has appeared in over 30 films and four music videos, appeared on live stage and may be best known for his work on the popular Netflix series, "OA" and the Showtime series, "Billions."  Before 2016, Camrus was a member of the new Harlem Boys Choir; sharing the stage with Foreigner, TLC, the Rockettes, and the Jersey Boys. As a writer Camrus was a semi-finalist in Lee Daniels' Roster Program Pitch Competition. He has also written a comic book and is developing feature length screenplays and a live sketch comedy show. His broad smile, enthusiastic personality, and true love of learning and growing in his craft caused Oprah Winfrey to say, "the world needs more people like Camrus." And the GSFF agrees.
Camrus says, "I'm so stoked to have my first award be the Rising Star Award! I'm even more excited to work with the Garden State Film Festival and grow with them. Looking forward to meeting everyone and to a great festival."
"Camrus' commitment to the craft and his exuberance make him the perfect person to win this year's award," said GSFF's Executive Director, Margaret Fontana. "He will bring so much to this year's festival. He is looking forward to attending the weekend's events and meeting all the other filmmakers, actors, and fans. Congratulations Camrus."
Camrus will receive his official award on Sunday, April 2 at the Annual Black Tie Awards Dinner at Resorts Hotel and Casino.  Camrus will be attending the full weekend's event, which begin with the Thursday Meet the Filmmakers event, the Friday Opening Night Gala cocktail party and screening, the many after parties, panel discussions, and seminars.
All events are open to the public. Weekend passes are $45 and provide access to all events (except the Black Tie Awards Dinner.) Individual screening tickets are $12 in advance and $15 at the door. All can be purchased at www.gsff.org where the complete schedule information can be found.
This year the festival will feature 216 films from over 24 countries, host an open talent casting call, hold engaging panel discussions, opening and closing ceremonies and inspire the next generation of filmmakers.
TV and film legend, Ed Asner will return for his fifth GSFF and other well-known celebrities are slated to attend.
About the Garden State Film Festival:
The Garden State Film Festival was envisioned by 25-year film industry veteran Diane Raver and the late Hollywood actor Robert Pastorelli in 2002 and launched the following year. Since 2003, thousands of films have made their public premiers, hundreds of thousands of people from around the world have attended; and the total infusion of cash to local businesses since inception exceeds $5 million. Until 2013, it was held in Asbury Park, in and around the Convention Center complex.  In 2014, it moved to Atlantic City with financial and operation support from the Casino Reinvestment Development Authority (CRDA).  GSFF now serves as a major component of the strategic plan to promote arts and culture in Atlantic City to re-establish the resort as the Mid-Atl.  The GSFF is a 501-c-3 non-profit organization. 
---