By Gary Wien
originally published: 07/18/2015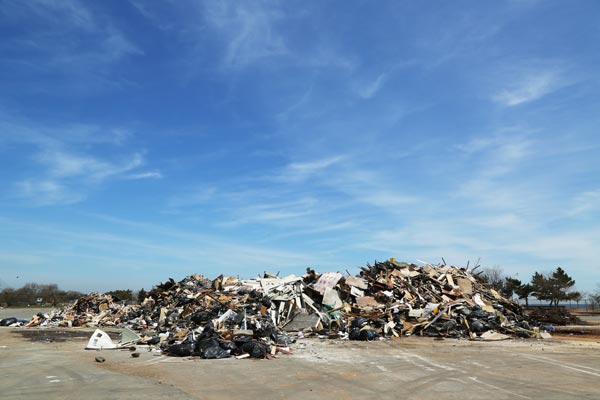 The images of devastation caused by Hurricane Sandy will never be forgotten by those whose towns were ravaged.  Sharyn Rothstein's play, By the Water, begins with that image up close and personal.  The audience meets the Murphy family whose Staten Island home has been destroyed and who has to choose between agreeing to the government's buyout program or ruining the chance for government assistance for their neighbors.  In their town, everybody has to be part of the buyout program or no one will be.
"It's the story of one family grappling with that decision," explained Rothstein.  "The Patriarch of the family feels very deeply rooted in the community.  The play is about the questions of what is home? When do you move on? When do you give up on a community? And what do you do to protect yourself and your family as the world is changing and more and more natural disasters seem to be coming upon us."

Rothstein believes that natural disasters can serve as watershed moments in the life of a family.  It's a period when a family faces a situation so dire and tragic that it changes everything; it changes the conversation and changes relationships.
Premiere Stages at Kean University is presenting the New Jersey Premiere of By The Water July 16 through August 2nd in Union.  The production is directed by Adam Immerwahr and features the actors Damian Buzzerio, Mike DiSalvo, Billy Finn, Deanna McGovern, Brian O'Neill, Sheila Stasack, and Jo Twiss.
"Premiere is dedicated to producing new plays and New Jersey Premieres that challenge audiences to re-think their place in the world and be engaged in issues that affect the greater community," explained John J. Wooten, Producing Artistic Director of Premiere Stages.  "Presenting works like By The Water is paramount to honoring that mission. The play is a testament to those local residents who were knocked down by the storm but refused to be beaten by it. With thousands still displaced, it also provides a powerful reminder that work remains to be done to ensure that our neighbors are not forgotten and continue to get the support they need."
Wooten said that multiple employees at Kean University were directly affected by Sandy, including Millie Gonzalez, who sits on Premiere's Advisory Board.  In addition, cast member Damian Buzzerio and Premiere Stages artistic intern Rachel Callender both actively volunteered with Sandy relief organizations.
---
The article continues after this ad
---
---
Rothstein was commissioned to write a play, but wasn't sure what to write when Sandy hit. After the storm, she imagined a play in which the audience and the actors were in a house that had been destroyed.  She then heard about the buyout programs and realized she had found her story.
"I'm always interested in issues of community and social responsibilities," said Rothstein.  "What do we owe each other? What do we owe our family? Our community? And in order for the buyouts to happen, the entire community has to come on board.  That fascinates me.  It's such an enormous challenge and inherently dramatic."
Rothstein went to Staten Island and spoke with many who were directly affected by the storm.  While the play does not detail any one person's story, the sense of fear that the people carried with them is very present in the work.  "The question of can you return to a place that holds so much fear for you is a big question of the play," she added.
When By The Water had its world premiere in New York in 2014, many audience members who were affected by the storm felt a sense of closure.  There is something powerful about seeing what you have been through on stage — to know that you and your struggles have not been forgotten.  Many told Rothstein that seeing the play was cathartic for them and allowed them to finally move on.
In conjunction with the play, Premiere Stages has partnered with Kean University Galleries to present Asbury Park artist Laura Petrovich-Cheney's By the Block, an exhibition of salvaged wood quilts constructed from wooden debris collected after Hurricane Sandy.  The exhibit will remain in the James Howe Gallery, located in Vaughn Eames Hall, until September 14. The exhibition, which is free, will be open to By the Water patrons two hours prior to every performance, and Ms. Petrovich-Cheney will appear as the first guest speaker for Premiere's 2015 Talk-Back Series, which offers free post-show discussions after select matinee performances, on Sunday, July 19. Additional speakers include Dr. Paul J. Croft, Executive Director of Kean's School of Environmental & Sustainability Sciences (Sunday, July 26 at 3:00 pm), and Sue Pniewski, who served as New Jersey Coordinator for Portlight Strategies, Inc. in the aftermath of the hurricane (Saturday, August 1).
---
Gary Wien has been covering the arts since 2001 and has had work published with Jersey Arts, Elmore Magazine, Princeton Magazine, Backstreets and other publications. He is a three-time winner of the Asbury Music Award for Top Music Journalist and the author of Beyond the Palace (the first book on the history of rock and roll in Asbury Park) and Are You Listening? The Top 100 Albums of 2001-2010 by New Jersey Artists. In addition, he runs New Jersey Stage and the online radio station The Penguin Rocks. He can be contacted at gary@newjerseystage.com.
---