By Gary Wien
originally published: 11/21/2015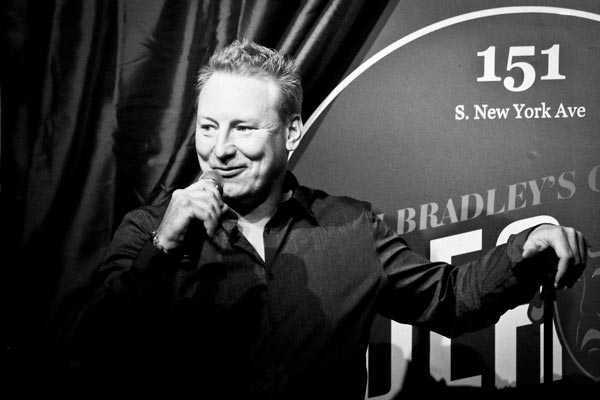 Imagine a comedy club that never has to close, where the booze can flow all night long.  One such club opened in Atlantic City a few months back, filling the void left when The Comedy Stop closed after a three decade run.  Bruce Springsteen once sang, "everything that dies, one day comes back."  With the opening of Butch Bradley's Comedy Hideway, that appears to be true.
Comedy has always done well in Atlantic City and the biggest names in the business continue to headline casinos there each month. But comedy in a casino is one thing and comedy in an authentic comedy club is another.  It's edgier, it's raw, it's true.  It's the lifeblood of the industry.  With the loss of the Comedy Stop, comedian Butch Bradley saw his opportunity to fulfill his dream of opening his own club.

In its first few months, Butch Bradley's Comedy Hideaway has quickly created a buzz in the city. Located at 151 South New York Avenue in an old speakeasy owned by Nucky Johnson, the club has brought in major headliners from around the country and its open mic has helped raise the quality of budding comics in a very short period of time.
The club focuses on a few nights of the week for now. Tuesday is service industry night; there is an open mic on Thursday night; and the main shows are on Friday and Saturday nights.  But if the club wanted to, it could technically be open around the clock and never stop serving drinks.  In fact, Bradley is toying with the idea of a 1am late show on Saturday nights, reminiscent of the town's glory days.
"We're the only comedy club in the whole country that can stay open 24 hours," said Bradley.  "People will say, 'what about Vegas?' No, if you're in a casino you have to do what the casino says.  They don't want you to stay in the club, they want you to head into the casino. We can stay open 24 hours and can serve liquor 24 hours.  We're like a pop tent that can open up at any minute."
Butch Bradley is not just another guy hoping to cash in on Atlantic City.  He's a local boy, born and raised by a mother who worked in the casinos.  He grew up seeing legends like Don Rickles, Shecky Greene, and Rodney Dangerfield.  From an early age, he knew he wanted to be a comedian and now headlines shows around the world.  He's headlining New Year's Eve at the MGM Grand in Las Vegas and just booked a tour that includes shows from Hong Kong to China.  But if you want to see him up close, you can catch him at his club back where it all started for him.
---
The article continues after this ad
---
---
"Being a kid in this town at that time still drives me because I knew a life that not everyone knows," said Bradley.  "It was a period of time not everyone knows.  It's in me, it's in my blood.  It drives me."
Thanks to his own comedy shows and performances on Comedy Central and late night television (shows like the Late Late Show with Craig Ferguson and Last Call with Carson Daly), Bradley has many friends in the business that he's able to lure to the intimate (75 seats) club.  He also knows the value of having a comedy club in the city.
"It's the bloodline of comedy," explained Bradley.  "It's like having a casino and thinking that the blackjack dealers you have are all that you need.  If you don't have people learning how to deal blackjack or people who want to learn, you're done.  All of a sudden four or five people call out sick, who's left?"
On a recent Thursday night, the club had an open mic with roughly 70 participants, including musicians, tattoo artists, and comedians of all levels.  Bradley says two headliners drove down from Philadelphia to check out the scene and get on stage, but what really impressed him was seeing a couple of guys that he's watched for two months go from good to better to 'oh my God' levels.
"I had two guys jump out of where they were so fast," continued Bradley.  "It would have taken them about a year on average to get there.  I just sat back by the bar thinking this is cool.  I don't know if it's going to make money, but I've achieved a goal already by just seeing these guys grow.  They got to experience something — whether they know it or not — that they'll reflect back on. One of the cool parts of being a comic or any entertainer is the green room.  Many of the guys hung out afterwards, all having beers together.  They didn't know each other, but they're telling stories and 'I'm from here.' One comic was like 'I'm gay!' and everyone just started laughing.  Its like, 'ok, that's cool.'  It was just ridiculous, but I'm watching it happening."
"I remember my first moments, asking Patrice O'Neal for advice and he laughed in my face so loudly that the whole club looked back," recalled Bradley.  "He said, 'you're going to eat it' but he wasn't being mean, he meant you're going to eat it, so go do it, eat it, and accept it.  If you're really one of us, you're going to come back every night."
Opening a comedy club in today's world is anything but a sure bet.  With so much comedy available for free on the Internet and shown on cable tv, clubs need to sell the live experience.  Bradley is hoping to offer something that you can't get from the casinos, but he knows being located in the city itself can either be a curse or a blessing.  He's hoping it's the latter.
"How long will it last?" Bradley wondered.  "Art has never been blessed with that timeline.  How important is it? I watched Rodney Dangerfield when I was 11 years old and became his friend.  He told me to open a club here someday.  He said the town is a piece of shit, but they need us.  They don't get it.  Its like the greatest place that doesn't know it's great."
"I do believe it's cyclical, that we will have another run," continued Bradley.  "Hopefully it's in the next 10 years and I'm here, but we're on the right road.  Maybe we need to go old school and find a Nucky Johnson and he'll eliminate the government that we have so we can run it from the inside out.  I mean, casinos got here because of the Mob.  Do we actually have to call the Mob and say 'we need you back?'"
---
Gary Wien has been covering the arts since 2001 and has had work published with Jersey Arts, Elmore Magazine, Princeton Magazine, Backstreets and other publications. He is a three-time winner of the Asbury Music Award for Top Music Journalist and the author of Beyond the Palace (the first book on the history of rock and roll in Asbury Park) and Are You Listening? The Top 100 Albums of 2001-2010 by New Jersey Artists. In addition, he runs New Jersey Stage and the online radio station The Penguin Rocks. He can be contacted at gary@newjerseystage.com.
---