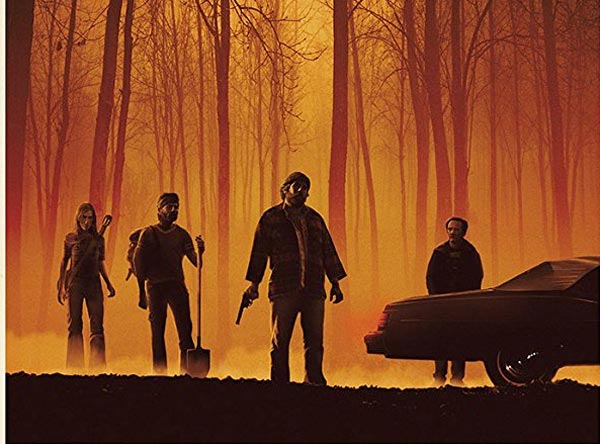 Bullitt County by David McCracken opens the New Jersey International Film Festival Summer 2018 on Friday, June 1st at 7:00pm. In the psychological-thriller feature film, four buddies with a dark secret reunite after ten years for a bachelor party on the Kentucky Bluegrass Bourbon Trail.  When they discover that their favorite distillery has been turned into a winery, the newly sober groom, Gordie, seizes on an even better adventure: a search for a stash of buried Prohibition money deep in the woods of Bullitt County, Kentucky. His friends reluctantly join him on his quest, only to discover there's something much more dangerous than cursed treasure.
Before Bullitt County, the neo-noir short Headless Swans by Jordan Klaja will shown.  The evening includes Q&A sessions with Klaja and Josh Riedford, the producer of Bullitt County.
Professor Al Nigrin, Executive Director/Curator of the New Jersey Film Festival spoke with Bullitt County director David McCracken and producer Josh Riedford about the film.
Tell us about your film and why you decided to make it.
McCracken: Josh and I started from a very basic place. This would be our first movie, so it should be very "us." I had just been the best man for his wedding, so we used that as a starting point for the bachelor party premise. We had also recently done the Kentucky Bourbon Trail together, and that seemed like a fun world to play in. We love camping and the outdoors, so why not film outside instead of on a stuffy stage? Finally, all this led to the practicality of filming around our hometown in Indiana -- not only was the film set in that region, but we could use our familiarity with the area to save time and money. 
---
The article continues after this ad
---
---
How much of the film was shot in Kentucky? 
​Riedford:  Most of the film was actually shot around our hometown in Southern Indiana. As David said, that was mainly a financial decision, but having grown up in the area, we selected locations that were indistinguishable from the rural parts of Bullitt County, Kentucky. ​Some scenes, however, were shot in Kentucky, and it's a testament to our creative team that Indiana and Kentucky residents who have seen the film can't tell which scenes were shot in which state.
There are a number of twists and turns in your film to keep the viewer guessing. Was this the plan all along? 
​McCracken:  ​I usually don't write from an outline since I like the characters to drive the story. So from that standpoint, the twists weren't planned. But while writing the first draft, it became very clear to me that those twists would happen. So during the rewrites, I focused on foreshadowing, planting Easter Eggs, etc., and this continued throughout the entire film -- each department adding their own flair so that the film is a very fun re-watch once you know the twists. Very much like The Sixth Sense and Fight Club.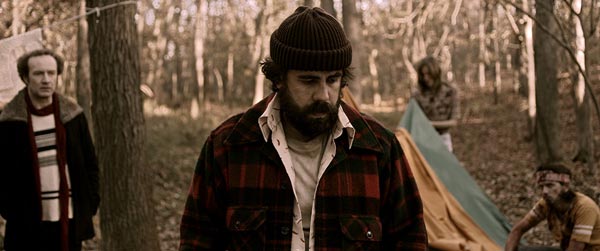 Tell us about the four leads and how you selected them?
Riedford:  ​Some roles were cast the old-fashioned way: David and I reviewing hundreds and hundreds of audition tapes. But David wrote a few of the parts specifically for certain actors. He had directed Mike Nelson ("Gordie") and Napoleon Ryan ("Wayne") in various projects while attending USC's School of Cinematic Arts. And about ten years ago, David and I met Richard Riehle at a playwriting workshop, just before David was about to go to USC. The three of us hit it off, and we all agreed we'd love to work together in the future. So when it came time to cast Bullitt County, we gave Richard a call.
Was it tough to have to direct yourself David, given that you are also one of the lead actors in the film?
​McCracken: The more hats you wear, the more difficult the whole process becomes, mostly because you're always worried about being spread too thin and dropping the ball on something important. The only way I was able to write, act, and direct was because I was supported by an incredibly talented and hard-working team.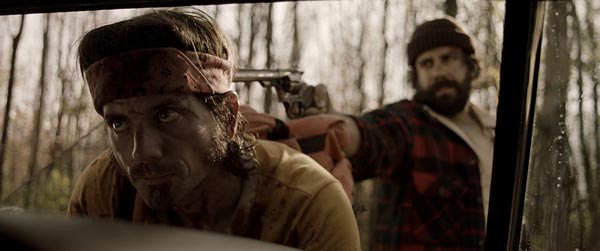 Tell us about the cinematography and soundtrack. 
​McCracken:  ​ The story itself primarily dictated the visual style. The movie is set in the autumn of 1977, so we embraced earthy browns, oranges, yellows, and reds. Bourbon also evokes amber and oak, so it fit in nicely with our color palette. We used striking reds to cut through our earthy palette as a way to infuse the visuals with a sense of danger and aggression, and most of all, we crammed as many X's into the frame as possible to signal death and impending doom (a concept used in all sorts of films, from the original Scarface to The Departed). Beyond that, we really looked to the cinematography of Roger Deakins, especially films like No Country for Old Men, Prisoners, and most notably The Assassination of Jesse James by the Coward Robert Ford.
Riedford: The music is also meant to follow the story in many ways. It begins very simply with strings and guitar, a very folksy-vibe, but gets darker and more complex as the events play out. We also utilized various elements from the film in our musical soundscape, from percussive whiskey bottles to crystal wine glasses for ethereal timbres. Even the "treasure motif" is the result of coins being placed on the strings of a piano. We also experimented with other audio techniques to accentuate the visuals. My personal favorite are the bizarre tunnels of sound which help bring the audience into the madness of Gordie's mind. 
Are there any memorable stories while you made this film?
McCracken: As you can imagine, filming outdoors invariably leads to interesting circumstances. One instance that comes to mind was the scene in the ravine where we were continually stopping because the entire set and crew were covered with thousands of ladybugs. But I think my favorite memory was shooting the scene with the friends singing around the campfire. It was pretty complex because the camera and characters are constantly moving in a circle. The boom microphone and its shadow kept getting in the shots so finally our sound guy Ian climbed a tree and spent the whole scene hanging upside-down from a limb with the boom pole. 
Riedford:  The story behind getting the friends' car was also pretty great. We were location scouting at a winery in the middle of nowhere and saw a mint condition 1975 Pontiac Grand Ville sitting in the parking lot and decided it was perfect. While we were momentarily distracted, however, the owners left, so we all jumped in our car and chased them down winding backcountry roads for at least 15 minutes before catching up to them. They were pretty weirded out at first but ended up being super cool and really excited that the car would play such a huge role in the film.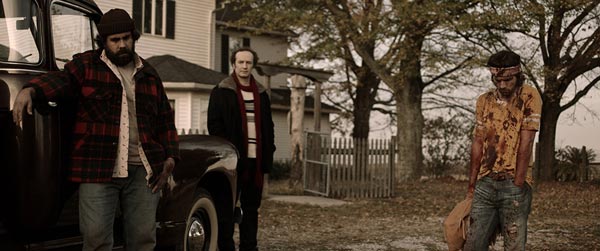 ---
Bullitt County Screening at the New Jersey International Film Festival will take place on Friday, June 1 at 7:00pm; Voorhees Hall #105/Rutgers University, 71 Hamilton Street, New Brunswick, NJ.  For more on the festival, click here for our festival preview.
---
Al Nigrin is a Cinema Studies Lecturer at Rutgers University.  In addition, he is the Executive Director/Curator of the Rutgers Film Co-op/New Jersey Media Arts Center, Inc., which presents the Bi-Annual New Jersey Film Festival, the New Jersey International Film Festival and the United States Super 8mm Film + Digital Video Festival.