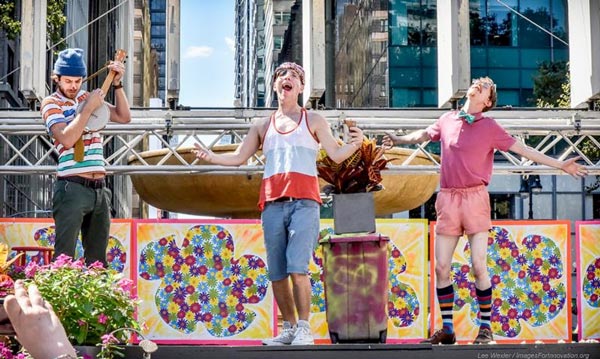 (NEW YORK, NY) -- Bryant Park Corporation has announced the schedule for its newly-renamed summer performing arts series Bryant Park Picnics. This season, Bryant Park Picnics hosts events with some of New York's most renowned music, theater, and dance institutions. Carnegie Hall Citywide offers five free outdoor concerts with extraordinary classical, blues, Latin, gospel, and world music artists. 2018 also marks the five-year anniversary of The Drilling Company's Shakespeare at Bryant Park, as well as the third year of collaboration with New York City Opera. For the first time, Bryant Park hosts a massive, free outdoor ballet master class in partnership with American Ballet Theatre.
Shakespeare - For the 5th consecutive summer, The Drilling Company returns with a trio of beloved Shakespeare plays as well as a special Shakespeare birthday event.
The Drilling Company, led by director/producer Hamilton Clancy, returns for their fifth summer season at Bryant Park. Best known for their Shakespeare in the Parking Lot performance series (now entering its 24th season), The Drilling Company brings three of The Bard's best-known plays to the park this summer: A Midsummer Night's Dream, Twelfth Night, and Macbeth. The series kicks off with a special performance on Shakespeare's birthday, The Folio Is Female: Great Women of Shakespeare (April 23). Clancy explains, "We're trying a simple experiment in Bryant Park: pairing a great comedy, a great tragedy and an annual return of one of the greatest in the canon, Twelfth Night. We thought an annual Twelfth Night in Bryant Park, in the middle of the summer, could become something New Yorkers and visitors look forward to. We chose A Midsummer Night's Dream for its accents of comedy and love and Macbeth for its political overtones.
"In the last five years with Bryant Park, we've grown to be the second largest producer of free Shakespeare in the city. We're obviously inspired by Joseph Papp, the predecessor of free Shakespeare in Manhattan. But Bryant Park offers something different than the Delacorte. There are no tickets and no lines. With an expansive Lawn and thousands of chairs, we can welcome all who come. It's a tremendous privilege. And each production is set against the buzz of the park and the backdrop of the city."
The Folio Is Female: Great Women of Shakespeare - Monday, April 23, 6:00pm - 8:00pm; Fountain Stage. A special birth (and death) day party for William Shakespeare that celebrates the dynamic female leads of Shakespeare's plays. Audiences can expect to see climactic moments from both Shakespearean comedies and dramas at this special event, including excerpts from Othello, Cymbeline, A Midsummer Night's Dream, Hamlet, The Merchant of Venice and The Taming of the Shrew. The Folio is Female director Jane Bradley says, "In this cultural moment of Pantsuit Nation, #MeToo and real-life heroes like Emma Gonzales, it has become abundantly clear that the future is female ... and so is the Folio. Shakespeare's plays contain some of theater's greatest female leaders, icons and trailblazers, characters we're still coming to terms with centuries later." Since Shakespeare's death as well as his birth are traditionally noted as April 23, the evening will feature a New Orleans Second Line funeral processional to spirit the Bard into Bryant Park, played by guest artists, the Jambalaya Brass Band, and accompanied by the entire cast.
---
---
The article continues after this ad
---
---
Midsummer Night's Dream - May 18 - June 2 (Fridays and Saturdays), 7:00pm - 9:00pm; Upper Terrace. A familiar sight ---- a romantic Bryant Park wedding ---- develops into a modern-day twist on Shakespeare's classic comedy, full of madcap revelry and literary fantasy. A Midsummer Night's Dream's cast will be led by director Drew Valins, assisted by Karla Hendrick, and will feature Drew Valins, Mary Linehan, Brad Frost, Kathleen Simmonds, Eddie Shields, Serena Miller, Emmanuel Elpenord, David Marantz, Jarrod Bates, Una Clancy, and design by Jennifer Varbalow.
---
Twelfth Night - July 27 and July 28 (Friday and Saturday), 7:00pm - 9:00pm; July 29 (Sunday), 3:00pm - 5:00pm; Bryant Park Stage. Twins Sebastian and Viola stumble upon the flamboyant, technicolor world of Illyria, visually inspired by the surreal wonderlands of The Wizard of Oz, Yellow Submarine and the works of Doctor Seuss --an exuberant live-action cartoon. Twelfth Night, directed by Jane Bradley, returns with last year's cast mostly intact, led by Natalie Smith, Kathleen Simmonds, Lukas Raphael, Rachel A. Collins, Andrew Gombas, Emmanuel Elpenord, Jack Sochet, and Haley Simmonds. Susan Edkinsreturns as designer.
---
Macbeth - August 24 - September 8 (Fridays and Saturdays), 7:00pm - 9:00pm; Upper Terrace. A Gangs of New York-styled Macbeth, set in the mid-1800s when early settlers fought for turf in the infamous Five Points area. Macbeth will be led by Alessandro Colla, with Brad Frost in the leading role; the remainder of the cast will be announced soon.
---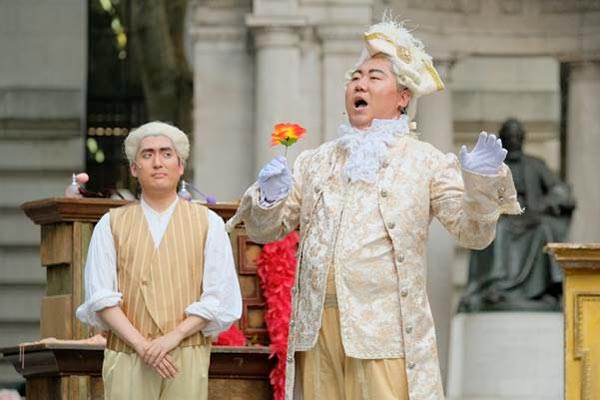 New York City Opera - Extraordinary performances produced by New York City Opera, including Carmen, Madama Butterfly, The Crucible, and Barber of Seville.
Carmen - Monday, May 14, 6:00pm - 7:00pm; Upper Terrace. Passions flare in this hour-long adaptation of one of the world's most beloved operas.
---
Madama Butterfly - Wednesday, June 13, 6:00pm - 7:00pm; Upper Terrace. Puccini composed some of his greatest music for this tragic story of an abandoned geisha bride.
---
The Crucible - Tuesday, August 28, 6:00pm - 7:00pm; Upper Terrace. City Opera presents a preview of its season-opening production of this American classic.
---
Barber of Seville - Monday, September 17, 6:00pm - 7:00pm; Upper Terrace. Rossini's sparkling music animates the hijinks of Figaro, opera's most famous barber.
---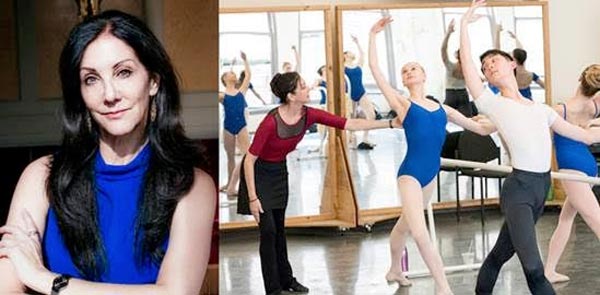 A Night of Ballet - A Master Class with American Ballet Theatre's Cynthia Harvey and Conversation with ABT Dancers.
Learn ballet moves on the Bryant Park Lawn by participating in a massive, one-night-only free master class led by Cynthia Harvey, former American Ballet Theatre ballerina and current Artistic Director of ABT's Jacqueline Kennedy Onassis School. Following the master class, Principal Dancers from American Ballet Theatre come to the stage for an inspiring conversation, sharing their journeys to the highest ranks of ballet as artist athletes. To round out the evening, ballet companies ---- to be announced ---- perform on the Bryant Park Stage.
More details about the event ---- including exact times and instructions for how to pre-register for the master class ---- will be available in the coming weeks. Check BryantPark.org for details.
Friday, June 15, Time TBA; Bryant Park Stage.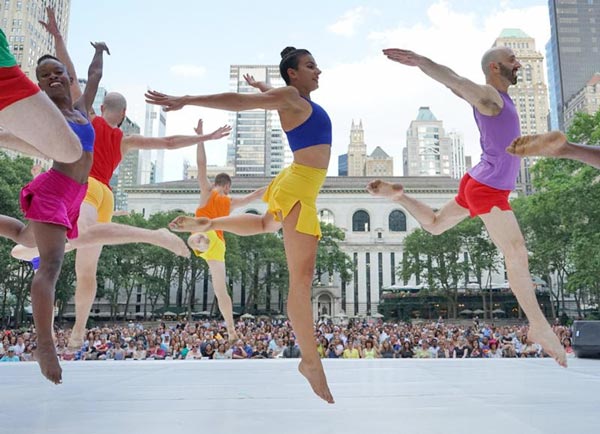 Contemporary Dance - Fresh and original, innovative artists showcase exhilarating works. Curated by Tiffany Rea-Fisher.
Artists include Kate Weare, Bryn Cohn + Artists, NOW Dance Project, Kinetic Architecture, Earl Mosely School, Joe Monteleone, Eryc Taylor, Tina Croll, Benny Royce, Diva Dancers, Julia Ehrstrand, Igal Perry Peridance Company, Tiffany Mills, Steps on Broadway Summer Study NYC, and Harlem School of the Arts.
More artists and the full schedule of performances will be announced in coming weeks. Check BryantPark.org for details.
Fridays, June 22 through July 20, 6:00pm - 8:00pm; Bryant Park Stage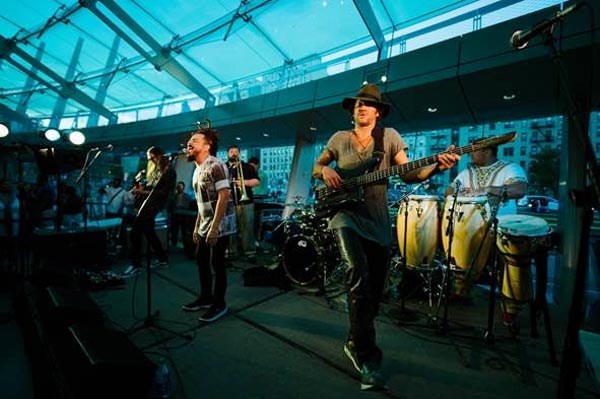 Carnegie Hall Citywide - Carnegie Hall offers five free concerts featuring outstanding classical, blues, Latin, gospel, and world music artists. Tapping into the pulse of the city, these performances bring New Yorkers together to share in the joy of music.
"For more than four decades, Carnegie Hall has partnered with community organizations in all five boroughs, offering free performances by renowned mainstage artists and rising musical stars in New York City neighborhoods, bringing together local residents and people from all over to share in great music," said Clive Gillinson, Carnegie Hall's Executive and Artistic Director. "As part of this commitment to community, we are thrilled to partner with Bryant Park for the very first time this summer, presenting five fantastic concerts, kicking off next season's Carnegie Hall Citywide series."
Brave Combo - Wednesday, July 18, 5:30pm - 7:00pm; Upper Terrace. Texas-based Brave Combo's performances are eclectic and exuberant journeys to the worlds of salsa, merengue, rock, cumbia, conjunto, polka, zydeco, classical, blues, and more. One of the premier dance bands, the group has won two Grammy Awards, and its music has been heard in feature films and on television. Brave Combo's foot-tapping music always sparks a party ---- the band played at David Byrne's wedding reception and appeared on an episode of The Simpsons.
---
Decoda - Wednesday, July 25, 5:30pm - 7:00pm; Upper Terrace. Anything can happen (and it frequently does) when the sensational musicians of Decoda ---- alumni of the acclaimed Ensemble Connect ---- perform. Decoda surprises and delights with the melodic splendor of Ennio Morricone's Cinema Paradiso film score, a colorful arrangement of Rimsky-Korsakov's Scheherazade, and Libertango, Piazzolla's groundbreaking foray into a new and expressive tango style.
---
Locos por Juana - Wednesday, August 1, 5:30pm - 7:00pm; Upper Terrace. "Locos por Juana pulls listeners into a reverse Gulf Stream churning through the Straits of Florida south to Jamaica, Venezuela, and Colombia, and over to Puerto Rico," said The Los Angeles Times. Vocalist Itawe Correa, guitarist Mark Kondrat, and drummer Javier Delgado form the band's core, though they frequently incorporate trombone and percussion soloists. This Grammy-nominated, bilingual, Latin jam-band draws on the diverse backgrounds of its members, riffing on traditional Colombian rhythms and tapping into reggae, ragga, dub, hip-hop, rock, and funk traditions to deliver what Kondrat calls "island swing."
---
Sinkane - Wednesday, August 8, 5:30pm - 7:00pm; Upper Terrace. London-born Ahmed Gallab, who makes music as Sinkane, lived in Sudan until he was five years old. In these early years, he absorbed the North African musical culture that inspires his rapturous hybrid sound, laced with percussion-heavy Sudanese pop, electronica, funk, and free jazz. He is a prolific recording artist with critically acclaimed EPs and albums to his credit. Sinkane's most recent recording, Life & Livin' It, has won rave reviews, with The Guardian touting its "socially conscious music suffused with joy."
---
Carnegie Hall Citywide Night: Les Grands Hurleurs, Jordan Officer, Ismael & The Radiant Select, Tribu Baharú, and The Campbell Brothers - Friday, August 10, 5:00pm - 10:00pm; Bryant Park Stage. Carnegie Hall Citywide Night is a sensational celebration of music from around the globe and across the country. From foot-stomping sounds of Quebec to the effervescent song and dance of Guinea, the music is free and fun all night.
You'll experience the energy of a Québécois house party when Les Grands Hurleurs take the stage. The three musicians present the traditional music of their homeland, with traces of classical, gypsy music, and electronica. Since the trio's founding in 2009, it has captivated audiences around the world, as well as in Canada, with memorable performances at Canada Day 2017 and the Canada Summer Games. Les Grands Hurleurs' newest album, 3/4 Fort, showcases spectacular vocals and virtuoso fiddle, guitar, and mandolin playing.
Jordan Officer is a virtuoso jazz guitarist, composer, and singer who has wowed audiences in his native Montreal and throughout Canada. Now it's time for the US to experience his unique jazz, blues, rock, and country music. Acclaimed for his collaborations with singer Susie Arioli, Officer has been enjoying a solo career that puts his songwriting front and center. Three Rivers, his recent album inspired by a road trip to the American South, is an irresistible blend of warm and witty songwriting and crisp guitar playing.
Ismael Kouyaté's joyful and passionate music is rooted in Guinea, his West Africa homeland. Born to a family of griots (West African poet-musicians), his high-flying vocals and dancing catapulted an international career that led to a stirring appearance in the Broadway musical Fela!, a performance that caught the attention of Beyoncé, who enlisted him as a featured vocalist on her hit song "Grown Woman." Kouyaté now fronts his own band, which blends the effervescent West African sound with the gritty funk of New York.
Tribu Baharú's exuberant performances of champeta music ---- a fusion of Colombian, African, and Afro-Caribbean styles ---- are driven by lively vocals, sparkling Congolese guitar, and high-energy bass and drums. A Tribu Baharú performance recreates the joyous, impromptu spirit of the verbena dances that are popular in Colombian neighborhoods during holidays. With traces of soukous, zouk, calypso, soca, rap, and more, Tribu Baharú celebrates the colorful Colombian musical spectrum.
The Campbell Brothers' brand of electrified, ecstatic music sets pulses racing and hands clapping. Led by the "sacred steel" guitar riffs of brothers Chuck (pedal steel) and Darick (lap steel), buoyed by a rhythm section that pumps out irresistible beats, and featuring the soaring vocals of Denise Brown, it's gospel music with a rock and blues heart. Pure, passionate, and jumping with the energy, The Campbell Brothers have thrilled audiences for nearly two decades ---- come hear why.
---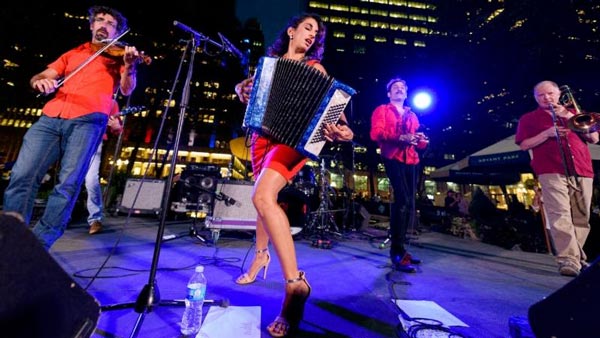 Accordions Around the World - A musical journey representing cultures from all over the globe each week, culminating in the Accordion Festival. Curated by Ariana Hellerman. Accordions Around the World is a five-week series that brings dozens of accordionists, as well as bandoneón, bayan, concertina, and harmonium-players of different musical genres, to perform at Bryant Park. Audiences have a chance to experience the range of this often-overlooked instrument. The series culminates on a Friday with the Accordion Festival, which showcases five bands, each featuring an accordion, playing music from a range of different cultures.
Wednesday, August 15, 5:30pm - 7:30pm - Bryant Park Lawn; Phil Passantino (Cajun + Zydeco), Maestro Tito Castro (Bandoneón: Argentine Tango), Foncho Castellar (Colombian Cumbia + Vallenato), Gregory Grene (Irish Rock), Eduardo de Carvalho (Brazilian Forró), Christina Crowder (Klezmer & Moldavian Folk), Jenny Luna (Balkan + Turkish), Susan Hwang (Blues + Soul), Jody Kruskal (Concertina: Old Americana), Dmitry Sokolovsky (Retro, Samba, Musette + Jazz), Nathan Koci (American and English Folk Tunes), and Barry Adler (German + Austrian)
---
Wednesday, August 22, 5:30pm - 7:30pm - Bryant Park Lawn. John Sherman (Cajun, Appalachian + Blues), Tinta Roja (Argentine Bandoneón + Guitar), El Toro de la Sierra (Mexican Norteño), Dan Gurney (Traditional Irish), Felipe Hostins (Northeast Brazilian), Ben Rosenblum (Jazz + Klezmer), The Bumper Crop Boys (Blues and Country), Yuri Lemeshev (World, Classical + Jazz), Sam Reider (American Roots), Erica Mancini (Jazz, Blues + Country), Mario Tacca (French Musette + Waltz), more artists TBA
---
Wednesday, August 29, 5:30pm - 7:30pm - Bryant Park Lawn. Kenny Margolis (Zydeco + Blues), David Hodges (Bandoneón: Argentine Tango), Harold Rodriguez (Colombian Vallenato), Annmarie Acosta (Williams Traditional Irish), Rob Curto (Brazilian Bluegrass), Ed Goldberg & the Odessa Klezmer Band (Eastern European Klezmer), Peter Stan + Peter Stan (Balkan), George Saenz (Music from Texas-Mexico Border), Smörgåsbandet (Scandinavian), Earl Ball (Polka, French + Tango), Mindra Sahadeo (Harmonium: South Asian), and Rachelle Garniez (Genre-fluid story-songs)
---
Wednesday, September 5, 5:30pm - 7:30pm - Bryant Park Lawn. Laren Droll (Cajun + Zydeco), Laura Vilche (Bandoneón: Argentine Tango), Nain, Acordeonista de los M-1 (Mexican Norteño), Cordeone (Portuguese Fado), Ilya Shneyveys (Traditional + Original Klezmer), Eva Salina and Peter Stan (Vintage Balkan Roma Ballads), Melissa Elledge (Pop + Rock), Albert Behar (French Musette + Gypsy Jazz), Alan Morrow (Waltzes, Tango + Blues), and Papa Bavarian (German Oktoberfest), more artists TBA
---
Wednesday, September 12, 5:30pm - 7:30pm - Bryant Park Lawn. Julie Winterbottom (Cajun Music from Louisiana), Javier Sánchez (Bandoneón: Argentine Tango), Sadys Rodrigo Espitia (Colombian Cumbia + Vallenato), Patty Furlong (Traditional Irish), Vitor Gonçalves (Brazilian Choro + Forró), Shoko Nagai (Japanese + Jewish), Papa Joe De Clemente (Italian + American Standards), Will Holshouser (Jazz + Folk), Ismail Butera (Ancient Mediterranean), Ryan O'Donnell + Friends (Ukrainian), Maestro (Electronic Balkan), and Guillermo Vaisman (Coastal Argentine Chamamé)
---
Accordion Festival - September 14, 5:00pm - 10:00pm; Bryant Park Stage. Shashmaqam (Bukharan Jewish music and and Central Asian dance), Rimel (Norteño from Northern Mexico), Canzoniere Grecanico Salentino (Pizzica tarantata from Puglia, Italy), Shilpa Ray (Indie rock with the harmonium), and more TBA
Shashmaqam is a vibrantly colorful ensemble from Queens, NY that performs the highly compelling and centuries-old musical traditions of Central Asia. As the United States' premier ensemble dedicated to Central Asia's Bukharan Jewish music and dance traditions, Shashmaqam performs a panorama of classical and folk music from Uzbekistan and Tajikistan. Simultaneously, they perform the liturgical repertoire of Bukharan Jews which instrumentation includes the tar (lute), doire (frame drum) and accordion. Shashmaqam, which takes its name from the ancient repertoire they perform, was founded through musical evenings dancer Firuza Yagudeava hosted at her former restaurant in Manhattan in the late 1970s. Since then, they have performed on stages across the US and have recorded for Smithsonian Folkways Records.
Rimel is a regional Mexican band formed by sisters: Letty (vocals and bajo quinto), Shely (accordion), Tita (vocals and bass) and Melen (drums). Rimel's goal is to create a stronger presence and awareness of women in Norteño (also known as regional Mexican) and to expose this style of music that has traditionally been played only in the Latino community ---- all over the world.
Formed by writer Rina Durante in 1975, Canzoniere Grecanico Salentino is regarded as Italy's leading and longest-standing traditional music ensemble, hailing from the Salento, the heel of the Italian boot, in Puglia. CGS is a dichotomy of tradition and modernity together; the seven-piece band and dancer are the leading exponents in a new wave of young performers re-inventing Southern Italy's Pizzica musical and dance traditions. The ancient ritual of pizzica tarantata is said to cure the taranta spider's bite and the resulting altered state of consciousness, with its frenzied trance dances. Fueled by the tamburello (a frame drum which resounds like a never-stopping beating heart), CGS shows are explosive: full of energy, passion, rhythm and mystery. They bring the audience from the past into modernity, and back. Critically acclaimed with 18 albums and countless live performances throughout USA, Canada, Europe and the Middle East, in 2010 CGS was awarded Best Italian World Music Group at Italy's MEI confab. They have also performed at globalFEST, SXSW, and Festival international de Jazz de Montréal.
Nobody grows up wanting to be an artist's artist. Appreciated by the sub sect of the sub sect is like being the beauty queen at the leper colony. Anybody who claims they grew up wanting to even be an artist rather than an astronaut or a Cthulhu is probably lying or was a corny kid. Your friends will find you irritating and your parents will certainly not throw you a parade. Shilpa Ray is, through no fault of her own, one of our unsung great artists. Having made her bones with the gothic Sturm und Drang of Beat The Devil and moving forward to the blues erosion of ... and The Happy Hookers, Shilpa Ray has been, armed only with an incomparable voice and harmonium haunted by the ghosts of dead lovers, perpetually crying in the wind, hoisting both middle fingers in the general direction of god. It's not a life a wise man would choose. But, again, what can you do?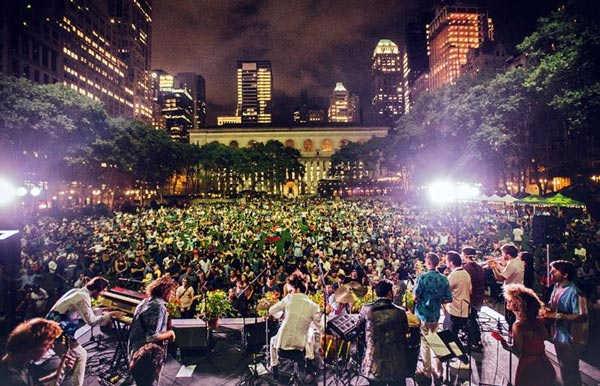 Emerging Music Festival - Ten on-the-rise bands perform on one of the biggest stages of their young careers. Emerging Music Festival returns for its third year with thousands of music lovers packing the Bryant Park lawn for New York's best new music, including indie rock, soul, R&B, singer-songwriter, and more. Featuring Jerron "Blind Boy" Paxton with Terry Waldo's Rum House Jass Band, EZTV, Plastic Picnic, Katie von Schleicher, Underground System, and more TBA.
Friday, August 17, 5:00pm - 10:00pm; Saturday, August 18, 5:00pm - 10:00pm; Bryant Park Stage.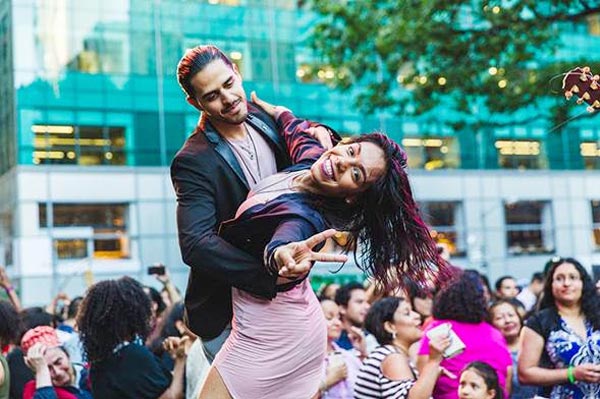 Dance Party - Weekly parties with superb bands and dance instruction, hosted and produced by Talia Castro-Pozo. At each Dance Party event, learn basic steps with expert instructors from 6pm to 7pm by the fountain at Bryant Park every Wednesday from May 2 to June 6; then, test out your new moves with live music performed by some of the New York City's best dance bands from 7pm to 8:30pm.
The Dance Party series celebrates some of the most popular music and dance genres, from easy-to-learn favorites like salsa and swing, to bhangra and Tangolandó. The cast of instructors and dance hosts is incredible, all steeped in the traditions of their upbringing around the world. Don't miss the grand finale on Friday, June 8 for a one-night-only Latin Festival, featuring Cha Cha, Boogaloo, and Salsa dancing with live sets from New Swing Sextet and Quintero's Salsa Project.
Salsa Dura: Doug Beavers & Titanes del Trombon - Tribute to Cheo Feliciano - Wednesday, May 2, 6:00pm - 8:30pm; Fountain Stage. 2018 Grammy Nominee Doug Beavers brings his hard-hitting 3-trombone band "Titanes del Trombón" for a special tribute to one of his idols: Puerto Rican salsa legend Jose Luis "Cheo" Feliciano. The band will present Beaver's all-time favorites of Feliciano's as well as seldom-performed material from Cheo's late-70's and 80's work.
---
Bhangra: Rhythm Tolee Plays Bhangra & Bollywood - Wednesday, May 9, 6:00pm - 8:30pm; Fountain Stage. For the first time, Bryant Park hosts a bhangra dance party. The joyful and free-spirited Indian dance style is taught by the acclaimed Bhangra Masala Dance Company. Live bhangra and Bollywood music is performed by award-winning New York-based Punjabi band Rhythm Tolee.
---
Tangolandó: Sofia Tosello & Yuri Juarez - Wednesday, May 16, 6:00pm - 8:30pm; Fountain Stage. Tangolandó is a new form of dance music that fuses tango with varieties of Latin and African rhythms. Learn the steps to this cross-cultural art form, and then dance to live music by the artists ---- Sofia Tosello and Yuri Juarez ---- who helped create it.
---
Swing: Svetlana and the Delancey Six - Wednesday, May 23, 6:00pm - 8:30pm; Fountain Stage. Svetlana and the Delancey Six make sophisticated, sultry, foot-stomping swing music. Led by exciting young vocalist Svetlana Shmulyian, the band combines swing with pop and songwriter sensibilities to create revelries fit for the 21st century.
---
Cumbia & Vallenato: Gregorio Uribe - Wednesday, May 30, 6:00pm - 8:30pm; Fountain Stage. One of the most well-known and acclaimed Colombian musicians in New York, Gregorio Uribe brings his powerful band to perform a show featuring two classics of Colombian folk music: Cumbia and Vallenato.
---
Bachata: Wilson Daniel & Orquestra - Wednesday, June 6, 6:00pm - 8:30pm; Fountain Stage. Beloved Bachatero Wilson Daniel and seven other talented musicians from the Dominican Republic come together to play bachata with a classical feel and rooted sound.
---
Latin Festival: Cha Cha, Boogaloo, and Salsa - The New Swing Sextet and Quintero's Salsa Project - Friday, June 8, 5:00pm - 10:00pm; Fountain Stage. An innovative exponent of Latin jazz, salsa, and pop music for five decades, the Grammy-nominated New Swing Sextet plays Cha Cha and Boogaloo tunes that capture the excitement and turbulence of 1960's New York. Renowned Venezuelan percussionist Luisito Quintero ---- who has played with such greats as Celia Cruz, Marc Anthony, and Tito Puente and was Grammy-nominated in 2015 for his 3rd Element Latin Jazz album ---- infuses salsa music with Afro-Caribbean rhythms to create a fresh and dynamic sound.
---
All Bryant Park Picnics events are free to the public with no dress code, no tickets, and no lines. At each show, Bryant Park lends out over 200 free blankets for audience members to spread out and relax while enjoying the performance. Hester Street Fair brings an exciting array of local food vendors including Brooklyn Oyster Company, Bonsai Kakigori, Sweet Face Snowballs and more to be announced. Beer and wine is available for purchase, and entertainment abounds with jugglers, supersized games, and much more.
"Bryant Park Picnics is one of the most accessible and inviting ways to experience this city's incredible performing arts," said Dan Fishman, Public Events Manager at Bryant Park Corporation. "Grab a blanket and try something new: listen to opera for the first time, learn a ballet move, or watchMacbeth. It's completely free, and there is nothing like watching a world-class performance from the comfort of a picnic."
The current schedule of programming follows. Please visit BryantPark.org for up-to-the-minute lineup updates and show additions.
PHOTO CREDITS: (from top to bottom) Lee Wexler, Matthew Eisman, Ian Whelan and Richard Corman, Fadi Kheir, Matthew Eisman, Ryan Muir, Angelito Jusay