By Gary Wien
originally published: 07/24/2018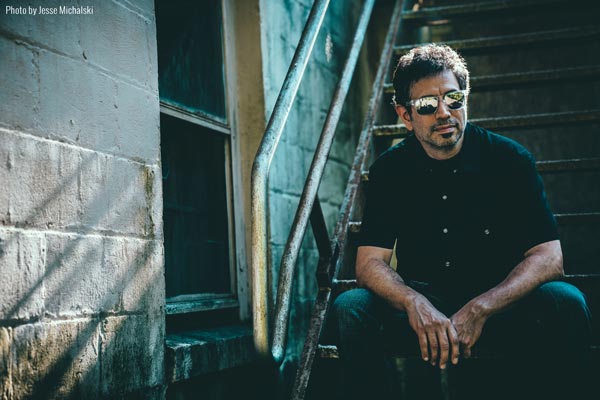 What does an artist do when he finds himself in one of the most prolific phases of his career, but the songs don't seem to go together?  When he knows there are more than enough songs to create an album, but it just doesn't feel like an album?
That's the situation Bruce Tunkel recently experienced.  Instead of putting out an album he didn't feel good about, he came across a website called distrokid.com that offered him the option of simply releasing single after single.  
The service offers artists the opportunity to upload as many songs as they want for just $20 per year.  And with the release of 30 singles, Tunkel has definitely taken advantage of the offer.
Tunkel has been part of the New Jersey music scene since the 1980s when his band The Red House became the first indie act to land on the cover of the College Music Journal (CMJ) magazine due to a terrific album released on their own.  That cover took the industry by surprise and the band ultimately signed with the SBK label, releasing a CD that featured the alternative rock hit "I Said A Prayer" - a song whose video got steady airplay on MTV.  Unfortunately, problems with the record label and troubles within the band ended a promising career with a followup record recorded, but never released.
The breakup left Tunkel extremely cynical about the music business, but it didn't stop him from writing.  In fact, he has gone on to release seven albums as a solo artist, including Bittersweet in 2017.  But while he had been steadily releasing albums over the years, few fans envisioned the plethora of singles that would be released just a few months later.
---
The article continues after this ad
---
---
"I've definitely been more prolific over the last few years than I ever have," admitted Tunkel.  "I think it's a combination of a few things.  I discovered this book called The Artist's Way by Julia Cameron.  I learned about it because Pete Townshend mentions it in his autobiography. Basically the idea behind the book is that it's supposed to be a program that helps you unlock creativity.  I found it very helpful to do that - both making it easier to write and opening up and being able to be more honest and direct in your writing."
"I also have more time on my hands the last few years, which helps," continued Tunkel.  "And also being part of the open mic scene at Dragonfly Music & Coffee Cafe in Somerville.  For me, personally, once I realized that I enjoyed going there and would probably go pretty often, I wanted to have new things to play.  I'm not too into just playing the same thing week after week, so it was a sort of perfect storm for me.  It's been good.  I've been very happy to have that outlet."
Somewhat ironically, the Dragonfly was a source of even more music by Tunkel in the past year as he began performing with Mark Nuzzi (from the Soul Engines and The Jenny Pilots) as The Susan Rumors. The band released a self-titled release in January 2017.
 "For the most part, I like all of the stuff," said Tunkel.  "My filter is pretty good at this point in my life.  To me, what I would consider to be bad songs get nipped in the bud right away.  I don't get too far with that.  Pretty much anything I'm moving forward with - at least to me - is something I think is worthwhile."
The 30 singles are not only worthwhile, but among the most interesting work of his career.  With costs in check thanks to Distrokid, Tunkel was free to record as much as he wanted in his home studio.  For a guy who has been recording on his own since the first album by The Red House, he was like a kid at Christmas.  He invited guests he wanted to play on particular songs and experimented with different production techniques and different sounds.  The end result is certainly a group of songs that do not appear to go together, but all stand out on their own. Some of my favorites include the Grateful Dead vibe behind "The One Time I Got Drunk"; the haunting "Deceptions"; "Dream Lane" co-written with Kelly McKay (formerly of Maybe Pete); the beautiful "Bound by Love"; the explosive rock of "Broken"; and "Freedom's Last Stand" which sounds like what I imagine a Red House record might sound like in 2018.
The Red House was one of my favorite local bands in the 1980s.  They were terrific live. They created an alternative rock sound that was very different from the rest of the bands in the area.  At the time, the Jersey Shore had an amazing club called The Green Parrot where Red House often played and an alternative radio station 106.3 (WHTG) that gave them steady airplay.  Back then Tunkel played guitar.  These days he mostly plays keyboard - even bringing a keyboard to a BlowUpRadio.com Guitar Pull show he recently took part in.
One of the strangest things about Tunkel is that he is all about the songwriting yet doesn't push the idea of having others record his songs.  Fifteen years ago, I asked him if he would like to have others cover his songs.  He said, "Well, that would be great.  It's not something I've really pursued.  It's probably something I will pursue at some point. It's definitely something I've thought about that I'd maybe like to shop some of the songs around."
I asked him that question again in 2018, mentioning how Kelly McKay, a good friend of his and an occasional songwriting partner, moved to Nashville to try her hand at being a songwriter and has been having success.  He thought about it and recalled a cover of his song, "Last Chance Afternoon" by The Hudson Falcons.  
"That was great because it was a totally different take - punky, I loved it," said Tunkel.  "I guess my feeling - and I know this isn't true across the board with my material - is that I'm not commercially minded when I write.  It's not that I think I'm putting anything out there that is inaccessible or avant garde or anything like that, I just don't pay attention to that industry stuff at all."
Thinking about the vast amount of songs he has released in just the last 15 months, he adds, "I'd love that, but I haven't pushed it.  I probably should.  My friend Dave Hummel and I joke with each other about the line from Rocky - 'What you need is a manager.'  That's what I need.  That's what everybody needs!"
As if releasing 30 singles isn't enough for a while, he's already planning out the next album.  This time he thinks it will be centered around a group of songs that go together in a certain way.  He hasn't begun writing, but he says he has some vague ideas as a starting point.  The concept generally starts around the sound he wants.  Right now, he's thinking about an album with an early 70s kind of vibe, but that could change.  One of the singles released this year - "Speak Up" - seems to hint at what he might be planning. It's got a very cool groove to it and is worth exploring further.
One thing that is very noticeable in his recent output is willingness to dive into politics. Among the singles, the most notable examples include "Freedom's Final Stand" which is a rather angry take on U.S. politics at the moment and the wistful "Home of the Brave" in which he wishes Woody Guthrie was alive to write songs to make sense of everything.  The trend seemed to begin with "Common Ground" on Bittersweet - a song that reminds me of something the fictional President Bartlet might say on The West Wing television show, "I still believe / we share common ground / let's build a world together / instead of tearing everything down."
"That song 'Common Ground,' I really believe that," said Tunkel.  "I think my point of view on it is simply that I've come to realize you can't change people's minds about their views and that's fine.  We all get to express our views when we vote.  I don't want to be defined by my political views and, likewise, I try not to define other people by their political views."
Closing out our conversation, I ask if it bothers him that 30 years later Red House is still brought up in most articles about him.  He says he doesn't mind at all; it gives people a starting point about who he is.  Looking back, he remembers the good times - and there were many.  Most of his work in the decades which followed is different from what he was doing then, but a good part of that is simply because of the difference of having a band and being a singer-songwriter.  Even though his solo work largely sounds like a full band, it's still a different feel from having an actual band.
"I'm still proud of the Red House and what we did," added Tunkel.  "I would love to get a band together again.  We'll see.  I think I've said that every day for the last ten years, but I may try to do it.  I think I'd be pretty picky as to who I'd like to play with, but it might be a fun thing to do - not to be out on the road, but just to be able to go out when I do play.  Something to kind of make the big sound, which I miss a little bit." 
Photo by Jesse Michalski
---
Gary Wien has been covering the arts since 2001 and has had work published with Jersey Arts, Elmore Magazine, Princeton Magazine, Backstreets and other publications. He is a three-time winner of the Asbury Music Award for Top Music Journalist and the author of Beyond the Palace (the first book on the history of rock and roll in Asbury Park) and Are You Listening? The Top 100 Albums of 2001-2010 by New Jersey Artists. In addition, he runs New Jersey Stage and the online radio station The Penguin Rocks. He can be contacted at gary@newjerseystage.com.
---