By Gary Wien
originally published: 04/26/2017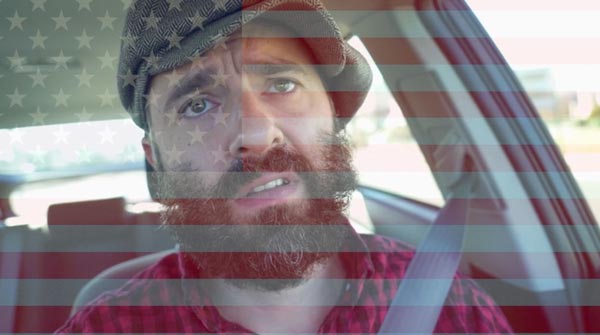 Ever wonder what life is like in the life of an Uber driver? Vincent Brue and his wife Eve take you behind-the-scenes at the crazy characters that come in and out of Vincent's Prius in the web series, Bruber. 
Vincent, a musician in the band Lifeguard Nights, and Eve decided to put their film school diplomas to good use by bringing his experiences as an Uber driver to life. He writes, she shoots, he scores, and edits.  Four episodes have been released so far with another four in the works to complete the first season of the show.
"I started doing this job (Uber and Lyft) a year and a half ago," said Vincent Brue.  "You get a lot of stories out of nefarious characters and the people you meet.  So, I would tell people these stories at parties.  Eve tried convincing me to shoot one of these." 
Eve and Vincent had worked on a few videos before under the name "Call It Evin."  One was based on a cooking show Vincent once had on the Manhattan Neighborhood Network called "Cooking With Jack." The premise was that he didn't know how to cook and didn't really like cooking.  Since they discovered several shows with the same name they changed theirs to "Cooking With Bleep" and bleeped out the references to Jack in the show.
"Bruber was our first foray into making a show," continued Brue.  "We started out with the first episode where I drove this Japanese girl to the airport and she falls asleep.  I didn't know what to do.  I had to wake her up because I didn't know what terminal she was going to, so I ended up driving around in circles, screaming, and nearly got into an accident for being distracted from trying to wake her up.  We have a friend Lula who is a talented musician.  We got her to be in it and used a bunch of her music, and it just sort of took off from there."
---
The article continues after this ad
---
---
The show features a wide assortment of interesting characters and scenarios from a business man who is paranoid that Vincent is a corporate spy intent on recording the guy's business phone conversation to an old friend who worries after the ride about choosing to sit in the back seat instead of up front with him.   There's a man who needs a ride all the way to Connecticut who is fascinated that Vincent has a side business creating personalized songs for people that orders one for his daughter as a birthday present.  And there's a guy that brings Vincent a ray of hope after the presidential election doesn't go as he hoped it would.
Bruber is largely shot in Monmouth County where they now live.  Vincent is originally from Somerset County while Eve is from Upstate New York in the Catskills region.  Each show is scripted and inspired by Vincent's Uber passengers.  Most of the action takes place in his car while he is driving, which he says makes the acting easier for him but scares his wife.
"My wife still thinks we're going to die," he explains.  "Because she's in the passenger seat turned around (still wearing her seat belt to prevent the car from beeping the whole time) and just facing back, trying to get good shots while I'm driving.  Of  course, a lot of the roads are bumpy and we wind up having to redo a lot of shots - especially on the road between Long Branch and Asbury Park.  We do a lot of shooting over there and there are a lot of pot holes."
Acting is somewhat new for Vincent who worked at a talent agency in Manhattan for about 13 years, serving as the in-house reader for the actors. In a way, the job was his own acting school as Vincent was technically acting every day of his job.  Meanwhile Eve is a professional video editor (even though Vincent edits the Bruber series).  They met at a party in Atlantic Highlands that Vincent's band was performing at and hit it off.  Eventually they realized they had film school in common and thought working together might be fun. His Uber driving gave them the perfect story and an abundance of material to work with.
"Whenever I've taken Uber I've always talked to the driver and we share stories, but they don't seem to have as many crazy stories," said Brue.  "Maybe it's me.  I think I'm a magnet for crazy people."
It helps that Vincent drives in the Jersey Shore area and often handles passengers who needs rides home from bars late at night.  He's also been driving a lot - about 18 hours a day - just driving as much as possible.  "I kind of became slightly addicted to it because the more you work, the more money you make," he admits.
In addition to its comedy, the show touches upon the rather awkward relationship between Uber drivers and their passengers. Both sides often wonder if they may be driving with a sociopath.
"I get a lot of older women who are terrified that I'm going to rape them," said Brue.  "They actually ask, 'Are you going to rape me?' I assure them they are ok.  And my parents are like 'I heard an Uber driver just got murdered by a passenger.'  For me, I've had way more terrifying experiences with passengers I'm afraid are going to kill me.  One in particular is going to be in a future episode.  It was a pretty harrowing experience with a guy who thought I was taking him the wrong way on purpose in order to drive up the fare.  He was wasted and threatening to punch me in the face the whole time I was driving. That sort of thing is terrifying at two in the morning.  Hopefully that episode will show the divide and how everyone is suspicious of the other."
At the moment, Eve and Vincent are just focusing on making the show and trying to improve with each episode.  Eventually they would like to get the show on to the film festival circuit.  As for his band, Lifeguard Nights, they are somewhat between being on a bit of a hiatus and being done for good.  He says they got burned out a bit and are looking to take most of this year off, but might resurface in the summer or later in the year.  He's currently working on some new songs, but Bruber and his Uber work are taking much of his time right now. In another words, stay tuned.
---
Gary Wien has been covering the arts since 2001 and has had work published with Jersey Arts, Elmore Magazine, Princeton Magazine, Backstreets and other publications. He is a three-time winner of the Asbury Music Award for Top Music Journalist and the author of Beyond the Palace (the first book on the history of rock and roll in Asbury Park) and Are You Listening? The Top 100 Albums of 2001-2010 by New Jersey Artists. In addition, he runs New Jersey Stage and the online radio station The Penguin Rocks. He can be contacted at gary@newjerseystage.com.
---