By Spotlight Central
originally published: 06/14/2018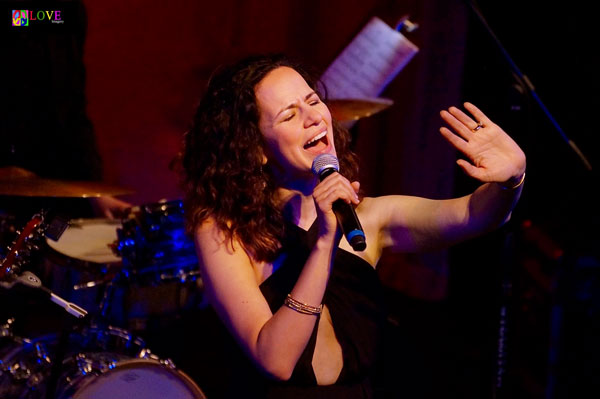 It's a gorgeous Saturday June 2, 2018 evening in Hackensack, NJ. As we explore the downtown neighborhood, we pass a sprinkling of appealing eateries — Mexican, Argentinian, Greek, Colombian, — and even stop at the crowded Cuban restaurant on Main Street which features an inviting open air front window and an exposed brick interior.
Just around the corner is the cozy Atlantic Street Park where community events including yoga, Zumba, and Shakespeare in the Park take place during the summer season. Adjacent to the park is the Hackensack Performing Arts Center — or HACPAC — a gem of an artistic venue, which recently opened in November, 2017.
Originally built in 1847 as a church, the building later became a Masonic Temple. More recently, however, it was purchased by the city of Hackensack and transformed into a state-of-the-art creative arts space which includes a 224-seat theater upstairs, along with an art gallery and reception room downstairs.
As we make our way inside the historic structure, we take a moment to enjoy the spacious art gallery which currently hosts a show entitled "Salute to Women in the Arts" featuring a variety of talented local artists.
Here, we meet HACPAC's Artistic Director, Greg Liosi, who informs us that HACPAC is home to several theater and dance companies who enjoy utilizing this space which the city has renovated with special attention to "high-quality lighting and sound." Support for the venue comes from the Main Street Business Alliance, a public/private partnership between the downtown business community and the City of Hackensack.
---
The article continues after this ad
---
---
Even though it's not quite showtime, Liosi invites us upstairs to experience the stunning HACPAC lobby where some of the building's original fixtures have been utilized. Here, we learn about the attention to detail in the renovation in which "glass in some of the chandeliers was hand made to match the original."
Liosi also takes us inside HACPAC's Hackensack Meridian Health Theater itself — a comfortable and intimate performance space — where we can see that every single one of the auditorium's 224 seats has an excellent view of the stage. 

According to Liosi, five times each year, HACPAC presents what is known as a "PAC the House" event. This year's line-up of events has already included four top-notch performances: jazz singer Jane Monheit, R&B singer Alyson Williams, English musician John Waite, and comedian Michelle Wolf.
The final program of the "PAC the House" series spotlights tonight's featured performer — star of stage, screen, and television — Mandy Gonzalez.
Gonzalez was born and raised in California's Santa Clarita Valley. After graduating from high school, she briefly attended the California Institute of the Arts before becoming a background singer for Bette Midler on Midler's Millennium Tour.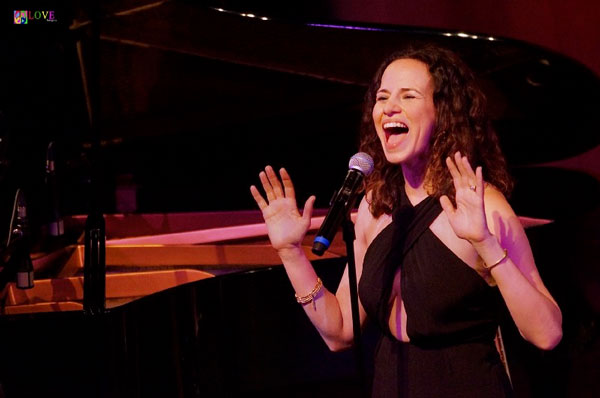 Moving to New York City, Gonzalez worked as a coat check attendant while auditioning for various shows.
As a cast member of the Off-Broadway production of Eli's Comin' — an innovative musical based on the work of songwriter Laura Nyro — Gonzalez won an Obie Award. She made her Broadway debut in the role of Princess Amneris in Aida as the standby for Idina Menzel, before being offered the role of Sarah in Jim Steinman's Broadway musical, Dance of the Vampires.
Gonzalez went on to create the character of Nina Rosario in the Off-Broadway production of In the Heights where she received a Drama Desk Award for her performance. She additionally starred in the show when it ran on Broadway and appeared on the original Broadway cast album. Following her stint in In the Heights, she played Elphaba in Wicked on Broadway. She currently can be seen in the role of Angelica Schuyler Church in the Broadway sensation, Hamilton.
No stranger to television and movies, Gonzalez' TV appearances include roles on Third Watch, The Good Wife, Quantico, and Madam Secretary in addition to performances in films including Across the Universe and voice work on Mulan II. Also, in 2017, Gonzalez released her first solo album, Fearless, a recording which features a title number written especially for her by In the Heights and Hamilton composer Lin-Manuel Miranda.
At HACPAC, an audience comprised of music lovers of all ages is starting to fill up the theater for tonight's "PAC the House" performance by Mandy Gonzalez. Emcee Ryan Huban takes the stage to welcome the crowd and he is followed by Greg Liosi who introduces the audience to tonight's opening act, Rachel Zegler.
Zegler, a high school student, has appeared in a number of local shows including award-winning performances in Disney's Beauty and the Beast and The Little Mermaid.
Opening with "A Summer in Ohio" from The Last Five Years, Zegler impresses the crowd with her strong voice and enthusiastic performance.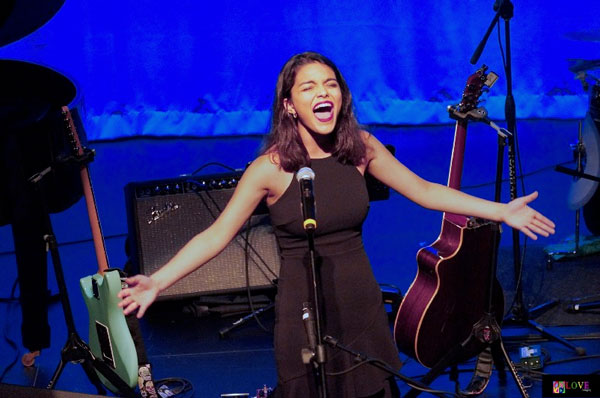 After singing "I Speak Six Languages," from The 25th Annual Putnam County Spelling Bee, Zegler addresses the crowd revealing that she has a YouTube channel where she performs musical theater, pop, and alternative rock.
Explaining that she wrote the next song "for anyone who has ever been in love with anything," Zegler performs her thoughtful composition, "Lonely World," while deftly accompanying herself on the ukulele.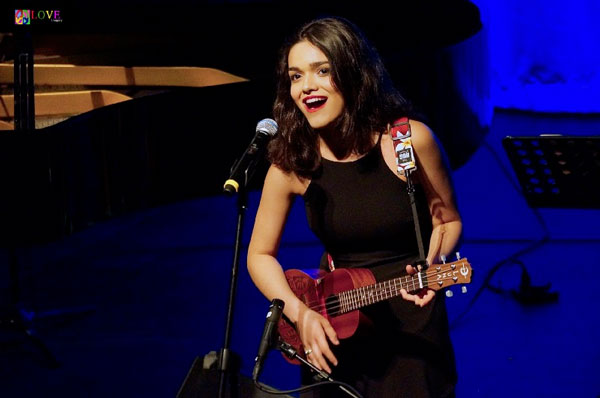 She follows that up with a perky rendition of "A Change in Me" from Beauty and the Beast, before concluding her set with a lively version of "Gimme Gimme" from Thoroughly Modern Millie, the crowd cheering, hooting, and hollering for this homegrown talent!
Liosi returns to the stage to introduce tonight's headliner, Mandy Gonzalez. Opening with a bang, Gonzalez performs a spicy rendition of "Raise the Roof," her world-class voice sounding crystal clear in this sonically superior listening environment. Backed by a quartet featuring John Deley on piano, Sean Driscoll on guitar, Rob Jost on bass, and Jamie Eblen on drums, Gonzalez and the band raise the HACPAC roof as they excite the crowd with this upbeat Latin scorcher.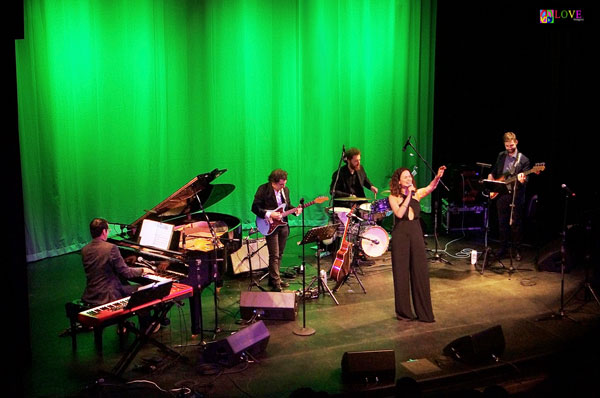 After welcoming the audience to HACPAC, Gonzalez says, "I'm in a place in my life where I always wanted to be," and adding, "my future is unlimited," before performing a jazzy rendition of "On a Clear Day (You Can See Forever)." Clearly enjoying working with her talented quartet, Gonzalez and company present a refined performance of this classic tune which features an impressive piano solo by John Deley.
After acknowledging that she performed in the matinee of Hamilton on Broadway just this afternoon, Gonzalez talks about how she enjoys "building community" and "giving back," before recalling how she was given her start in show business at the age of 19 by Bette Midler. Here, she sings a homage to Midler by performing "In These Shoes" in both English and Spanish.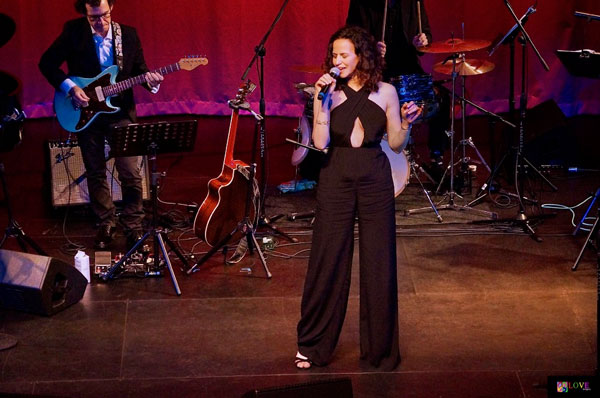 She follows up with a hip-hop inspired rendition of "I Only Have Eyes for You," which features an outstanding guitar solo by Sean Driscoll — a performance which adds to the funky feel of this standard which has been so cleverly reinvented by Mandy and her band.
Revealing that because she is now in Hamilton, she currently works in the same theater where she appeared in In the Heights — a situation which she reveals "brings back different emotions." To express these feelings, Gonzalez launches into a magnificent rendition of "As If We Never Said Goodbye" from Sunset Boulevard, the audience even going so far as to applaud in the middle of the song for this consummate performer!
Acknowledging, "I'm so lucky to have sung such incredible songs that grow with you," Gonzalez performs one of the highlight numbers of the evening, her poignant rendition of "Breathe" from In the Heights.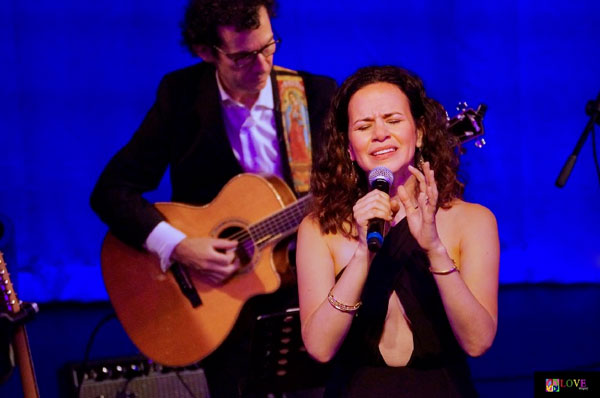 Sounding as pure and resonant as ever, Gonzalez uses her considerable vocal chops to evoke pure emotion within her listeners and they respond in kind with enthusiastic cheers and applause.
After revealing that her father once sang her next song, Gonzalez performs a soulful uptempo rendition of The Temptations' "Get Ready."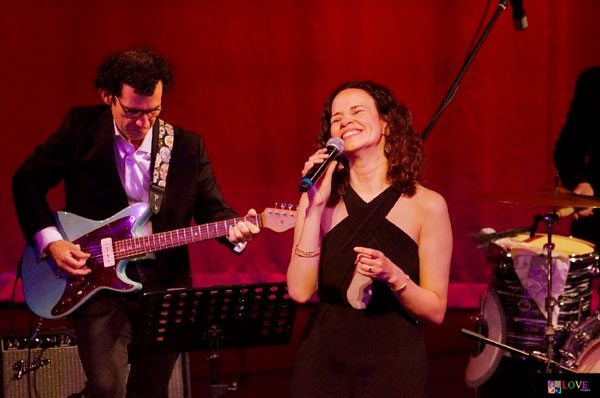 Taking a break from the lead vocal, she tells a story about how her parents met as pen pals when her father — a Mexican migrant worker — was drafted and sent to Vietnam and her mom — a white, Jewish girl — wrote to him. According to Mandy, she learned about her parents' youth, friendship, and love by reading her parents' pen pal letters. At this point, she continues "Get Ready" in a slower, more intimate arrangement, sharing her personal story with the audience and allowing them to experience the song in a creative and new way.
Changing things up, Gonzalez launches into her own rendition of Bruce Springsteen's "Born to Run." Inviting this New Jersey audience to join her in singing the song's "Baby, we were born to run" lyric, the crowd happily obliges. After demonstrating her versatility singing Springsteen, Gonzalez confesses, "He's on Broadway and I just got tickets," before inquiring, "Do you think he'll invite me up?"
After talking about her latest recording, Fearless, Gonzalez performs a number from the album entitled "Everyday" — a soaring number which features intricate keyboard accompaniment, thoughtful lyrics, and an inspiring performance.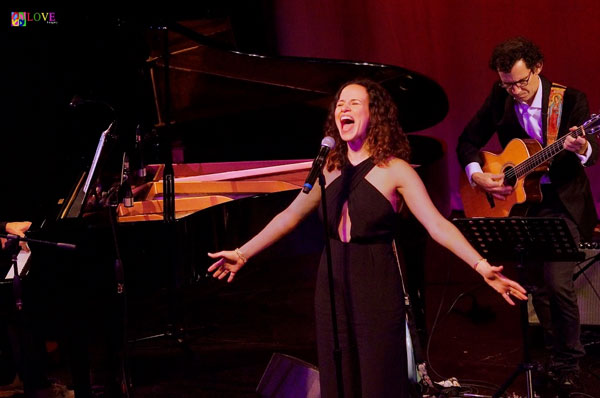 She follows this up with another number from Fearless — a beautiful and touching yet powerful country ballad entitled "Life is Sweet."
Gonzalez brings down the house reprising her role as Elphaba in Broadway's Wicked performing her knock-your-socks-off rendition of "Being Green." Opening with a slow, jazzy, and sultry intro, Gonzalez moves to the music, her awesome voice filling the HACPAC theater with unadulterated soul and capturing the hearts of all of her fans in the audience.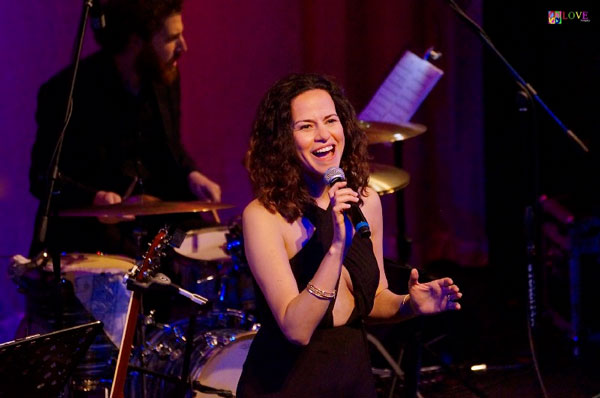 After introducing her band, Gonzalez talks about her mixed Jewish/Mexican heritage acknowledging, "I had a Bubbie and an Abuela." Coming from "two different worlds," she tells the audience how Lin-Manuel Miranda composed her next song, "Fearless," to explain her parents' personal story.
A highlight of the evening, on "Fearless" Gonzalez sings, "My mother wrote letters to soldiers overseas/She was doing her part/She was seventeen," before continuing, "A year goes by and there's a soldier at the door/Her parents rage/They didn't know/She had to choose to stay or go/And I am here because they were fearless."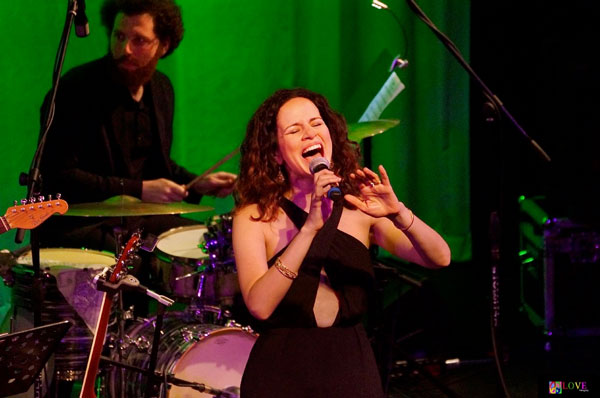 Singing from the bottom of her heart, she connects with all present, providing a unique creative and artistic moment which can only be experienced in an intimate setting such as this.
Following enormous cheers and applause, Gonzalez performs her final number of the evening — a song about which she discloses, "My Bubbie used to sing this to me to remind me of what to strive to be." Performing an innovative and bluesy rendition of "Que Sera Sera," Gonzalez exemplifies soul with her dynamic rendition of this Doris Day classic which earns her a well-deserved standing ovation from the entire appreciative crowd!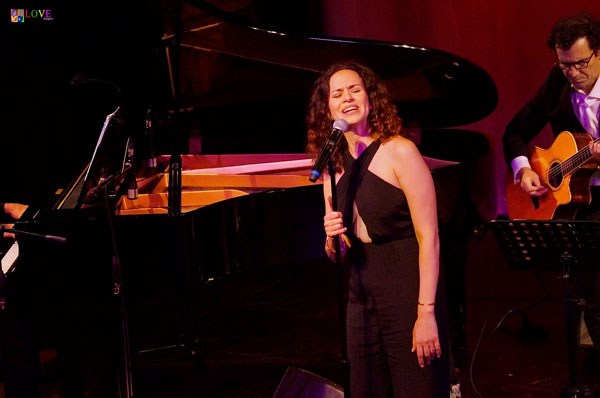 After audience members make their way out of the theater and back downstairs to the venue's first floor, we chat with several in attendance at the post-concert reception taking place in the HACPAC art gallery.
First, we catch up with opening act, Rachel Zegler, who exclaims, "To open for Mandy Gonzalez was such an honor!" before acknowledging, "I started performing in middle school. I've done community theater and even summer theater at BergenPAC," before concluding, "Someday, I'd like to be a musical theater actress like Mandy Gonzalez."
Next, we chat with several audience members including Anna — originally from Puerto Rico — who comments, "Mandy Gonzalez was everything tonight! 'Fearless' was so good!" before adding, "And Mandy recognizes that you need to give today's youth a chance — you have to pass it on."
Anna's friend, Sima from Ridgefield Park, agrees noting, "Mandy Gonzalez was fantastic!" explaining, "This was different from other shows. She told us about parts of her life. She was alive. She was communicating. You honestly felt her in every song — like she truly wanted to share herself with us."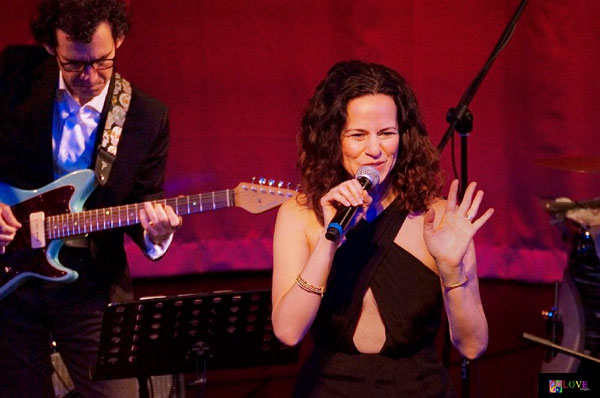 Merielle from Hillsdale remarks, "I've been a fan of Mandy Gonzalez since she performed in Dance of the Vampires — which I saw seven times. I've also seen her in Hamilton twice" before exclaiming, "Her performance quality is always incredible!"
Merielle's companion, Tom from Hillsdale, agrees calling Gonzalez "Magnetic!" and stating, "I was floored by 'Being Green.' She makes all her songs so entertaining — she can sing anything!"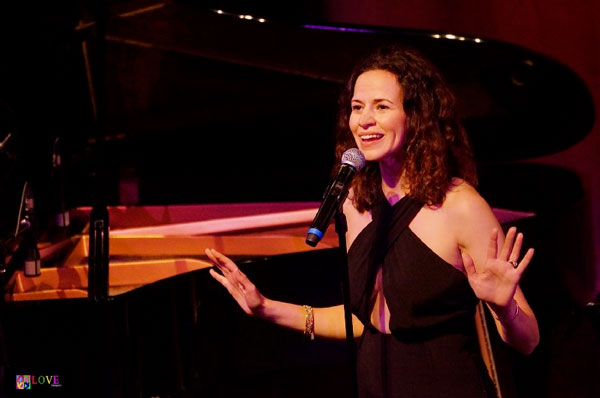 Michelle — a Broadway composer from Teaneck — declares, "Mandy Gonzalez is so accomplished, and I really enjoyed seeing her in this intimate space. My favorite performances were 'Being Green' from Wicked, her father's song "Get Ready," and the way she did Springsteen's 'Born to Run' in her own style."
Michelle's friend, Ruth from Hackensack — curator of the current art exhibition here at HACPAC — further adds, "She really made 'Que Sera Sera' her own."
Carol from North Caldwell agrees stating, "Mandy Gonzalez is fabulous! She crossed many generations of music tonight and she did them all so well." Adds Jerry from Hackensack, "She was outrageously good!"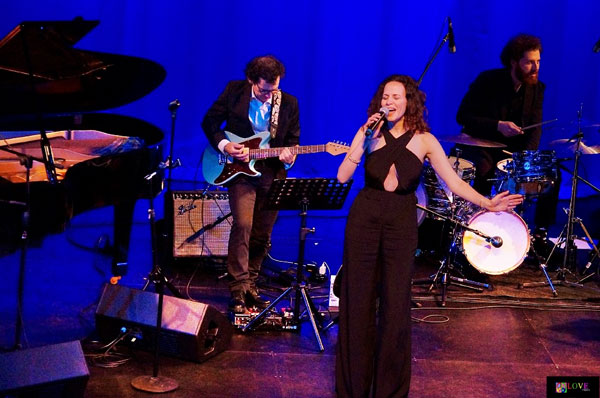 Lastly, we chat with Mandy Gonzalez herself.
When we ask her about one the finest musical and theatrical performances we've ever seen — her Off-Broadway appearance in Eli's Comin' — Gonzalez smiles and recalls, "That was my first show! I got picked from an open call audition and it changed my life," commenting, "It was magic," before lamenting, "I only wish we had recorded that show."
With regards to performing here at HACPAC tonight, Gonzalez exclaims, "It was fantastic! It is wonderful the way they encourage the arts here. It's a beautiful venue — the sound is incredible — and the audience was so receptive," before declaring, "It was nice to see people of all different ages — families with kids, and even grandparents — here to support their community."
When asked about her own support for up-and-coming artists, Gonzalez acknowledges, "I love going into communities. It's the community that builds you up, so that's something very important to me," before concluding with a twinkle in her eye, "I have a child of my own now and that's what I want for her."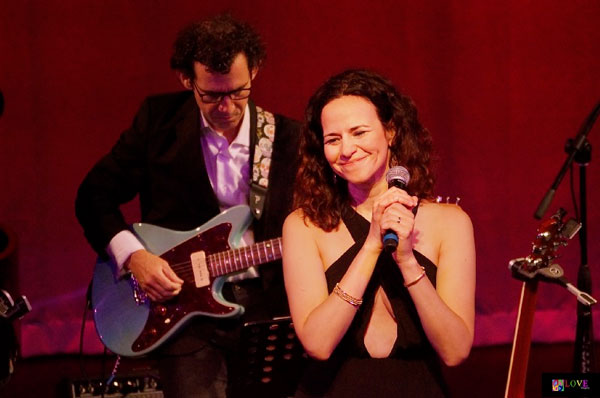 To learn more about Mandy Gonzalez, please go to mandygonzalez.com. To find out more about upcoming performances at Hackensack Performing Arts Center — including At Home on Broadway: A Musical Cabaret with Kimberly Marable of Disney's The Lion King and Shanice Williams who starred as Dorothy in NBC's The Wiz LIVE! on June 30, 2018 — please click on hacpac.org.
Photos by Love Imagery
Spotlight Central. Your source for Jersey entertainment news and reviews
Love Imagery Fine Art Photography. all you need. peace/love/flower/power