By Gary Wien
originally published: 03/22/2016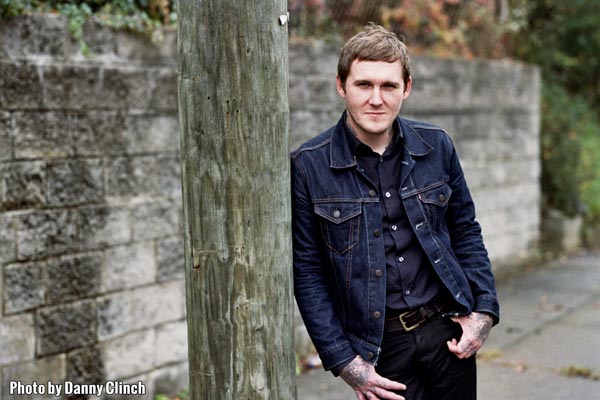 Last July, The Gaslight Anthem announced they would be taking a break following the conclusion of their European tour for Get Hurt.  It had been a great 10 year run for the band, but they all planned to do other projects and needed to take a step back before deciding what they wanted to do next. In March, lead singer Brian Fallon released his first solo album, Painkillers.  Some songs are easy to imagine as Gaslight tunes, while others veer into more country and folk music territory. Fallon spoke with New Jersey Stage about the record, what Jersey means to him, and why he thinks the band will play together again someday.
For many artists who have been with a band for a long time, releasing that first solo record is a bit scary.  Do you think you needed a little fear like this? Yeah, for sure.  Fear is a great motivator.  Not like the creepy news fear — 'Is something you're eating poisoning your children? Details at 6!' Not like that, that's just weird fear.  But I think a little healthy dose of nervousness is a great motivator, especially when it comes to art.
In many ways, this is like a first album. Oh yeah.  I mean, this wasn't an automatic go with the label.  I didn't just say to them, 'Hey, I'm going to put out a solo record.' I had to go through the whole signing process again.  They didn't sign me as a solo artist.  They signed me as Gaslight Anthem and that was all four of us, so we were all signed.  I had to go to them and say, 'I want to do a solo record.  Do you want to put it out?' And they were like 'Yeah, we do.'  So, I had to get signed again, which was cool because it sort of gave me a little bit of validation that whatever I had done was worth enough to them to take a chance on me.  They had no idea what kind of record I was going to make.  I didn't have any demos or anything.  And Gaslight never sold a million records.  We're not as big as people think we are.  But they took a leap of faith and I thought that was pretty cool.
In today's world, Gaslight is pretty big because the industry is now defined by touring.  For sure, I agree with you.  Again, I don't want to bust a myth, but there are still places where we play smaller venues.  Like the last time we played Kansas City we played a 700-800 sized theatre and it wasn't sold out.  That's not a small place, but it's small when you consider something like the PNC Bank Arts Center.
Gaslight Anthem has always had this up and down thing.  I guess that's what has kept us humble.  We always get these great achievements and then these humbling slaps in the face.
---
The article continues after this ad
---
---
Well, that's good too.  I think it is.  I think it's what makes us who we are.  It's like living in New Jersey; you get accepted and then slapped in the face!
That should be our motto. 'Hey, welcome to New Jersey.  You're gonna have good times and slaps in the face!'
Had you gone through the signing process with any of your side projects? You know, I considered initially doing it.  Either with The Horrible Crowes or Molly and the Zombies, but I had a really smart friend of mine who is a few years older than me say, 'Brian, I think now is the time for you to do a solo record.  I don't think you should be doing all these bands all the time.  Gaslight you should do and the rest should just be under your name.' I was like 'Why?' and she said, 'Because you have so many bands out there.  Say you did a Molly and the Zombies record - that means you can't play any Horrible Crowes songs and you can't play any Gaslight songs.  And it has to sound like Molly and the Zombies.  But if you go out under your own name it's different.  Look at people like Nick Cave.  They go out and change their style.'
It's like with Bruce Springsteen.  He can change his style from record to record and it doesn't matter because you can't define an artist as much as you can define a band.  Bruce can go out and do The River and that's a big rock record or Born to Run, which is almost theatrical, and then do stuff like Nebraska and The Seeger Sessions, which are totally like folk music.  And it all fits in the same planet, but he's not stuck. Bruce Springsteen just sounds like Bruce Springsteen.  It's not like, 'Well, you're a punk band. You can't ever not be punk.'
And I like that.  I want to play those Horrible Crowes songs.  I really like those songs.  So, I'm going to mix them in.  Maybe they don't fit, but I don't care because I listened to a lot of Greg Dulli growing up and he taught me that anything goes.
Did you take the solo record as a challenge or was there pressure in putting it out under your own name? You know what? There wasn't a lot of pressure because I wasn't afraid of going out under my own name.  What I was afraid of was — and this wasn't just me, the reason we took the hiatus is because we were all afraid of going out under the Gaslight Anthem name with something that we weren't sure about. And sort of diminishing the beauty that has become the career of the band.  So, we decided that we weren't sure what was next.  We weren't sure what kind of sound we should do.  And I don't mean what would be successful, I mean we didn't feel good about anything.  We didn't have a new batch of songs that we felt very good about.  We had a batch of songs that we felt like, 'eh, it's ok. These feel like C sides.' Being from the Shore, seasides sound great, but these were the C sides that aren't great.
So, we kind of said to ourselves, 'I think we need a break.'  We've been doing this band non-stop for almost 10 years now.  We need to figure out what we're going to do next because it's one thing to go out and release a bombast record like '59 Sound when you're 27.  That's like you're full of young fire and when you're 36, which I am now, I have a little less fire.  I'm more introspective.  I'm more thoughtful about what I'm writing about and what means something to me.  I'm not angry right now.  I'm not ready to take on the world in that way.  I'm not ready to say, 'Us against them!'
I feel like in order to do a great Gaslight Anthem album, it's got to be romantic and, at the same time, a little defiant and strong.
I always thought the Gaslight albums showed the best and worst of New Jersey — they had a total Jersey vibe. Yeah, that's what it was.  We had the celebrations and the heartaches.  Coming from here, you're just born into frustration.  I'm from the generation where you still kind of had that expectation of you do what your father did.  I remember the thought of being six years old and going to the Nestle factory (in Freehold) with my father and believing, 'I'm going to work here because that's what my father does.  And my father works on cars, so I'm either going to do this or do that.'  And I felt that was sort of a shadow hanging over me my whole young adult life.  It was like I don't get a choice.  Not that what he was doing was bad because I loved what he was doing.  My father could fix a car like a champ and when he made that coffee and brought it home it was the best coffee I ever drank in my life.  There was nothing wrong with his jobs, but they were not my choice.
I bought in when they said in America you have free choice.  I said I'm taking that to the limit. I listened to The Clash and I believed Joe Strummer.  I said I'm going for it.  So that sense of thinking that my future was decided for me, I didn't like that.  And it wasn't like my father was doing it, I felt that society was doing it.  At the time, in the early 80s, it was more common than you would have thought.  A lot of my friends are now roofers because their fathers owned a roofing business.  And they're making tons of money — making more than me sometimes.  But I wanted to choose for myself.  If I wanted to be a gas station attendant than that's what I wanted to be and I'd be the best one I could be.  That's not far removed.  That's why I think we have the highs and the lows because in New Jersey we were taught that about taking on your father's work.  In the Gaslight songs you can hear that when I say, 'walking in my old man's shoes.'
But there's also the fact that Bruce Springsteen, Frank Sinatra, Jon Bon Jovi — they all made it out of New Jersey.  And Bruce always told us, 'It's a town full of losers and I'm pulling out of here to win.'  I know there's some snarky blog that's going to make fun of me for saying it, but I don't care because it means something to me.  I am not afraid of being honest and being in love with something and being affected.  I'm from the era of 'tramps like us' and 'yeah, we're born to run, let's do it!'  That's New Jersey and I feel it doesn't happen in a lot of other places. There's a working class vibe, but there's also a freedom too.  I think that's written all over Gaslight Anthem and anything I'll write for the rest of my life.
Somebody in an Irish interview recently asked me, 'What is it like to be from New Jersey to someone from Ireland?' And I said, 'I can't tell you, you have to be from here.'  Because it's not like New York where you go, 'Oh, New York - there's the dirty and the tough and the glamour; there's the music and the movies and everything that came from New York.' In New Jersey, it's different.  You have to be from here.  It's got to be in your blood in order to come out.  
You mentioned guys like Bruce and Bon Jovi.  Both could live anywhere, but came back to live here.  Yeah, and I moved away and came back.  There's a certain groundedness that you have here.  While I was writing this record, I wouldn't have had the song "A Wonderful Life" if I hadn't been paying attention to what was going on with the people around me.  In Asbury Park, there are all these new businesses popping up and people trying to reinvigorate the town again.  And it's working.  I think there's a sense of 'Why not? Why can't I do this?'  And that sentiment — that drive — that was what I was writing about in "A Wonderful Life."
What are you most proud of with this record? For me, I'm most proud that it got done.  I think I'm proud that when I sat down with Butch Walker and a few others and we played back the record I thought the track listing felt perfect.  It just sounded good.  I felt proud of the record.  That was the moment that I realized… I haven't had that feeling in a long time.  It means a lot to me.  Just the fact that I completed the race.  I might never win a Grammy or whatever goal it is that you're supposed to get to dignify your music but I don't need it because I got what I needed.  I finished it and I felt good about it and I did it myself.  It kind of made me feel like I wasn't a flop.  I took some hits on the last record.  People were saying 'This guy's insincere.'  I was like, 'What do you mean I'm insincere? If anything, I'm sincere!'
Weren't the songs on that record actually a bit more personal than usual? Yeah. The deal is I took a lot of heat for being too sincere.  People would say 'That's cliché.' You know what's cliché? Saying things are cliché! When you're too cool for anything to affect you is foreign to me, coming from where I come from.
In New Jersey and the way we were brought up; we were breast fed on Springsteen records.  I believe in saying your strengths and your failures, and using them both to make you a better person.  Bruce has said the most basic human thoughts like 'Hey, this gun's for hire even if we're just dancing in the dark.'  If that was put out today, there would be 10,000 snarky little blogs saying 'That is the corniest line I ever heard. Dancing in the dark… what a cheeseball!' But it's actually the most profound thing you could ever say.  I remember being the guy coming home from work, my knuckles all cut up from sticking a wrench down into some engine compartment that you couldn't fit your hand into, covered head to toe in grease; washing up and saying, 'I've got no girl and I've got no money' and I'm going to quote the song, 'I want to change my clothes, my hair, my face.'  Man, I wanted to change everything.  And there's that line, 'There's something happening somewhere.' I knew that even if I could find a girl that was dancing in the dark with me and nothing else, that was enough for me.  I don't think that's foolish or cliché or cheesy to say.  I think it's bold.  I think that you're scared if you don't say stuff like that.
I'm just not afraid to be a little cheesy and I think there are some lines of my record people could say are cheesy.  On the last song of the record, "Open All Night," it says, 'I heard you came by, shook up by the radio, something about the top back, Wayfarers on.'  Now, I'm referencing Don Henley's song, "Boys of Summer" there.  Have you ever heard a song on the radio and it reminds you of something and gives you the chills? That's what I was talking about.  Don Henley writes great songs and I'm not afraid to say that.  One of my favorite artists in the world is Elton John.  I've been through this all before.  Back before there was a Green Day and before punk rock was acceptable, I used to get beat up for having a mohawk.  Literally beat up in Hackettstown, New Jersey in Warren County.  I got pounded! So, I'm used to getting pounding for not being cool, but I don't mind.  I'm not going to change myself because there's an audience out there who I know still believes in these things.  Again, as stupid as it sounds, they come home from work to wash up and go racing in the street.  That means the world to me because that's what I did.
You grew up in Monmouth County and then moved to Hackettstown right? Yeah, I was born in Red Bank and grew up there for a while.  When I was 12 or 13 we moved to Hackettstown.  After high school I quickly — I mean, lickity split - was out of Hackettstown.  I was out of there.  I knew this was not a place where it was going to happen.  I missed the Shore.  I was from the Shore and I got taken away.  I have some great friends from Hackettstown that I've kept life-long relationships with, but it just wasn't where I'm from.  When you take somebody out of where they're from, they never quite feel like they fit in.
Thinking back to the reasons behind Gaslight taking a break, I wonder if a break is needed for most bands.  I wonder if a break might have saved bands like The Beatles. When we were touring so long in the Gaslight Anthem, we would watch those "Behind the Music" documentaries on the bands that we liked.  The most common thing we ever heard was, 'I wish we took a break when we were tired.  Instead, we kept going and broke up and released a bad record." So, we listened.  We were like, 'We're tired.  Let's just stop.  We need a break from these songs.  I need a break, you need a break, everybody needs a break.'
We just had the courage to say 'Let's just see what happens.  Worse case scenario we can always come back and do it again.'
Do you think you guys will come back or is it still up in the air? It's too early for me to have a feeling one way or another.  I think if we have a great idea — I could not see the rest of my life going and us not playing again.  That would be really weird if we didn't ever play together again.  But, I think that's one of those things that you just have to have a faith in the future and stick it out. Nobody's punched each other, so I think it's pretty good odds we're going to get up and play again at some point.  I don't know if we'll do a record or whatever.  If we do, we do, but I can't imagine never playing with those guys again.
Did the comparisons to Springsteen's music surprise you? Or did you just expect to hear them being a guy from Jersey with a guitar? I kind of took it from the latter.  I knew I was a guy from New Jersey from the same area with a guitar, so they're probably going to compare me to Bruce Springsteen.  The thing that frustrated me the most - now that I have some distance on it — the real deal was that I was trying so hard to sound like the E Street Band because, in my head, that's what I wanted to sound like those first three records.  And it was so far from that I got frustrated. What do you mean we sound exactly like the E Street Band? Benny (Horowitz) doesn't play anything like Max Weinberg.  There's no horn.  There's no piano.  This is a punk band.  And that came from my own looking at it from the inside.  I was like, some dude from Europe is not going to tell me what sounds like the E Street Band and what doesn't.  I'm from here and I know exactly what sounds like the E Street Band.  He's my friend.  Don't tell me what sounds like what.  And I thought as the records went on they got further and further away from that.  American Slang doesn't sound like Bruce Springsteen at all.  Handwritten sounds even less like Springsteen.  So, it became this overdone, redundant go to thing for the press to say.  Honestly, it was just lazy journalism.
The thing that would have been more accurate is if they said,' Hey, we know you're a big fan of Springsteen and you're influenced by him, can you show me the influence?' And I would have said, 'It's right here.  You can hear this and here's where I got this from and this came from other bands.'  But instead, it almost became like I was defending myself against something that I loved, which is a very hard thing to do.
To me, Bruce has a rock vibe and you guys clearly had a punk vibe. It always seemed like they were stretching things to say you sounded alike.  That's what I thought, especially in the years after '59 Sound.  In the early records like Señor and the Queen I was really trying to Springsteen it up as hard as I could.  But after '59 Sound, I let it go.  I was like, I can't get this right.  That's his sound.  I've got to come up with my own sound.  But what I realized was that we already had our own sound.  There was three other guys in the band that made a sound that had nothing to do with me.  They were doing stuff that was out of left field and no one ever gave them enough credit for the additions they made to the band.  And I think they were fantastic additions.  It was a discredit in a way to say 'They just sound like this.' It's like, did you listen to the record? Point out to me which Bruce Springsteen songs sound like "45"?  Oh right, none of them do.  I consider myself a little bit of an expert on Springsteen records because I've studied them religiously like college.
So, at the same time it was a compliment, it was frustrating to me because it was something I was never able to achieve.  If you left me in a room on my own and said, 'You can have any sound that you want.' My records probably would have sounded just like Bruce's records.  Because that's what I like.  But, the fact is, there were three other guys that didn't sound like that.  You've got this guitar player (Alex Rosamilia) who plays like The Cure and a bass player (Alex Levine) who plays like The Clash and a drummer (Benny Horowitz) who plays like Led Zeppelin.  That doesn't sound like the E Street Band and I know what the E Street Band sounds like - I feel like I'm the president of the fan club!
---
Gary Wien has been covering the arts since 2001 and has had work published with Jersey Arts, Elmore Magazine, Princeton Magazine, Backstreets and other publications. He is a three-time winner of the Asbury Music Award for Top Music Journalist and the author of Beyond the Palace (the first book on the history of rock and roll in Asbury Park) and Are You Listening? The Top 100 Albums of 2001-2010 by New Jersey Artists. In addition, he runs New Jersey Stage and the online radio station The Penguin Rocks. He can be contacted at gary@newjerseystage.com.
---