By Gary Wien
originally published: 08/23/2020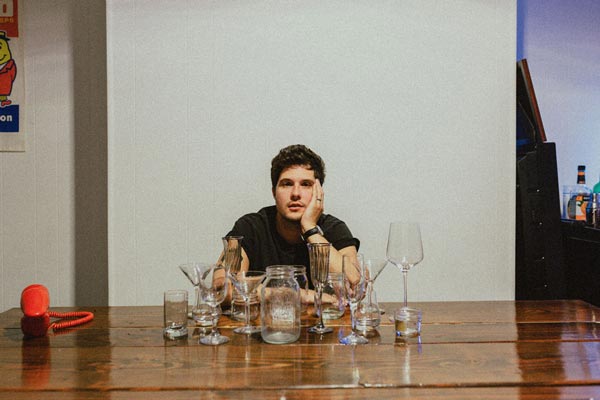 The pandemic has been difficult on all of us, but it's been especially harsh on musicians who routinely spend much of each year on the road.  That's where the majority of their income is made - everything from selling CDs and merch to money earned at the club. Equally as important is the ability to perform in front of strangers who wind up becoming fans.  For the Brooklyn-based artist Brian Dunne, the pandemic was the first time in years he could honestly say he wasn't on tour.
Dunne had a decision to make in the early days of the lockdown: release his latest album or hold off for the opportunity to do a proper release and promotional tour. Believing that this was his strongest album yet, he decided to release his Selling Things on April 10th. 
"It was a weird moment of contemplation," recalled Brian Dunne.  "My manager wanted to push it back, but I felt an obligation to release it.  I felt if the one thing in the world I have to offer is music and people are sitting at home and they're scared - and that month particularly felt like a harrowing month - this is my best bet at helping at all.  I felt an obligation to release it even though timing wise for my career it's not exactly an economical move."
This is Dunne's third full-length album.  Back in the days when FM radio was instrumental to the music industry, third albums were often key for artists.  Great third albums helped break artists like Bruce Springsteen, U2, and Green Day.  Dunne felt he was making something special that could lead to his break out as well.  He still feels that way and hopes that the album will find a broader audience over time; perhaps when venues are open again and he's able to promote the record on stage.
"I do think there's something to do and the subject matter of the record kind of oddly matches the harrowing times," said Dunne.  "The people that have found their way to it seem to have connected to it.  I'm just doing everything I can to get it out there, but there's only so much you can do from your home."
---
The article continues after this ad
---
---
Dunne grew up in Monroe, New York and moved to the city about a decade ago.  Like many artists in their twenties, the lure of New York City brought excitement, hope, and ultimately a unique set of challenges.  One was realizing that he may have missed out on a rather vibrant time for artists.
"When I moved here there was definitely a sense that something was ending," recalled Dunne.  "There had been a ten year scene from 2001 to 2011 that included bands like The Strokes, Yeah Yeah Yeahs, and LCD Soundsystem.  There were bands who played The Mercury Lounge one night and a year later were the musical guests on Saturday Night Live.  There was definitely a sense when I moved here that I got to the party as it was ending, as though they were packing up.  For the first two years, I struggled hard because you're dealing with your romanticized view of New York City.  You're traveling to all of the places you've heard about.  But the second you've heard about something and its made its way to the suburbs, it no longer exists on the cutting edge of discovery.  So it was a lot of falling on my face."
He not only made his peace with the city, it became a big part of his art.  He learned how to separate life from the city, realizing that a singer-songwriter like himself cannot do everything from New York.  That revelation led to becoming a regular touring artist.  And one of the advantages he discovered is by traveling around the country, it made him love New York City more.
"There's no place like New York," said Dunne.  "I see it as a muse. Sometimes I have to steer away from it because it will be all I write about."
In fact, Dunne originally planned to create something of a concept record detailing each year of his twenties in New York City.  The election in 2016 changed things.  Dunne saw the world turned upside down and realized the people of his generation were coming of age in a time that needed to be reckoned with.  Part of that included struggles with emotional and mental problems - something he saw among his friends as well.  In a way, he sees the songs on Selling Things as selling his own personal thoughts and feelings, and almost serving as a therapy session for himself and his audience.
"The songs on this album don't come with a lot of resolution," explained Dunne. "As a writer, your instinct can be to try and wrap things up in neat little bows and promise everybody that everything's going to be alright, but that just didn't feel real to me. I think that there's always a struggle.  That's sort of why we have music to deal with the trauma being thrust into human life."
"The things that inspired me growing up were songs that weren't rooted in happiness and weren't tied up with a bow," he continued.  "I think with many songs of turmoil, the happy ending is that there is a song.  If you're sad or feeling alone or feeling angry, songs that get inside that emotion can make you feel less alone.  They give you a road companion to be your friend in that angst."
Cause all my life, I don't know / Honey how to let it go 
How to learn to stand with what I am / And what I cannot control 
'Cause you can tighten up your rope / But you'd be chasing a ghost 
And it's not enough to kill you / but it'll get you pretty close
-- "Chasing Down a Ghost"
When turning personal lyrics into songs, a good relationship with a producer is very important. Selling Things was recorded in Los Angles and produced by Andrew Sarlo, a long-time friend of Dunne. It offered him a built-in sense of trust that is hard to find and which helped bring out his best work.
"We have a deep bond because we've known each other since we were teenagers," said Dunne.  "We've moved our careers independently forward, and I love working with Andrew.  It goes without saying that all of the songs I deliver to him are going to be written from some core thing, but when we get in there it's just making sure everything is as tight as can possibly be.  I don't know if I would trust somebody else to be doing that - to be giving notes on things I hold so personal. But because we have a personal relationship, I know we can cut the bullshit so to speak."
Here it comes again / every time I think it's gone / it's in my lungs again  
Like a drug we're running on / I don't think I can kick this shit
I don't think I'm gonna change my ways / I think that I'm learning to love the pain
-- "Like a Drug"
Being stuck inside during the pandemic has taught Dunne that what he misses the most about touring is sharing his music.  He's tried to take advantage of the time off to write new material.  It's an opportunity he has never been afforded before, but he's anxious to return to the road.  In fact, he's starting a mini tour of performing in empty venues across the country.  He goes there with a camera crew and films a complete concert.  It's a good way to stay in touch with the venues and he either splits the money earned or gives it all to the venue.
"They're hurting too," noted Dunne.  "The future is uncertain, but I will be touring as long as I can make music. But if there's no place to tour that's going to be difficult to pull off."
He has been performing virtual concerts, but says the majority of them basically reach people who are already interested in the artist's music.  He equates it to putting a bandaid on a head wound and longs for the day when he can stroll into a new club for the first time.
"It sounds almost ancient, because it's surprising, that people will buy a ticket to a show for someone they haven't heard, but people still do that," he continued.  "When you go to different towns and the show is mentioned in the paper, people do take a chance and roll the dice on you.  That's been the hardest part of this year for artists like me.  Financially it's difficult, but it's always difficult to be an independent artist.  That's nothing new.  The hardest part has been the inability to share music with new people; to get the word out - especially when you're sitting on a new record.  You don't get into the independent arts scene to become rich quickly.  Touring is the best way to share your message with new people.
"I hope when touring resumes that I'm able to give this record the audience it deserves and share it around," said Dunne.  "I think there's going to be a lot to say about all we've been through as a human race.  I hope I can harness that on whatever I do next.  It's a pretty big task.  What's going on now has never been put into song before. Something I'm sort of reveling in right now is that as difficult as this time is, I've got a pen, I've got paper, and my microphone setup.  And I've got an album I'm proud of to show people.  As soon as I'm able to get it out to a broader audience, I will."
---
Gary Wien has been covering the arts since 2001 and has had work published with Jersey Arts, Elmore Magazine, Princeton Magazine, Backstreets and other publications. He is a three-time winner of the Asbury Music Award for Top Music Journalist and the author of Beyond the Palace (the first book on the history of rock and roll in Asbury Park) and Are You Listening? The Top 100 Albums of 2001-2010 by New Jersey Artists. In addition, he runs New Jersey Stage and the online radio station The Penguin Rocks. He can be contacted at gary@newjerseystage.com.
---