By Gary Wien
originally published: 09/21/2015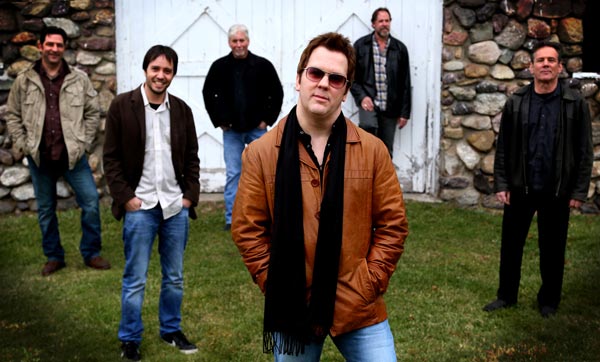 Sometimes you see something while driving that captures your eye.  It could be the way the sky is incredibly clear that day or someone walking along the side of the road.  For Brian Fitzpatrick (leader of Brian Fitzpatrick and the Band of Brothers) it was a sign saying, "Welcome to the Heart of the Black Dirt."  He jotted it down in his phone that day so he wouldn't lose the wording.  Within a week later he had written the song which would be the title track of the band's latest record.  But it wasn't until the band played the song at a show in Middletown, New York that he learned one of the meanings of the sign.
"Onions!" an audience member yelled when the song was announced.
"I didn't know what it meant," recalled Fitzpatrick.  "I'm like why is this guy yelling onions at me? It turns out that's what they grow in the black dirt — they grow onions. So, it became an ongoing joke that it's an album about onions."
Brian Fitzpatrick and the Band of Brothers is a rock and roll band from West Milford, NJ.  They have been putting out some of the best records from the Garden State for over a decade, blending a classic rock vibe with hints of Celtic influence and lyrics that contain the personal honesty of a singer-songwriter and the vision of a folk artist.  Fitzpatrick's songs are often story based with vivid characters that come to life, a trait he thinks might be due to his Irish ancestry.
"I don't know if it's an Irish thing, but the Irish were always good storytellers," said Fitzpatrick.  "My mom was an excellent story teller and my dad's a good story teller.  My brother, to me, is one of the greatest story tellers on the planet.  I've always been a massive Bob Dylan fan.  I like the art of story telling.  I love writing music and playing music, and so when the two worlds come together I think it's as cool as it gets artistically speaking."
---
The article continues after this ad
---
---
His band includes Ed Fritz, Steve Jacobus, Freddy Machetto, Scott Minafri, Johnny Powers, and Joe Brensinger.   You are most likely to see them perform around North Jersey or Middletown, NY, but the band did recently make a return to The Bitter End in New York City for the first time in about a decade.  At this point in the band's history, Fitzpatrick admits there isn't a plan.  They're just recording records and performing because they enjoy it.
This record was recorded at Fitzgerald's house — the first one for the band done outside of a traditional recording studio.  Fitzpatrick engineered it and had a friend handle the mastering.  Recording a record this way was liberating for the band.  They no longer needed to have everything ready before entering the studio, no longer had the pressure of paying for each hour of studio time, and could simply let the record evolve on its own. In fact, the original idea was to simply put out a few singles.
"I'm old school," admitted Fitzpatrick.  "I still want to have a record — a snapshot of that portion of time.  I think a record is called a record for a reason.  It's a record of that point in time.  If I look back on any of my records like State of Grace or Further Down the Line, those were like one or two years of my life recording and writing those albums.  It's not just the songs, but you remember where you were at that point in your own personal history.  You remember where you were living, who you were dating, that kind of stuff.  I don't know if I'm exploring my life in these songs.  I think I'm just living and having experiences and formulating them into songs.  Then recording them and putting the records out."
Fitzpatrick is somewhat nostalgic for the way music used to mean everything to kids.  He remembers the way he was encouraged to give records that he may not have liked the first time a second and third chance to grow on him because he spent money to buy them.  He recalls some of his favorite albums as among those that took time to form a connection.  Nowadays, he wonders if kids still make those same connections.  
"There's no value associated with music for this generation of kids," he notes.  "They'll go on some streaming service and because they're not paying anything for the music, they will download it once, listen to it, and decide if they like it.  If they don't, they'll just delete it.  I think inevitably that causes artists to cater to the lowest common denominator if they're interested in selling music or being popular.  It's like you better get to the hook within 15 seconds, better repeat the chorus 4 times in the end, and better not have your guitar solo too long."
Brian's "day job" is with Bayondai Design, LLC, a graphic design and video production studio that he owns.  While the company does work with Fortune 500 firms, it also does work within the entertainment business.  His portfolio includes album covers for The Rolling Stones, music videos for Michael McDermott, and book trailers for James Patterson.   The job allows him to pay the bills and incorporate his creative side as well, leaving him the freedom to create the records he wants to create.  For years, that's all Brian Fitzpatrick has been doing.
"It's always been 'set them up and knock them down' — 'make the record, move forward'," said Fitzpatrick.  "I don't like to spend much time contemplating what I did.  I never listen to my old records.  I just keep cruising forward.  I never thought it was a good thing if you stop and question yourself or if you spend too much time in one space.  I always believe in moving forward."
---
Gary Wien has been covering the arts since 2001 and has had work published with Jersey Arts, Elmore Magazine, Princeton Magazine, Backstreets and other publications. He is a three-time winner of the Asbury Music Award for Top Music Journalist and the author of Beyond the Palace (the first book on the history of rock and roll in Asbury Park) and Are You Listening? The Top 100 Albums of 2001-2010 by New Jersey Artists. In addition, he runs New Jersey Stage and the online radio station The Penguin Rocks. He can be contacted at gary@newjerseystage.com.
---