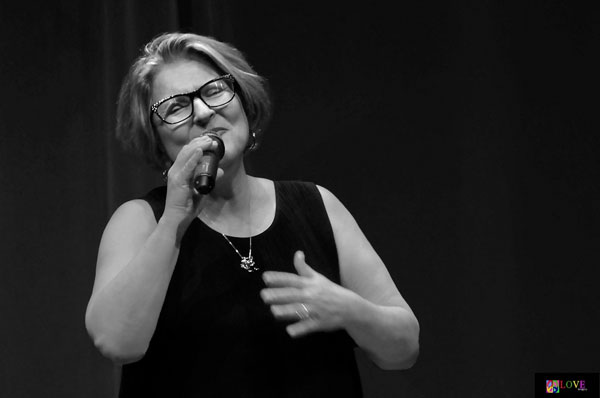 Sitting on a park bench outside Deal Park, NJ's Axelrod Performing Arts Center this lovely Wednesday Aug. 30, 2017 evening, we come upon Ray and Mary from Atlantic Highlands. The two music enthusiasts are here eagerly awaiting tonight's rare Jersey Shore solo concert performance by a long-time member of the world-renowned jazz vocal quartet, The Manhattan Transfer— Janis Siegel.
"We've been big fans of Janis Siegel and The Manhattan Transfer since the beginning," states Ray. "We've seen them in Atlantic City, at the Arts Center in Holmdel, and at the State Theatre in New Brunswick."
"We even saw The Manhattan Transfer's recent 45th Anniversary concert at The Blue Note in New York City," notes Mary.
When asked why they're so attracted to the music of Siegel and The Manhattan Transfer, Ray responds, "Because out of dissonance, they create great music," before going on to exclaim, "and they also know how to get the place rockin'!"
Explains Mary, "I like their tone, their harmony, and their sound," adding, "I just love how they can make their voices sound like instruments."
---
The article continues after this ad
---
---
Although the pair estimates they've seen The Manhattan Transfer perform between twenty and twenty-five times, both Ray and Mary are particularly excited about tonight's concert in that this will be their very first opportunity to hear Janis Siegel perform live in a solo concert setting.
As we make our way inside the Axelrod PAC's spacious lobby, we take a moment to chat with Bruce from Parsippany.
"I'm just thrilled that Janis Siegel is here!" reveals Bruce.
A music lover who estimates he's seen approximately 75 concerts this year, Bruce contends, "I've been a longtime fan of Janis Siegel and The Manhattan Transfer ever since high school. I've seen Janis perform with The Manhattan Transfer when they toured with Take 6. I even got to meet all of the members of The Manhattan Transfer after the show — and they are all nice!"
Explaining why he enjoys Siegel as an artist, Bruce discloses, "When Janis performs with The Manhattan Transfer, she is crazy good! She — and the rest of her colleagues — don't even need instruments to perform on stage; their voices are their instruments!"
Like Ray and Mary, tonight's concert will be Bruce's first opportunity to hear Siegel perform in a solo setting. Says Bruce about this unique experience, "I have several of her albums, so being able to see her perform solo is a real thrill for me."
Born in Brooklyn in 1952, Janis Siegel learned about the music business at an early age. By the time she was twelve, she was singing with an all-girl pop trio called The Young Generation. Before the girls had even graduated from high school, they had already released two singles — "The Hideaway" and "It's Not Gonna Take Too Long" —both produced by Richard Perry.
After high school, the trio shifted from pop to acoustic folk, renaming their group Laurel Canyon. Siegel attended college on a nursing scholarship, but left school in the early '70s to focus all of her energies on the new group before — on a chance meeting in 1973 — she was asked to become a member of The Manhattan Transfer.
The Manhattan Transfer was originally formed in 1969 by the Jersey Shore's very own Tim Hauser. Two years after the group disbanded, however, Hauser restarted the vocal quartet with new members Laurel Masse, Alan Paul, and Janis Siegel.
Honing their act in clubs in NYC, the foursome recorded a demo which was released by Atlantic Records. This recording — the quartet's breakthrough 1975 album, The Manhattan Transfer — produced a Billboard Top 20 hit, "Operator."
In 1978, Masse was replaced by Cheryl Bentyne. The group's first album with Bentyne — 1979's Extensions — produced the hit "Twilight Zone" in addition to a cover version of Weather Report's "Birdland." With lyrics by Jon Hendricks of the jazz vocal trio, Lambert, Hendricks, and Ross, The Manhattan Transfer won a Grammy for Best Jazz Fusion Performance and Janis Siegel won a Grammy for Best Vocal Arrangement.
The Manhattan Transfer made music history in 1981 by becoming the first group to win Grammy awards in both the popular and jazz categories in the same year. "The Boy From New York City" — a song which reached the Billboard Top 10 — won them a Grammy for Best Pop Performance by a Duo or Group with Vocal and "Until I Met You (Corner Pocket)" earned them a Grammy for Best Jazz Vocal Performance by a Duo or Group. Both songs came from the same Manhattan Transfer album, 1981's Mecca For Moderns.
In 1982, the group won yet another Grammy for Best Jazz Vocal Performance by a Duo or Group for its rendition of "Route 66." Moreover, Vocalese, released in 1985, received twelve Grammy nominations making it, at the time, second only to Michael Jackson's Thriller as the most-nominated album ever.
1995's Tonin' — a collection of R&B and pop tunes from the 1960s — featured Siegel and the rest of the Manhattan Transfer vocalists performing with a number of well-known guest artists. Collaborations included "Let's Hang On" with Frankie Valli, "Groovin'" with Felix Cavaliere, "I Second That Emotion" with Smokey Robinson, and "La-la (Means I Love You)" with Laura Nyro. The group also included innovative arrangements of such additional numbers as The Association's "Along Comes Mary" and Brian Wilson and the Beach Boys' "God Only Knows."
In 1998, The Manhattan Transfer was inducted into the Vocal Group Hall of Fame. Today, the quartet continues to tour and record despite Tim Hauser's death in 2014, at which point, singer Tim Curless was invited to join the group.
For most of the time she worked with The Manhattan Transfer, Siegel also maintained a separate solo career track, recording 13 albums including 1981's Experiment in White, 1987's Grammy-nominated At Home, 2002's I Wish You Love, and 2006's A Thousand Beautiful Things, featuring songs penned by the likes of Annie Lennox, Paul Simon, and Stevie Wonder.
During the course of her career, Siegel has additionally performed on a number of motion picture soundtracks — including A League of Their Ownand Dick Tracy — and also became a member of Bobby McFerrin's improvisational vocal group, Voicestra. These days, Janis not only continues to tour both with The Manhattan Transfer and as a solo artist, but also records and produces recording projects for other artists, in addition to teaching voice and conducting vocal masterclasses.
We take our seats inside the gorgeous Axelrod auditorium to see a stage dressed with a Steinway grand, a microphone stand, and a stool.
We are soon greeted by Axelrod CEO Jess Levy who welcomes the audience and tells them a bit about Ms. Siegel's background, describing her as a seventeen-time Grammy nominee, a nine-time Grammy winner, and a three-decade-long member of The Manhattan Transfer. He also mentions that, tonight, Ms. Siegel will be accompanied on the piano by John De Martino, a Grammy-nominated musician himself.
As the audience applauds, Siegel takes the Axelrod stage — her purple-streaked hair gleaming in the spotlight — as she introduces De Martino on the piano.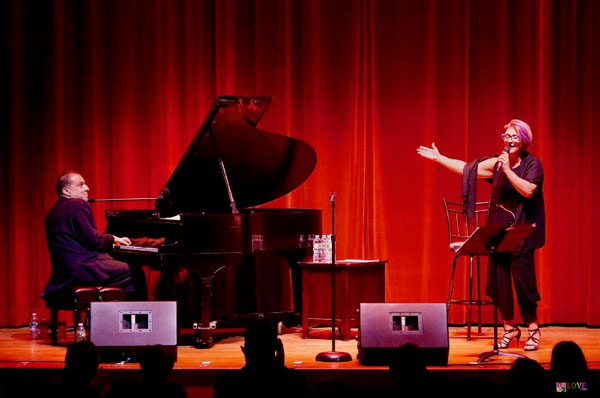 Siegel takes a moment to warmly welcome the audience to her show, warning them that there's a good chance we might hear "whistling, "weird trumpet sounds," and possibly, "even more" during tonight's program!
Opening with a trio of songs by composer Harry Warren, Siegal and De Martino open the musical portion of the evening's festivities with "You're My Everything." In the pristine Axelrod listening environment, Siegel's voice sounds beautiful — rich and resonant — not to mention well-supported by De Martino's skilled piano accompaniment. As De Martino tinkles the ivories, Siegel studies his fingers as they glide across the keys.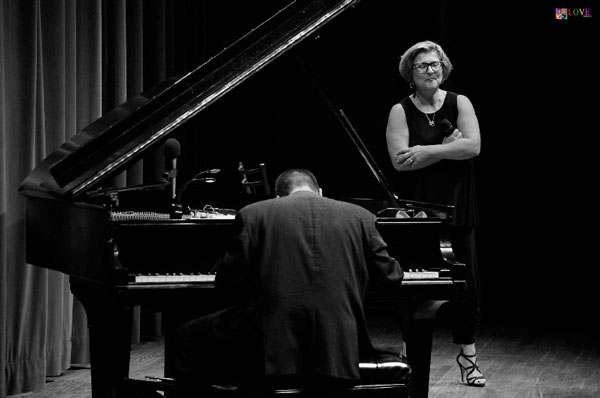 Afterwards, she goes on to improvise and scat with authority as the audience nods their heads and taps their fingers in time.
Following large applause, the duo segues into "Jeepers Creepers." Siegel's voice sounds like a trumpet as she scats around the melody, all the while accompanied by De Martino's chord comping, which is soon followed by a delightful piano solo.
To complete the Warren trilogy, Siegel gives an emotional performance of "I Wish I Knew," singing, "I wish I knew someone like you could love me/ I wish I knew you place no one above me/ Did I mistake this for a real romance?/ I wish I knew, but only you can answer," to which De Martino responds with a thoughtful piano solo.
Chatting with the audience, Siegel talks about The Manhattan Transfer's recent 45th anniversary, exclaiming, "We're currently celebrating four and half decades of four-part harmony… and madness!"
She also talks to the audience about two of her Manhattan Transfer colleagues who have Jersey roots — Alan Paul, who hails from Hillside, NJ, and the group's founder, the late Tim Hauser, who lived in nearby Ocean Township, NJ.
Dedicating this evening's premiere concert performance of Nat King Cole's "Nothing Ever Changes My Love For You" to Hauser, Siegel sings, "The earth may change from summer green to winter white/The brightest day can change into the darkest night/A grey cloud may change a sky of blue/But nothing ever changes my love for you."
Moving on to one of our favorite numbers of the evening, Siegel sings Rodgers and Hart's stunning "I Didn't Know What Time It Was." On this number, Siegel's youthful-sounding voice echoes the great Ella Fitzgerald's, and her expert interpretive, vocal, and microphone skills are all on display as she sings and scats to De Martino's savvy accompaniment.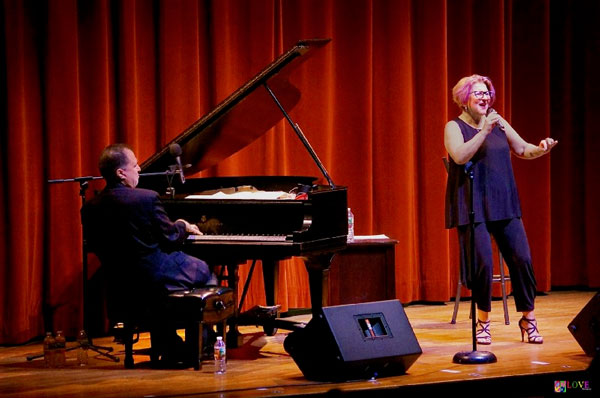 Announcing, "This next song is a nasty love song, and I think the world needs more like it!" Siegel performs the Rodgers and Hart staple, "Everything I've Got Belongs to You." As she swings, she sings, "I have eyes for you to give you dirty looks/ I have words that do not come from children's books/There's a trick with a knife I'm learning to do/And everything I've got belongs to you." During De Martino's piano solo, the audience chuckles as Siegel takes a well-deserved sip of water, motioning for De Martino to continue playing!
Likening tonight's show in the cozy Axelrod auditorium to performing in her own "living room," Siegel happily tells the crowd, "You're all welcome in my living room — next time, bring the snacks!"
Moving on to two Leonard Bernstein numbers from On the Town, Siegel impresses the audience when she scats like a brass player with a mute on "Lucky to Be Me."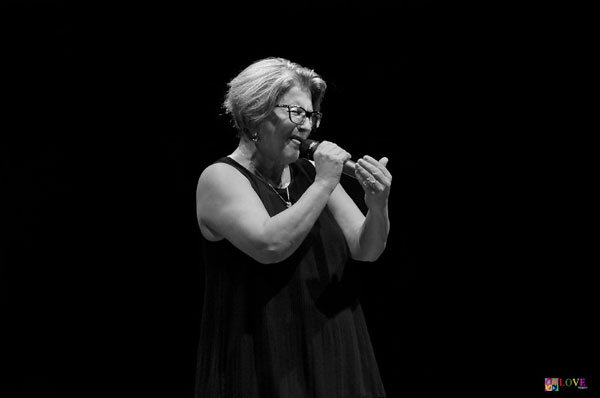 The appreciative Axelrod crowd reacts with applause as if to say it is they who are lucky to be able to enjoy Siegel's magnificent talent!
Moreover, on "Lonely Town," when her voice cries out, "A town's a lonely town/When you pass through/And here is no one waiting there for you," through her unstoppable talent, Siegel makes every listener understand and viscerally identify with the song's emotion.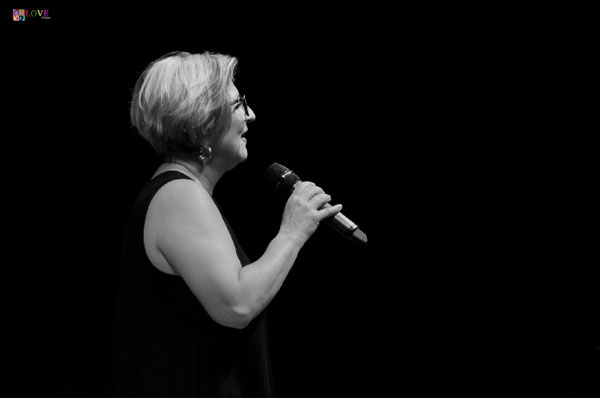 Stating, "I did a Broadway album and I did this song about the story of two women — or is it?" Siegel performs "The Story of Lucy and Jessie" from Sondheim's Follies, the percussiveness of her vocal style truly delighting the crowd. Following a nifty De Martino piano solo, Siegel vocalizes, and De Martino imitates her, initiating a playful banter between voice and piano which permeates the rest of the song all the way through to its glorious conclusion.
Talking a bit more about The Manhattan Transfer's founder Tim Hauser, Siegel reveals that Hauser happened to love Brazil and all of its natural beauty. As a result, she performs another number in his honor — "Alla Luce Del Sole" — a song about the light of the sun. On this lovely piece, Siegel's brilliant performance appears effortless, her voice not only sounding rich and resonant, but smooth and graceful at the same time.
Antonio Carlos Jobim's "One Note Samba" is up next, Siegel scatting around the song's main pitch. Inviting De Martino to "Play the notes you know, John!" De Martino shows he knows plenty and demonstrates so with a marvelous solo! Soon Siegel takes over the lead and De Martino answers with his own version of a solo. Then, both have fun trading licks for a while before returning to the established melody and large applause from the crowd!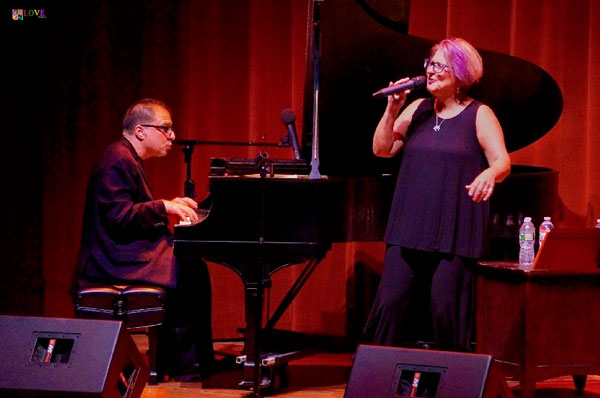 Additional highlights of Siegel's performance this evening include an upbeat and jazzy rendition of Lorraine Feather's ultra-cool, "I Know the Way to Brooklyn." When De Martino plays his tasty piano solo, Siegel proclaims, "He knows the way!" Soon Siegel joins in, however — her voice tripping and skipping along and sounding like a trumpet — the duo taking us all along with them on their way to Brooklyn!
Another highlight of the evening is a number which Siegel dedicates to her mentor, Jon Hendricks, about whom she tells the audience, "Jon will be 95 years old this year." Siegel mentions that Hendricks is considered to be one of the originators of "vocalese," a musical style adopted by The Manhattan Transfer on a number of their key recordings like "Birdland." This style is one in which artists add lyrics to existing instrumental songs, replacing certain instruments with their voices.
Wowing the crowd with both her technique and heart, Siegel and De Martino perform a "vocalese" version of Lee Morgan's "The Sidewinder" — a song about a "snake in the grass" — which Janis originally recorded with The Manhattan Transfer. On this number, Siegel's phrasing and diction skills are sublime and De Martino's accompaniment is absolutely spot on.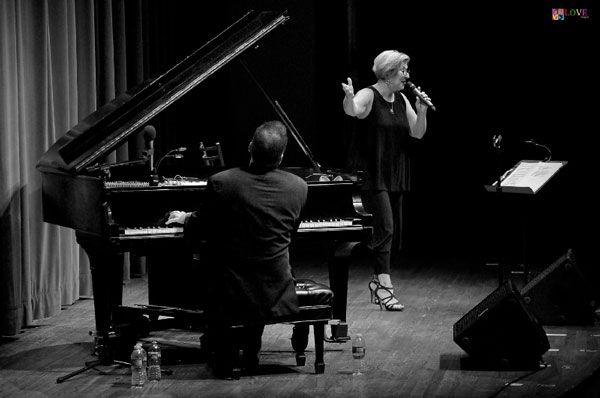 For their funky and upbeat performance, the duo receives a cheering standing ovation!
Siegel and De Martino soon return to the stage for an encore of Irving Berlin's "Change Partners," a performance which earns them even more exhuberant applause!
Following the concert, we chat with several members of the audience who tell us about their experiences enjoying Janis Siegel's solo performance here at the AxelrodPAC.
Shirley from Marlboro tells us she is a long-time friend of the Siegel family who remembers Janis was growing up in Brooklyn.
"I've actually known Janis Siegel since even before she was born!" reveals Shirley. "I was friends with her mother — very close friends," going on to recall, "I remember when Janis' grandmother used to sit Janis down at the piano and teach her how to play."
Acknowledging this is her very first time seeing Siegel in performance as a solo artist or as a part of The Manhattan Transfer, Shirley exclaims, "From those early days until today, Janis has gone on to become a truly wonderful musician!"
Shirley's daughter, Sandra, agrees with her mom, calling Siegel "Amazing!" and proclaiming, "She has the most beautiful voice!"
Likewise, Carol from Lakewood comments, "I'm just speechless — she was amazing! Her performance was all interpretive singing — nonstop, all night — and with that voice, she can do everything she wants to do!"
Arlene from Wayside agrees, commenting, "I loved every moment of this show! Janis has a phenomenal voice — a sensational voice. I loved her range — she can sing low, then way up high," adding, "And John De Martino was terrific, too. Together, they are just fantastic!"
Likewise, Sandy from Manchester remarks, "I loved this concert. Janis' versatility is amazing!" adding, "and 'Sidewinder' was my favorite because on that number you could really see the interplay between Janis' vocals and the piano."
Similarly, Arthur from Ocean Township declares, "I think Janis Siegel is a sensational, one-of-a-kind jazz singer," going on to note, "And John De Martino is out of this world — he's a wonderful pianist. They work together beautifully, and their repertoire is unusual and thrilling!"
As we make our way towards the exit, we also get a chance to catch up with Ray and Mary from Atlantic Highlands with whom we had spoken before the show. 

States Ray about Siegel's solo performance tonight, "Janis once again proved that she doesn't need an orchestra — she is a fine-tuned orchestra in and of herself. Her voice is an instrument!" to which Mary comments, "Ray just said it all."
And, lastly, we chat once again with Janis Siegel/Manhattan Transfer fan Bruce from Parsippany who sums up his feelings about experiencing this long-awaited Janis Siegel solo performance tonight in a single word:
"Breathtaking!"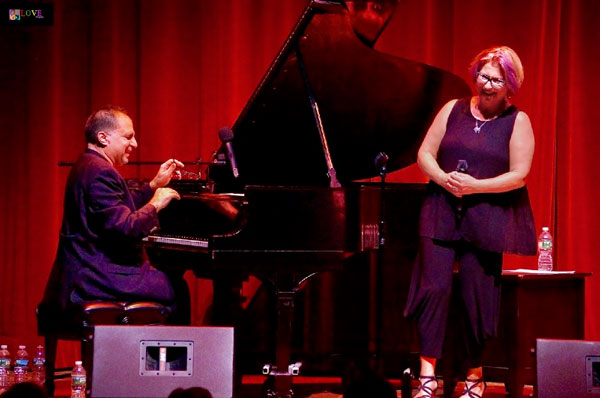 To learn more about Janis Siegel, please go to janissiegel.com. For information on The Manhattan Transfer — including dates on their 45th Anniversary tour — please go to manhattantransfer.net. To find out more aobut upcoming events at Deal Park's Axelrod PAC — including The Concert of a Lifetime featuring violinist Joshua Bell on Oct. 4, and A Gala Concert by Broadway's Kelli O'Hara on Oct. 28 — please click on www.axelrodartscenter.com.
Photos by Love Imagery
Spotlight Central. Your source for Jersey entertainment news and reviews
Love Imagery Fine Art Photography. all you need. peace/love/flower/power