---
BIG NEWS! Here's the latest Issue of NJ Stage Magazine -- Click here
---
Bob Burger At The Celtic
By Gary Wien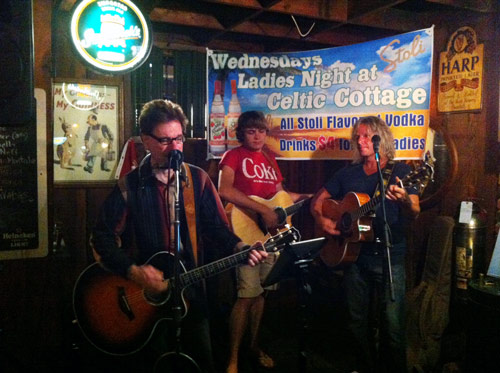 (LONG BRANCH, NJ -- JULY 12, 2012) -- There was a time when Bob Burger owned Thursdays at the Celtic Cottage in Long Branch. Sadly, he only comes by once or twice a month these days. Even though he's branched out and plays shows all over the area now, the Celtic is truly my favorite place to see him. I've heard some people label these shows as just cover nights, they're not only wrong about that but they clearly miss the point. On Thursday nights like these, Burger not only winds up playing the majority of his latest album as well as cuts from his other releases, but he plays them in front of a crowd that's become something of its own unique music community. It's like Cheers in a way, everybody knows your name.
Tonight Bob had Jimmy Leahey back as his guest. Leahey is probably best known for his work with John Waite and Dennis DeYoung, often performing on national late night television shows. Locally, he's also been a long time member of the Alice Project and is one of the nicest guys you'd ever meet. Just try to find a guy smile more during a set than Jimmy, you won't find one.

Burger played a mix of his own releases, classic rock requests from the audience, and new songs that will most likely wind up on his next album. I was only able to catch a portion of the night (due to the damn day job) but during a two-hour block, I saw Burger play originals like "Trying To Get Us All Killed", "Vintage Tweed", "Madalynn", "Crowning Achievement", "The Day After", "Empty Track", and "Cat and Mouse". New songs included "Free" and "Never Got to Memphis" -- both of which sounded great and have me looking forward to the next disc. Personally, I think Bob's writing is getting better and better and his last release, "The Day After", contains some of his best work to date.
Classic rock requests from the audience led to a set of Rolling Stones tunes and then a David Bowie set with some Beatles and U2 tunes in the mix as well. The way Bob mixes classic rock and his own songs is impressive and something many musicians can learn from. In the past decade, there's been only a few artists I know that have been able to get gigs anywhere -- even at the clubs that only feature cover artists -- and find a way to work in their own songs like Bob does. By the end of the night, the audience easily hears as much of Bob's original music in this setting as they would if he was headlining a shorter set at a club featuring only original bands. More importantly, to someone who had never heard his music before, the songs fit right into the setlist. They not only belong there, it's sometimes hard to tell which is classic rock and which is a Bob Burger original. He's that good of a songwriter.
I love the way he encourages the audience to throw out requests. You just never know what you're going to expect. Some of the regulars have songs they love hearing Burger play, but they often try to challenge him as well. Tonight, one guy asked for Ten Years Later, which was the first time I've ever heard someone request that band. A bit later in the night, the same guy asked for something from The Baby's (which featured John Waite), urging Bob to either learn a few of their tunes or force Jimmy to take over.
These Thursday night shows are always a great ride. Armed with an iPad for a little help with chords and lyrics to go with his knowledge of thousands of tunes, Burger is like a human jukebox. Next time you're looking for something to do on a Thursday, seek him out, he's bound to be playing somewhere. And if you're lucky enough to catch him at the Celtic, order yourself a Guinness (or a Harp, which is more my style), hang out for a while, and be amazed that we're in an area in which you can see someone as talented as this guy for free.
To see where he's playing next, check out http://www.bobburger.com
---
For more by this author, click here
---


Arijit Singh's New North American Tour Will Include Single Stop In Tri-State Region At Prudential Center on April 13
(NEWARK, NJ) -- Bright Brain Productions, the leading entertainment company based in California announced the "Arijit Singh LIVE Tour" in 12 cities all across the U.S. This is the first of its kind and largest tour done by Arijit Singh or any Indian artist. The tour beings on April 5 and travels through major U.S. cities culminating on May 5.  The tour stops at Prudential Center in Newark on Saturday, April 13 at 7:00pm.
---
Light of Day's Main Event To Be Broadcast Live at McLoone's Supper Club
(ASBURY PARK, NJ) -- If you couldn't get tickets for the fabled "main event" of the 2019 Light of Day Winterfest, you have another chance see the show.  For the first time in the 19-year history of the festival, the "main event", the star-studded "Bob's Birthday Bash" on January 19th (a show that has long sold out), will be broadcast live via fiber optic cable at McLoone's Supper Club in Asbury Park.
---
Wharton Institute for the Performing Arts To Hold Winter Open House On January 27
(BERKELEY HEIGHTS) -- Wharton Institute for the Performing Arts (WIPA) will host a Winter Open House on Sunday, January 27 from 1:00pm to 4:00pm. The free event is open to the public and will be held at the Performing Arts School (PAS) located at 60 Locust Avenue in Berkeley Heights.
---
Billy Idol and Steve Stevens To Perform At Count Basie Center For The Arts
(RED BANK, NJ) -- Billy Idol and Steve Stevens, one of rock's most iconic and enduring duos, will hit the road this March for their first ever tour performing as a duo: Turned On, Tuned In and Unplugged. The Billy Idol/Steve Stevens tour comes to The Count Basie Center for the Arts on Thursday, April 4th.
---
McDonald's Gospelfest To Celebrate The Life of Aretha Franklin With Return to Prudential Center
(NEWARK, NJ) -- The 37th Annual McDonald's Gospelfest returns to the Prudential Center on Saturday, May 11 for the gospel event of the year. This year's event will honor and celebrate the life and legacy of the "Queen of Soul" Aretha Franklin with an All-Star cast. The 5:00pm to 7:00pm portion of the evening will feature a rising stars competition for all ages and cultures in categories including Soloists, Choirs, Praise Dancers, Singing Groups, Gospel Comedians, Gospel Poets and Gospel Rappers. The gospel concert, beginning at 7:00pm, will feature some of the most renowned gospel artists in music history with the goal of spreading love, peace and joy to all races, nationalities and beliefs.
---


Scott Wolfson and Other Heroes At Riverside Rhythm & Rhyme
This coming Sunday, January 20, Scott Wolfson and his band will be serving up their unique blend of Americana at the Riverside Rhythm & Rhyme series at Investors Bank Theater in Succasunna, New Jersey. The band – Scott Wolfson and Other Heroes – formed in Jersey City in 2011, and, even though the members have migrated in various directions since then, they still consider themselves to be a Jersey City band.
---
"He Totally Wowed Us!" John Oates LIVE! at SOPAC
It's brisk for an evening walk on South Orange Ave. in South Orange, NJ, this Friday, Jan. 4, 2019 evening, but it's a good road to follow as it leads us directly to the South Orange Performing Arts Center (SOPAC) for a special performance by singer, songwriter, and guitarist John Oates and his backup group, The Good Road Band.
---
"Tons of Fun!" The Glenn Miller Orchestra LIVE! at the Grunin Center
Although Friday, December 21, 2018 is the shortest day of the year, the audience of big band music lovers here at Toms River, NJ's Grunin Center for the Arts is hoping for a long evening of classic swing and holiday tunes performed by the incomparable Glenn Miller Orchestra!
---
Mike Davis and The New Wonders
Mike Davis traces his love for the trumpet back to a Disney movie. He grew up in a musical family, with both his parents playing strings in the Seattle Symphony. But Davis wanted an instrument of his own. Then, at age 9, he saw "The Aristocats," the animated film about a bunch of French felines — including a group of jazz-playing alley cats.
---
Ana Gasteyer's "Holiday Tipple" LIVE! at the Grunin Center
The Grunin Center stage in Toms River, NJ is set this Saturday, December 15, 2018 with drums, a grand piano, a guitar, an acoustic bass, and various microphones for vocals. A stool and several microphone stands are bedazzled with colorful garlands of shiny red, gold, and green, and wrapped gifts are strewn on stage among the instruments. Projected white snowflakes adorn the walls, and Christmas music plays as patrons enter the theater to put everyone in the mood for tonight's holiday show — Ana Gastayer's Holiday Tipple!
---
Event calendar
Friday, Jan 18, 2019
---
MUSIC

---
---
---
---
---
THEATRE

---
---
Annie Jr.

@ The Oakes Center, Summit - 7:30pm
---
Some Girl(s)

@ Studio Playhouse Upper Montclair, Upper Montclair - 8:00pm
---
---
COMEDY

---
---
MISC

---
---
View all events
---