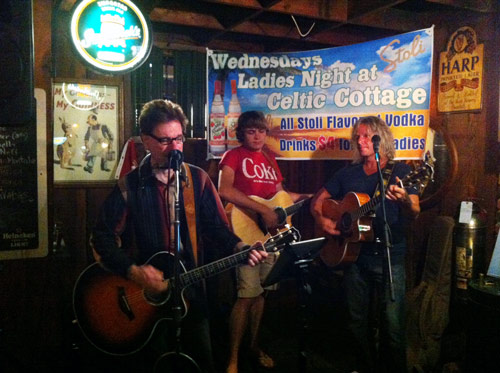 (LONG BRANCH, NJ -- JULY 12, 2012) -- There was a time when Bob Burger owned Thursdays at the Celtic Cottage in Long Branch. Sadly, he only comes by once or twice a month these days. Even though he's branched out and plays shows all over the area now, the Celtic is truly my favorite place to see him. I've heard some people label these shows as just cover nights, they're not only wrong about that but they clearly miss the point. On Thursday nights like these, Burger not only winds up playing the majority of his latest album as well as cuts from his other releases, but he plays them in front of a crowd that's become something of its own unique music community. It's like Cheers in a way, everybody knows your name.
Tonight Bob had Jimmy Leahey back as his guest. Leahey is probably best known for his work with John Waite and Dennis DeYoung, often performing on national late night television shows. Locally, he's also been a long time member of the Alice Project and is one of the nicest guys you'd ever meet. Just try to find a guy smile more during a set than Jimmy, you won't find one.

Burger played a mix of his own releases, classic rock requests from the audience, and new songs that will most likely wind up on his next album. I was only able to catch a portion of the night (due to the damn day job) but during a two-hour block, I saw Burger play originals like "Trying To Get Us All Killed", "Vintage Tweed", "Madalynn", "Crowning Achievement", "The Day After", "Empty Track", and "Cat and Mouse". New songs included "Free" and "Never Got to Memphis" -- both of which sounded great and have me looking forward to the next disc. Personally, I think Bob's writing is getting better and better and his last release, "The Day After", contains some of his best work to date.
Classic rock requests from the audience led to a set of Rolling Stones tunes and then a David Bowie set with some Beatles and U2 tunes in the mix as well. The way Bob mixes classic rock and his own songs is impressive and something many musicians can learn from. In the past decade, there's been only a few artists I know that have been able to get gigs anywhere -- even at the clubs that only feature cover artists -- and find a way to work in their own songs like Bob does. By the end of the night, the audience easily hears as much of Bob's original music in this setting as they would if he was headlining a shorter set at a club featuring only original bands. More importantly, to someone who had never heard his music before, the songs fit right into the setlist. They not only belong there, it's sometimes hard to tell which is classic rock and which is a Bob Burger original. He's that good of a songwriter.
I love the way he encourages the audience to throw out requests. You just never know what you're going to expect. Some of the regulars have songs they love hearing Burger play, but they often try to challenge him as well. Tonight, one guy asked for Ten Years Later, which was the first time I've ever heard someone request that band. A bit later in the night, the same guy asked for something from The Baby's (which featured John Waite), urging Bob to either learn a few of their tunes or force Jimmy to take over.
These Thursday night shows are always a great ride. Armed with an iPad for a little help with chords and lyrics to go with his knowledge of thousands of tunes, Burger is like a human jukebox. Next time you're looking for something to do on a Thursday, seek him out, he's bound to be playing somewhere. And if you're lucky enough to catch him at the Celtic, order yourself a Guinness (or a Harp, which is more my style), hang out for a while, and be amazed that we're in an area in which you can see someone as talented as this guy for free.
To see where he's playing next, check out http://www.bobburger.com