By Gary Wien
originally published: 05/25/2020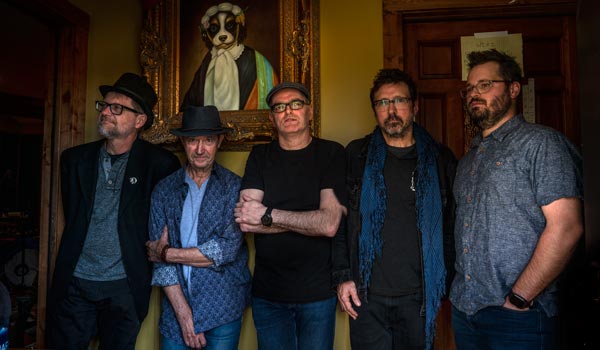 Irish artist Ben Reel released The Nashville Calling, his ninth studio album, at the end of March.  The plan was to promote the record with a month long tour of Holland and Germany, but the tour was cancelled when the world basically shut down due to the pandemic.  Instead, he's been promoting the record with live concerts streamed from his house each Friday on Facebook with his wife Julieanne.  It's a shame because this is his strongest album to date.
Up until this year, Reel had never done a live virtual concert before.  As to be expected, the concept of performing in front of an empty room is something that requires adjustments.
"The first night I did it, it was very strange," admitted Reel.  "This was the first time I ever performed into a camera and it was live as well, so that was even harder.  But I'm kind of getting used to it now - especially after a few beers."
The concerts take place at 9:30pm in Ireland, which means 4:30pm in New Jersey. Since Reel has played shows in many parts of Europe and a few shows in America, he's got people tuning in from around the world.  He can't wait to perform in front of an actual audience he can see again, but realizes that may not happen for a while.
"Who knows? It could be a long time before I can play a show in front of an audience," said Reel.  "Venues and bars are going to be the last things to come back.  When things start coming back to the point where people can mingle a little bit, I might put it out that I'm available for garden parties or something."
---
The article continues after this ad
---
---
The Nashville Calling was produced by Will Kimbrough and Tommy Womack and includes performances by both, along with Ben's wife and Garry W. Tallent from the E Street Band on bass. It was recorded in Nashville in just three days.  For a guy who often lists Bruce Springsteen as a major influence, playing with an E Street band member was a thrill.
"It was amazing!" continued Reel.  "I'm a big fan of Springsteen.  He was my first inspiration actually.  When I was 13, I went to see him at Slane Castle in Ireland.  It was the first days of the Born In The U.S.A. European tour and I think it was the first time Springsteen had ever performed in front of a crowd that big.  There were 100,000 people there and newspapers reported he freaked out a bit when he came out in front of that audience.  But it was a great show.  When I saw Bruce at Slane, I was hooked.  I said, 'I want to be like him!' So to be in the same studio as Garry Tallent, I had to pinch myself a few times. I mean, he's a member of the E Street Band! But he was very down to Earth and is a great musician."
Years after the Slane concert when Springsteen played a pair of shows in Kilkenny in 2013, Reel's band did four shows (two each night Bruce played).  They were billed as Ben Reelsteen and performed sets of Springsteen songs.  He laughs remembering that the promoter made posters calling it the "Me Balls Are Wrecked Tour" to contrast with Springsteen's Wrecking Ball Tour.
"I always thought it would have been funny if Bruce had seen that poster!" said Reel.
Recording in Nashville is special for any musician, but also very workman like.  Reel says it was like going to the office.  They'd work from 10:00am to 6:00pm and sometimes a bit later.  It was a tight schedule - two days tracking and one day for overdubs and backing vocals - but Reel liked the process and the end result.  Many critics are writing this is his most complete album and he tends to agree.
Reel is located in Northern Ireland, although he doesn't recognize it as its own country.  He refers to his area as the "occupied six counties."  Since his town is near the border of Ireland and Northern Ireland, he often performs shows throughout the south in places like Dublin, Cork, Kilkenny, and Galway.  He has a good fanbase in the Netherlands and Germany, so losing that initial tour for the new album was a big blow.
He's also been to Nashville several times and has even performed at the legendary Bluebird Cafe on a number of occasions.  Some of the music writers in Europe  have wondered about the title of the album since the music on The Nashville Calling isn't traditional country.  It's clear they haven't paid as close attention to Nashville as an artist like Reel has.  In the past two decades, roots music and even alternative rock bands have begun calling Nashville home as well.  The Nashville Calling was intended to mean that he felt a calling to go to Nashville. Looking back, Reel wonders if he might have made a mistake with the title.  
"I'm actually mad that I didn't call it 'All In Good Time' which might have been a good title," said Reel.  "Or 'Round the Next Bend' - there were a few strong titles that I could have called the album."  Both of those titles are songs on the album with the former being the song that kicks off the record.
New Jersey Stage first learned of Ben Reel several years ago from a service called AirPlay Direct, which the publication uses as one of the sources of music for its online radio station.  Reel has released several of his albums with them.  It's also helped him make contacts around the world for radio and press coverage.  We instantly took a liking to Reel's music, which reminded us of the music by Joe D'Urso.  Not surprisingly, the two have crossed paths in Europe.
"I met Joe more than ten years ago in Ireland," he recalled.  "I did a Light of Day show with him once, but didn't hear from him for years.  Then last November I did a Light of Day show again in Dublin.  Vini Lopez was on that show, so I got to meet Vini.  He told a few stories about being on the road with Bruce.  I actually got to play 'Growin' Up' by Springsteen with Vini on drums.  I couldn't believe I was playing with the original drummer on that song."
While live performances with his band are on hold, Ben Reel has been putting digitally remastered recordings of live concerts from over the years for sale on his website. These "live bootlegs" are available for download per concert or by individual songs.
"I've only put them up now because I had a lot of shows from the past which I didn't have the chance to mix or have time to mix," explained Reel.  "So during this lockdown period, I went in and mixed a lot of the stuff - just to put up on the website for people to download."
As of this writing, Reel has bootlegs available from a 2007 concert recorded for RTE Radio 1; a performance from a brewery in Monaghan, Ireland in 2008; a show from 2012 recorded at De Waag in Haarlem, Netherlands; and two shows from his "Land of Escape" tour in April 2018: one recorded at Cafe Studio in Haarlem, Netherlands and the other recorded live for radio show Crossroads.nl in Bergen on the last day of the tour.
Artists always want to believe their latest record is the best they've ever created, but The Nashville Calling just might be Ben Reel's best.  Even though the record is somewhat stuck in limbo due to the cancelled shows, he will never forget the making of this album.
"It couldn't have gone any better," said Reel.  "The whole experience and the trip over there was amazing.  The guys were incredible.  I mean, there are guys walking around Nashville with t-shirts that say "Will Kimbrough is an alien" and he bloody is an alien! I've never seen anybody as talented as him in the studio.  It's bonkers how good he was.  I'm very proud of it and I'm glad I did it.  It cost me a lot of money to do, but fuck the money, it was worth every penny!"
---
Gary Wien has been covering the arts since 2001 and has had work published with Jersey Arts, Elmore Magazine, Princeton Magazine, Backstreets and other publications. He is a three-time winner of the Asbury Music Award for Top Music Journalist and the author of Beyond the Palace (the first book on the history of rock and roll in Asbury Park) and Are You Listening? The Top 100 Albums of 2001-2010 by New Jersey Artists. In addition, he runs New Jersey Stage and the online radio station The Penguin Rocks. He can be contacted at gary@newjerseystage.com.
---