---
Did you know NJ Stage offers FREE Event Listings? Nearly 100,000 listings were viewed in January. Be sure to add your events to our calendar and get your shows noticed!
---
Belmar Holds 1st Annual Music & Arts Festival On August 21
By Gary Wien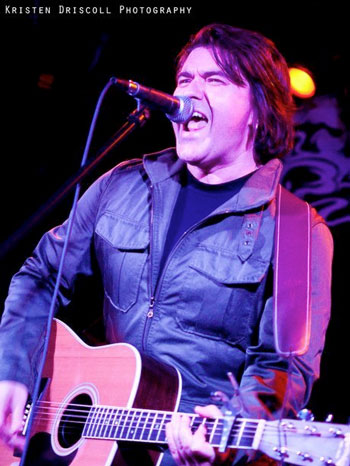 (BELMAR, NJ) -- While Asbury Park gets most of the credit, a little seashore town up the road named Belmar has had a pretty impressive musical history as well. After all, this is the town that put the "E Street" in E Street Band. On Tuesday, August 21, Belmar will hold its 1st Annual Music & Arts Festival to showcase some of the artists and performers who call the town home. Live music by the Danny White Band, Pat Roddy Band, and the Beach Music Rock Band will take place between 6pm and 9pm at the 5th Avenue Pavillion. Local artists will also be exhibiting their work. Admission is free.
"We are excited about bringing the music talent we have in Belmar to our outstanding beach for this First Annual Music Festival," said Belmar Mayor Matt Doherty.
Danny White, a long-time veteran of the Jersey Shore music scene was instrumental in putting the festival together. White said he pitched the idea to Doherty, who loved the concept and helped work to make the festival a reality.

"The musicians & artists of Belmar are lucky to have a mayor that is so dedicated to backing the arts & musicians of Belmar," said White. "Belmar has always had a rich history in music & arts. Pat Roddy is an institution in Belmar; people vacation here in town just to go see him and his band each summer. I've been fortunate enough to perform and work with some of my rock n roll heros like Springsteen, Mellencamp, CJ Eiriksson (U2) and work with kids on the shore at Beach Music Studios."
While known primary for its cover bands, Belmar has had its share of rock and roll history over the years from Van Morrison performing in town while "Brown Eyed-Girl" was climbing the charts to Bruce Springsteen jamming with local reggae artist Jah Love at the old Key Largo club. Those wandering the streets of the town in the seventies might even have been able to hear the E Street Band as they practiced in David Sancious' house. Sancious, who played keyboard with the E Street Band for a few years, went on to perform with dozens of world-famous artists including Eric Clapton, Sting, Peter Gabriel, Aretha Franklin, Santana, Jeff Beck, Yousou Ndour and many more.

Local author Gary Wien, who documented the Jersey Shore rock and roll scene in his book "Beyond The Palace", will be on hand with copies of his books for sale.
"Belmar is behind music & the arts and always has been and I think we should celebrate that. This event is set up to grow each year and I believe will be a source of pride for the community for years to come!," added White.
---
Photo by Kristen Driscoll
---
For more by this author, click here
---


Light of Day's Main Event To Be Broadcast Live at McLoone's Supper Club
(ASBURY PARK, NJ) -- If you couldn't get tickets for the fabled "main event" of the 2019 Light of Day Winterfest, you have another chance see the show.  For the first time in the 19-year history of the festival, the "main event", the star-studded "Bob's Birthday Bash" on January 19th (a show that has long sold out), will be broadcast live via fiber optic cable at McLoone's Supper Club in Asbury Park.
---
Wharton Institute for the Performing Arts To Hold Winter Open House On January 27
(BERKELEY HEIGHTS) -- Wharton Institute for the Performing Arts (WIPA) will host a Winter Open House on Sunday, January 27 from 1:00pm to 4:00pm. The free event is open to the public and will be held at the Performing Arts School (PAS) located at 60 Locust Avenue in Berkeley Heights.
---
Billy Idol and Steve Stevens To Perform At Count Basie Center For The Arts
(RED BANK, NJ) -- Billy Idol and Steve Stevens, one of rock's most iconic and enduring duos, will hit the road this March for their first ever tour performing as a duo: Turned On, Tuned In and Unplugged. The Billy Idol/Steve Stevens tour comes to The Count Basie Center for the Arts on Thursday, April 4th.
---
McDonald's Gospelfest To Celebrate The Life of Aretha Franklin With Return to Prudential Center
(NEWARK, NJ) -- The 37th Annual McDonald's Gospelfest returns to the Prudential Center on Saturday, May 11 for the gospel event of the year. This year's event will honor and celebrate the life and legacy of the "Queen of Soul" Aretha Franklin with an All-Star cast. The 5:00pm to 7:00pm portion of the evening will feature a rising stars competition for all ages and cultures in categories including Soloists, Choirs, Praise Dancers, Singing Groups, Gospel Comedians, Gospel Poets and Gospel Rappers. The gospel concert, beginning at 7:00pm, will feature some of the most renowned gospel artists in music history with the goal of spreading love, peace and joy to all races, nationalities and beliefs.
---
Bickford Theatre Presents Herb Gardner's Groundhog Jam
(MORRISTOWN, NJ) -- The great Groundhog Jam has a long history of prying jazz fans out of their warm burrows and into the chill of February weather in order to welcome the advent of spring.  The Bickford Theatre at the Morris Museum continues a tradition of hosting this event on Monday, February 4 at 7:30pm. Herb Gardner, who plays both trombone and piano, is assembling a stellar group of musicians from the New York, New Jersey, and New England areas including: Fred Vigorito on cornet, Joe Licari on clarinet, James Chirilloon guitar, Mike Weatherly on bass and Robbie Scott on drums.  Daughters Abbie and Sarah Gardner will be handling the vocals and guitar.
---


Scott Wolfson and Other Heroes At Riverside Rhythm & Rhyme
This coming Sunday, January 20, Scott Wolfson and his band will be serving up their unique blend of Americana at the Riverside Rhythm & Rhyme series at Investors Bank Theater in Succasunna, New Jersey. The band – Scott Wolfson and Other Heroes – formed in Jersey City in 2011, and, even though the members have migrated in various directions since then, they still consider themselves to be a Jersey City band.
---
"He Totally Wowed Us!" John Oates LIVE! at SOPAC
It's brisk for an evening walk on South Orange Ave. in South Orange, NJ, this Friday, Jan. 4, 2019 evening, but it's a good road to follow as it leads us directly to the South Orange Performing Arts Center (SOPAC) for a special performance by singer, songwriter, and guitarist John Oates and his backup group, The Good Road Band.
---
"Tons of Fun!" The Glenn Miller Orchestra LIVE! at the Grunin Center
Although Friday, December 21, 2018 is the shortest day of the year, the audience of big band music lovers here at Toms River, NJ's Grunin Center for the Arts is hoping for a long evening of classic swing and holiday tunes performed by the incomparable Glenn Miller Orchestra!
---
Mike Davis and The New Wonders
Mike Davis traces his love for the trumpet back to a Disney movie. He grew up in a musical family, with both his parents playing strings in the Seattle Symphony. But Davis wanted an instrument of his own. Then, at age 9, he saw "The Aristocats," the animated film about a bunch of French felines — including a group of jazz-playing alley cats.
---
Ana Gasteyer's "Holiday Tipple" LIVE! at the Grunin Center
The Grunin Center stage in Toms River, NJ is set this Saturday, December 15, 2018 with drums, a grand piano, a guitar, an acoustic bass, and various microphones for vocals. A stool and several microphone stands are bedazzled with colorful garlands of shiny red, gold, and green, and wrapped gifts are strewn on stage among the instruments. Projected white snowflakes adorn the walls, and Christmas music plays as patrons enter the theater to put everyone in the mood for tonight's holiday show — Ana Gastayer's Holiday Tipple!
---