By Gary Wien
originally published: 01/25/2020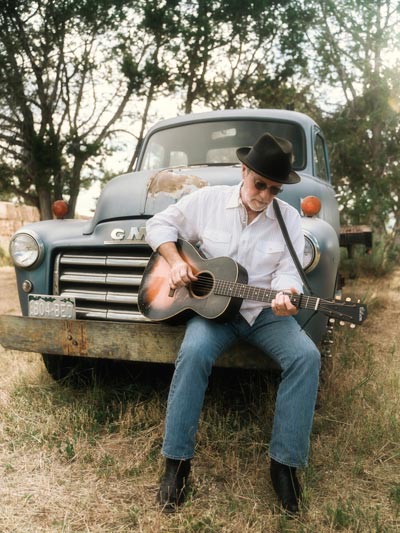 Americana artist David Starr has been on a terrific creative streak in the last five years, releasing several albums that were among the best of each year including Love and Sabotage (2016), The Head and Heart (2017) and South and West (2018).  He's about to release Beauty and Ruin, an album inspired by a book called Of What Was, Nothing Is Left - the last book written by his grandfather before he died.
Starr's grandfather, Fred Starr, was an educator, farmer, politician, and a writer who wrote for newspapers and published several books - both nonfiction and fiction. Of What Was, Nothing Is Left: A Suspense-Packed Tale of Arkansas was published in 1972.  He died in 1973.
"As a kid, I knew him well and spent a lot of time with him," said David Starr.  "I was aware that he wrote books, but that didn't interest me as a kid.  I was playing drums and doing the stuff a kid does.  Just a few years ago, I read the last book that he wrote.  As a songwriter you're always looking for material and inspiration.  I read it and thought there's a lot going on in terms of the characters and the scenario; the qualities that come with being human beings and family and things.  I bought up some copies of the books off of amazon.com and gave one to John Oates, who I had worked with on another project and had written and played with before.  I said, 'Would you read this and see if you think there is song material in here?' But I kind of knew the answer already.  He came back in a few days and said, 'This is great.  What do you want to do?' and my idea was to give the book to some songwriters and see what inspires them."
Set in late nineteenth-century Arkansas, John Oates said reading the book was like watching a movie, "The cinematic aural landscape visually evokes a classic tale of tragedy, love gone wrong and an exploration of human nature and all its flaws." 
Starr thought the book would appeal to songwriters. "Mostly what it was about that book was that it was a little on the dark side and you know songwriters, they like that stuff," he explained. "The idea for everybody on the project was that we're not going to worry about retelling the story so much as what is it in the book that speaks to you.  A good example is with John Oates.  The first thing he said was, 'I like the name of the town Jubilee.  That one's mine.'  And in the case of Doug and Telisha Williams from Wild Ponies they sort of gravitated to the idea of a parent's grief over losing a child, which happens in there a couple of times.  So the idea was whatever speaks to you, let's use that as your jumping off spot for a song."
---
The article continues after this ad
---
---
The album is not designed to follow the book's story in chronological order.  The track order was based on the way the songs sounded as they flowed from one track to another.  While most of the songs deal with the book, one track in particular was actually inspired by a dream.
In August 2018, Starr and his wife went out to dinner.  When they got home, Starr didn't feel good.  He says he waited a day and a half to go to the doctor, and soon found himself needing surgery.  It was the exact same surgery that his father had gone through shortly before he died. 
"It just occurred to me all of a sudden that this looks a lot like that last thing he dealt with," recalled Starr. "That was pretty frightening, so when I went into the hospital to have the surgery I had a pretty vivid dream that involved my grandfather and my father.  I wrote the song 'Rise Up Again' and sent it to John. He said, 'I really like this, but let me work with it a little bit.' He made a few changes that I think made it better; moved some lyrics around, worked with the chord structures and stuff. That's a good example of one song that wasn't directly from the book, but by way of my father and grandfather found its way into the project.  The book itself deals with death and mortality quite a lot, so I thought this fit right in.  It's funny how things just find their way into a project like that, but it worked out well."
In addition to John Oates and Doug and Telisha Williams, Starr collaborated with Jim Lauderdale, Wood Newton, Dana Cooper, Irene Kelly, and Shelley Rae Korntved on the album. He wound up writing or co-writing every song on the album with the exception of "Wild Ponies."
His work with John Oates began quite a while ago.  Starr, who lives in Cedaredge, Colorado, lived in Aspen during the 80s.  Oates also had a home in Aspen as did many of his band members.  One night, the band members suggested David come play with them for a show. Things went well and Starr would go on to play with Oates on some duo shows and they started writing songs together.  Oates was one of the special guest artists on Starr's Love and Sabotage album along with fellow Rock and Roll Hall of Fame members Steve Cropper and Richie Furay. Starr asked Oates if he might be interested in producing a song or two for an upcoming album.  Oates wound up producing the entire The Head and Heart EP.
"We just developed a good working relationship, but I think just as importantly, we became friends," said Starr.  "His input as a producer and arranger is invaluable.  I'm kind of a three chord guy on the guitar, I don't have a lot of vocabulary in that area compared to somebody like John so it's very helpful.  He takes the songs and raises them to the next level every time.  I'm very honored to be working with him."
Working with other artists is something that has helped rejuvenate Starr's career and led to putting out some of his best music in recent years.  For a long time he would write all of his songs and play most, if not all, of the instruments on his albums.  Now he travels to Nashville and California to write and play with other artists.
"For a long time, songwriting was a very solitary thing for me and I didn't get the whole co-writing thing," said Starr.  "Then once I started doing it, I thought this is not only easier to get a good song but it's fun.  It's good to connect with people. I just decided at this stage in my life I can do it and I want to do it and I'm going to focus on making some records happen."
In addition to working as an artist, Starr owns a guitar store in town that he moved from Little Rock, Arkansas where he once lived.  The operation was downsized when the economy fell apart in 2008 and now serves the western part of Colorado rather than taking on the giants of the industry.  Starr notes that guitarists are similar to hunters and fishermen - they'll find the best spots if they are out there, and musicians have been finding his store.
Starr and his wife Cindy were instrumental in getting the Grand Mesa Arts Center created.  Cindy serves as President of the venue's Board of Directors and David is Vice President.  Back in Arkansas, David Starr had produced shows that included artists like Jon McEuen from the Nitty Gritty Dirt Band.  When Starr moved to Cedaredge, McEuen called him and said they should do a show in the new area.  They found a place that let him use their space that seated about 175 people.  
"For many years, I cultivated that here in this town, doing something people didn't see as the typical thing you do in a small town," explained Starr.  "And then about three years ago, we were out touring and my wife, who is great about going out with me and has a unique vantage point from the back of the room during shows, watched how people reacted - not just to the music, but the stories and with each other during the show.  One day she said, 'You know, I get to watch all of these shows.  We need a place in our little town of Cederedge that provides that on a regular basis.  Not just for concerts, but for dance, visual arts and all that. So it was kind of her idea.  We started talking to some like minded people - secretly at first because we thought people would think we were crazy - and we found a space we could rent and remodel with people who would work with us and sell the property over a five year period."
"We're in our second year now," he continued.  "We have a hall that seats 160-170 people in movable chairs, so we can break it down and use it for dance, theatre, yoga, and all kinds of stuff.  The other side of the building has a fully functional art gallery and teaching space for kids classes, art classes, etc.  It's gratifying and has sort of become a hub in the community for the arts.  To keep it going, we rent it out for weddings, events, and corporate functions.  It all started because she saw what those places meant in small towns - both in the United States and in England and Scotland where I tour each year.  Those little places mean a lot to small communities and it's been nice to see it happen."
In addition to the Beauty and Ruin album, Starr is also reissuing the novel, for which he has written a new foreword and afterword. The album and book will be released February 21. The book has been out of print for a while and never received the level of distribution that his grandfather's other books had because he died so soon after it was released.  Like singer-songwriters who sell their cds at shows, Starr's grandfather would sell the books at craft shows, libraries, and town halls, by himself. 
David Starr plans on incorporating shows with the books - sort of a combination book reading and live performance kind of mix.  He's talking with book stores and looking at book clubs and libraries as places where this would work well.  Since the album is so closely tied to the book, it makes sense to push it in these avenues.  And, by doing so, he will be able to introduce new audiences to his music.  Halfway through the recording process, Oates told him that this should be turned into a movie or a play, and they are looking at those possibilities as well.
One of the unintended consequences of the project is Starr learning more about his grandfather and connecting with other family members.
"I think in this age when genealogy and ancestry and all those things are possible, I'd urge people to look back and see what you can learn from those who came before," said Starr. "There's always something that can be learned.  We all think we know it all in this day and age, but there was a lot I learned from him and I saw him in a different way once I read that book and remembered how he went out and sold those books.  The only big regret I have is that I can't ask him how much of that book actually happened.  Some of it is pretty intense stuff and I'd love to see which of these things happened and which was a product of his imagination because I suspect it's a lot of both."
Looking back, Starr realized there was another unintended consequence from the album. "As a songwriter, this got me outside my own head and caused me to use somebody else's imagination as part of my process - somebody who isn't even here anymore."
But thanks to the album and the book's rerelease, his grandfather's work is alive again.
Photos by Jason Denton
---
Gary Wien has been covering the arts since 2001 and has had work published with Jersey Arts, Elmore Magazine, Princeton Magazine, Backstreets and other publications. He is a three-time winner of the Asbury Music Award for Top Music Journalist and the author of Beyond the Palace (the first book on the history of rock and roll in Asbury Park) and Are You Listening? The Top 100 Albums of 2001-2010 by New Jersey Artists. In addition, he runs New Jersey Stage and the online radio station The Penguin Rocks. He can be contacted at gary@newjerseystage.com.
---