---
Did you know NJ Stage offers FREE Event Listings? Nearly 100,000 listings were viewed in January. Be sure to add your events to our calendar and get your shows noticed!
---
Ballet for Young Audiences performs Cinderella at Grunin Center
originally published: 03/04/2018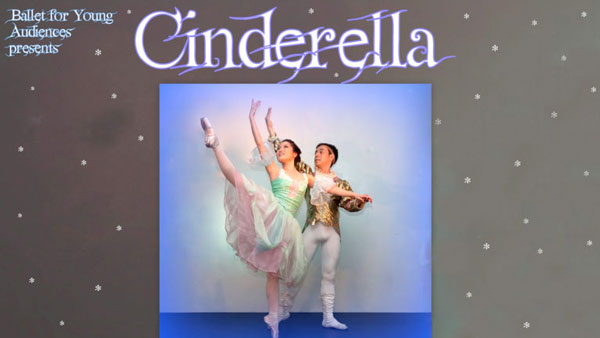 (TOMS RIVER, NJ) -- RWJ Barnabas Health Family Series presents Ballet for Young Audiences' Cinderella on Saturday, April 7 at 11:00am on the Main Stage, Grunin Center for the Arts (Building #12), Ocean County College Main Campus, College Drive, Toms River, NJ.  This production of Cinderella follows a young woman and her cat through the classic fairy tale. It combines all the romance of the Masked Ball with all the slapstick comedy of Cinderella's bungling stepsisters.
Ballet for Young Audiences presents full stage productions, featuring beautiful dancers, exquisite scenery and costumes, and compelling drama. Each ballet is fully narrated for your added enjoyment and to ensure understanding of the dance vocabulary for newer audiences.
Please use Parking Lot #2. Show Tickets: $12 adult and $10 child. Purchase Tickets online at grunincenter.org, call 732-255-0500, or visit the Box Office, Monday to Friday, 10:00 a.m. to 5:00 p.m. and one hour prior to show time.
---


Adelphi Orchestra Teams Up With Donetsk Ballet For 5th Consecutive Season Of The Nutcracker
(PARAMUS, NJ) -- The Adelphi Orchestra will join the members of the internationally renowned Donetsk Ballet, one of Eastern Europe's foremost dance companies, and students of the Midland Park, NJ based Miss Patti's School of Dance in the 19th Annual production of Tchaikovsky's universally timeless masterwork, The Nutcracker Ballet presented by JulieDance. Performances run Friday, December 7 at 7:30pm, Saturday, December 8 at 7:00pm and Sunday, December 9 at 2:00pm.  All performances take place at Paramus Catholic High School, 425 Paramus Road in Paramus, NJ. Tickets are $40-$45.
---
State Theatre presents The Nutcracker performed by American Repertory Ballet With a live orchestra and choir
(NEW BRUNSWICK, NJ) -- State Theatre New Jersey presents American Repertory Ballet's Nutcracker for five performances from December 21 through December 23. American Repertory Ballet (ARB) brings the beloved classic Nutcracker to the stage with Tchaikovsky's magnificent score, stunning sets, thrilling choreography, and a cast of more than 100 performers.  All five American Repertory Ballet performances include a live orchestra and the Princeton Girlchoir.Tickets range from $25-$65. 
---
Peak Performances Presents "Smashed"
(MONTCLAIR, NJ) -- Peak Performances' 2018-2019 season of genre-and-convention-defying performances continues with Smashed, Gandini Juggling's acclaimed work inspired by the choreography of Pina Bausch, directed by Sean Gandini and assistant directed by Kati Ylä-Hokkala. Smashed comes to the Alexander Kasser Theater at Montclair State University (1 Normal Ave., Montclair, NJ) December 13-16.
---
Atlantic City Ballet To Perform The Nutcracker In Galloway, AC, and Lakewood
(ATLANTIC CITY, NJ) -- For the 36th year, the Atlantic City Ballet will once again bring their spectacular holiday theatrical production of The Nutcracker to Atlantic City, Galloway, and Lakewood. The Nutcracker is a treasured classic that tells the story of a little girl named Clara who is given a magical nutcracker doll on Christmas Eve. Embarking on a wondrous journey through the Kingdom of Snow and the Land of Sweets, Clara encounters many unforgettable and timeless characters. Young and old alike will experiencethe many magical moments, of this beloved holiday ballet. 
---
New Jersey Civic Youth Ballet Presents Tchaikovsky's Nutcracker Suite at Centenary
(HACKETTSTOWN, NJ) -- Adventure awaits when a young girl's dream of a magical Nutcracker hits the stage at the Lackland Performing Arts Center, December 14, 15 and 16 in Hackettstown. Over 45 talented dancers from Northampton, PA, and Hunterdon, Morris, Sussex, Warren counties in NJ and have earned roles in the New Jersey Civic Youth Ballet's (NJCYB) new production of Tchaikovsky's Nutcracker Suite.
---


It's a Shore Holiday: The Atlantic City Ballet LIVE! at Caesars
On Saturday, November 24, 2018, The Atlantic City Ballet celebrated Christmas early with a production of It's a Shore Holiday at the Circus Maximus Theatre located inside Caesars Hotel and Casino in Atlantic City, NJ.
---
Dracula: The Atlantic City Ballet LIVE! at Lakewood's Strand Theater
On Saturday, Oct 21, 2018, The Atlantic City Ballet celebrated Halloween early with their production of Dracula at The Strand Theatre in Lakewood, NJ.
---
Ballet, Boxing and Street Dance Gangs?! An Artist Profile of Mark Roxey
Mark Roxey's been thrown in a garbage can, part of street dance gangs (who knew those were really real?!) and spends a whole lot of time in the boxing gym. He is also the founder and director of the Roxey Ballet Company, associate director of The Mill Ballet School, and has had a distinguished career with numerous American dance companies, including The Joffrey Ballet. You have to hear Mark's story in our latest artist profile.
---
Swan Lake: The Atlantic City Ballet LIVE! at The Strand Lakewood
On Saturday, September 22, 2018, The Atlantic City Ballet presented their version of Tchaikovsky's Swan Lake at The Strand Theatre in Lakewood, NJ. Featuring spellbinding choreography by Phyllis Papa, the talented members of the ACB transported an enthusiastic audience of all ages to another world, and Love Imagery was on hand to capture the magic in this photo-essay.
---
A New Ballet Company Launches At The Shore
Monmouth County has long been a hub for the arts, with a celebrated music scene, thriving original theatre and artists throughout the area, but one thing was missing – the area did not have its own professional ballet company.
---
Event calendar
Sunday, Dec 09, 2018
---
MUSIC

---
---
---
---
---
---
---
---
THEATRE

---
---
---
---
---
Peter Pan

@ Axelrod Performing Arts Center, Deal Park - 1:00pm and 5:00pm
---
Annie: The Musical

@ Centenary Stage Company - Sitnik Theater of the Lackland Center, Hackettstown - 2:00pm
---
---
---
---
---
KIDS

---
---
---
MISC

---
---
View all events
---