By Gary Wien
originally published: 01/21/2016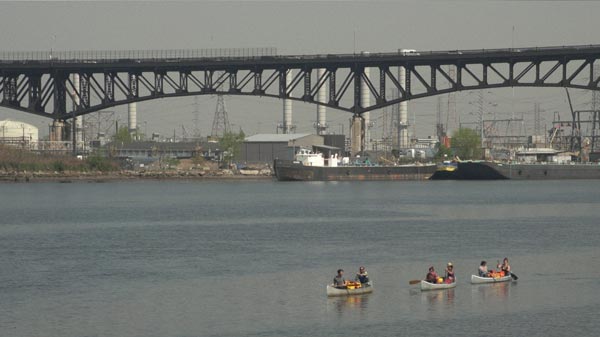 If you live in New Jersey chances are you never imagined canoeing across the Meadowlands swamp region.  But Jonathan Cohrs' film Back Water will show you wilderness scenes you wouldn't think possible.  Deep in the Meadowlands, a strange landscape of wetlands and wildlife migration exists among toxic waste sites and the ruins of industry.  Cohrs and six others spent 10 days in this region, discovering its beauty and exposing an environment that is changing around us.
The original idea behind the expedition was to visit various artificial flavoring factories (of which there are many in the area) to start a conversation on how people perceive flavor and smell as well as how natural flavors versus artificial flavors have changed over time.
Cohrs began the trip with that core idea and a question about the wilderness. "It smells like wilderness; it feels like wilderness; is it wilderness?" he wondered. "In a simplistic sense, I was looking at this from the perspective of being in this particular moment of time where the environment is changing around us.  There are invasive species that exist in the Meadowlands because the environment has changed so much that they are now better suited for that environment.  So, what is natural then?"
The film features amazing shots of the area that make you forget that the wilderness you are watching is actually located just few miles from New York City and millions of people.  In fact, one of the things which stands out to Cohrs was the feeling of invisibility.  They had run-ins with a few people during the trip, but for the most part found themselves completely invisible even when waking up next to the New Jersey Turnpike.  People didn't honk their horn, they didn't stop their vehicles; they just didn't notice them even though they were 100 feet away.

Despite canoeing and camping, the City was their visual backdrop.  Cohrs said that they were almost always within view of the Empire State Building or the World Trade Center tower.
"It's a very beautiful area," said Cohrs.  "Canoeing there and camping there is gorgeous, but there is a whole invisible factor of toxicity, which is hard to gauge.  It's something that's always in the back of your mind.  The area has a lot of the characteristics of a wilderness area and is increasingly becoming an important spot for birds heading south.  It has an important role in the habitat.  At a time when land is increasingly scarce, what value does a place that's mixed in terms of wild and a degree of toxicity have value?"
---
The article continues after this ad
---
---
There are times during the film when some of the people on the expedition seem to forget they are in a toxic waste site area. In one scene, a woman finds some berries.  A person asks, "do you think it's edible?" and someone immediately responds "no!"
While Cohrs said he never discussed with medical professionals the dangers of the environmental aspects he and his group would encounter, he was well aware of the Superfund sites in the area. These are polluted areas which require a long-term response to clean up their hazardous material contaminations. New Jersey has over 100 Superfund sites, including six in the Meadowlands region.
The film actually shows the third trip through the area made by Cohrs.  The first trip was for a week and consisted of just Cohrs and two others sharing one canoe.  On that first trip, he had a couple of encounters including one with Homeland Security on the final day.  Despite being invisible to motorists, the various trips included encounters with owners of private property, policemen, and the FBI.
Cohrs doesn't see himself as an activist, he rather as an artist.  He believes he offers various ways to open discussions on things that interest him.  The environmental concerns within the area are one such topic.  While some consider the area an urban wasteland, others call it a recovering wilderness.
"At the very least I hope this film starts a discussion about this changing environment that we're in rather than this black and white interpretation of what is pure and what is not or what is a healthy habitat," he continued.  "Because I think things are dramatically changing.  The scientific community considers this a new geologic area and with that comes a re-envisioning of what is a healthy ecosystem."
Back Water will be screened on Friday, February 12 at the New Jersey Film Festival. The screening is co-sponsored by the Rutgers University Centers for Global Advancement and International Affairs and the Rutgers University American Studies Department.
---
Gary Wien has been covering the arts since 2001 and has had work published with Jersey Arts, Elmore Magazine, Princeton Magazine, Backstreets and other publications. He is a three-time winner of the Asbury Music Award for Top Music Journalist and the author of Beyond the Palace (the first book on the history of rock and roll in Asbury Park) and Are You Listening? The Top 100 Albums of 2001-2010 by New Jersey Artists. In addition, he runs New Jersey Stage and the online radio station The Penguin Rocks. He can be contacted at gary@newjerseystage.com.
---